---
Review of Aliette Spring 2023 Fashion Show
Jason Rembert's Triumphant Return to New York Fashion Week
By Constance C.R. White
It's been three years since designer and stylist Jason Rembert presented his Aliétte collection during New York Fashion Week.
"That's a long time," said Rembert. Using a strong dose of color and dramatic red-carpet-ready looks, he made sure that fashion felt his return.
Tons of folks throw around the job description of celebrity stylists. Self definition can be good. But with the celebrity stylist handle, it's often left to the receiver to define what it means.
It's possible you put a dress on a celebrity once or twice? Sometimes the celebrity is more accurately an upcoming artist. It's hard to say in an age of Insta models and instant celebrities.
But Rembert's a bonafide celebrity stylist – one of the top names in the business. His show was attended by another top-draw styling talent, Law Roach.
An unusual inspiration can yield the most beautiful things.I wish my mother could have heard all the things people said about her at her funeral.
Speaking of his inspiration for the collection, Rembert referenced his experience burying his mother 11 years ago. The result was neither depressing nor maudlin.
He loved that people spoke highly of his mother at the funeral, but he wished, he said, "people would have told her that when she was alive on this earth.
"I work with amazing women who I am inspired by and who I admire," he explained. "The thing is, I tell them how dope they are and it's hard for them to believe it. It's hard for them to receive it."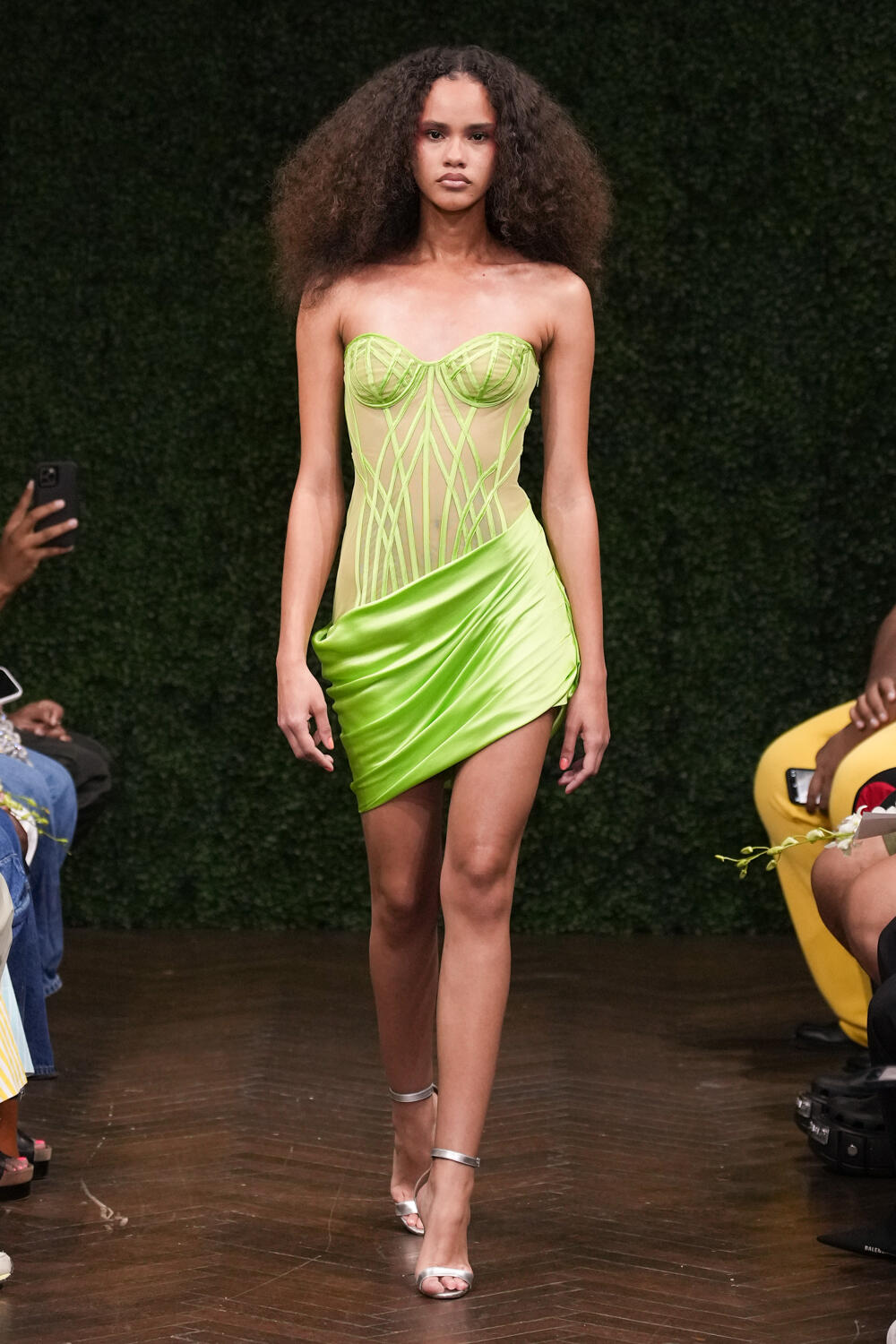 Pause here, for all the women taking in a sharp breath right now because they can relate to this. Pause, for those who maybe experience imposter syndrome or just simply don't believe in their worth because we don't learn enough about how valuable we are.
As each guest entered the venue, decorated with greenery and florals, they were handed a stalk of white flowers. "This collection for me was about giving yourself flowers; other people giving you flowers; you giving people flowers," said Rembert. The collection showed obvious growth. It seemed to reflect increased resources for the independent designer. Asked about this, Rembert said, "the resource was Black. Black people were the resource. His best friend who is head of production flew to India this week to come back with some of the looks for the show. " He flew 20 hours there and 20 hours back, said Rembert.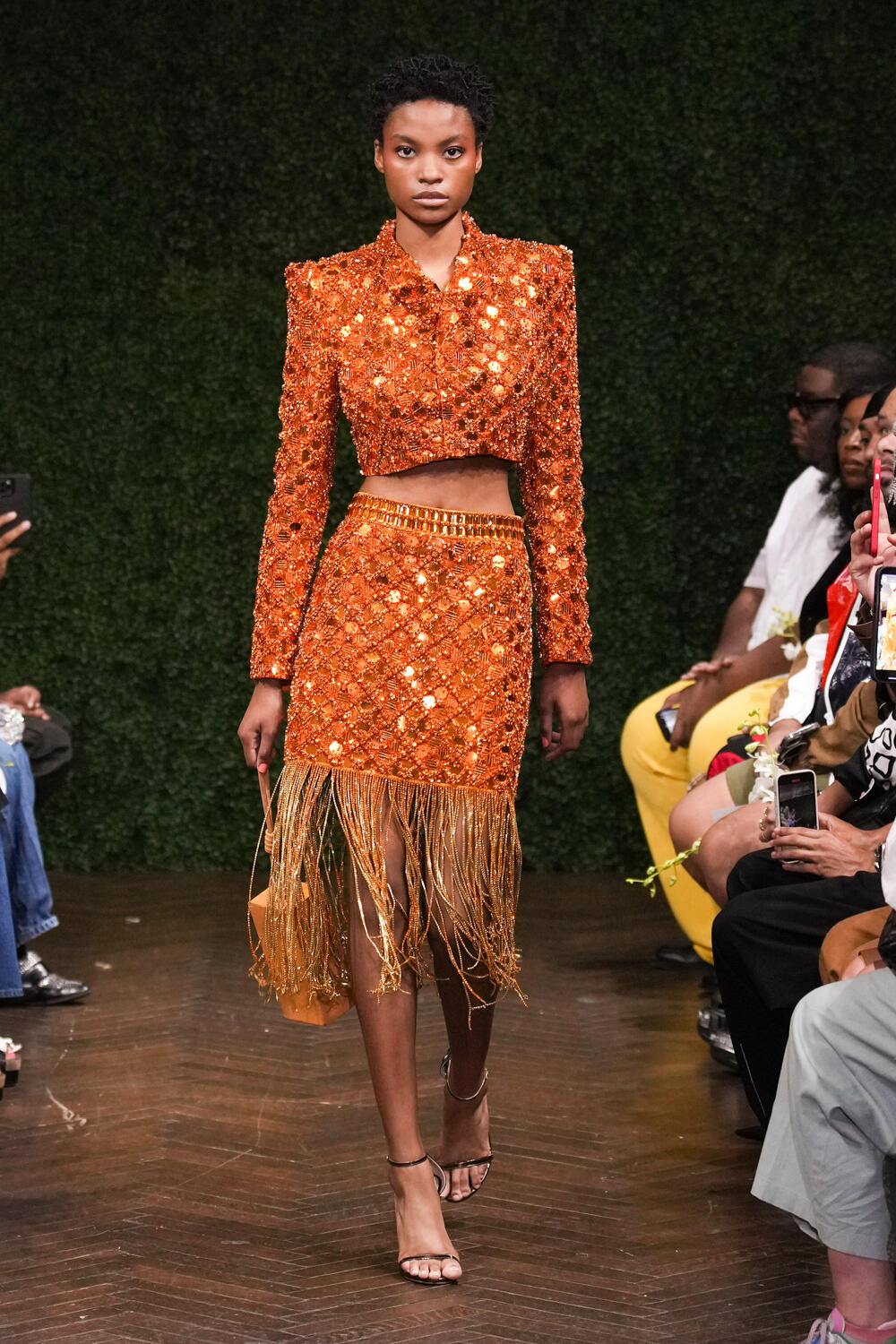 It was a worthwhile trip. The signature feathered skirt was a marvel of workmanship. A tunic was resplendent with multihued beading and embroidery. For the first time, he used a techno material putting it into sporty anorak.
A strapless tangerine taffeta frock with pleating detail was cut high in the front and low in the back, ending in a generous train. Rembert reimagined the chic, boxy lady's lunchtime suit, covered in sequins with a fringed hem. A beautiful floral printed silk charmeuse column was shirred and had an opening across the chest.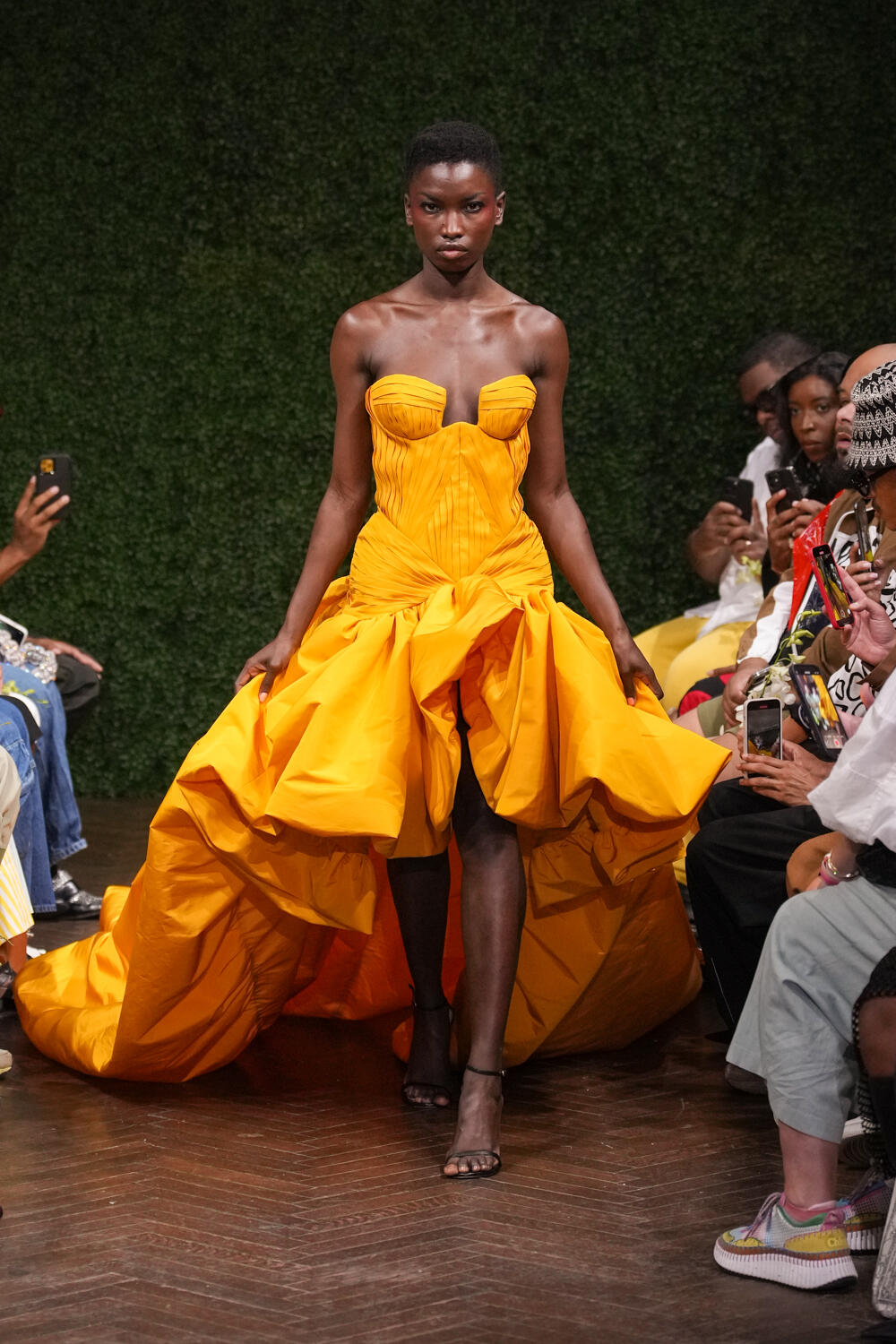 In an indication that Rembert's here for clients who want a helping of vavoom with their flowers, he served up a beaded catsuit and a turquoise gown slashed to the navel and down the side to bare oceans of leg from ankle to nether regions.
---