---
Review of Altuzarra Spring 2022 Fashion Show
Mythologies and Real Tales of Clothes
By Long Nguyen
I didn't approach the collection differently when I moved the show to Paris, and I think coming back to New York is not any different. Part of my coming back to New York is because I want to be part of this new energy and reinvigorate the city. I am so much part of New York, and it was important to be part of this process of rebuilding. I think that was the real emotion that I want to retain in the show," Joseph Altuzarra said backstage after his great Spring 2022 show on the top floor on an office loft building on the edge of Tribeca.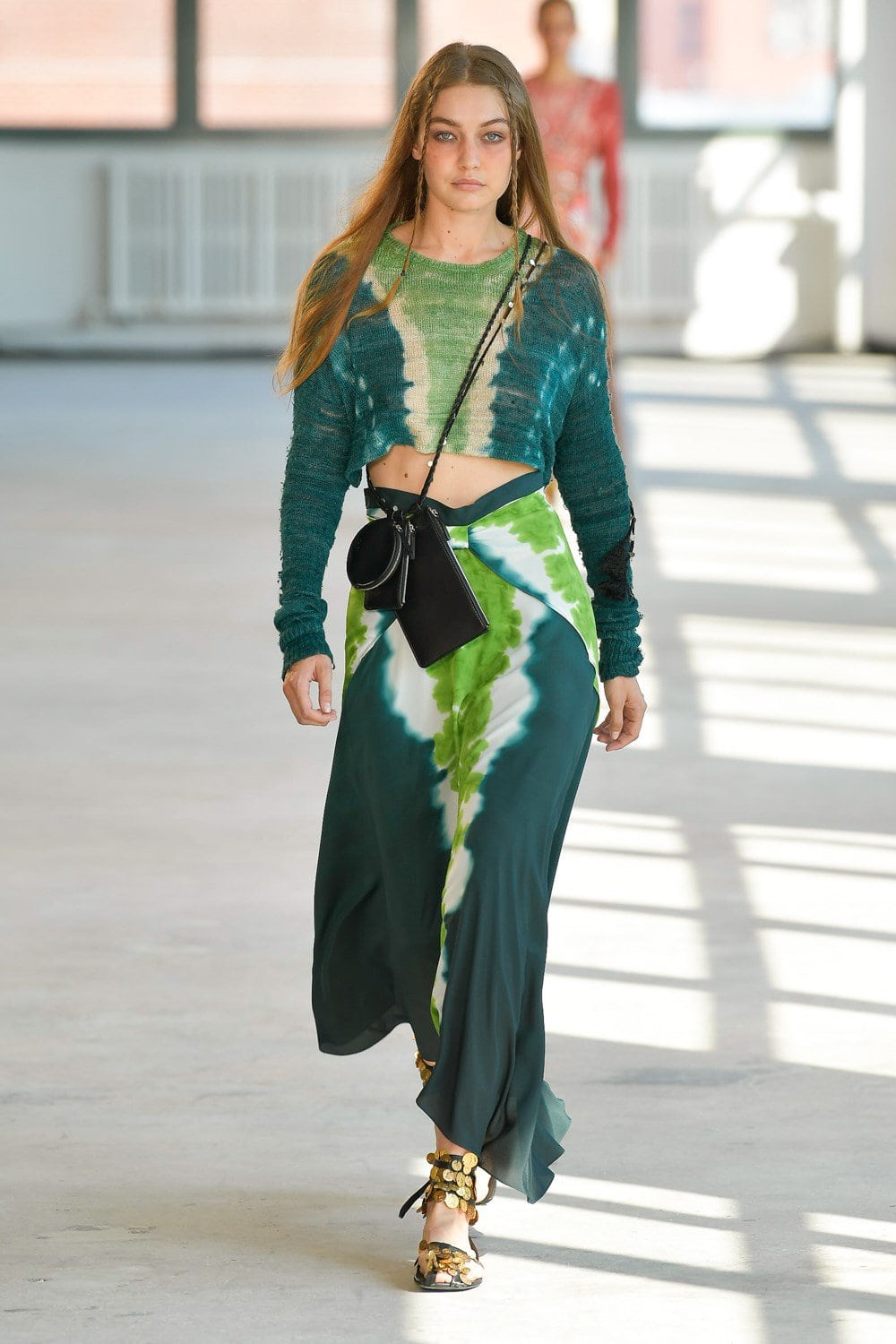 Altuzarra brought his show to Paris in 2017, intending to expand the collection's visibility and expand the business on a more global footing. At the time, a small wave of American designers had started their business in New York, migrating to Paris, including Thom Browne, Rodarte, and Proenza Schouler. 
Rebuilding means starting to look back at the foundation and building upwards.  Here, that means start with a focus on those Altuzarra signatures and develop a new story around them. The sexy knit long sleeves separate and long skirts in colorful shibori dye from flowers and roots that opened the show, recalling a few similar slit dresses in dyed green and fitted tops paired with long skirts from the Spring 2016 show. Now, these separates appear much less folkloric than their debut outing years earlier. 
I was interested in mythologies, mystery, and ways in which this Magic seeps into our world. Books filled with mythologies, pagan celebrations, ancient goddesses, and centuries-old creatures, like the Odyssey by Homer, Silver in the Wood and Drowned Country by Emily Tesh, were very inspiring," Altuzarra said of the thinking behind his point of departure for the collection. Charles Fréger was another author whose Wilder Mann and its provocative pictures of spring rituals impacted Altuzarra in how the designer rendered the vernal transformation creating tension in the clothes. 
For the same reason, he left on each guest seat a copy of Homer's Odyssey with marking of fabrics and small color sketches say of a yellow print puff sleeve deep v-neck peplum blouse with a long side slit skirt that appeared live in the show.
But Altuzarra's notion of the rites of spring is a soft transformation of the season. The clothes got softer, ending in a great white half crochet-knit half cotton long dress with ruffle trims, unlike the ending precipitated by the famous ending to Serge Diaghilev Ballet Russe performance of The Rite of Spring in Paris in 1913. The designer creates tension in the mixture of black crochet-knit woven onto a white blouse and loose white pants or a white dress with a black knit sweater attached at the front.
Mythologies aside, the collection is poetic, soft, and influential in the forceful manner of showing how clothes evolve from protection from the elements to showing how the body can be a point of human beauty beyond the confines of sex. These spring clothes are an intentional tension of restraint and fluid movements as espoused by the black tight bra top and slim black pants versus the loose white cropped midriff top and long layered skirt. There is the dichotomy of the lean white shirt collar straight silhouette line pantsuit and the light violet loose fit long shirt dress.
For an Altuzarra collection, there is less emphasis on sex this season than in his early years, where the pejorative was more to dress older women in sexy clothes.
This spring collection feels more mature, not grown up at all, just mature in how the designer cuts the loose jacket pantsuits paired with a black tank top or a dark pink blazer, knit top, and slit skirt. There are plenty of good clothes not for a party but destined for a different outlook on a new era. The floral midriff jacket and fancy peplum fold long skirt or a gold lamé fabric version doesn't telegraph a sense of formality.
In the end, though, Altuzarra took his bow to great applause from an audience appreciate of a homegrown talent finally coming back home.
---