---
Review of American Collections Fall 2021 Fashion Shows
Tepid Times Warns of Dangers Ahead for American Shows
By Long Nguyen
The fall 2021 American Collections that just ended was the worst show season since the inception of the "7th On Sixth" initiatives that ushered a centralized New York fashion week in 1993, with shows taking place in tents in Bryant Park in Manhattan's Midtown West.
For more than a quarter of a century since, the New York fashion week has been competing with Paris and Milano as a center of gravity giving global voices to American fashion, from emerging designers to established mega brands. I have been to every single of these New York Fashion Shows Season since 1993 in person and can testify to this utter decline seen this February where few brands made the creative efforts to excel and propel ahead of the difficult environment.
Tom Ford took the helm of the CFDA in March 2019 to much fanfare to reorganize the New York shows into a central hub for fashion that could attract the best foreign brands to show on American soil instead of going to the perennial Paris. That indeed has not happened. Since the pandemic, the show calendar's defections have been going in the exact opposite direction. If a show week's purpose is to concentrate the next season over a designated time frame, a show schedule that spans over a few months will defeat this primary raison d'être of a fashion week. Neither the fashion federations in Paris nor Milano extends their respective calendars.
But Ford himself sensed a more fantastic opportunity for his brand to stage a show in Los Angeles for his fall 2020 show two days before the Oscars when he announced the move in mid-December 2019. "The decision to show in February in Los Angeles feels natural to me. It is my home and has a strong impact on the way that I live and work within both the fashion and film worlds," Ford said in a released statement at the time. Explaining the rationale behind the move that slightly stunned the New York fashion establishment as their recently chose chairman defected.
Ford announced on the morning the day before the official drop that due to Covid-related problems, the release would not occur as the closing event of New York. Instead, it will happen later in February, smack in the middle of the Milano shows. Perhaps even without the problems of delays caused by the pandemic, Ford is right to ditch New York and premiered his fall looks in Milano, at a place and a time when everyone will be paying attention to fashion. Any smart businessman would have done the same, not investing next season's assets in a black hole.
Brands are still figuring out that the optimal way to show a new collection may be a physical fashion show, but that is just one option to reach their respective audiences. The Kering Group has been the leader in the opt-out option, first with Saint Laurent then with Gucci, Bottega Veneta, Balenciaga, and Alexander McQueen; all find fertile grounds for their stand-alone experimental shows. The few brands like Chanel, Dior, Gucci, and Louis Vuitton have been showing the cruise collection in extravagant locations in mid-May and have garnered just as much of the crucial metrics such as the EMV and MIV – Earned Media Value, Media Impact Value – as they would during the regular ready to wear show season.
In the bygones days, the New York shows used to be a breeding ground of young talents showing alongside Ralph Lauren, Calvin Klein, Marc Jacobs, Tommy Hilfiger, and if any can still remember, Donna Karan.
Against all the odds, Prabal Gurung and Joseph Altuzarra debuted their collections in New York during the heights of the Great Recession. Shayne Oliver and Telfar Clemens used to show off-off-off Broadway shows in the same way until they gained followers, allowing for access to a bigger stage.
I remember seeing Kerby Jean Raymond first few Pyer Moss presentations, especially in the mid-summer of 2015 in Tribeca. Then, he did a presentation during the first edition of the shows for menswear New York Fashion Week: Men held at the Skylight Clarkson Square on Tribeca and Soho's edge. At his first runway show later that September, the designer showed a documentary film on police violence titled This was An Intervention when the light dimmed. No models emerged from backstage at the cavernous Altman Building on West 18th Street. It was a spectacular fusion of fashion to social-political-economic issues that was just then a bit ahead of its time with models wearing a military olive parka with handwritten Breath Breath and Breath in different crayon colors.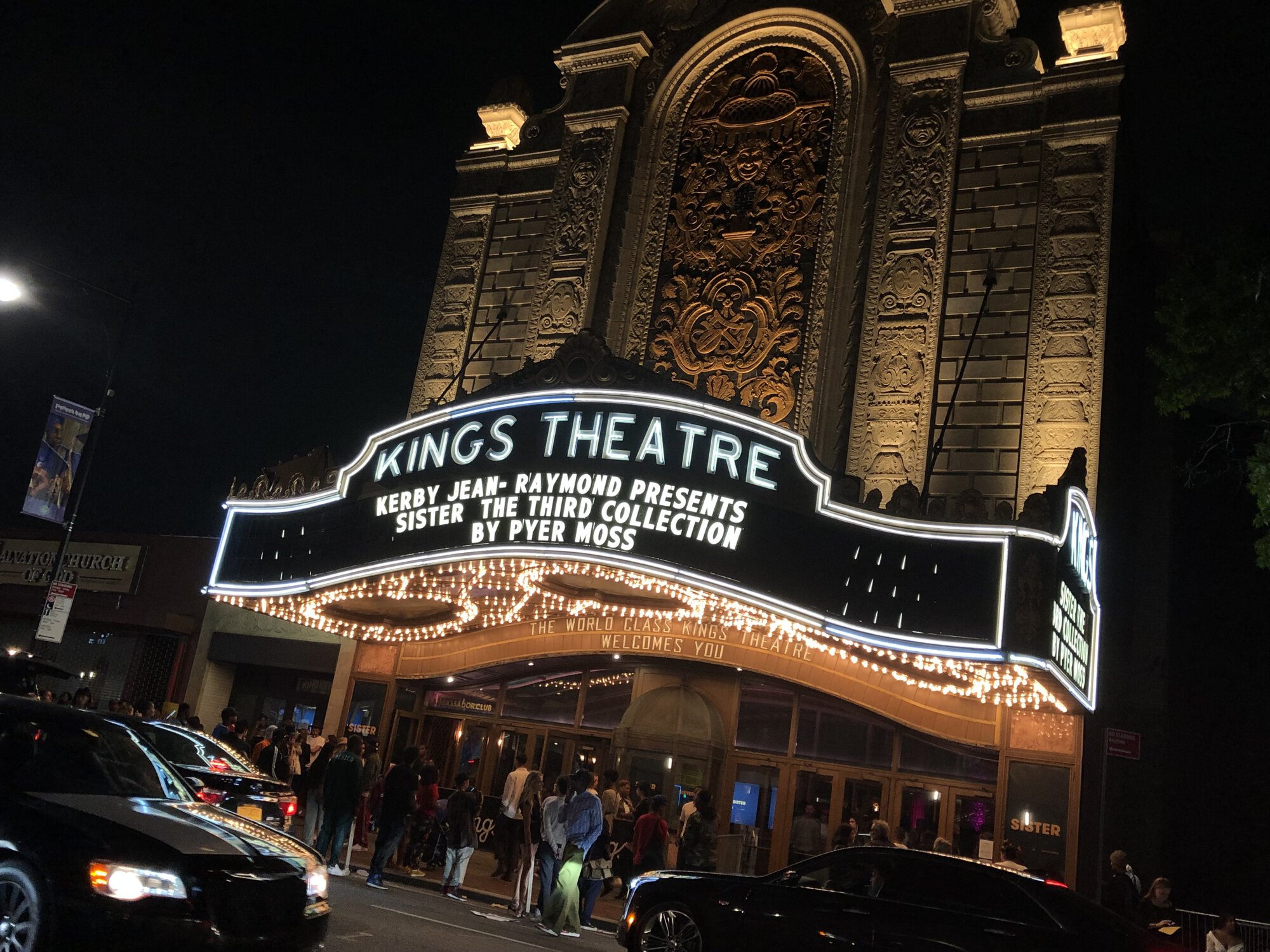 During a period of the unprecedented rain season in September 2019, many of the shows that season was planned for the outdoors, not knowing what would transpire. So on a Sunday afternoon, with rain and gusts, Telfar staged his show outside on the concrete pavement of the Blade Lounge East – a helicopter port on the edge of the East River and 34th Street – amidst the storm and the wind with guest crowded behind steel barrier fences that in normal circumstances would serve as a deterrence mechanism for crowd control. 
But the show went on with Telfar's signature cutouts, denim, and a cross current of basic foundation garments that is the designer's idea of a new Americana, in terms of attire and the culture these garments elicit. The jazz musician Austin Williamson played a drum set to start the show, and Ian Isiah, Moses Sumney, and Selah Marley all performed as models walked to the live music. The designer also made new uniforms for the food chain White Castle.
This black hole at the center of the Americans Collections shows this season is the absence of real creative sparks in New York. Designers who brought the whole different world to fashion and allowed the audience to participate in visions beyond clothes like Telfar and Kerby Jean Raymond, and the few seasons of Raf Simons at Calvin Klein – are absent.
They are designers whose style is part of a much bigger platform for culture and nice clothes, a handy bag, and a great pair of sneakers.
The digital presentations were mostly commercial clothes, some beautifully made like Kevan Hall's new luxury leisure collection, but clothes that lacked any real idea behind them to have any impact perhaps selling on e-commerce. Sellable clothes from, say Ulla Johnson is fine since these clothes are the business's backbone for these brands. But even with the shorter three days of digital presentation, practically on the hour or even half-hour mark, staged at the CFDA's 360 or IMG's NYFW: The Shows sites with the additions of several round table talks with the hopes to raise exciting content.
On the whole, what is vacant now and requires significant leadership is how a centralized show week can still serve in the interest of all brands before many brands become too comfortable doing their things on their time.
The highlights of the New York show now are from the designers who focused on what they have always done, like Anna Sui, and Prabal Gurung. Both sent out new collections that demonstrate the strength of their takes on fashion, using their imagination first to fathom an idea than their crafts to create the corresponding clothes. Tristan Detwiler did some original work making homemade clothes from old quilt fabrics for his Stan brand, merging the upcycling and repurpose values with a whiff of the surf feel. So did Willy Chavarria with his new collection of shapely clothes. They each have something personal to say through their fashion, which makes a huge difference.
Proenza Schouler and Gabriela Hearst – both significant collections of fall clothes – show the day after the official shows ended.
That raises whether it is even necessary to have a centralized NY shows timeframe when the key actors are finding greener pastures elsewhere, not necessarily in another fashion capital, but in the vast expanse of the digital space.
When the community surrounding a fashion brand is critical, it may be right for smaller brands to ask when and how they should be in touch with their communities. Even retailers have adjusted their open-to-buy schedule, now not so structured exclusively to fashion week presentations.
Both Neil Grotzinger for Nihl and Edvin Thompson for Theophilio did their own thing, as the saying goes – Grotzinger with a video filmed inside an old apartment complex and Thompson with a video of models at a studio. Both designers put forth the known hard wares that are now unique to them with the inventive front lace pants, plastic corsets, or chiffon bodysuits for Nihl and the colorful patchworks mixtures Theophilio. While their clothes evince that ideal of imagination and their visions are indeed unique, their sense of aesthetics remains so niche that their collections will hardly move the needle on a bigger stage. The fall collections won't affect how a more vast audience dresses and how they may think of fashion.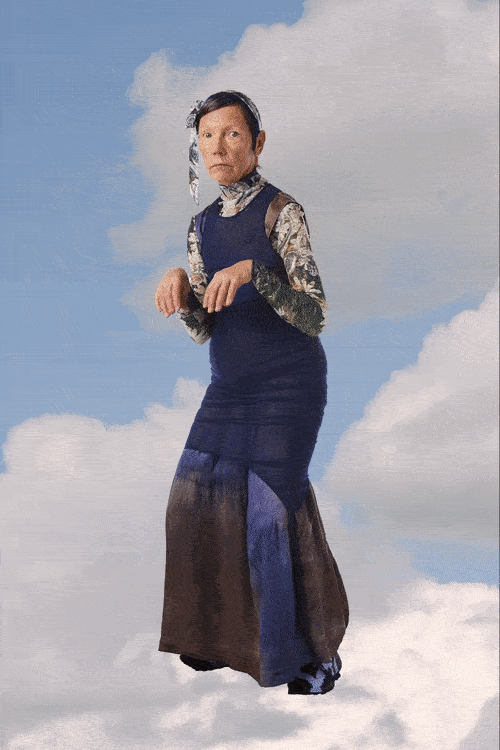 On the other hand, Hillary Taymour of Collina Strada is one of the few independent fashion brands that has mastered how to present fashion on the digital platform. Over the past year, she has consistently released highly creative and memorable short outburst of animated videos that foment an idealized world in the post-inclusive and post-sustainable future. This time her 1990s inspired 'Animorphs' fantasy series by K.A. Applegate led to creating a computer-based transformation of characters that come alive in the video collaboration with the artist David Mattingly and Charlie Engman.
Plentiful are the fall clothes' suggestions in these colorful print garments, figuratively in the video and literally via deadstock fabrics and unsold merchandises from The Real Real stored at a massive warehouse in New Jersey.
Flexibility is vital now. Brands have to realize their business's priority rather than loyalty to an established system in place forever. Why is it that there is so much resistance to altogether forgoing the ongoing fashion week in the age of disruptions?
In New York, there are two parallel fashion weeks currently in existence, one organized by the CFDA and the other by IMG Focus, each with a different focus, at least commercially. The Jason Wu show with giant sponsors like Coca-Cola that opened the season resulted from commerce's encroachment into creative fashion. While Wu's new commercially oriented contemporary collection offers a new life to his brand, the clothes do not merit a runway show for any reason.
But the sponsors' budgets are hardly an enticement to refuse to put on the show, understandably, but this presents a dilemma in the future. There is then Laquan Smith's new design, so to speak for a BMW small SUV, a kind of connection stretched over vast thin air. Yes, you heard it right – Laquan SmithxBMWxNYFW:TheShows. You can't blame Smith for posing with a new luxury SUV, but surely you can ask if his fashion has had any meaningful impact on people's lives and any impact on New York. Perhaps somehow, in the quick marketing calculations, this factor was out of consideration.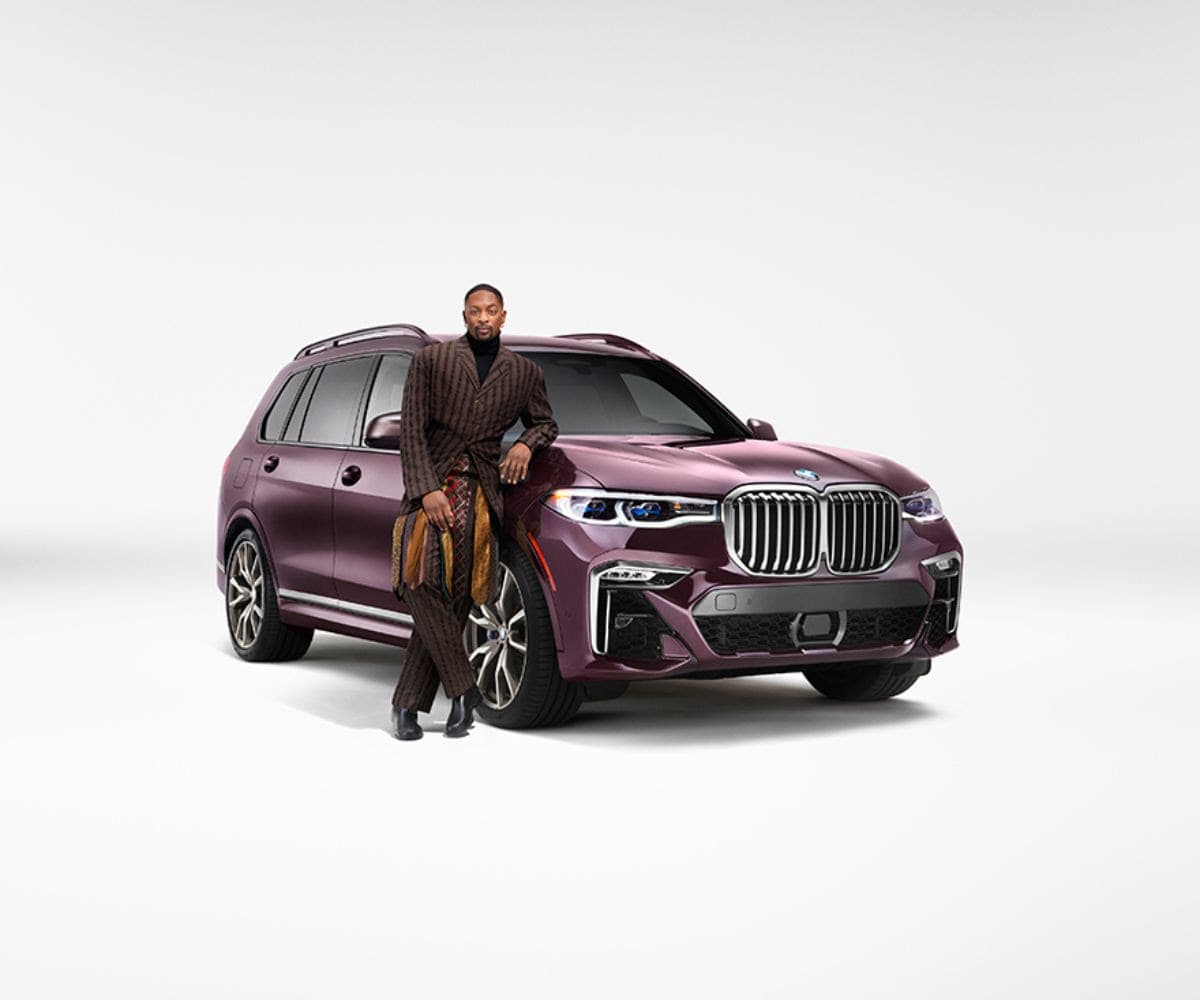 It is perhaps time for smaller brands to pull that escape hatch near the emergency exit, and many have already done so. Christopher John Rogers' rising star isn't showing within this fashion week system; neither are newcomers like Sergio Hudson and Kenneth Nicholson.
Is it possible at this point to gather back any of the vanguards to re-established some structure? The brands left the schedule have found a niche elsewhere and, as they say, when the ships have sailed.
It was not harmful to see many of the Kering Group brands showing their spring collection in December.
Late on a Wednesday evening, the absence of a Tom Ford lookbook drop didn't seem to matter so much. Well, the excitement around a new fall look book isn't the same as, say, a mega show. People quickly learn to distinguish the values of each of these types of 'events.' If the pugilism of a Tom Ford lookbook drop is no longer a possible closing deal for this tepid New York fashion season due to whatever the reasons, what can be at this point?
---