---
Review of anOnlyChild Spring 2023 Fashion Show
The Appeal Of Starting Close to Home
By Constance C.R. White
Entering the space where Maxwell Osborne presented his anOnlyChild collection today, you could tell something intriguing was afoot. Models posed in still life scenes. One reclined with cheeky ease in an armchair, another sat on a bench, his persona a meditative island cool dressed in loose pants and melanges of colors. Their hairstyles were a focal point with bongo lock s piled atop or springing from their heads with panache, styles achieved with real and faux hair.
In the audience artist Renee Cox mingled with major ballers like Kawhi Leonard, and Joakim Noah, whose girlfriend was closing the show, he proudly pointed out. Top stylist Rachel Johnson would only be attending two shows today, she said. Osborne's was one of them. His mother and aunts sat in seats with the best view of the runway, looking glamorous and unbothered. His longtime collaborator Dao Yi Chow, was there to offering support.
Steeped in men's wear, Osborne revealed the big secret behind why he does women's wear so well.
It was a different kind of vibe at a fashion show, one reflective of what Osborne brings to fashion. That is, not just another collection.
The opening look was a pleasant surprise and they kept coming. A gold satin yellow frock with a vintage patina, draped and ruched across the body, was surprisingly feminine in the traditional sense.
The collection was drenched in island vibes outside of what tourists think of as the islands. But the island as a nation ,in this case, Jamaica is what Osborne dove into; a real country with its own influential culture.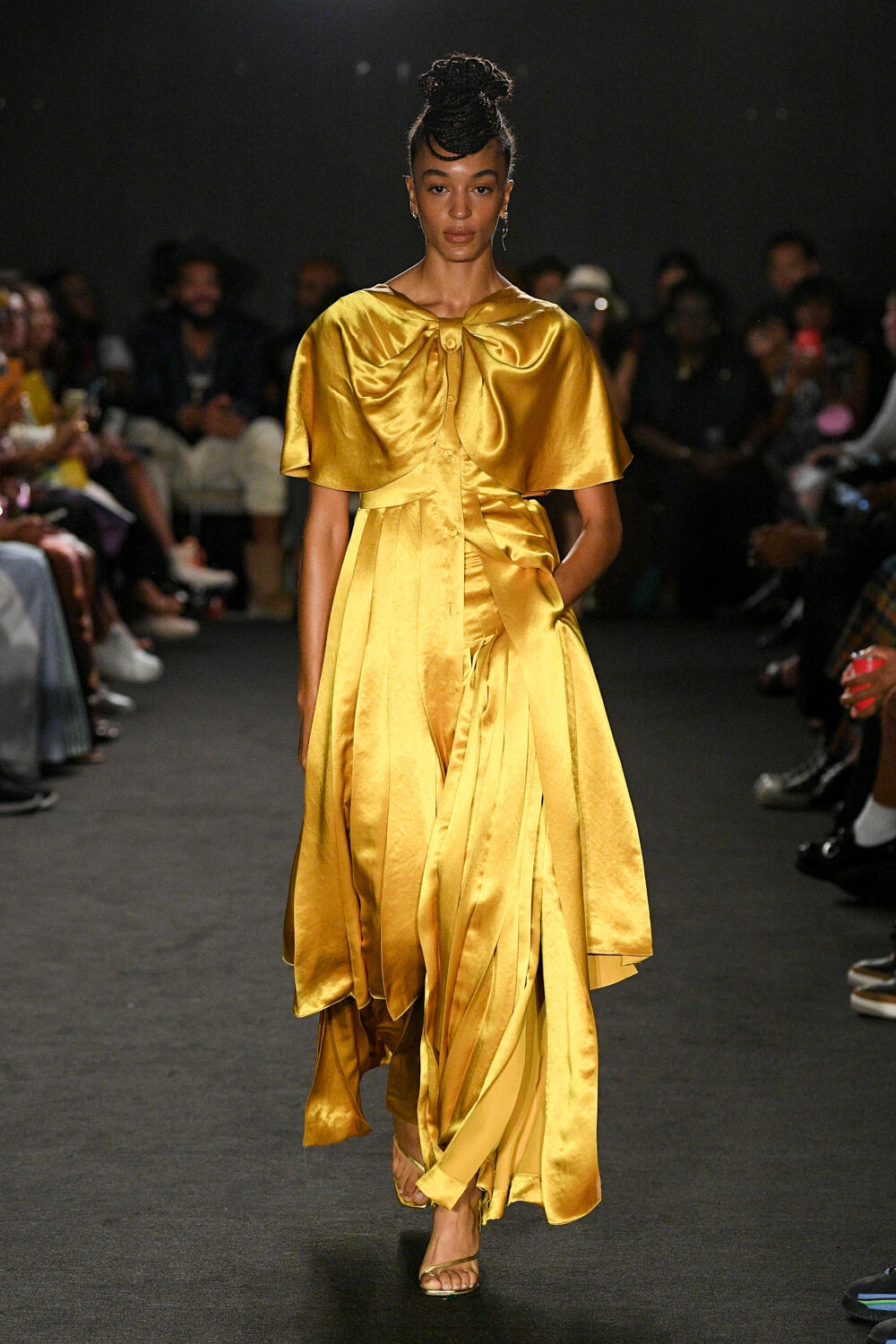 The influence was evident throughout the collection with one outfit in shades of the Jamaican flag, and others making great use of rastafarian color ways of red, green and yellow.
Mesh tops, another motif from Jamaican culture which Osborne has played in before, resurfaced. This time they were not only sporty but paired with glamorous asymmetrical skirts.
Everything was soft and easy including lush burgundy satin pants and trench coat with ruched sleeves. A fabulous short sleeve jacket and culotte worked with lace turtleneck and leggings underneath, like the tights basketball players like Leonard wear under their shorts to play. This version, of course, much more polished.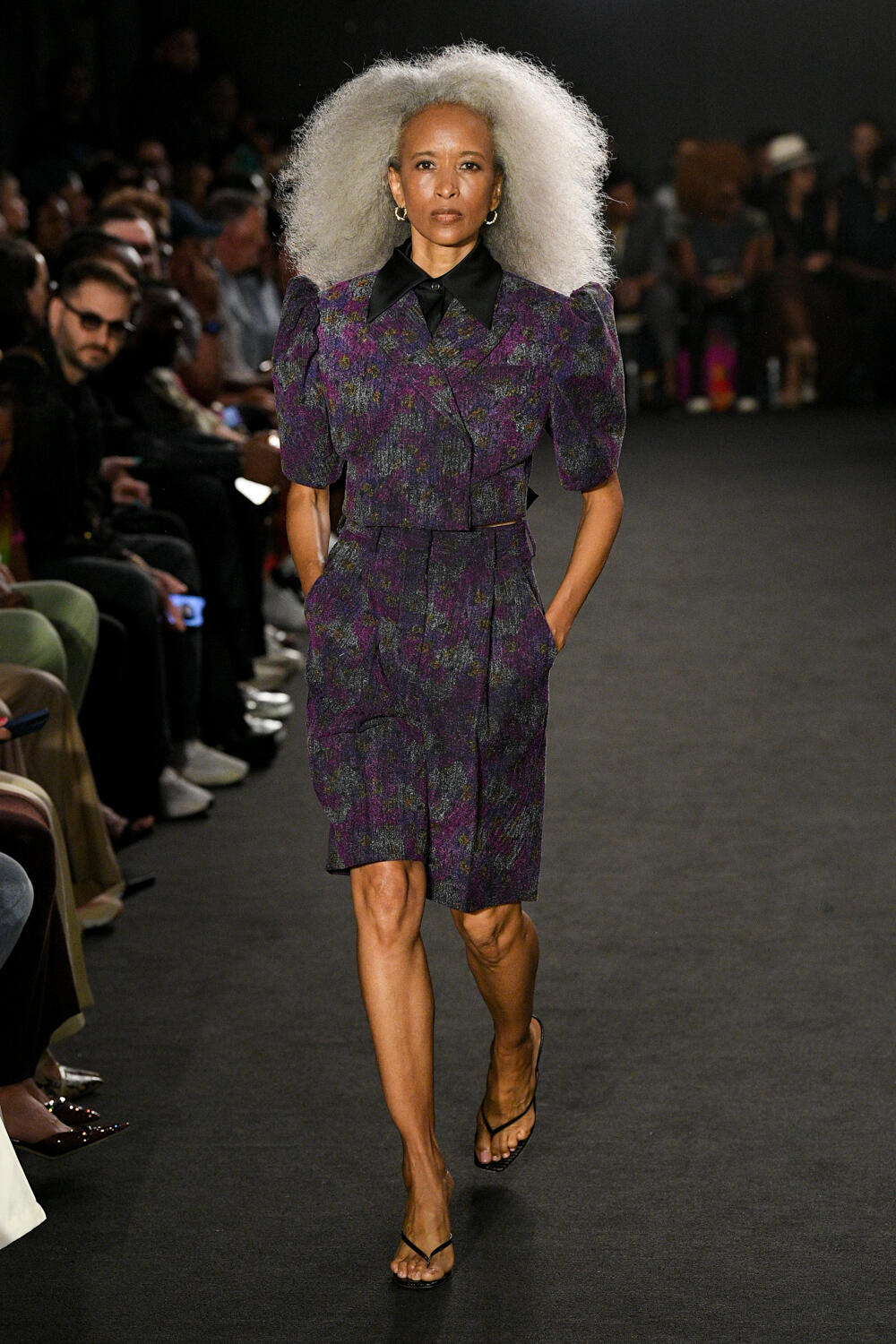 Shoes by Brother Vellies and by Armando Cabral added glamour to this woman Osbourne clearly envisioned as revelling in her ability to go for the glam. Looking at how male designers especially of previous generations, and those who've done a lot of men's, get women's wear wrong, I wondered how Osbourne got it so right. He seemed to understand the question immediately. " I grew up around a household of women," he said matter-of-factly.
And there was quite a bit of menswear. It was softly tailored, wide-leg pants, knits and t-shirts under jackets and flat slipper mules on the guys' feet that would look right at home on women too.
"Look," said Osborne, pointing to garments hanging backstage after models had stripped them off after the show. "That's all made from deadstock."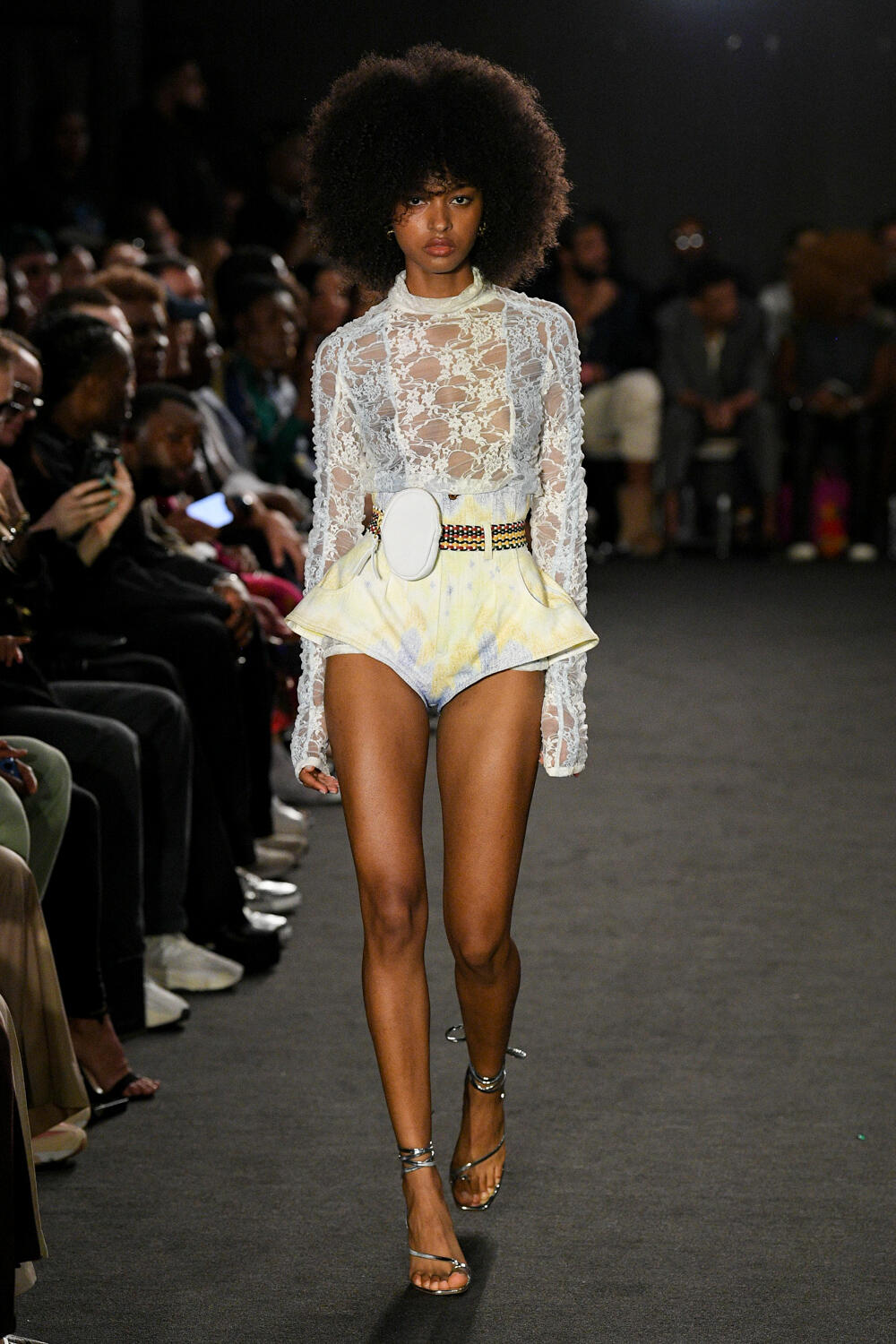 Sustainability of the environment and our social construct is on some designers minds these days. The idea of positioning a collection in a BIPOC culture other than HipHop is still new and experimental.
Would this collection have been done or even worked creatively twenty or even ten years ago, i asked Osborne. " Ten years ago? No," said the designer. "I think people are ready for it now."
---