---
Review of Area Fall 2022 Fashion Show
Cult label AREA dazzles with megastar wattage
By Dao Tran
– not only on their fanciful creations, but in their client roster chock full of the First Ladies of the United States, Music, Fashion, Pride and Sports. From Michelle Obama to Beyonce to Kim Kardashian to Indya Moore to Simone Biles, AREA has clothed them and accessorized them and made them shine. A favorite at Coachella with Katy Perry, the Jenners and Hadids, and obvious choice for performers like Cardi B, Doja Cat, Ariana Grande, Olivia Rodrigo, it's no wonder that the brand has such a fanatic base and become so covetable.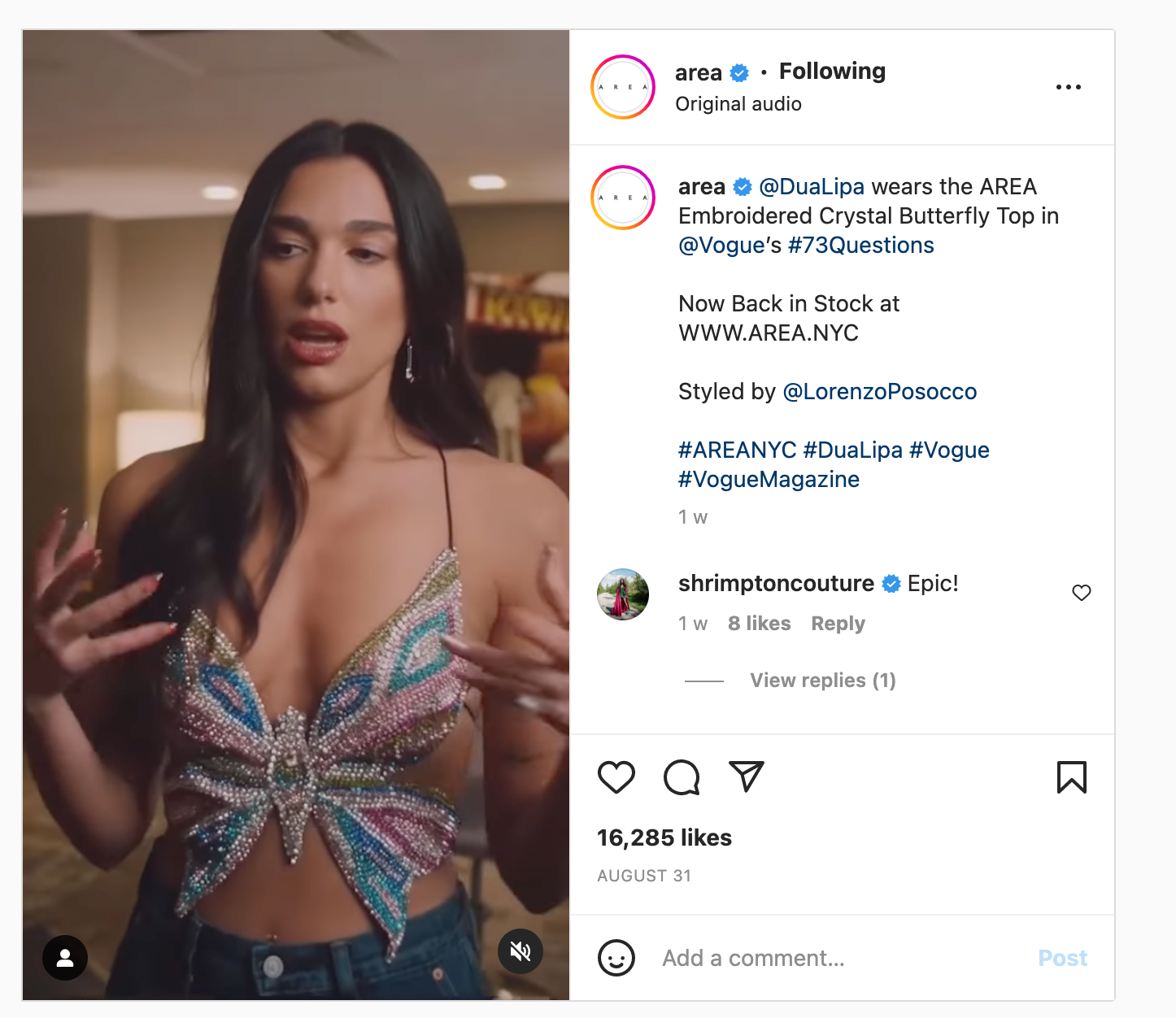 Dua Lipa doing yoga in the iconic AREA embroidered crystal butterfly top is so perfect it hurts.
The fashion and accessories design house was founded in 2014 by Beckett Fogg and Piotrek Pansczczyk with an emphasis on quality craftsmanship, spectacular embellishment and innovative materials. There is something to their signature Swarovski encrusted and sculptural work that feels like it's accessories driven in the meticulousness of the production; at the least, it has opened up the way we can wear jewelry – not just as traditional jewelry, but also as headpieces, face wear, and garments for the body. It is no wonder that they started showing couture in 2021, because their artistry and expertise fully warrants the term. They sent the most decorated gymnast, Simone Biles, in the most decorated dress to the Met Gala in 2021, which weighed 88 pounds, was comprised of more than 17,000 feet of Swarovski glass crystal chains, nearly 200 feet of tulle, and took 6650 person-hours to complete.
The design duo deep dive and develop processes to achieve the sculptural elements of their work, for example, studying the construction of ancient architecture to form the folded pyramid motif in this collection. This fuchsia dress could be in a museum, so it was befitting that the show was held at the Frick Madison.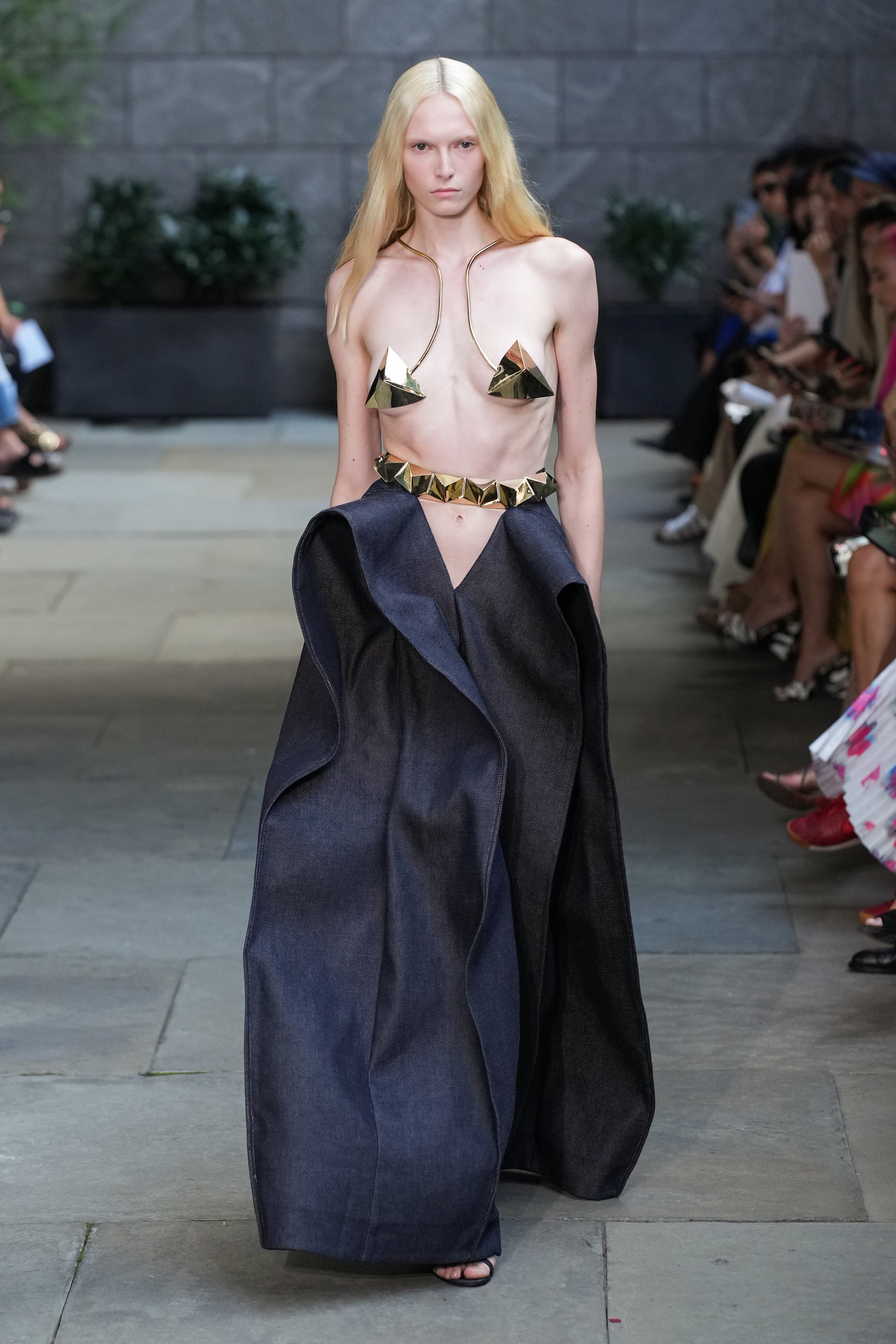 What look like punk fetish spikes are the result of them geeking out on German Renaissance goldsmith Wenzel Jamnitzer's perspective drawings of geometrical shapes. Which they rendered into 3D-printed cones and hand-set with hundreds of Swarovski crystals. These pieces are meant to be "aggressively beautiful and protective." While the spikey dress and coat might not be that wearable (try sitting?), the belts and shoes and headpieces are definite statement pieces that hit a nerve in society right now. Why just be a unicorn when you can be a fierce glamor punk couture unicorn? Speaking of shoes, while AREA has gone see now, buy now, the Sergio Rossi collaboration teased on the runway today will come out in February 2023 and include those must-have gladiator sandals in flats and heels and more.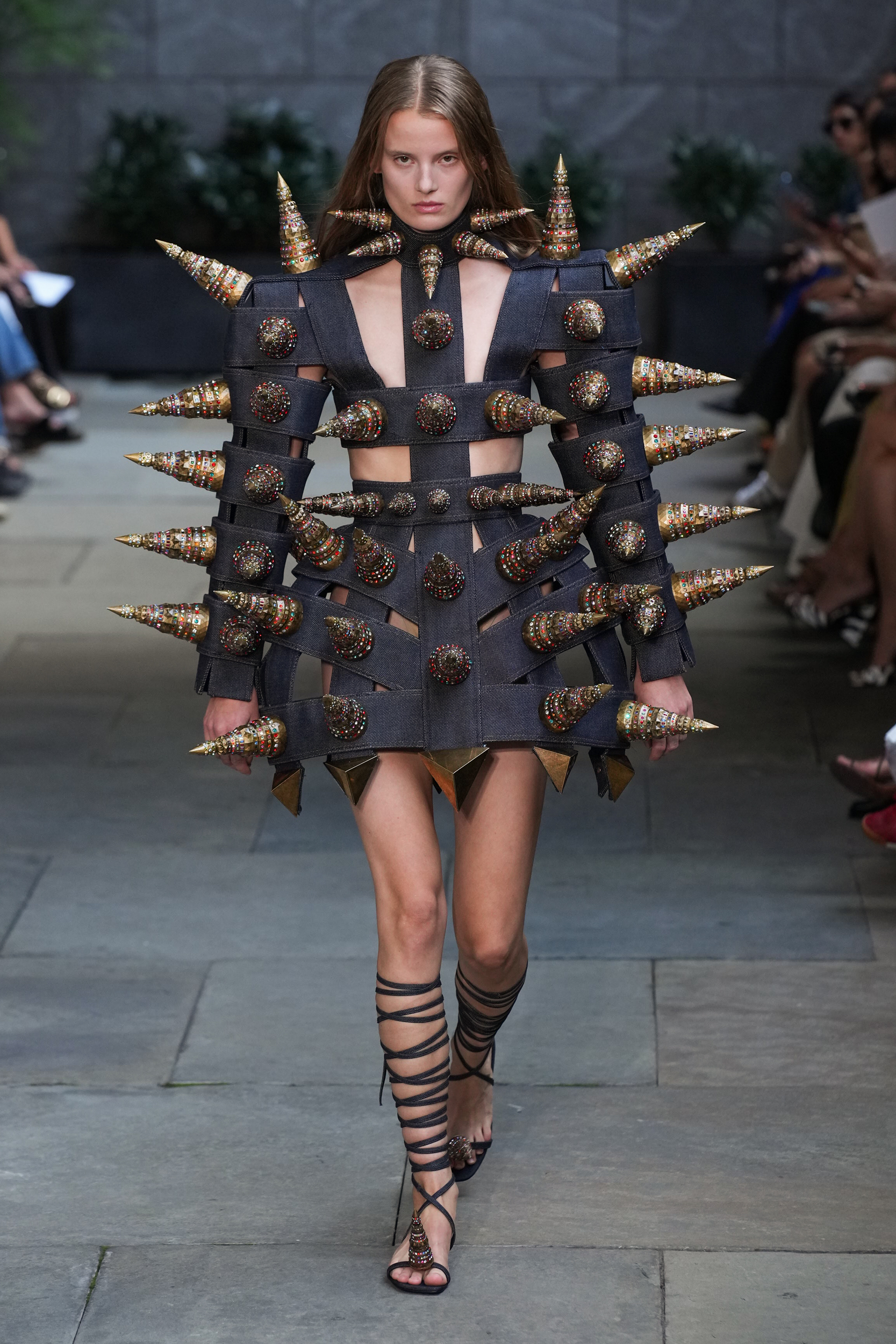 In line with the celebration of sexual diversity that is in the house DNA, this collection explores of the theme of bondage in the juxtaposition of BDSM and fetish with the prim femininity of bows. We're sure to see the rainbow ombré crystal dress and headpiece at the next pride parade. Love everything about this take on the black suit – the overall sequins, relaxed cut, aggressive bustier, oversized bow, backless jacket and glamorous train.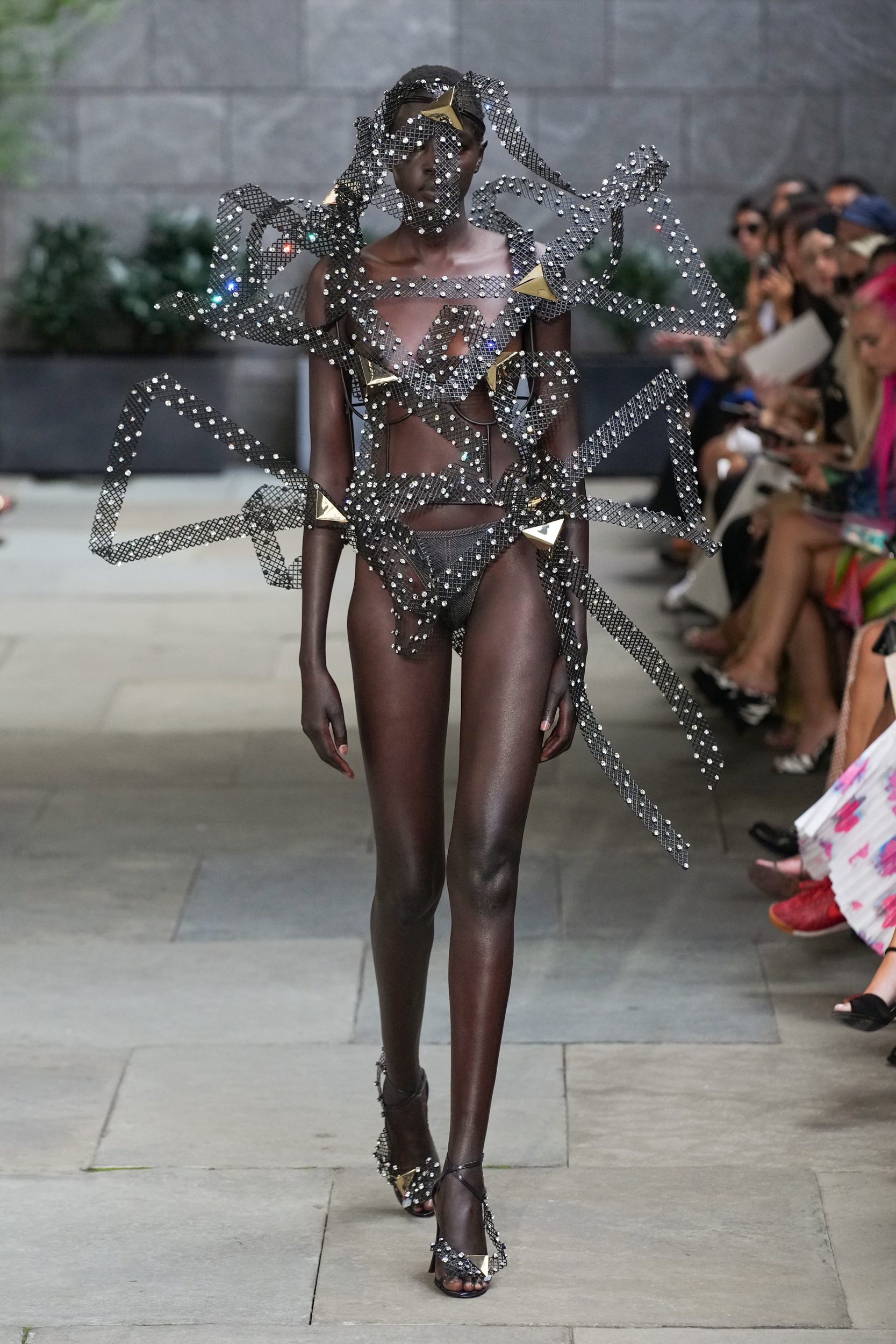 And can't wait to find out who will wear this bow dress on the red carpet!
While AREA is perfect for occasion dressing, Simona Zerchi has recently been appointed to the newly created position of Executive Vice President of Global Sales, so it will be interesting to see what AREA's next phase of strategic growth will look like. I'm betting on the sequin hoodies and track suit pants, sequin t-shirt dresses, spike belts and gladiator sandals, and beaded bow sets. PS As Fogg believes that the appeal happens on the emotional level, let's throw that teddy bear coat in there, too!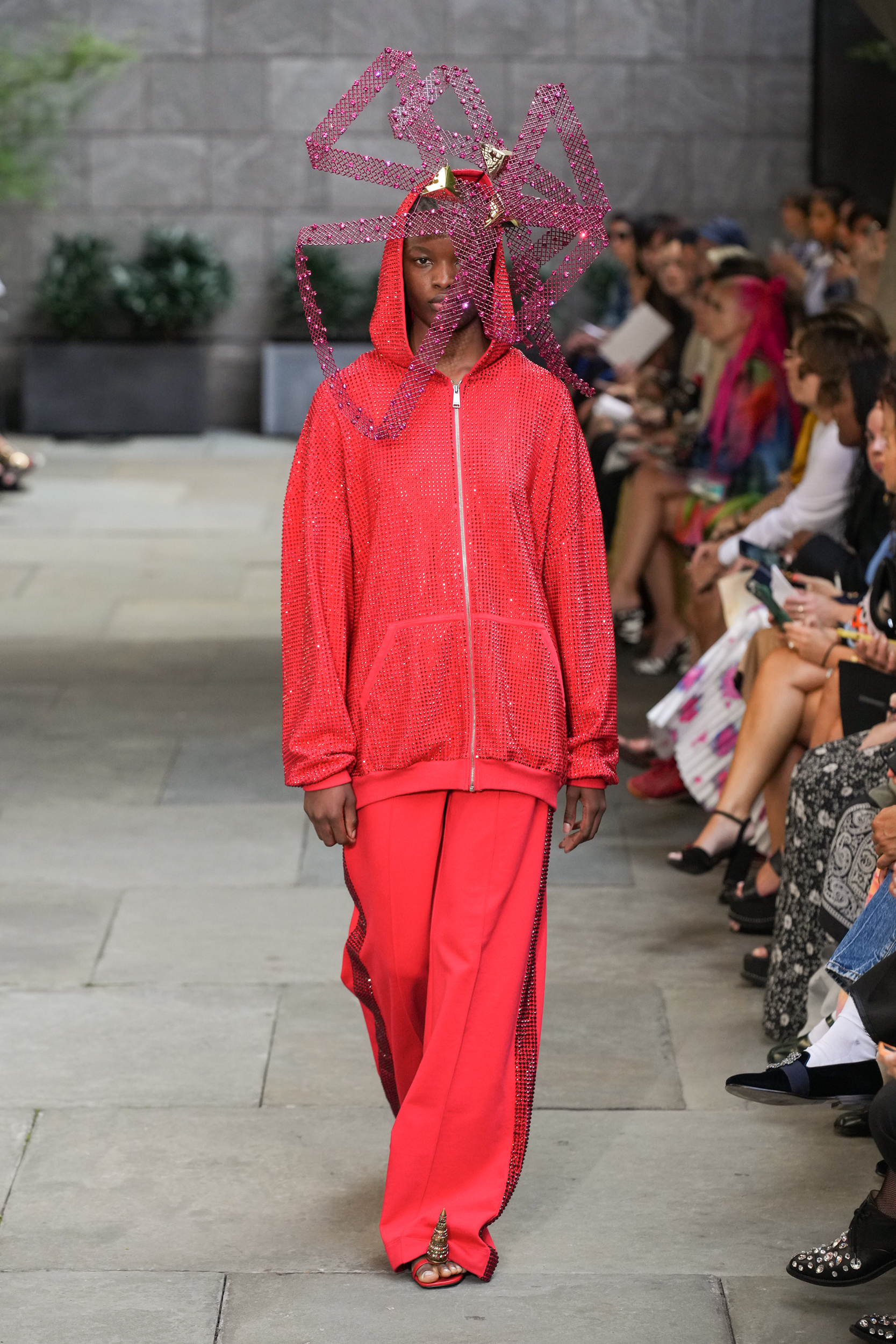 ---