Art Club
It's true the punk fashion itself was iconographic: rips and dirt, safety pins, zips, slogans, and hairstyles. These motifs were so iconic in themselves – motifs of rebellion.– Vivienne Westwood.
Vivienne Westwood's legacy lives on for yet another generation. Risque and bold, emblematic and disruptive, Art Club epitomises the traits of rebellious youth. Although this is not a Trend about Westwood, she inspires a bevvy of creatives, young and established. Punk is often used as an umbrella for all things that represent counterculture, and it's a way of life that emphasises individuality and defiance in the face of convention; its core philosophy is based on individual autonomy. A punk style introduced the world to D.I.Y. (Do-It-Yourself) fashion. It made the dishevelled acceptable, from ripped jeans and graphic tees to leather jackets and spiky hair to military boots and daring accessories or the mix of Tattershall checks, velvet, and Harris Tweed all a new lease of life. These aesthetics continue throughout the seasons, with several young or established designers infusing similar design tropes into their collections.
Marc Jacobs rang in the new season with an ode to Westwood. Sturdy fabrics were either pieced and patched or cut into fabulous jackets, outerwear, and shirts that were twisted and turned, worn in oblique juxtapositions, and paired with gigantic platform shoes.
He also tapped into the design detail she made famous, which has become common throughout A/W 23. The "tit tops" of Westwood's Pirate collection, in which she twisted t-shirt fabric into "nipples," were reinterpreted in knit pieces. The design duo at Vaquera also interpreted this detail in their elevated punk-inspired collection of torn and shredded hems, jeans made with blunt-ended nails mixed in frayed sweaters and nylon cargos. The controlled desecration in this collection underscored much of the Punk era.
The irreverence in defying the usual tropes is a refreshing anecdote for a youthful play on the state of the world – much like Westwood. Eckhaus Latta revelled in the blunt creativity of presenting clothes with raw and unfinished seams. Things are never as they seem, and even if the clothes look thrown together, there is a true artistic meaning behind it all. Matty Bovan is a master of the D.I.Y craft, combining raw deadstock materials, floral jacquards, and gold quilting into fabulous chaotic masterpieces pulled together with a mass of safety pins (aka Westwood). Adeam mixed vibrant checks in a more controlled mashup with evening wear fabrics and details. While Burberry is "Establishment", Daniel Lee created an almost irreverent Britishness to the latest Burberry collection with artistic aplomb by juxtaposing checks and creative pieces.
Andreas Kronthaler sent a collection that stayed true to Westwood's punk spirit, opening the show with his wife's face printed on a tee shirt. The look is complete with unexpected pairings – painted leggings and a plaid wool mini-skirt. Kronthaler blended East and West London, ornate glam, and punk with Buffalo aesthetic-inspired petticoat skirts, big-shoulder tartan jackets, and platform pumps with antique fabrics. To whit, what goes around comes around.
But it is not just about the art of dissecting materials and being creative in the mad construction. Clothes are also used as canvases portraying poignant artistic messages. JW Anderson presented a collection riffing on the old favourites, tapping into Michael Clark's creative thinking (an artist known for counter-establishment) and "celebrating being a part of the British counterculture"."You have a more interesting life if you wear impressive clothes." – Vivienne Westwood.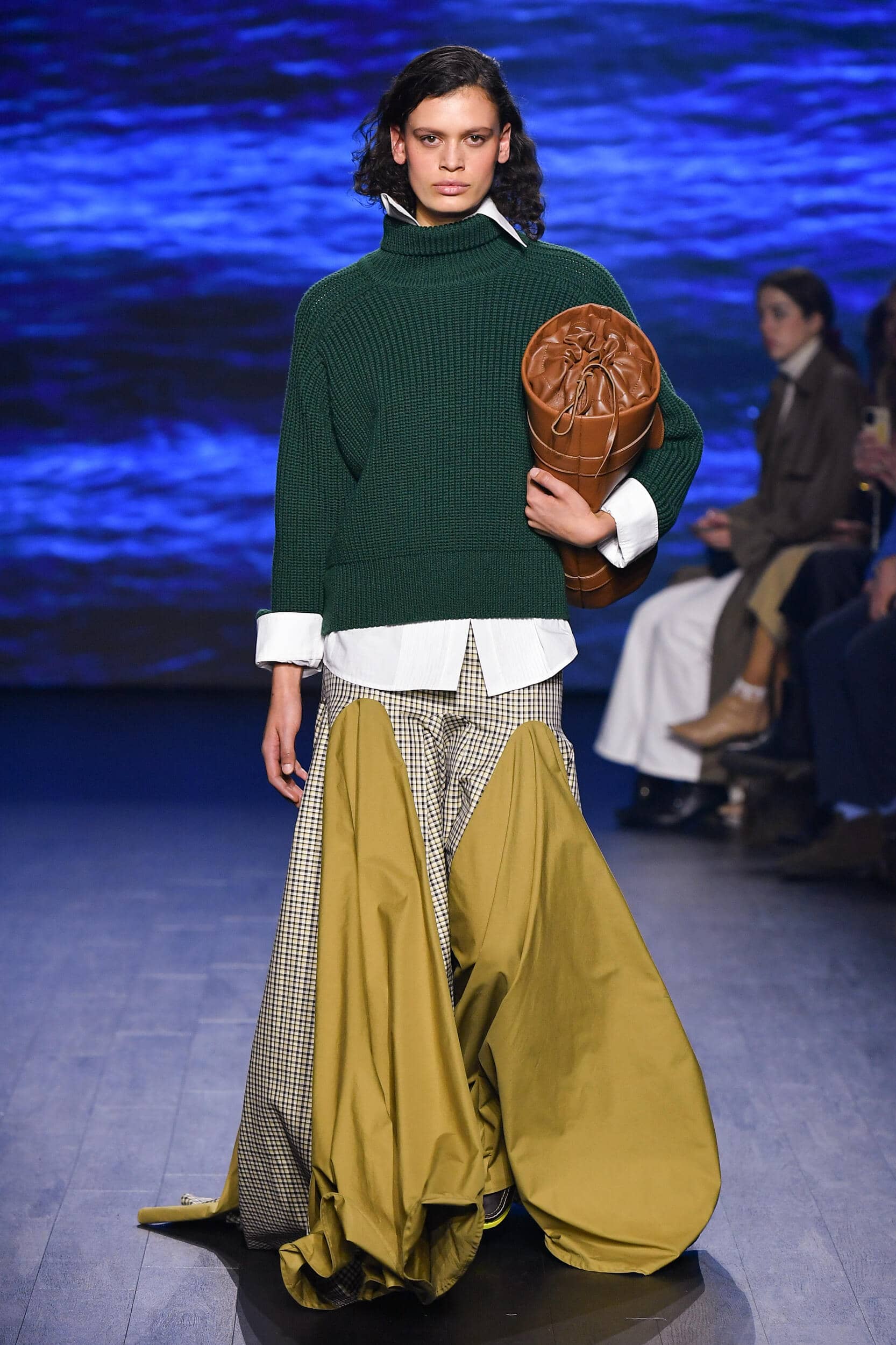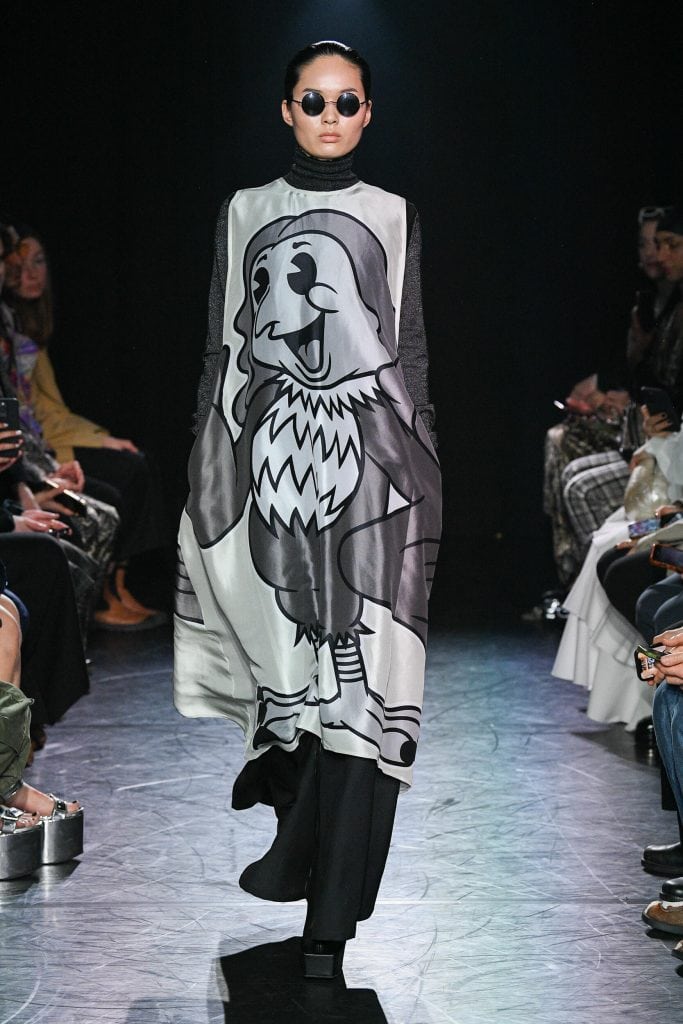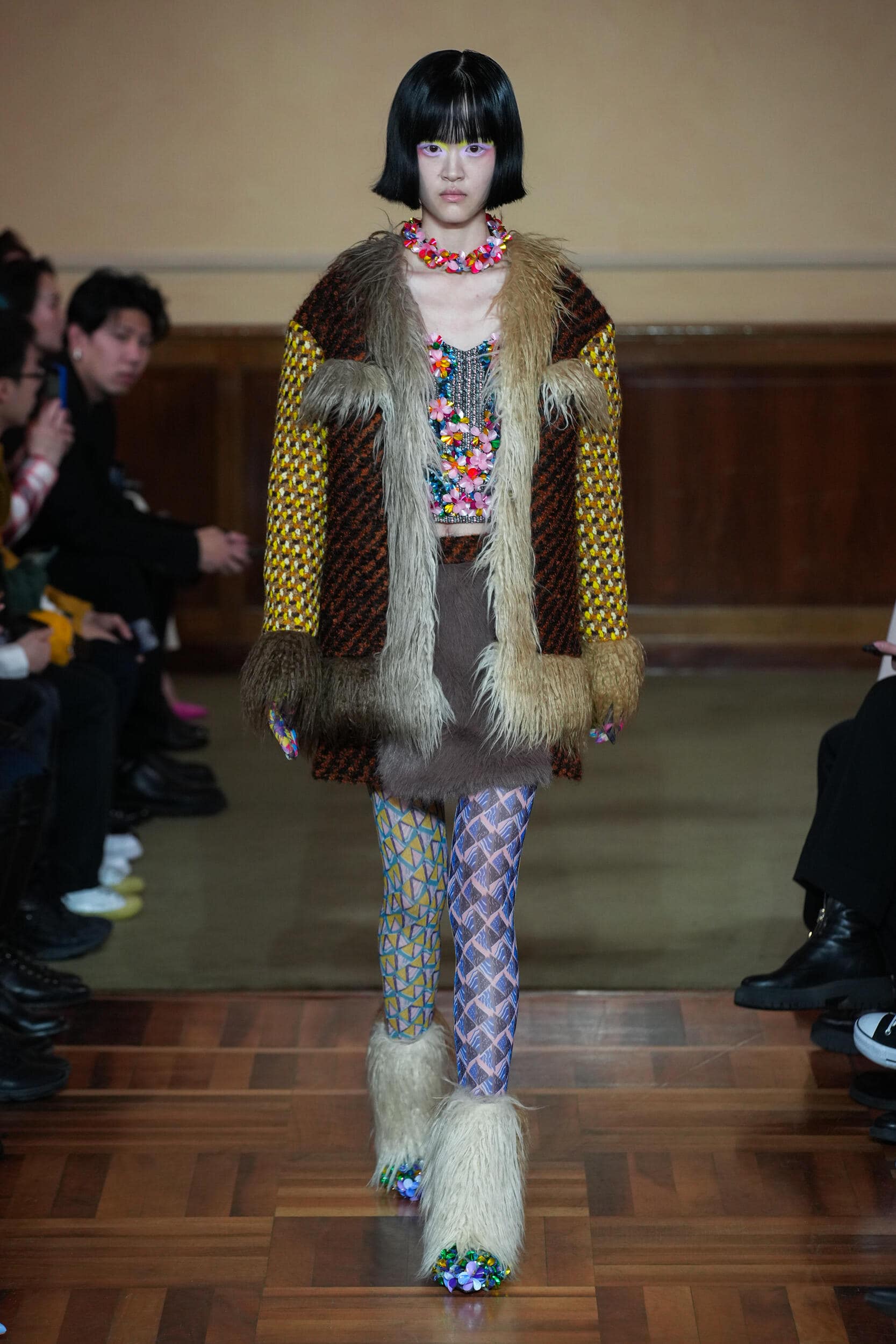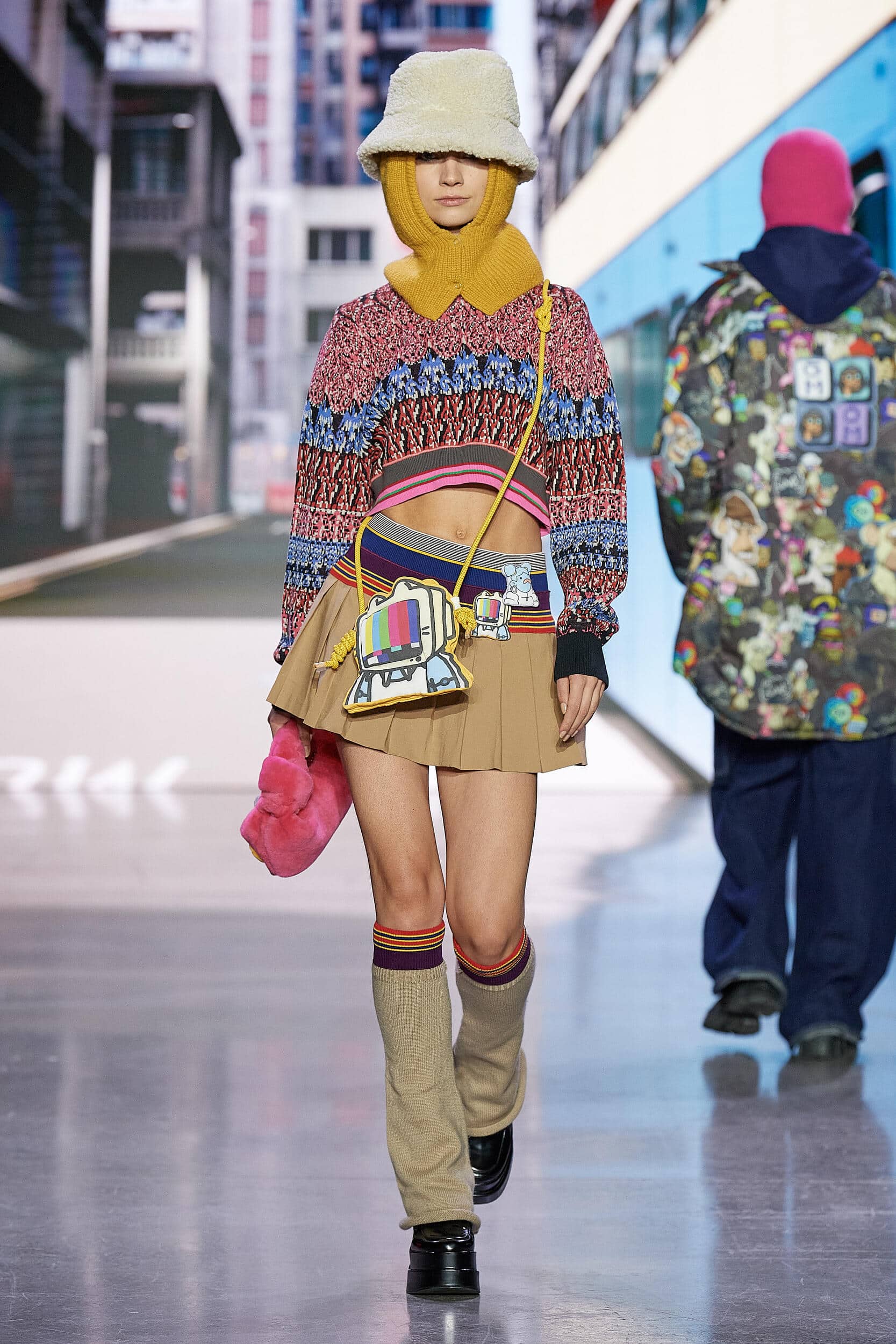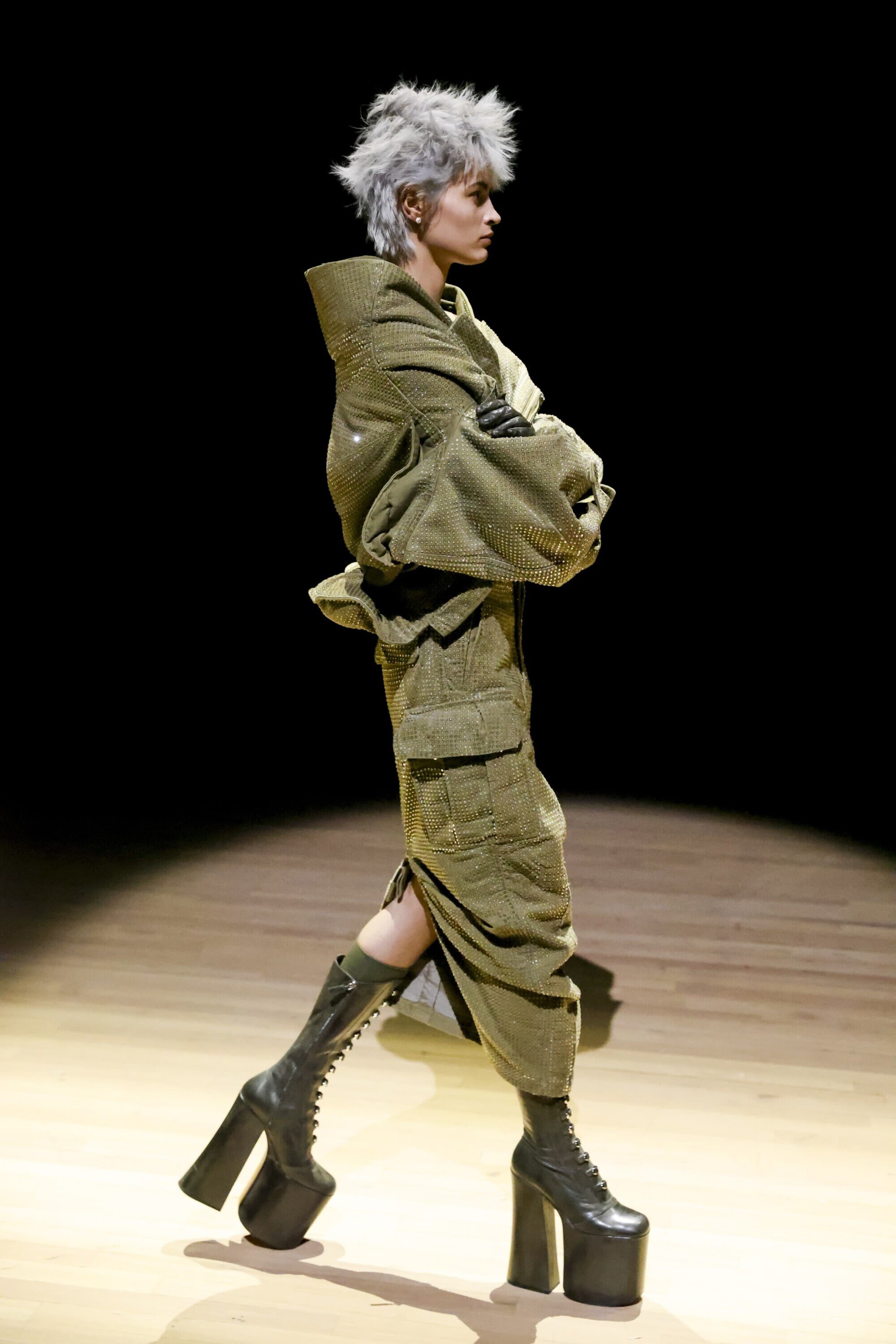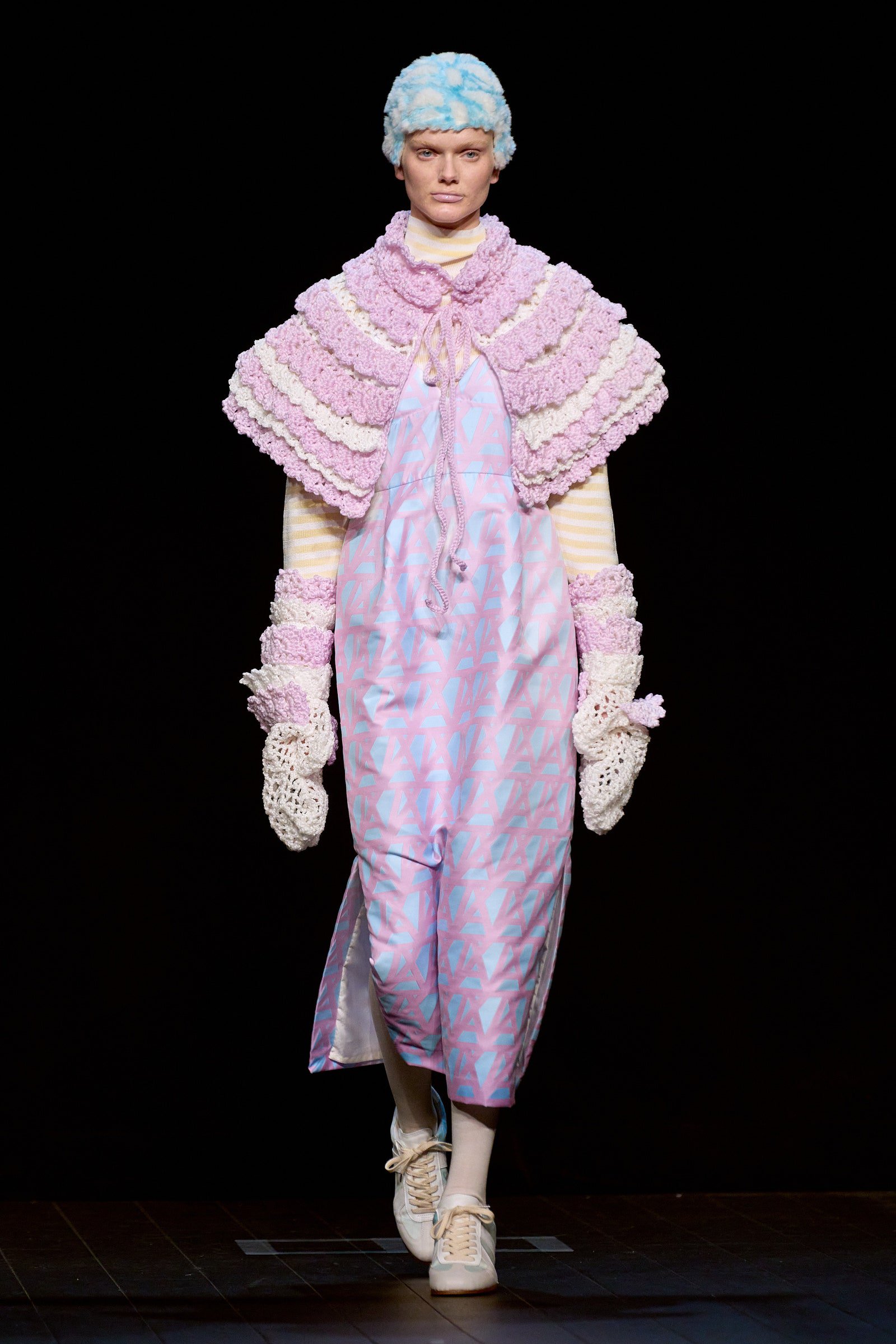 ---