---
Like people, brands have their own inherent DNA as well as their own evolution. As the industry finds itself at an inflection point, The Impression wanted to take a look at the history of communication for key fashion houses starting with Balenciaga.
Our look begins with the turn of the century where artist Mathias Augustyniak and Michael Amzalag of creative agency M/M Paris teamed with newbie photographers of the time, Inez and Vinoodh, to present some of fashion's most forward-thinking ad creative. Their illustrative, cut and paste hand, married with the benefits of Photoshop, produced some of the finest and most striking ad campaigns in fashion history. That look was cut short by the cleanliness that predominated in fashion communication post 9/11, as the market retrenched.
Designer Nicolas Ghesquière held the reigns of Balenciaga from 1997, when the designer was just 25 years old, until 2013. Navigating the label during its sale in 2001 to the Gucci Group. Ghesquière transitioned to Louis Vuitton and was replaced by Alexander Wang whose first campaign was in Fall of 2013 featuring Kristen McMenamy lensed by Steven Klein. The campaign direction shifted to a cleaner, some would say more American aesthetic, aided by art director Pascal Dangin.
In 2015 the tone of Balenciaga once again shifted as the house welcomed Demna Gvasalia as Creative Director. Gvasalia had launched the brand Vetements in 2014 after working briefly under Ghesquière at Louis Vuitton. Prior to that, he had spent time at Maison Martin Margiela, where he was responsible for women's collections from 2009 to 2013.
One could argue that Gvasalia's avant-garde hand has leaned the creative toward more conceptual artists than visual arts playing on pop-cultural and performance art references. He has teamed with photo artists Jean-Pierre Attal and art/fashion crossover photographer Harley Weir for most of his campaigns.
A quick study reminds us that people matter and their DNA is infused as much in brand messaging as the historic DNA of the brand itself.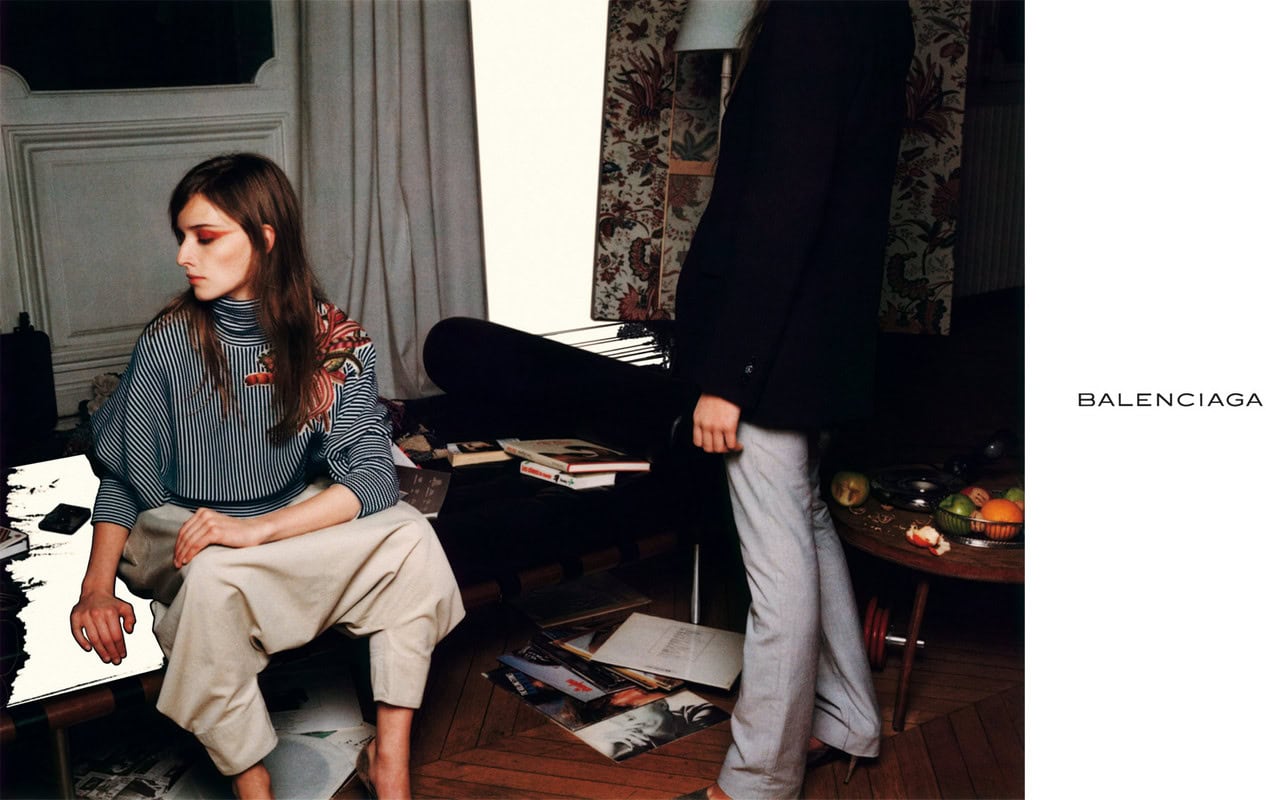 ---