Bally announces the reopening of its 3,200-square-foot New York flagship at 58 Gansevoort Street in Manhattan's historic Meatpacking District following extensive refurbishment. Located in a dynamic downtown setting of culture, shopping, entertainment and dining, it is the first store to roll out the new design concept displaying the bold creative direction that debuted on the runway at Milan Fashion Week.
Upon entering the store, featuring the new Bally logo, guests are welcomed into the fresh vision set by Rhuigi Villaseñor since he joined Bally as creative director in 2022. A considered evolution of the existing design concept for Bally Haus stores—which curate multifunctional spaces that lend themselves to both commerce and entertaining—the flagship will showcase men's and women's ready-to-wear, accessories, shoes and leather goods in a warm, luxurious and residential ambience, akin to that of an elegant apartment.
"It's been an absolute pleasure both researching and sourcing specific pieces from iconic designers who have shaped my eye in terms of style, and incorporating them with custom furniture in a very organic and contemporary way. To me, this reflects the nuance between Bally's everlasting sophistication and the forward-thinking nature of the Meatpacking neighborhood. We wanted the space to feel refined, but like home."
– Rhuigi Villaseñor, Bally Creative Director
Inspired by Swiss luxury, the vision translates into neutral color palettes, with beige as the predominant shade, alongside a curated mix of furniture. Highlights include bar pieces from Rio and the Indies dating to the Art Deco period and a rosewood case sofa from 1970 by American architect and designer Warren Platner, whose works have become icons of 1960s modernism. These are artfully balanced with contemporary design touches such as a Haos wood and metal dining table, created in New York City this year, and an Anker light screen from New York-based Italian sculptor and architect Umberto Bellardi Ricci. Additionally, the concept encompasses a made-to-order Stereo Commander SC 115 by Italian designer Willy Rizzo displayed in the window, portraying Bally's flair for the unexpected.
Heavy velvet curtains are featured alongside rich materials such as gold hammered metal, black calamine iron and dark lacquered woods. The use of oak parquet in a herringbone motif and crown mouldings segues into an industrial, exposed feeling, linking the location to the refreshed Bally identity. The new Bally design concept debuting at the U.S. flagship is both elegant and robust, carefully contemplated to honor the DNA of the brand as well as the architecture of the city itself.
"I am excited to showcase the new store concept we have imagined—together with Rhuigi—that replicates the homely atmosphere of an apartment, where vintage furniture, soft colors and luxurious fabrics are harmoniously mixed to reflect Bally's spirit of timelessness."
– Nicolas Girotto, Bally CEO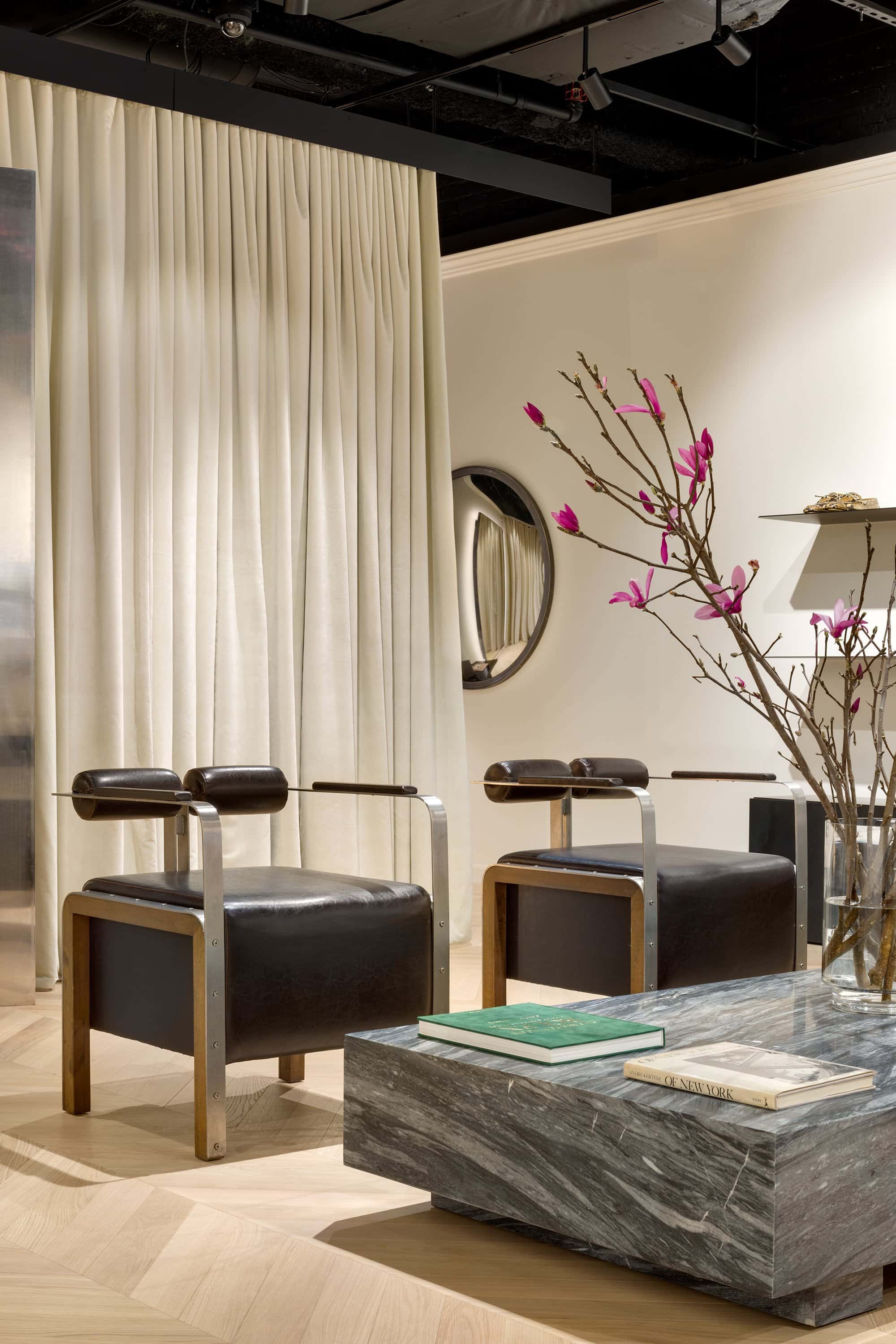 Location
58 Gansevoort Street
New York, NY 10014
---