---
Review of Balmain Spring 2022 Fashion Show
A Decade On, Sparkles and Activism Speeding Ahead
By Long Nguyen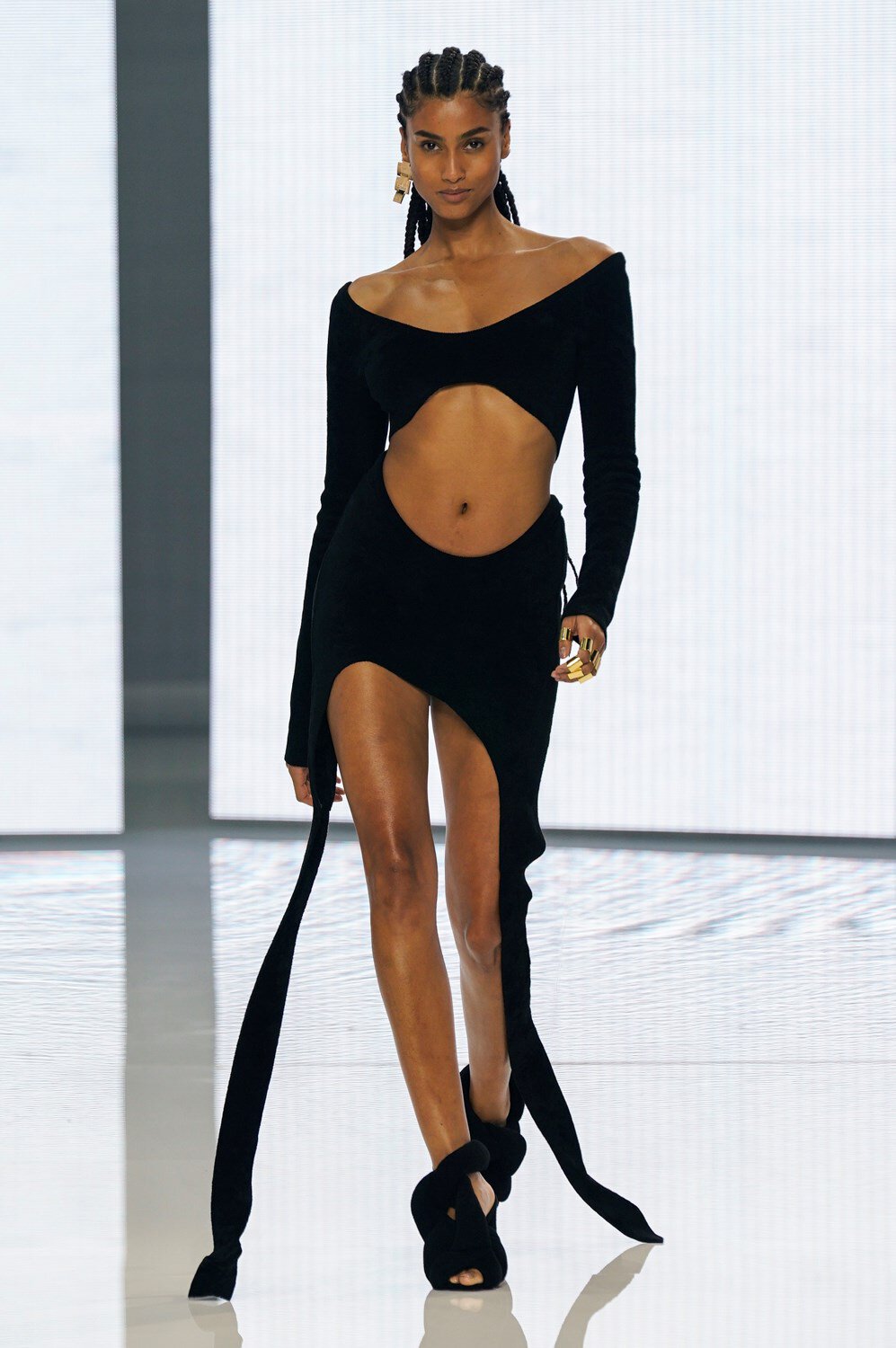 And when you made it through that door, you make sure that it was not shut behind you. No. For ten years, you were determined to keep that door wide opened making sure that others could reach their dreams. And the best part is – nobody needed to remind you or persuade you to do what is right. You know from day one that you have the singular power to help push for a new mindset, to persuade the bastion to finally begin to reflect the true beauty of today's streets. You knew from day one that actions speak louder than words. And of course, there are the clothes," Beyoncé said in a voice recording broadcasted before the start of the Balmain Spring 2022 show. 
In a packhouse at the La Seine musicale on the Île Seguin just on the outskirt of the 16th and the edge of Boulogne-Billancourt concert hall opened in April 2017, Olivier Rousteing, the Balmain creative director, gathered his tribes, his fans, and his followers for a two-day music Balmain Festival V02 featuring live performances from The Avener, Franz Ferdinand, Doja Cat, and Jesse Jo Stark. It isn't the first Balmain music festival – a few seasons ago, VO1 for the men's spring 2020 show inside the Jardin de Luxembourg also an all-night summer music festival raising funds for AIDS. 
Rousteing's activism is also his fashion voice even before establishing an authentic fashion signature and a firmer hold on the clothes he designed rather than just the ever more world of glamor and beadings without end. 
The Balmain Army, since its first appearance in Fall 2016, represented the young generation of Rousteing's age speaks for the brand in the language of diversity and inclusion. That's a few years before diversity is a thing, a big thing in fashion. And at times, audiences may have become more familiar with the faces and voices of this ever-expanding Balmain Army than the clothes they wore, which have been the most consistent with the new brand logo in the past two seasons. 
The show's first segment felt a bit more like an overview retrospective pushing out the best of the decade work, not necessarily with the same clothes but the same idea for the series of body-conscious cut-out pants and tops that opened the show. New here is the steel corsets in a chain lock with giant stones encased paired with tight pants. The clothes are undoubtedly sleek and sexy and perhaps also confident.
The dangling fabric motif permeates through this first segment, like a black circular cut-out dress with side fabric or the black deep v-neck jacket with black pants with side strips of materials and in the men's black pantsuit and black coat have personal meanings. Rousteing said the idea came from his personal experiences following an accident that required significant hospital and doctor visits – that these falling pieces of fabrics reminded him of the bandages during his recovery process.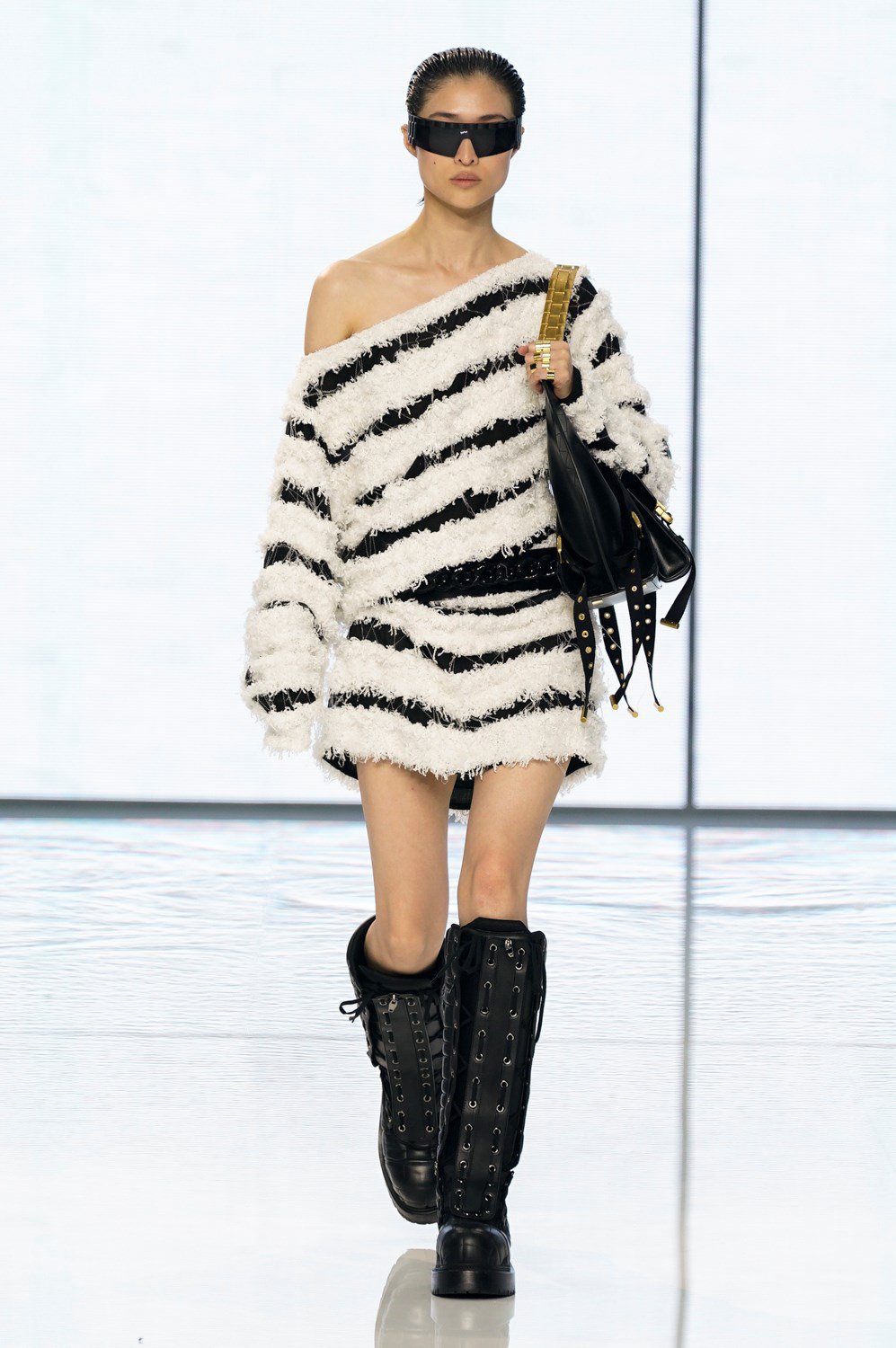 This is my most personal presentation to date. We decided to celebrate those ten years of constant challenges, creations, and changes with a re-edition of a handful of my favorites looks. I will admit that looking at them, all grouped together, brings me great joy. When I was designing some of the earliest of these, as an occasionally overwhelmed twenty-something, I would have laughed if someone would have told me that someday I'd be showing them as part of my retrospective," Olivier Rousteing said in his seasonal personal letter to explain his thoughts on each of the collections. 
First shown for Spring 2016 at the Hôtel Potocki, the menswear is inventive. At least there seem to be more boundaries to break than the women's. It is an unsung portion of Rousteing work at the house. 
A double breast black wool pantsuit was a deep cowl open back, a white super lightweight pantsuit with the jacket cut like a loose shirt, and the layering of different fabrics – a shirt of silk gauze, outerwear of technical wool, and a pair of pants in cotton. The long shirts anchored the men's style under black leather bikers and slouchy jackets and coats.
Perfect tailoring is plentiful – for men's a black slim single breast pantsuit with a long chemise and women white wool slouchy jacket over black bra and underwear. And the range of extraordinary artisanal atelier savoir-faire is abundant in metal weaving, ruching, and quilted leathers.
Naomi Campbell opened the second half of the show. She led an all-star cast including Carla Bruni, Nadege, Karen Elson, and Milla Jovovich in an assortment of classical Balmain embroidered short jackets and shorts skirts that were mostly beaded, reminiscing Rousteing's first few seasons at the Intercontinental Hôtel.
Then in those early years, Balmain showed in a more private setting with a smaller audience and now on the giant plexiglass stage with floor to ceiling monitors on each side and a packed crowd cheering on at La Seine musicale concert hall.
The second half of the show contained the more haute couture portion of Spring 2022, felt a lot less cumbersome, less weighted down by the intricate beadings. Rousteing demonstrated some clarity on the clothes that linked his first few shows at the ballroom of the Intercontinental to today's outing.
That the past and the now directly connect isn't necessarily a bad thing. The continuity of the fashion design signals a level of conviction that these are the types of clothes and not some others that remain the central aesthetics tenets for Rousteing. 
It isn't so much about repetition, but slowly refining a signature work at first so busy with too many beadings then slowly over time the beadings became more refined, and then less of them are present on the clothes.
This reworking of familiar signature garments demonstrates a remarkable degree of self-restraint – the light yellow jacket on Jovovich looks so lightweight today. Still, it would have been far heavier in the early seasons. Finesse, as they say, comes with age, like great red Bordeaux wines. The entire evening's haute couture segment felt light yet intricate in construct and fabrication. 
"You helped me make my musical statement. You helped me amplify my message, and your designs have made me feel powerful. Balmain is your amazing tool for both beauty and change. Your outlook, your convictions, and your talent have affected and moved all of us," Beyoncé concluded her remarks.
Fashion is a revolution, not an evolution" is a statement Rousteing post on the brand website. His revolution is seeing the impact of fashion beyond clothes as a culture on a far broader scale and audience. Oh, and of course, a few hand embroidered cropped jackets and mini skirts. 
---