Balmain's Rose Blooms Through Adversity
Review of Balmain Spring 2024 Fashion Show
By Angela Baidoo
THE COLLECTION
THE VIBE
THE THEME

It could go without saying, but in this case, the 'It' needs addressing. As Olivier Rousteing's defiant act of perseverance will go down in fashion folklore as one of the best examples of triumph over adversity during a fashion week. As the creative director highlighted in a PSA on his Instagram, a mere week before his Paris fashion show was to take place, more than 50 Balmain pieces were stolen in a hijacking. The unfairness of the situation was evident to the designer, but rather than postpone or re-schedule, a fierce determination set in with Rousteing becoming resolute that the show would go on.
And go on it did, at the Chaillot Théâtre National de la Danse, a room fit for the occasion (the celebration of triumph over tragedy) was full to bursting and brimming with Olivier's most avid fans, supporters, customers, and friends, who included none other than Cher herself, this time simply opting to watch from the front row, rather than partake in the final walk with the designer.
And what of the collection? Here, the designer outdid himself, and the additional days and night of extra work to make what was presented today come to fruition, were visible in the craftsmanship and the united effort that brought his vision to life, despite the circumstances. Teasing a tongue-in-cheek reference to the often-quoted one liner in The Devil Wears Prada, namely "Florals for Spring? Ground-breaking", what was presented was breaking new ground. In the main symbol of the Rose, which was riffed off of in a number of fabrics, proportions, textures, and prints.
What Olivier created in his summer 2024 collection was a purposeful take on the idea of florals as a marker for the summer season. Choosing to take them from the background and place them front-and-centre. They were given a 3D, and somewhat maximalist makeover, and in some looks there was truly a questioning of were these more than fashion, were they art? Wearable art of course, but art, nonetheless.
Throughout, there was a distinctly retro sensibility to the silhouettes, with a mash-up of both the 1950s and 1980s being remixed to full effect. Oversized rosettes in black and white polka-dots had the faint influence of Princess Diana, while bustier and full-skirt ensembles – typical of the 50s – were exaggerated through conical bra cups and padded hips, accentuating a woman's curves in a reimagined throwback.
The accessories paired with the shows looks were also well thought through, as signature styles were coated in candy pastels or clear vinyl, and woven basket circular bags will surely compete with the surrealist 'flower bouqet' shape for bag of the season. Meanwhile the Balmain customer should expect to have to get on a waitlist for the square-toe, flared heel pumps in patent, woven, or two-tone leather.
THE BUZZWORDS
Floral fantasy. Retro redux. Wishlist Accessories
THE SHOWSTOPPER
Look # 54
In a collection where every look could have been considered for 'Showstopper Status', the show's finale dress was more akin to a work of art than a mere dress to be worn. Encrusted and bejewelled as it was this is what is meant when the boundaries between fashion and high art blur in the most beautiful of ways.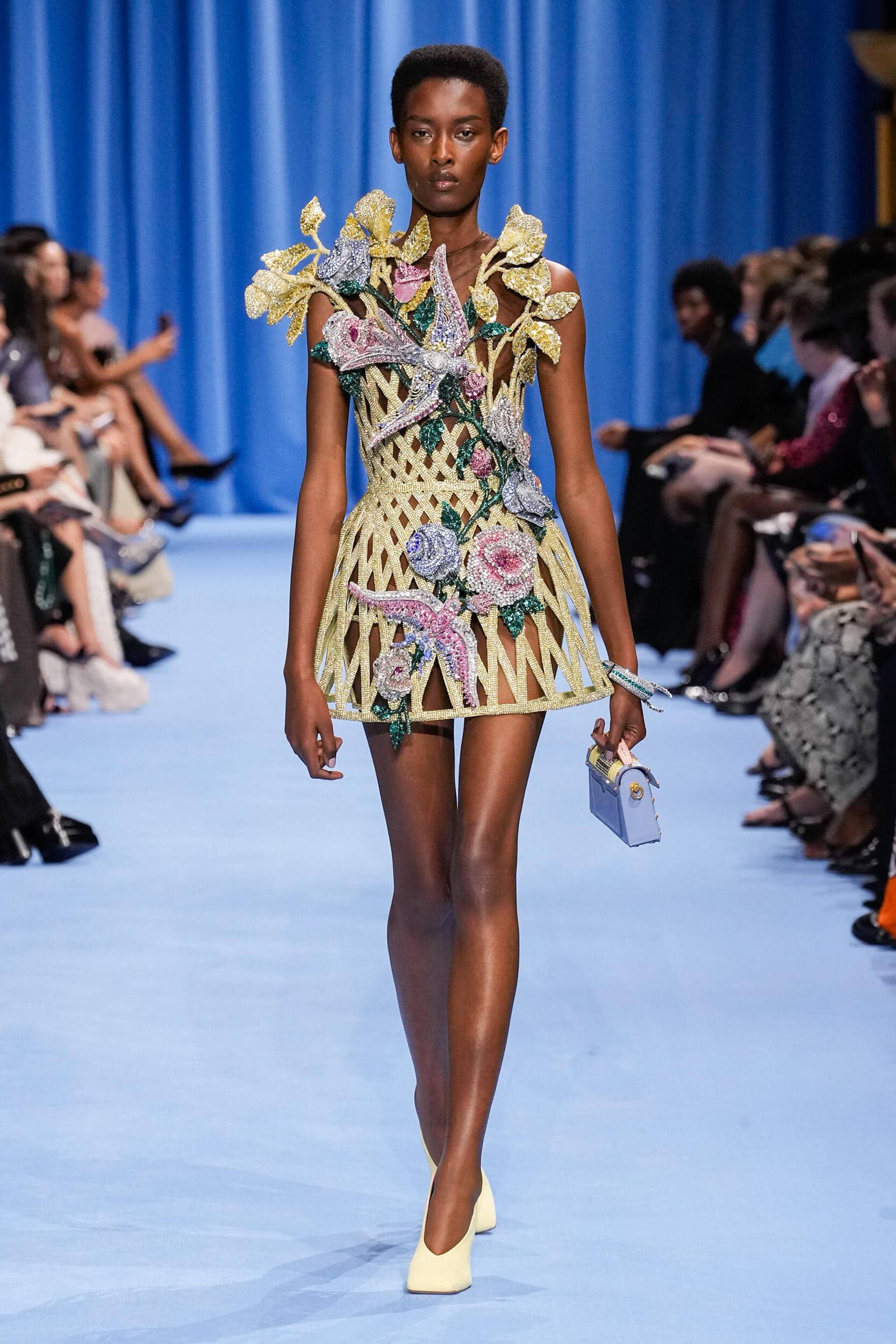 THE DIRECTION
PROS
The softening of the structured Balmain woman feels like an evolution, when paired with riffs on retro feminine tropes.
Rousteing demonstrates how couture techniques can be translated for daytime looks that dare to be different.
CONS
Is it fashion, or is it art?
THE WRAP UP
Olivier's tenure at Balmain has seen him solidify a signature of structured femininity, but with his summer 2024 collection there was a definite shift towards evolving the brand to showcase the full capabilities of the ateliers, veering into the realm of Couture, especially with the caged dress made of metal, the process of which was posted to Rousteing's Instagram to highlight the master craftsmanship which has gone into what was presented today. His use of embellishment to modernise the way florals are perceived as passé for the summer season, was at once whimsical (the floral 'bouquet' bags), then classical (the monochrome iterations), and then masterful (a metal corset with applique roses appearing as if windswept, and coloured Lucite versions adorning a retro-style polka-dot playsuit). There were even considerations paid to more wearable concepts, which simply saw the floral act as an oversized corsage embellishment in co-ordinating fabric.
It is unclear which of the 50 plus garments were stolen, but the cohesiveness of this collection demonstrated that Rousteing and his team didn't miss a beat in bringing his vision to life in 4K 3D technicolour.
Summer 2024 was no doubt an acknowledgement of overcoming adversity, but the incident of the hijacking exposes wider questions around the way in which fashion – in garment form, not just as a Hermès Birkin or Rolex watch – has become a highly covetable commodity, which is something that a minority are willing to go to extreme lengths to obtain. A fact that many luxury owners will be all too aware of, but which the everyday masses became privy to when Carrie Bradshaw was robbed of her Manolo Blahnik's in the Sex and the City series. It begs the question of whether the future of fashion show deliveries will now need to be done under heavy security to protect a designers life's (6 months can seem like a lifetime in fashion circles) work.
---