---
Digital campaigns took a turn in the right direction this season as brand's recognized the medium as an important tool for branding rather than simply means to drive sales transactions.
Gucci once again led the field with a sea of digital-only campaigns from skateboarders across the globe promoting Gucci Grip watches to digital artists showcasing artistic narratives around Gucci Ace sneakers. Most brands were driven by the need to be on 24/7, offering shorter form narratives to support their seasonal ad campaigns. Some like Dior and Gucci played with games and augmented reality. Others, like Balenciaga, offered musical loops or in the case of Gucci a Spotify station of monthly playlist. A few broke campaigns that were designed exclusively for Instagram and YouTube such as AMI Alexandre Mattiussi and Gucci CC Marmont.
As we look at the best campaigns it becomes clear that the medium is NOT the message, the message is the message and the medium simply a tool to express it. Here Chief Impressionist Kenneth Richard discusses some of the Best Digital Ad Campaigns of Fall 2019.
AMI Alexandre Mattiussi
It is said that tea time is a chance to slow down and appreciate your surroundings. Although, in the digital age of social media and smartphones, rarely does anyone find the time to enjoy this well-deserved break. In the AMI Alexandre Mattiussi fall 2019 ad campaign, creative director Julien Gallico and photographer Michael Bailey-Gates highlight their own version of tea time through the 21st century's most used platform: Instagram.
Julien Gallico bridges the divide of fashion and technology here building on his philopsphy, "Fashion is about taking, re-using, and extracting the past and twisting it to make new." Gallico spins the traditional and aristocratic high tea and markets it on the modern and common platform, Instagram. Noting the Internet is the largest form of communication in today's world, Gallico is taking something that was a luxury in the past and making it accessible to all through his commitment to social media. Not only is Gallico's ingenuity allowing the AMI campaign to reach a greater audience, but he artistically creates a tea time that can be experienced by everyone through the digital age today.
Gallico, however, is not the only internet inspired mastermind behind the AMI campaign. Photographer Michael Bailey-Gates was first introduced to his now profession of photography through the gates of the Internet. His fascination with classical portraiture without gender shines in this campaign as subjects manifest the familiar poses of traditional art without losing their own identity. Once again, Ami revitalizes and improves past traditions into modern novelties.
Seeing the unique identities of the talent shine despite being tied to the attributes associated with high tea and classical portraiture is makes clear that Gallico's and Bailey-Gates's campaign is one for the modern age. AMI Alexandre Mattiussi's fall campaign is one to observe and ponder on—making us all want to grab a cup of tea as we scroll through our Instagrams.
AMI Alexandre Mattiussi Creative Director | Alexandre Mattiussi
Creative Director | Julien Gallico
Photographer | Michael Bailey-Gates
Model | Angele Deschamps, Matthias El Koulali, Nora Uche, Samer Rahma, Thilo Muller
Hair | Tomohiro Ohashi
Makeup | Kali Kennedy
Manicurist | Chloe Desmarchelier
Casting Director | AAMO
---
Balenciaga – Loops
If you dive a little deeper into YouTube you'll find a broad assortment of something one wouldn't expect from a platform designed to showcase video …. musical playlists. Collections of songs with no video what so ever designed to be turned on for hours of musical streaming.
It would appear that Balenciaga's Artistic Director Demna Gvasalia is a fan and wisely knew how to evolve the medium in his latest creation, Balenciaga Loops. Merging musical playlists of ~ 30 minutes with art, the designer has created a monthly series of video art designed to set the atmospheric ambiance and visual tone for public spaces or private parties. Taking cues from streaming services the list will be created with moods (work out, pre-party, in transit, after hours, post-breakup, etc.)—and pieces from current collections—in mind. Each of these sound playlist is a partnership with the online radio station Rinse France. The series is created purely as bonus content for the Balenciaga audience between runway shows and other drops, to be played anywhere and at any time.
To kick-off the series the house teamed with artist Max Guther and features a full Balenciaga look from Spring 19 collection. The second animation is illustrated with moving artwork by Max de Waard and features Track sneakers.
---
Dior – Check'n Dior
Never one to rest on its laurels, Dior launched a new augmented reality filter on Instagram called Check'N'Dior. Developed in collaboration with The Mill, Check'N'Dior is an immersive experience that invites customers to try accessories virtually, with the added embellishment of dramatic vintage lashes via face recognition software.
Dior's filter's look was inspired by "young Fifties-era rebels known as Teddy Girls". By the mid-1950's, second-hand Edwardian suits started to become available and were adopted by working-class teens. These "Teddy girls" would pair their tailored jackets with brooches, clutch bags, and fancy headwear…hence the AR veil and Dior canvas hat in three color options: white and black, red, and emerald green. Supermodel Natalia Mikhailovna Vodianova gave it a whirl, resulting in the Instagram post below.
The program was really well designed, allowing customers to easily engage with the brand in a playful manner while showcasing how Dior isn't resting in the digital age. Check'N'Dior down-ages the brand in just the right way, turning new customers onto the brand in an experiential, dynamic fashion and ensuring that the brand is still relevant with the post-Millenial generation.
---
Gucci – Grip
Gucci's Grip watch become the focus of an Instagram collaborative project harnessing the spirit of skateboarding in a social media campaign that cast skateboarders across the globe.
The genuinely inclusive, diverse, radical, and often genderless skateboarding community is the perfect haven for Creative Director Alessandro Michele to roll into to showcase the genderless Grip watch.
To showcase the collection Alessandro Michele invited a number of skateboarders and artists from different cities around the world to participate in a project and share their personal stories. The result was a visual exploration of the global skateboarding and related communities, with participants of different ages and genders. Skaters and their friends were documented and pictured skating and hanging out. The end result included images, artworks, and videos that together form a joyful portrait of action, creativity, inclusion, sociability, and subculture. The cities featured were London, Paris, Rome, Tokyo, New York, Shanghai, and Seoul.
Among the collaborators is the queer skateboarding project Unity, a Californian group founded by artist Jeffrey Cheung and Gabriel Ramirez in 2017. Unity hosts monthly skate gatherings around the world and the images will focus on its Paris skate days. Additionally, Clémentine Schneidermann, the French photographer based in Wales, will document a cast of skaters in typical London scenes. Meanwhile, New York-based skater Tyler Blue Golden will be the focus of a shooting by LA-based photographer Noah Dillon. Other projects featured couples of China's young skaters and a group of skater girls from Seoul, documented with their families. In Tokyo, Japanese skater Shinpei Ueno was portrayed with his local community of artists and musicians. Lastly, in Rome, photographer Niccolò Berretta documented a cast of skaters including Orlando Miani, the artist and skater who starred in the Gucci Cruise 2020 advertising campaign.
To bring the digital campaign to the real world, Gucci unveiled a new installment of its ArtWall project, showcasing the Grip watch, just off East London's famous Brick Lane. The wall featured an illustration by British artist, designer and art director Kieron Livingstone, who mixed graphic elements with distinctive house codes in his whimsical style. Kieron is the lead designer of multi-platform creative collective Project Zoltar, which has been an expression of the British punk-rock street scene for over a decade.
Gucci Grip and the spirit of skateboarding were also the focus of the third game added to Gucci Arcade, the new section of the Gucci App that allows users to play with house characters, inspired by vintage video games.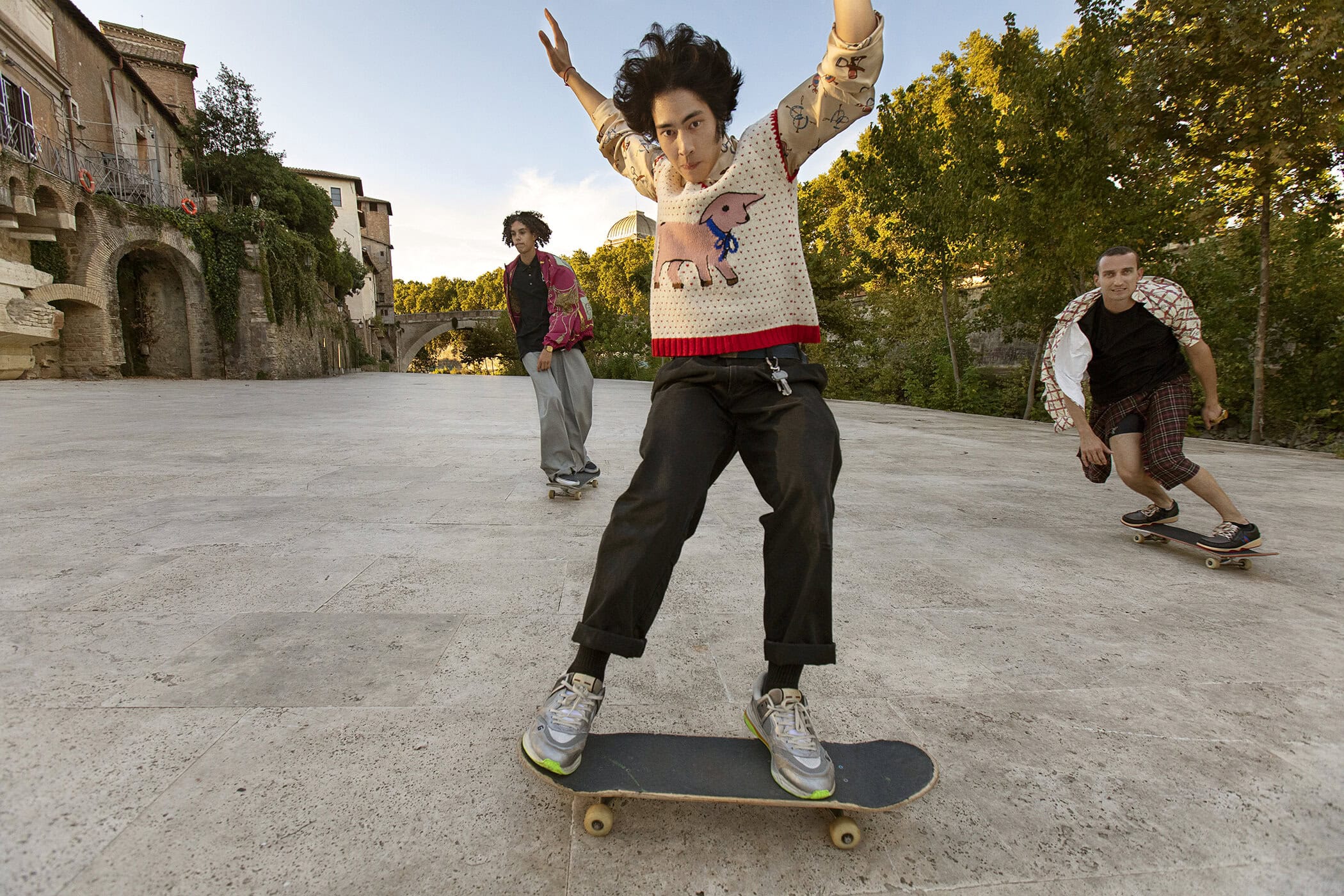 ---
Gucci – Ace Sneaker
Gucci teamed up with artists working in both digital and physical media to celebrate the launch of their new Ace sneakers.
One such artist is motion designer Esteban Diácono, who creatively used the collaborative opportunity to create a fascinatingly unique and delightfully weird digital art installation. Based in Buenos Aires and working all over the globe, Diácono creates otherworldly yet human digital pieces that explore our sense of motion and space. For his collaboration with Gucci, he says that "the main inspiration for this piece came from the idea of comfort. The goal was to create a 'character' inspired on that weightless and comfortable sensation, and the first thing that came to mind were memories of floating in water and the elegance of jellyfishes." The character is indeed jellyfish-like; impressively rendered fabric bounces and sways delicately as the bulbous creature walks on disembodied, Gucci-clad feet. The motion capture technology used instills this personification of comfort with a surprisingly recognizable air of humanity.
The collaborative project also features artists Didi Rojas, a Brooklyn-based sculptor who crafted an uncannily realistic ceramic Ace sneaker, and Oh Jia Hao, a 3D animator based in Singapore whose work playfully explores physics and tactility.
The brand released the second wave of innovative work featuring artists like Daniel Lam, Kensuke Koike, and Laura Lemurex. Naturally, the artist's muse for the campaign was once again the famed Ace sneaker. The artist work focused on reflecting how the digital landscape has evolved over a brief amount of time. With this common theme in mind, the artist tastefully used the sneaker to convey the message of self-expression, an idea Gucci is championing in their contemporary creative vision. Swedish Artist Andreas Wannerstedt skillfully uses his video to feature the shoe as a sensual, hypnotic ASMR-inspired experience.
Gucci Creative Director | Alessandra Michele
Video Creative Directors | Esteban Diácono, Didi Rojas, Oh Jia Hao, Daniel Lam, Kensuke Koike, Andreas Wannerstedt, Aleia Murawski, Sam Copeland, James Kerr, Gustavo Torres, Jamie Wolfe, Alex Frost, and Laura Lemurex
---
Gucci – CC Marmont
Gucci Creative Director Alessandro Michele reminds the world the power of the Renaissance in the house's digitally-driven campaign to promote the CC Marmont collection. For Gucci, fine art is not just a thing of the past, but a living and extensive element of the past, present, and future.
Lensed by Julia Hetta, the social ad campaign is taks the 17th-century root to revitalize their 21st-century brand. With new horizons approaching in their company, Gucci is taking a step back from mainstream models and turning their collection to fine art— just as the painters of the Renaissance turned away from Baroque style to revolutionize art. Here, Michele and Hetta are utilizing the finest materials that construct their handbags as a straight correlation to the finest art of our world so far. Gucci has mirrored the Dutch still-life paintings to such perfection that the campaign's images even fall in line with some of the primary rules of diagonals, thirds, and alignment as seen in the original Dutch still-lifes.
This GG Marmont campaign proves the visuals of the 17th-century art revolution are applicable and influential even today. The dramatized lighting, utilization of food and props, and the display of achievement is not lost in society today— and we have the 17th century to thank for it. Just as the still-life paintings were a sign of Dutch exuberance, the Double "G" has become a notion with the same connotations. Alessandro Michele, Julia Hetta, and the Gucci team have proved that history never truly dies and, in fact, still has the power to revolutionize the world as we know it. Whether it is the 17th or 21st century, a renaissance is dawning and Gucci is leading the forefront.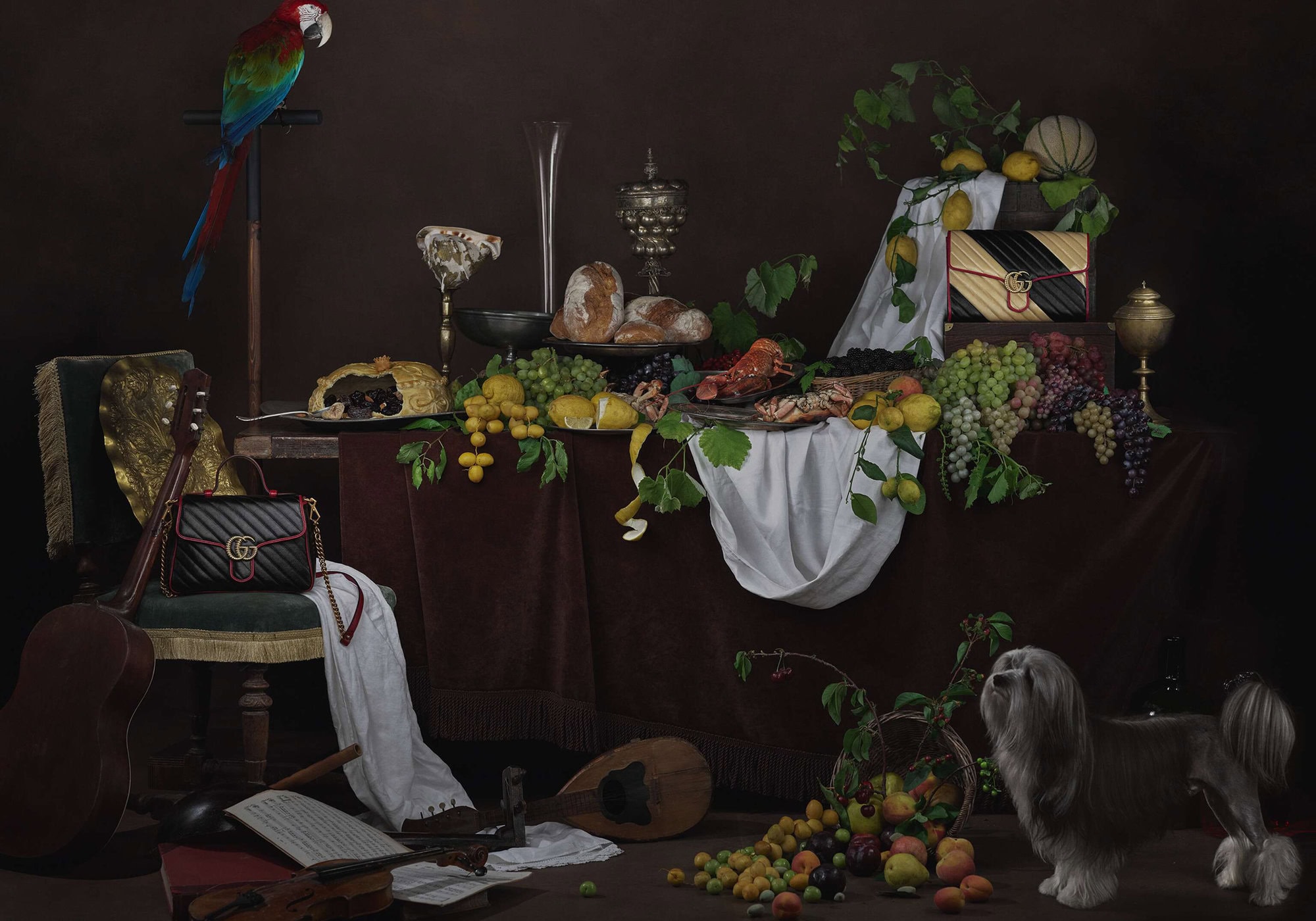 Gucci Creative Director | Alessandro Michele
Photographer | Julia Hetta
---
Hermès
Hermès is keeping us fed with delectable treats, in an enticing Instagram campaign featuring hyper-realist cake art by Giulia Ceccacci Phillips. Phillips is a Paris-based maker of objects, illustrations, and installations, who expertly mimics Hermès accessories such as the Kelly bag, footwear, a glove, and a hat, plus a silvery baume de sellerie (to care for your saddlery leather) as edible pastries…frosted to perfection and filled with sweet deliciousness.
Starting with the Faubourg of Dreams podcasts, which shared the daily routine at their Paris vessel including work on window displays, the hanging garden, and leather workshop, Hermès continues to embrace domesticity with a meta foray into baked goods. In videos featuring a hand model calmly, leisurely slicing each cake with what looks like a butcher knife, the effect is mildly surreal and oddly relaxing…provoking something akin to ASMR (autonomous sensory meridian response): the video-induced sedative sensation that begins at the scalp and moves through the body.
If sculptor Claes Oldenburg and Julia Child decided to collaborate on a series of cakes, these confections might be the result. Fittingly conceived in a land where Marie Antoinette allegedly uttered "Let them eat cake", Hermès' clever Instagram campaign allows us to (metaphorically) have our cake and eat it too.
Cake Creator | Giulia Ceccacci Phillips
---
Miu Miu – Mon-Star
At first look, Miu Miu's new videos for their Miu Mon-Star sneaker might camouflage as an MTV music video from the '80s. However, with a closer glance, it is clear that the camp[aign feel anything of yesterday and very of the now.
Imaged by videographer ERAXVI the '80s inspired feel brings nostalgia to the shoe's connotation. The artistic development of a grainy, green-screened video exhibits the style and swagger that comes along with these unique shoes.
Miu Miu Creative Director | Miuccia Prada
Video | ERAXVI
Model | Sofia Fanego
Music | Itesa
---
Moschino
The house of Moschino recognizes the times and has designed a campaign set to the backdrop of '80s Cult Soap Opera Dynasty for it. Facebook, Instagram, and Twitter make it easy to share content and bypass traditional media models, but today's new digital landscape requires constant upkeep which is where the genius of these short-form tales lies. Plus Jeremy Scott and crew have created an 'Haute Dynasty' that will live in an archive on internet gifs and memes which will bring people back long after the clothes of this season have moved off the racks. The fashion is more multifaceted than it's ever been—it's not just about the clothes, or the models or even the house itself, it's about storytelling.
On Instagram, Jeremy Scott has captioned a film from the campaign with the following: "It's the cliffhanger season finale episode of @moschino tonight! Who will survive? Who will die? Who will come back as their evil twin? Tune in to find out!" Moschino has tapped into a market of soap and reality TV that emotes, without even having to produce a full-length show. That is genius and we will definitely be tuning in next season.
Moschino Creative Director | Jeremy Scott
Creative Director | Jason Duzansky
Photographer/Director | Steven Meisel
Models | Gigi Hadid, Irina Shayk, Joan Smalls, Denek Kania, Mason McKenrick, & Trevor Signorino
Stylist | Carlyne Cerf De Dudzeele
Hair | Guido Palau
Makeup | Pat McGrath
Manicurist | Jin Soon Choi
Set Designer | Mary Howard
Casting Directors | Piergiorgio Del Moro & Samuel Ellis Scheinman
---