Review of Blumarine Spring 2023 Ad Campaign by Photographer Petra Collins with models Sijia Kang and Yoon Young Bae
Blumarine shares an intoxicating underwater fairy tale with its new Spring 2023 campaign shot by photographer Petra Collins.
Uniting the intimately familiar and the fantastical, Collins' imagery takes its cue from the collection's underwater theme, casting her models as suburban mermaids in a quotidian daydream. The space of a typical, perhaps somewhat frumpy living room is illuminated by aquarium-like windows set into the wall, offering a glimpse into an aquatic fantasy world. The campaign's mermaid protagonists – conveyed by both the gothically romantic and fluid styling as well as the addition of literal fish tails – occupy both of these spaces, traveling from one to the other. Smart hair and nails details from the beauty team also go a long way to convey these women as imbued with otherworldly power. Thanks to the technically impressive set design, we see through the living room and into the underwater space, creating a sense of liminality and calling into question which is real – the reality or the fairy tale.
Imaginative, atmospheric, and technically impressive, the campaign shows brilliant thinking on how to translate Blumarine's fantasy-minded, nostalgically inspired designs into a striking visual narrative awash with character and mystery.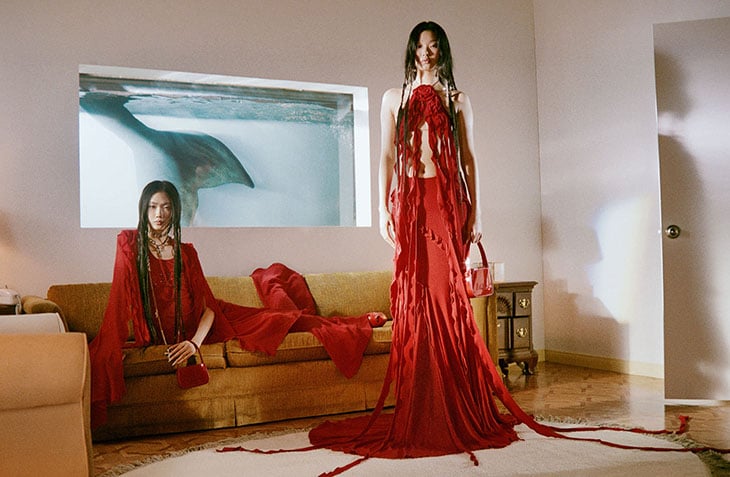 Blumarine Creative Director | Nicola Brognano
Photographer | Petra Collins
Models | Sijia Kang and Yoon Young Bae
Stylist | Lotta Volkova
Hair | Holli Smith
Makeup | Kali Kennedy
Manicurist | Mei Kawajiri
Casting Director | Maria Giulia Azario
---