---
Review of Bottega Veneta Spring 2023 Fashion Show
Blazy Blazes Forward
By Mark Wittmer
For his second full collection as creative director of Bottega Veneta, Matthieu Blazy expanded his quietly soulful take on the house's history of exceptional craftsmanship into a surprisingly broad vision of daily dressing that nonetheless was impressively cohesive and clear.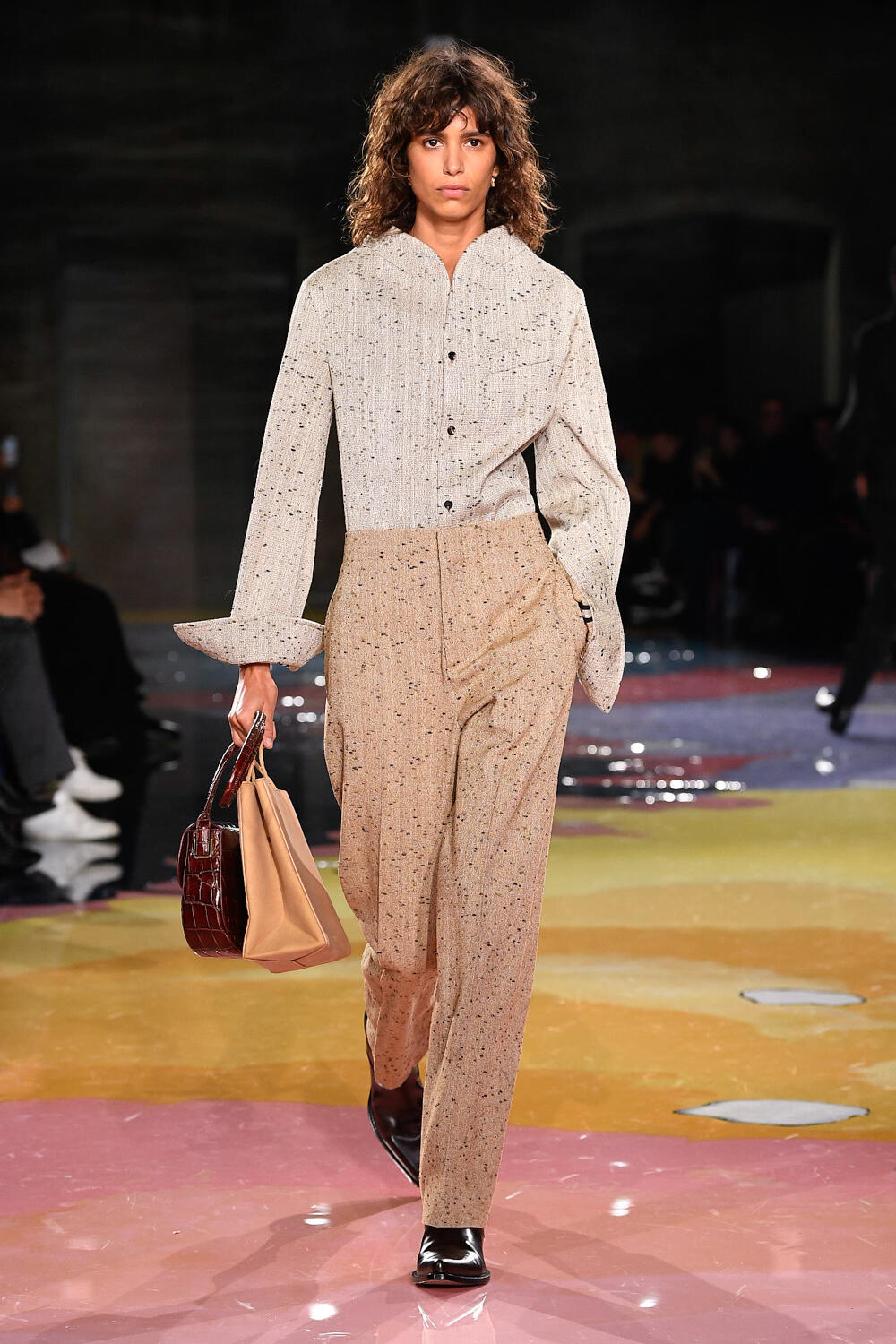 Widening his focus to incorporate further craft techniques and sartorial categories, Blazy delivered the Bottega goods we know and love while giving us exciting newness we didn't know we needed.
The show's first movement felt surprisingly casual and collegiate in its layering of flannels, rugby shirts, and pullovers over effortlessly cute cotton tops and jeans – or rather, leather pants disguised to look like jeans, a noteworthy return from last season.
Further demonstrating that Blazy is working to build up a solid foundation of timeless pieces to carry across each season, many of the accessories crafted in the house's signature intrecciato woven leather technique also returned from his last outing. Whether appearing in the form of totes alongside the opening more casual looks or evolving into smaller handbags as the show sequence progressed into more professional, formal, or artistic territory, these stalwart leather companions formed a constant reminder of Blazy's commitment to design for the motion of life.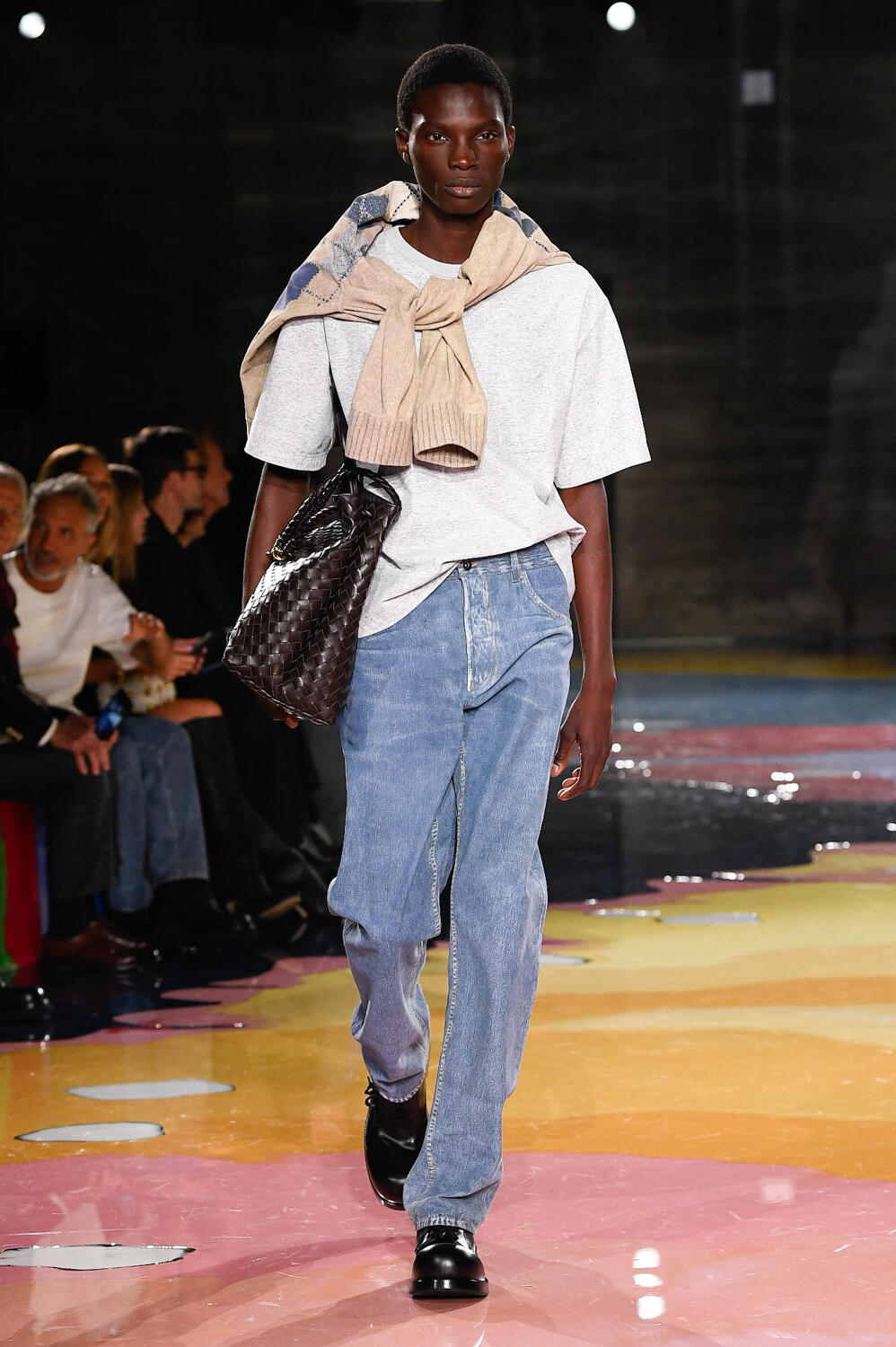 From here the collection broadened, weaving in layered 80s-esque suiting, leather outerwear, and festive dresses with intricate crystal embellishments. While many of these pieces fit firmly within established sartorial categories, Blazy also blurred boundaries with subtle experimentation on internal architecture – like the dress worn by Mariacarla Boscono that reworked and hybridized the idea of a skirt suit and ballooned surreally at the hips.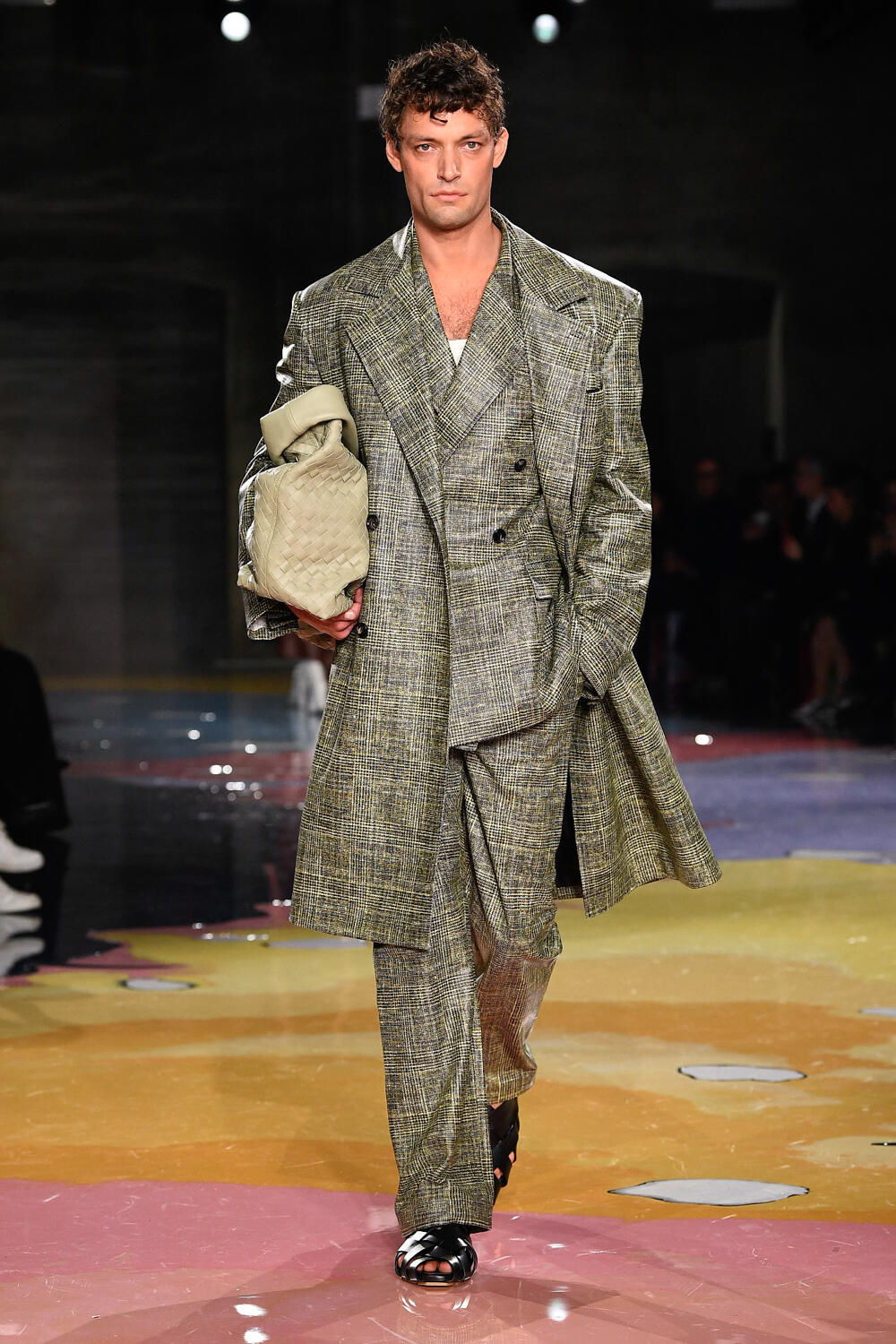 Evincing a contemporary commitment to push fashion forward – even as he honored the house's heritage – Blazy shared a new vision of suiting that chopped off lapels and replaced them with simple standing colors for a futuristic yet timelessly elegant fluidity. While leather dusters and snakeskin boots attested to the toughness often associated with the material, intricate cutout flowers drew out its possibilities for feminine delicacy.
The setting's vibrantly painted floor suggested a bit of post-expressionist color play might arise, and it certainly did in the form of gorgeous abstract jacquard knits – not just as sweaters, but as knit dresses, two-piece suits, and more.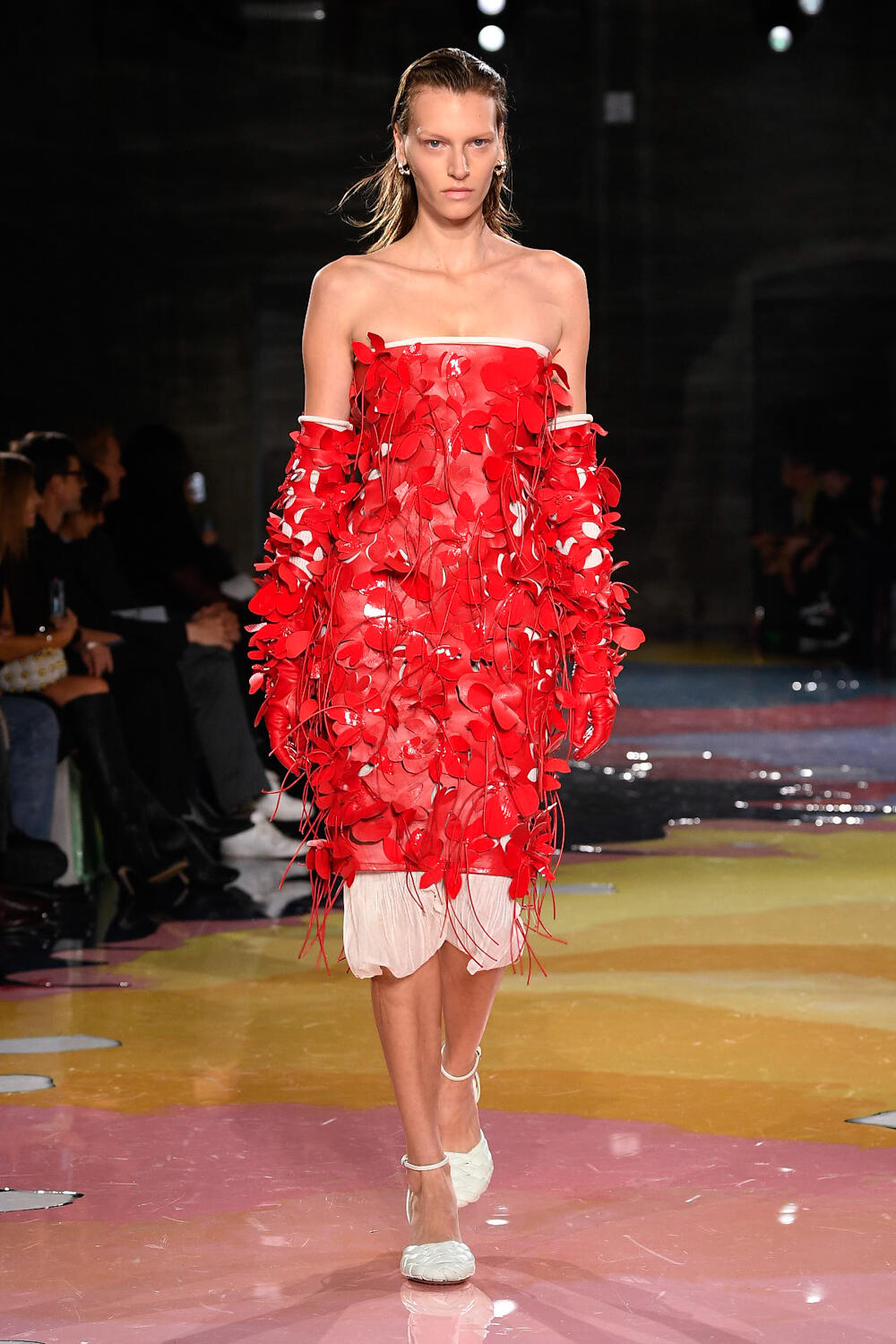 Fringe seems to be already identifiable as a favored motif of Blazy, and he evolved last season's leather fringe trim into full skirts and dresses whose dynamic fluidity was enthralling to behold as they danced in time with their wearers' steps.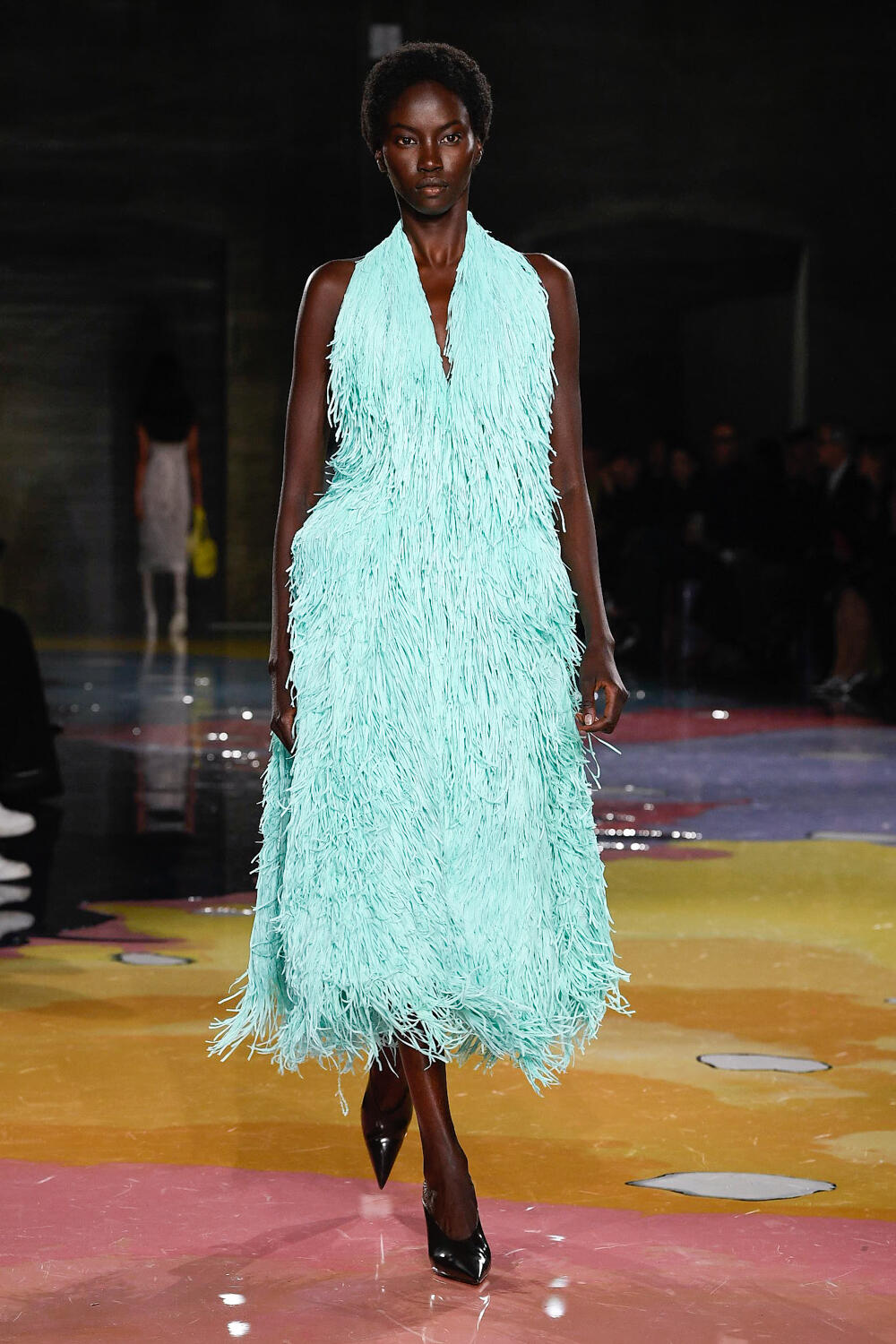 Blazy has stepped bravely out of Daniel Lee's BV-Green, too-cool, street-smart shadow and is working to craft something timeless that is also a distinct and personal vision of contemporary fashion.
Finding elegance in the everyday and cutting-edge expression in the language of traditionalism, Blazy has followed up his considered debut with an ambitious and exciting second chapter, proving again that Bottega Veneta is in good hands and giving us much to look forward to.
---