---
Review of Brandon Maxwell Spring 2021 Fashion Show
Clothes from the Heart
By Long Nguyen
"For me, the experience of fashion, growing up in a store, as a photography student making clothes for my shoots, as a stylist, and as a designer, has always really been about the community you make the product with," Brandon Maxwell wrote as personal notes on his Instagram announcing his Spring 2021 show.
It's been almost a year since we've put on a show, and in that time, I've learned and seen a lot. But the biggest lesson I've learned is that it's really not about the loud moments. It's in the quiet ones where love can really transpire.

– Brandon Maxwell
"On this day, each season, I would normally be huddled in a bathroom somewhere having a panic while hundreds of people swirl around chaotically. My friends and family would be having a burger and a glass of wine, dressed up in the outfits they bought for this special occasion. And when it's all over, I would be asleep before the after-party started," Maxwell said, recounting the months of lockdown and quarantine and finally a small group working together to make this collection and this show as a small step, but a very important step forward.
"I wondered for months if I would ever feel the feeling again, and to my surprise, after a long period of questioning, I did. Because in the end, as it turns out, it was never about the big moments. It's always been about the opportunity to do it at all. This moment in time conjured up so much nostalgia for times past. Ones that I have been physically in, but mentally out of, and that I wish I had lived in more. I was glad to be firmly planted in the reality of the experience this time."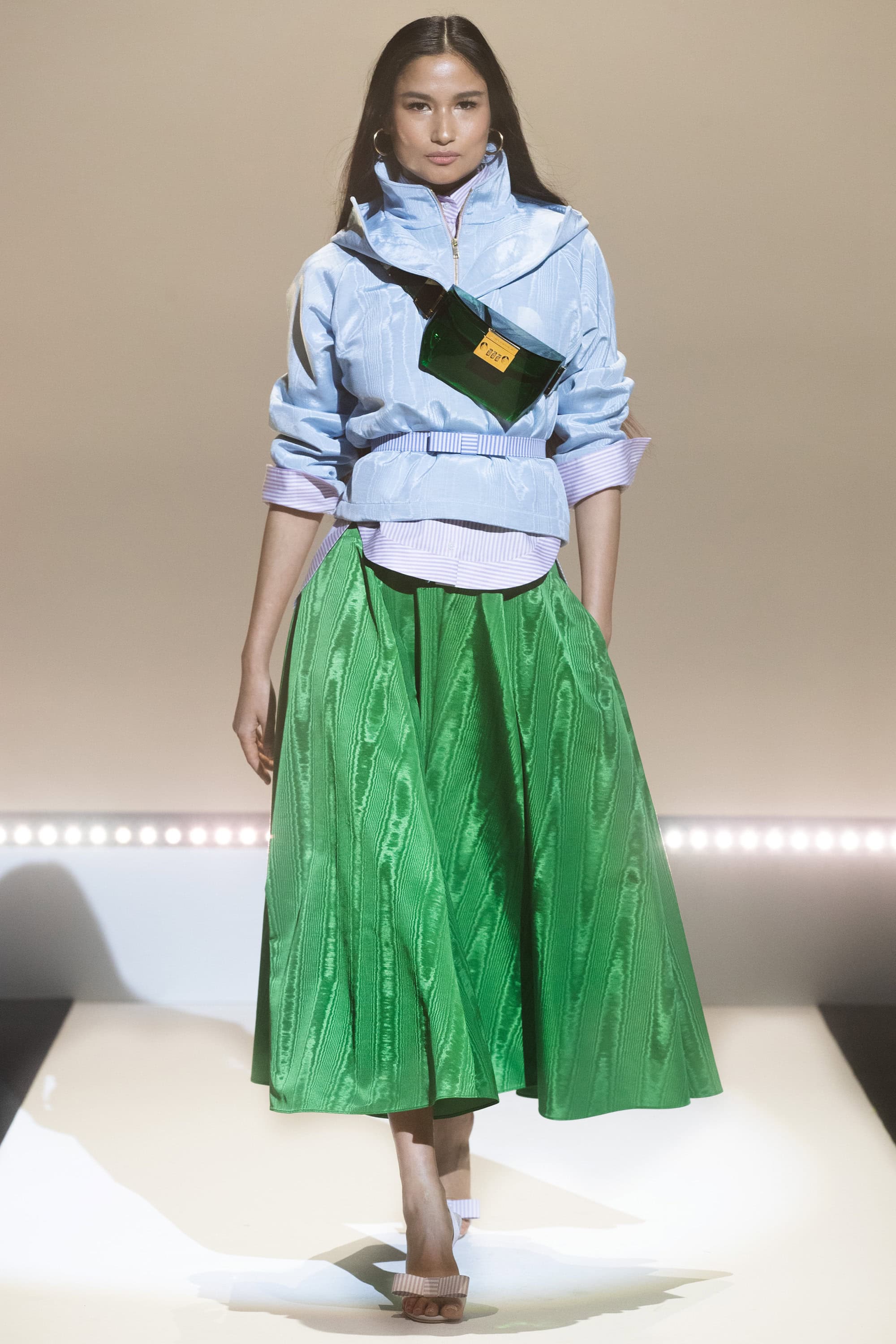 The filmed show broadcast live on a prime time Sunday night is a combination of collages of scenes of backstage with models chatting away while getting their hair and makeup was done with clips of individual runway walks with the cut in close-ups of the clothes which are as light in fabrics as in the concepts and ideas that gave birth to them in the strangest of circumstances.
The clothes reflect the simplicity and the uncomplicated fashion as a way of dressing up with little hindrances, and the garments are devoid of any embellishments of any kind. However, the show did not verge on the minimalist wagon.
"I always start the creative process with a song or series of songs that speak to me and which inform the process over the following 5-6 months. From there, I build a world in my mind through space and the clothes that lends itself to what I'm vaguely trying to say to our audience. Always a story of my fears, losses, and anxieties, and always vaguely, out of fear of judgment during a time when I'm already naturally so sensitive to it. By the time the music starts and the lights go up, what started as a lyrical and physical diary of my experiences becomes elevator music in the background of just another ride through the chaos," Maxwell wrote of the different process he had gone through with conceiving this spring 2021 collection which is available for pre-order at the brand website immediately post-show.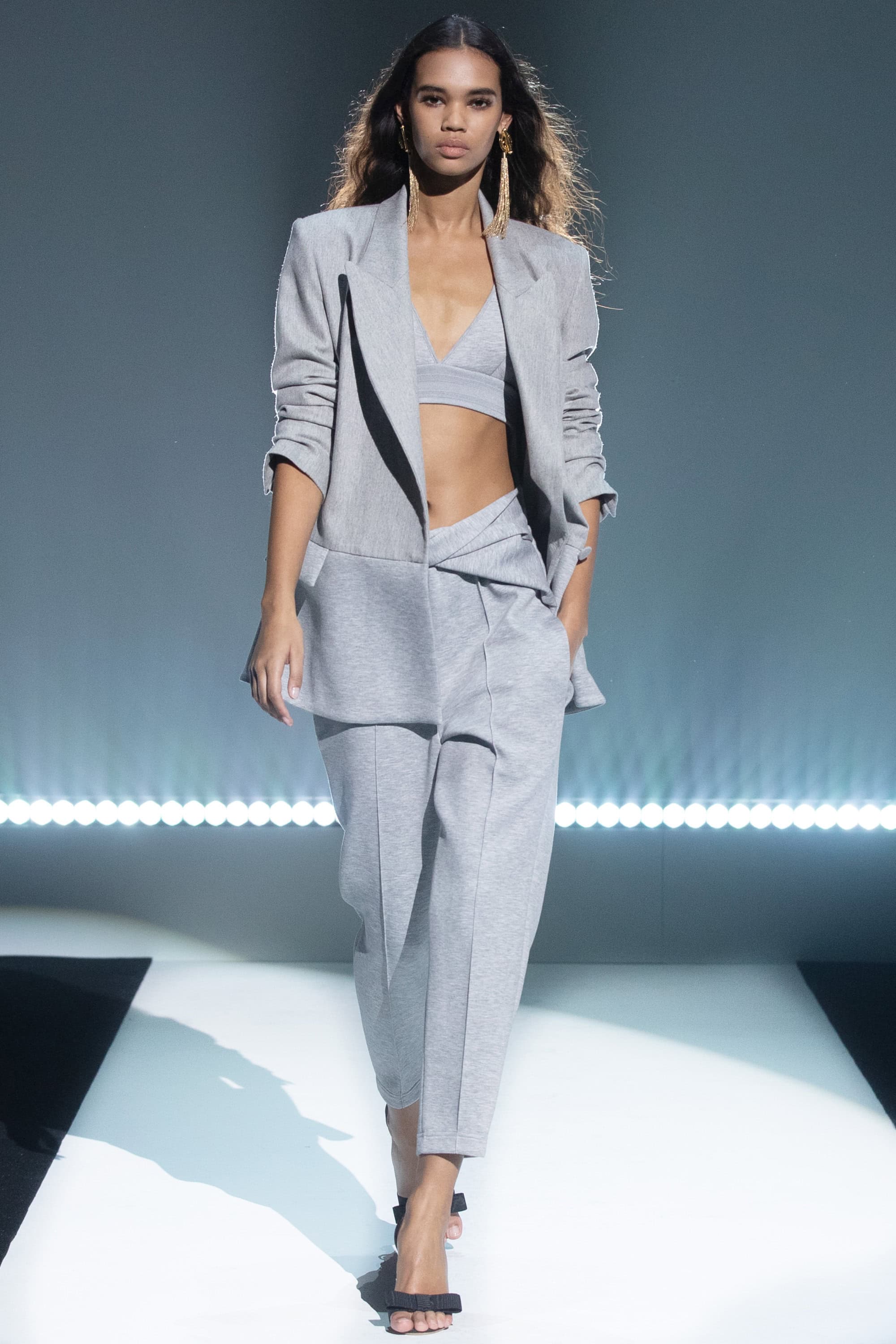 The sharp tailoring and the sculptural details – the two hallmarks of Maxwell's signature style that have evolved into sharper focus and greater control of the technical process of cutting and draping the clothes – were evident within the first few looks at the start of the film. The black silk jersey one-shoulder cut out and waist-high slit long dress and the light grey gabardine single-breast pantsuit paired with a matching bra are examples of these technical executions here and pervasive throughout the collection. Black short sleeve long flowing dresses belted at the waist or a similar one in light purple reflect the mood now rather than Maxwell more extravagantly cut gowns of past seasons.
The particular of this spring season offers Maxwell an opportunity to focus on the range of sportswear looks that permeated in the mix of vibrant colors – leaf green skirt with pale blue hooded sweatshirt, dark green taffeta overhead top with neon yellow large pants, and a deep olive sheath with a bright yellow parka. A silk light pink strapless long dress, a black oversized strap long dress, and a pink taffeta blouson and shorts paired with a light chiffon coat are the lean evening offering for clients.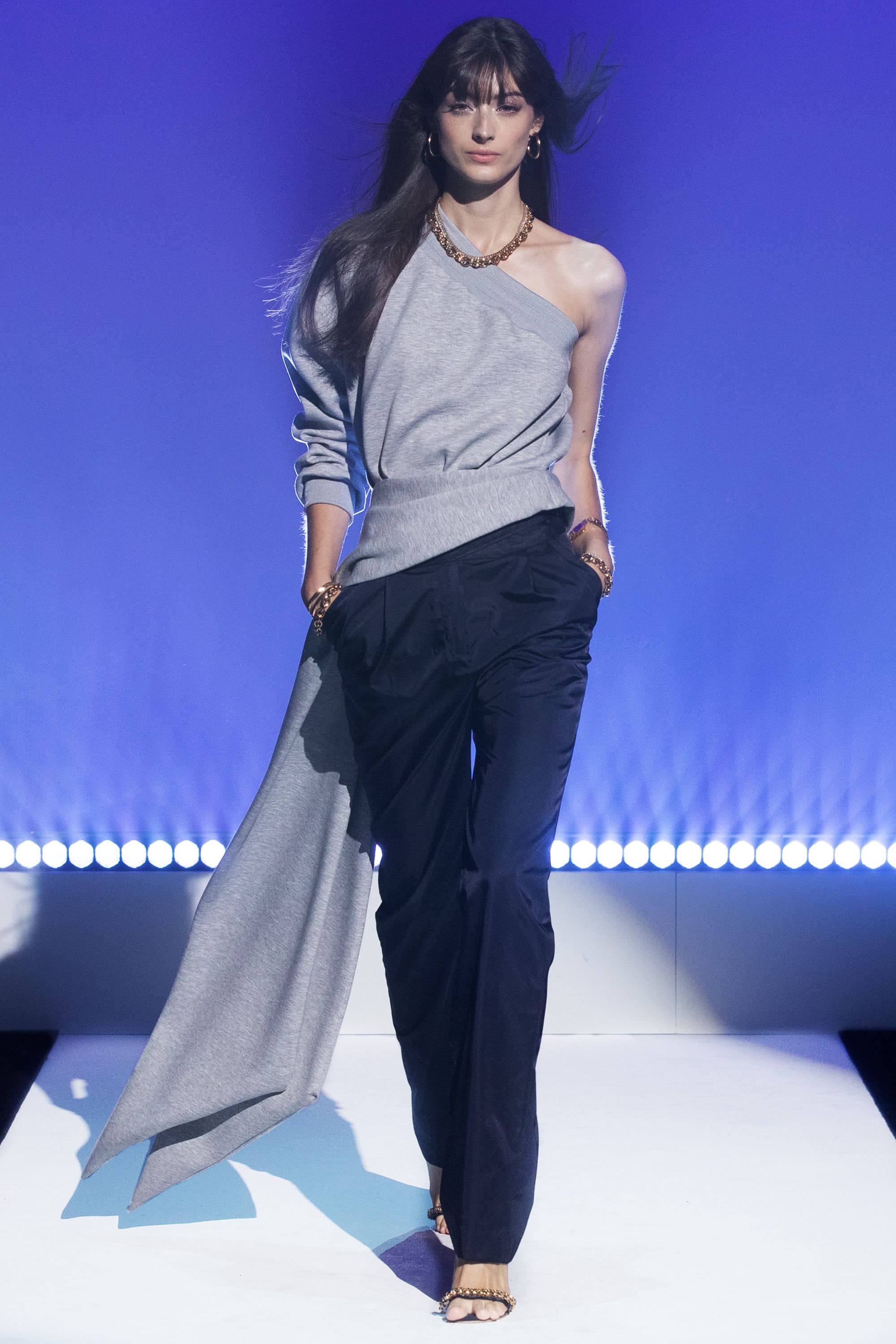 The show reminded me of the elegant Fall 2018 show at the Time Warner Center but with much less fanfare. The grey one shoulder/one sleeve tunic top with a long train paired with navy tailored pants is a strong, understated look. Maxwell cuts great pants for women, as seen in each of the looks worn with these slim cigarette pants.
In the last couple of seasons, Maxwell had shown some men's looks and his women's shows, especially at the Museum last February. The men's clothes paired well with the womenswear, and let's hope for seeing a few of those looks again in the future. But in a time like this, focusing on the brand's strong points with consumer-friendly clothes with less bravado is the right course of action.
The clothes have never been meant to be deeper than what you see on the surface, rather a tool that help me arrive at a conclusion and realization through personal and trusting interaction. This time that felt more meaningful and absolutely more real.

– Brandon Maxwell, concluding his Instagram post
---