---
Review of Burberry Fall 2022 Fashion Show
Trench Coat 2.0
By Mark Wittmer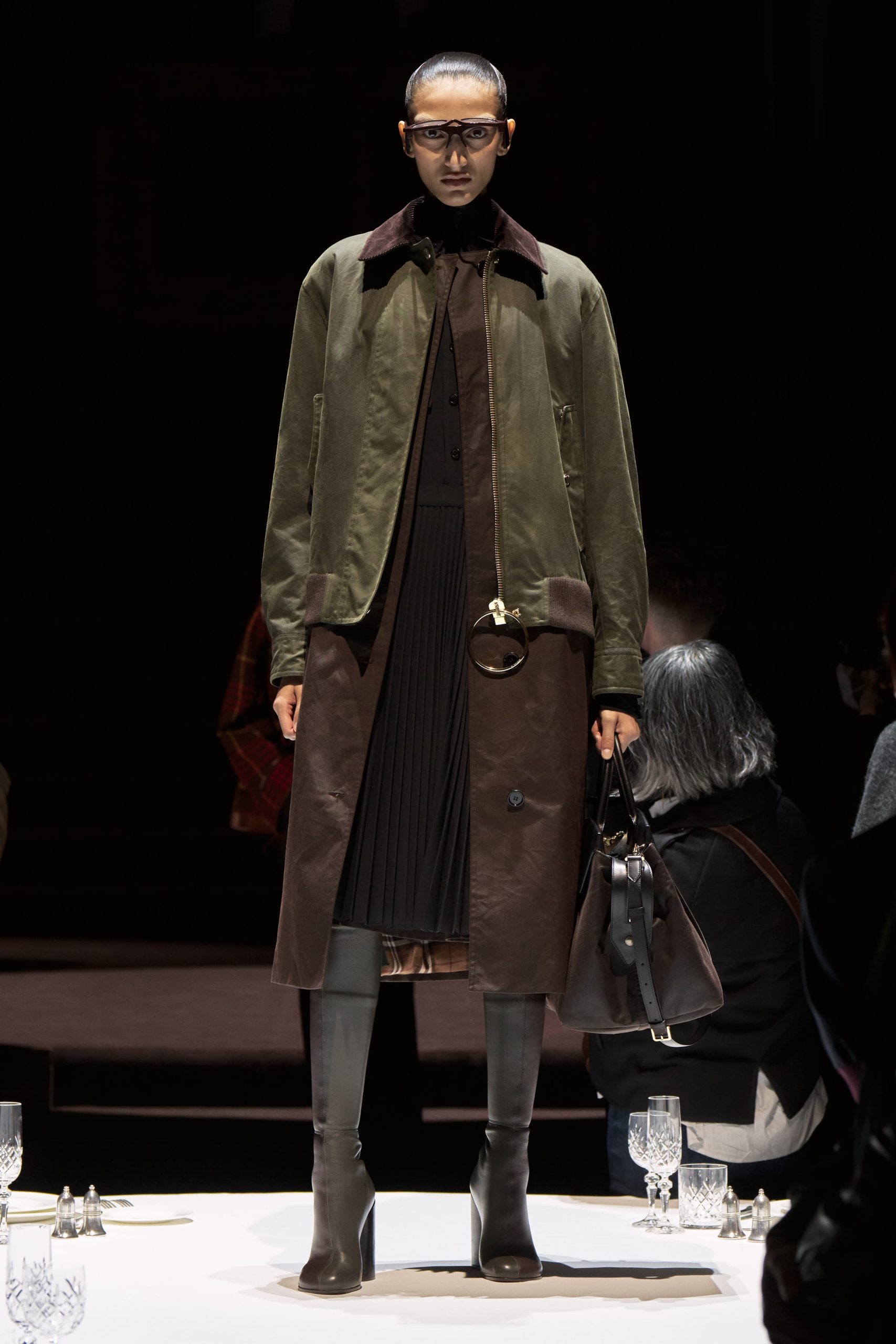 Burberry's Fall 2022 show was presented off-calendar less than a week after Paris Fashion Week wrapped, and the decision to hold the show on its own terms, as its own event, feels more than appropriate. The monumental show – which contained both the men's and women's collections, and over a century of studied historical reference seen through a modern perspective – was certainly a spectacle, but it also felt sober and sharply focused.
In addition to the collections themselves, this latter emotional spectrum was augmented by the choice of venue, London's historic Methodist Central Hall, and the staging therein. While the guest list was star studded, there was no front row – instead, attendees crowded into the building's austere and dramatic central hall, where it was standing room only, while a 100-person choir sang down to them from the rafters. This unifying factor of having all guests on the same level – the same one as the models – subtly reinforced the collections' themes of community, solidarity, and identity.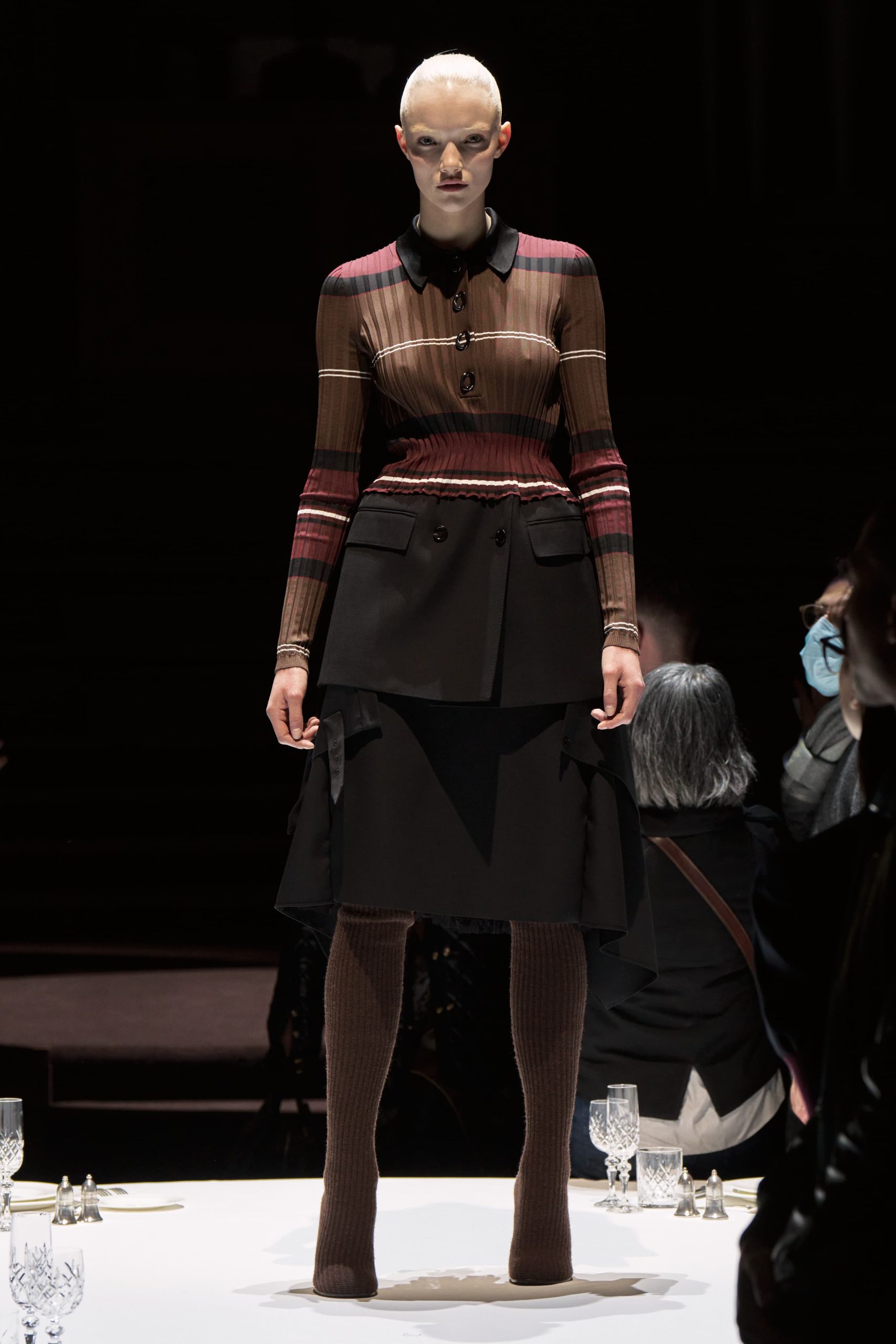 It was important for me to explore what it means to belong; how community is what truly brings meaning to the world. This collection celebrates coming together and the city in which we come together today. To me, London is a place of dreams. The collection embodies an intangible essence that is Britishness, honoring the beauty of the past while focusing on the future with thankfulness, hope, and love.
– Riccardo Tisci, Burberry Creative Director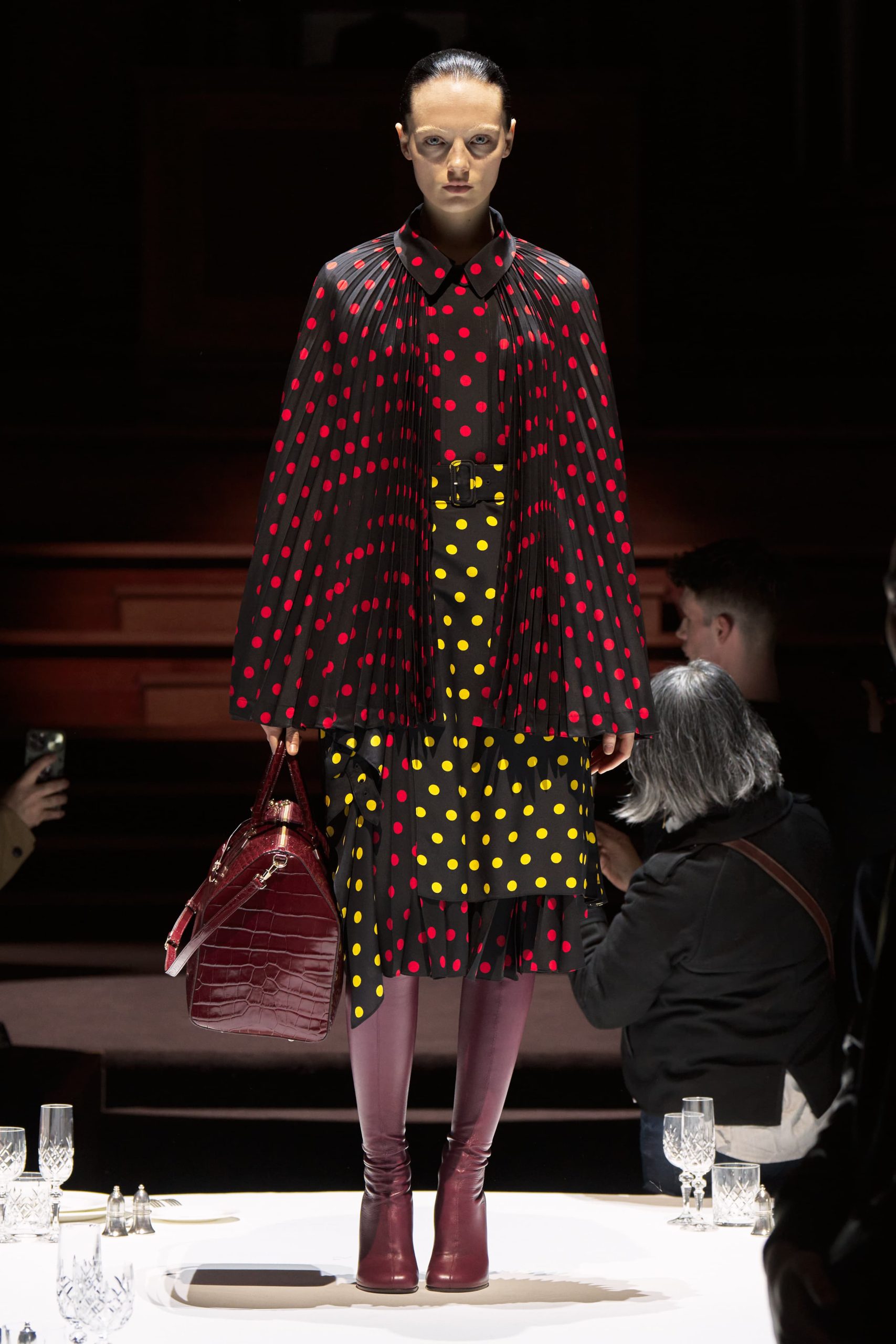 This historical Britishness is of course most present in the iconic Burberry mainstay of the trench coat. Tisci has been doing interesting work to reconsider and deconstruct the iconic bit of conservative Brit regalia in recent collections, and this show was perhaps the most impressive work we've seen from him in this direction yet. A series of strapless dresses that looked like a retailored trench put on backwards was a particular highlight. He also kept things a little closer to the blueprint while still managing to play with innovative structures and fabrics and hybrid approaches, like the hooded trench (which suggested a streetwear feel) or the double-belted trench that looked like two coats fused into one.
Trench coats actually made up only a small fraction of the show's many impressive outerwear pieces, however. Tapping into the military-influenced fashion of 40's Britain, Tisci delivered some excellent bomber jackets that blended street-ready style with sophistication and utility.
Tailoring was an excellent and frequent presence in both the men's and women's segments of the show, but the mantled greatcoats of the men's collection felt like the standout tailoring piece, hearkening back to a bygone sense of dignity and quietly confident masculinity while exuding a distinctly contemporary feel.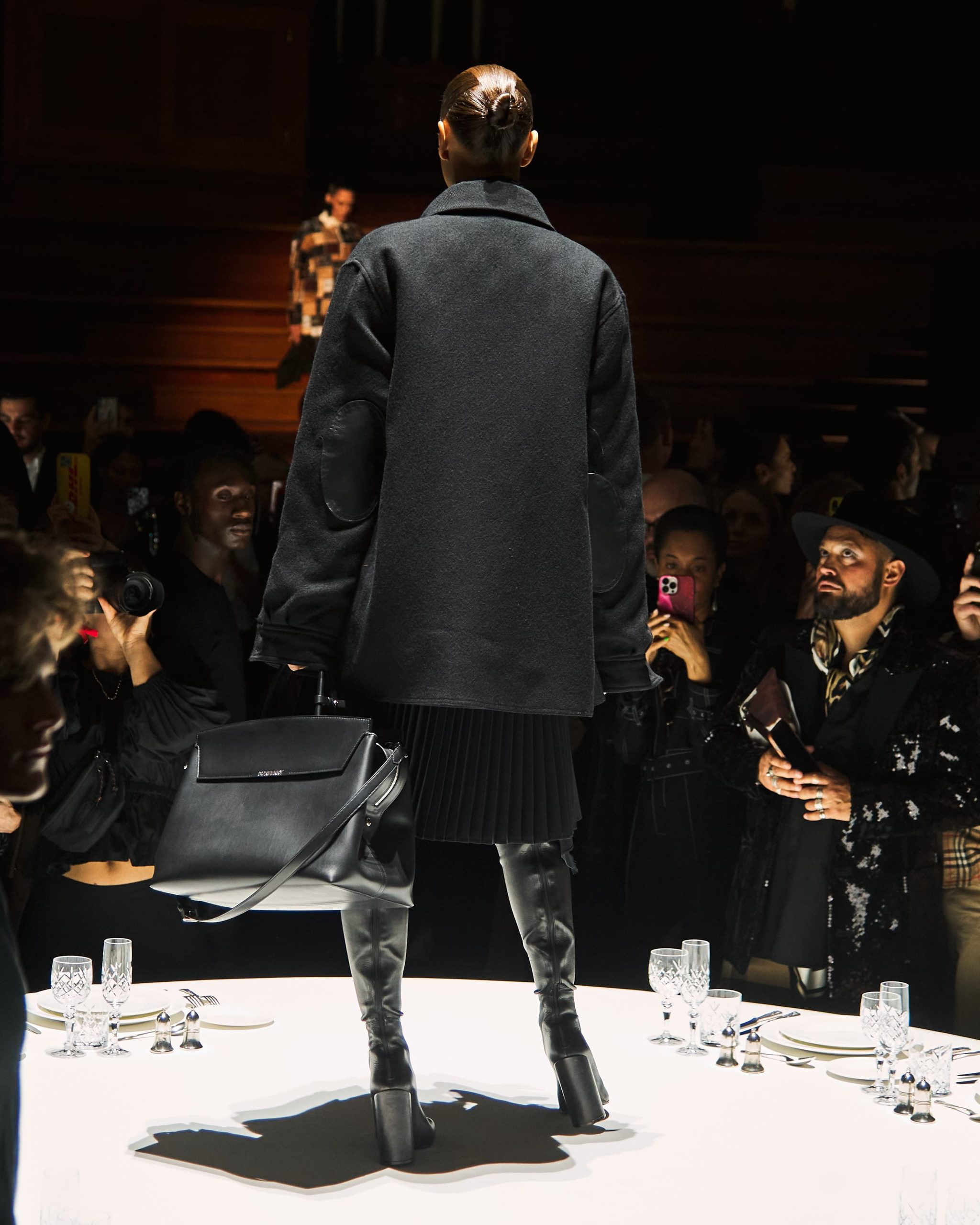 While the men's collection deftly incorporated streetwear elements into its classical British formalism, the women's collection didn't quite lean into the same high/low dichotomy. It did, however, dig deeper into the narrative of reimagined historical British dressing, reimagining familiarly formal elements as forward-thinking hybrid constructions. Codes drawn from equestrian rigidity, aristocratic refinement, or schoolgirl primness were structurally and stylishly reimagined in ways we foresee will soon grace the best dressed women on London's streets.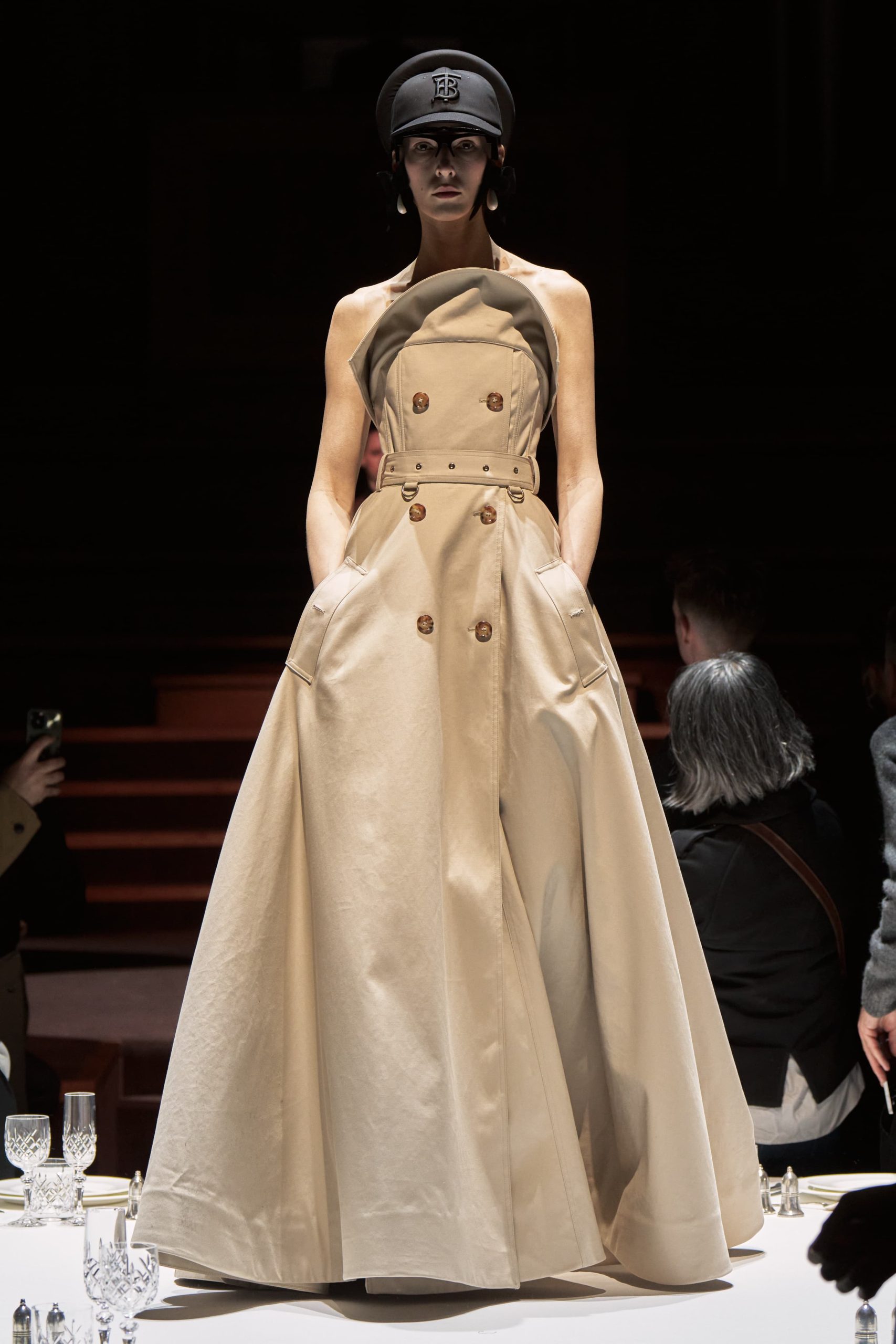 The show is finished off with couture-level gowns that echo the shape of the earlier trench-coat dresses, but with magisterial and voluminous floofiness.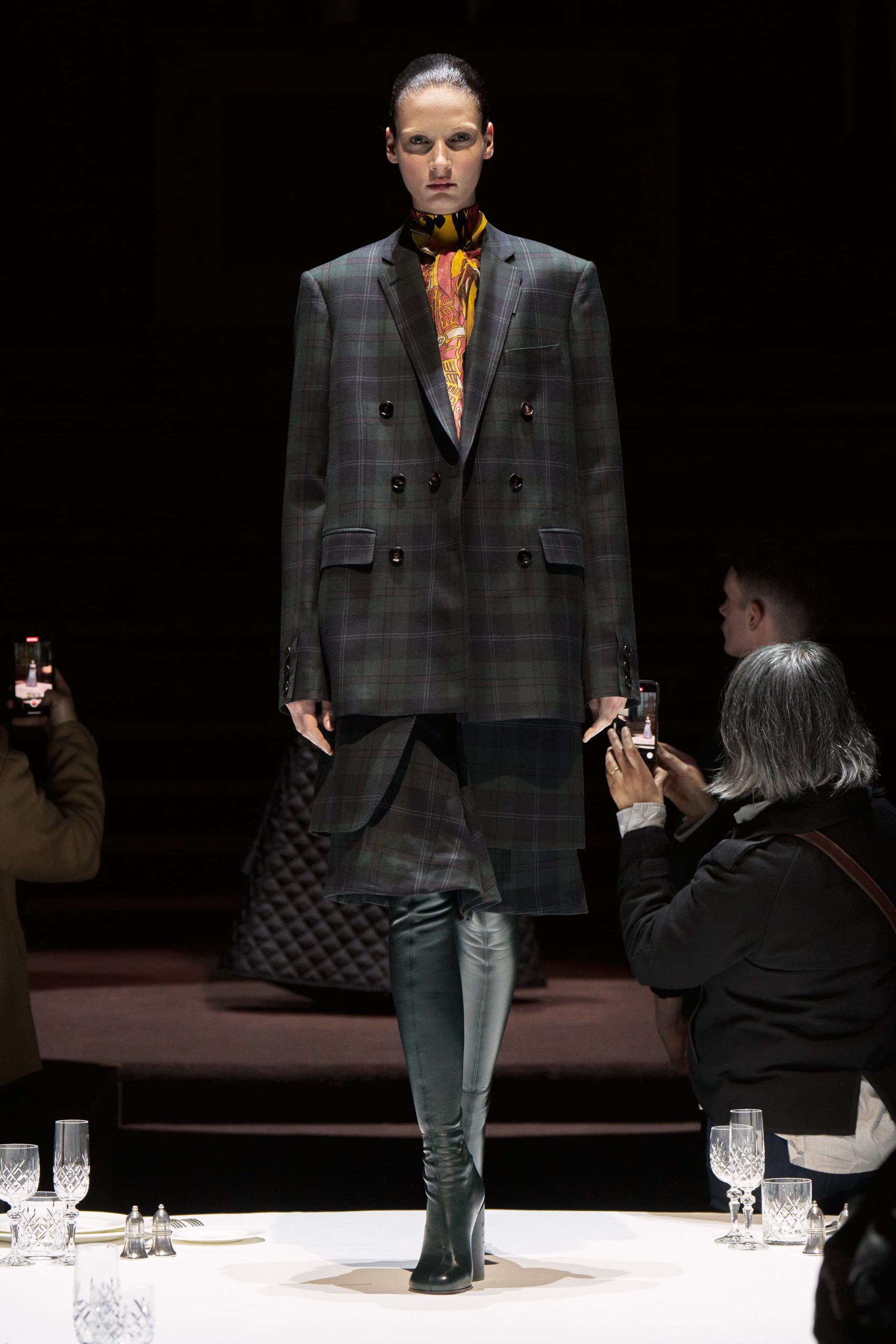 At once expansive and focused, the presentation showed Tisci to be thoroughly versed in Burberry's history, as well as the sartorial history of British culture over the last century, and equipped to make these codes relevant and desirable today. It does seem, though, that he could have pushed the sense of the contemporary and the looking forward to the future further: while some of his hybrid creations are inventive and expressive, nothing here feels too new. We see the elements of communities from the past, but he hasn't quite been able to build up a new language of tomorrow.
The collection did feel like a bit of a reset, an excellent survey of his best ideas for the house so far while he sows the seeds for his next chapter. We look forward to seeing Tisci and Burberry continue to repurpose fashion's historical excellence and reconsider how it can be meaningful for tomorrow's audience.
---