Review of Burberry "The Night Before" Holiday 2022 Ad Campaign with Film and Photography by Torso with Talent Burna Boy and Shakira
Burberry puts a mutedly stylish spin on the holiday ad campaign with its new "The Night Before" campaign. Created and directed by production company Torso, the film and image campaign sees international music stars Shakira and Burna Boy make their debut as Burberry brand ambassadors.
Fusing studio cinematography with inventive editing and digital techniques, the campaign follows its two stars through an abstract space of Burberry's signature black and beige colors, where familiar emblems of holiday festivities playfully form props and set pieces. But the focus remains largely on the design and styling, and the way the stars fill them with larger-than-life energy.
Meanwhile, the still portraits capture Shakira and Burna Boy while they stand on an industrial crane or lift mechanism – a sort of deus ex machina which perhaps speaks to the improbable magic of the holiday season. The sentiment is further echoed by the black angel wings that Burna Boy wears.
The campaign doesn't give us the warm fuzzies or narrative of togetherness that we expect from a holiday venture, but that might be okay. Instead, it focuses on Burberry's core strengths: understated yet classic elegance, strong tailoring, and an ability to call on impressive cultural characters – and of course trench coats and check.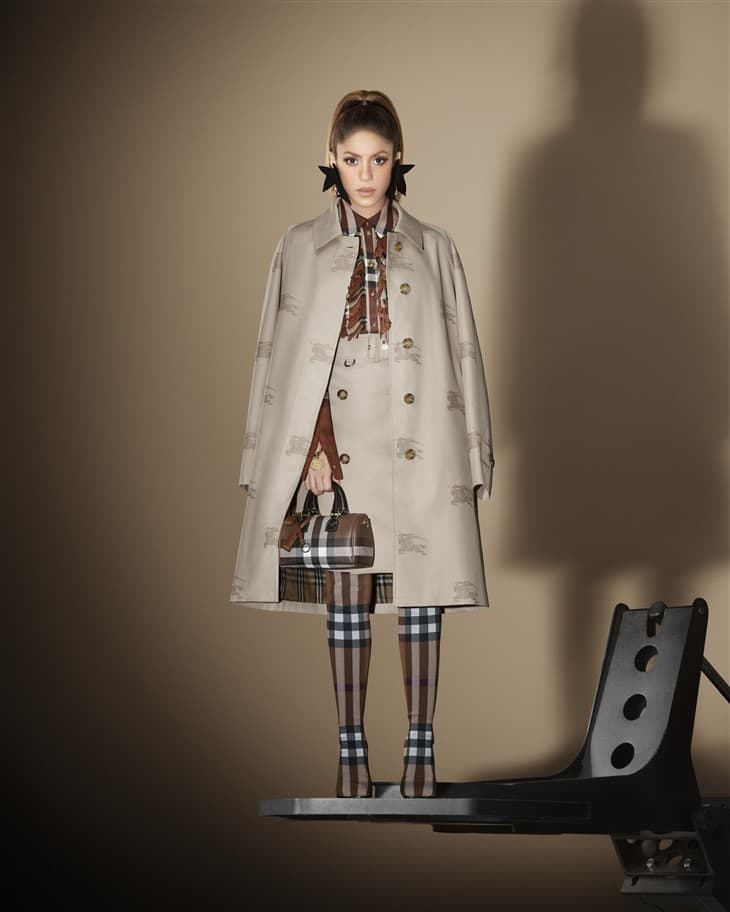 Film and Photography | Torso
Talent | Burna Boy and Shakira
Stylist | Julia Sarr-Jamois
Hair | Jordi Fontanals
Makeup | Vassilis Theotokis
Choreographer | Ryan Chappell
---