---
Review of Burberry Spring 2022 Fashion Show
Making the Héritage Personal
By Long Nguyen
Burberry is yet again in a state of transition.  Marco Gobetti, the British brand CEO announced his departure by the end of 2021 after five years in late June, amidst an ongoing recalibration of the entire business under his watch.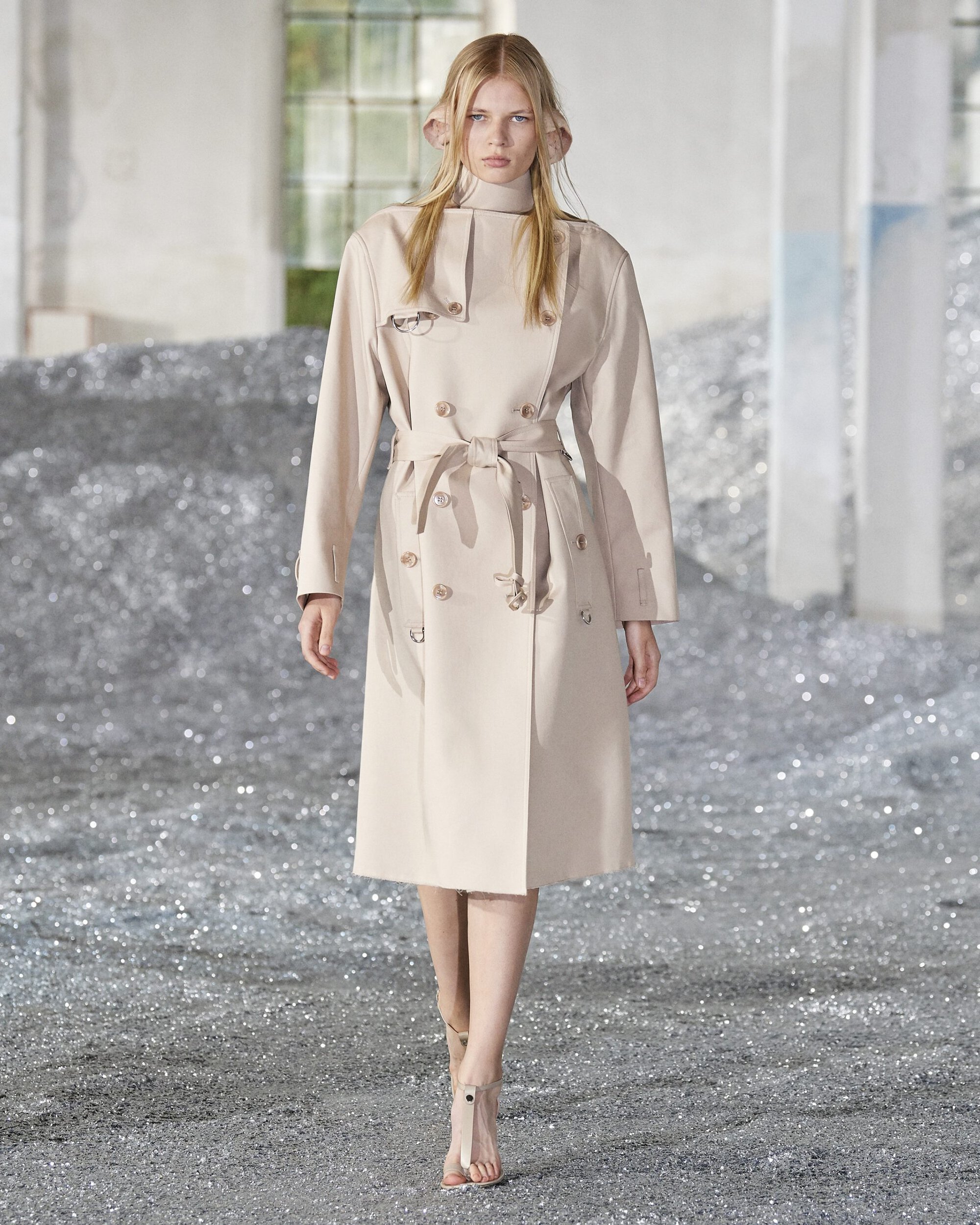 But today's confident and sharply focused Spring 2022 show from Riccardo Tisci should dispel any notion of impending changes and disruptions as the chief creative officer sent out a strong women collection straight from the heart of his design tenets see over a decade and a half. Since his arrival in mid-2018 and debuting for Spring 2019, Tisci seemed timid to assert his design authority. Instead, it took him a few years to sort through the heritage of Burberry and finally decide the exact route forward creatively. 
Bucking the hyper-speed return to live shows, Tisci continued the digital initiative by unveiling as he did for the men's in late June at the start of the Paris women's show season in a nod to the legitimacy of alternative ways in an industry resistant to fundamental changes.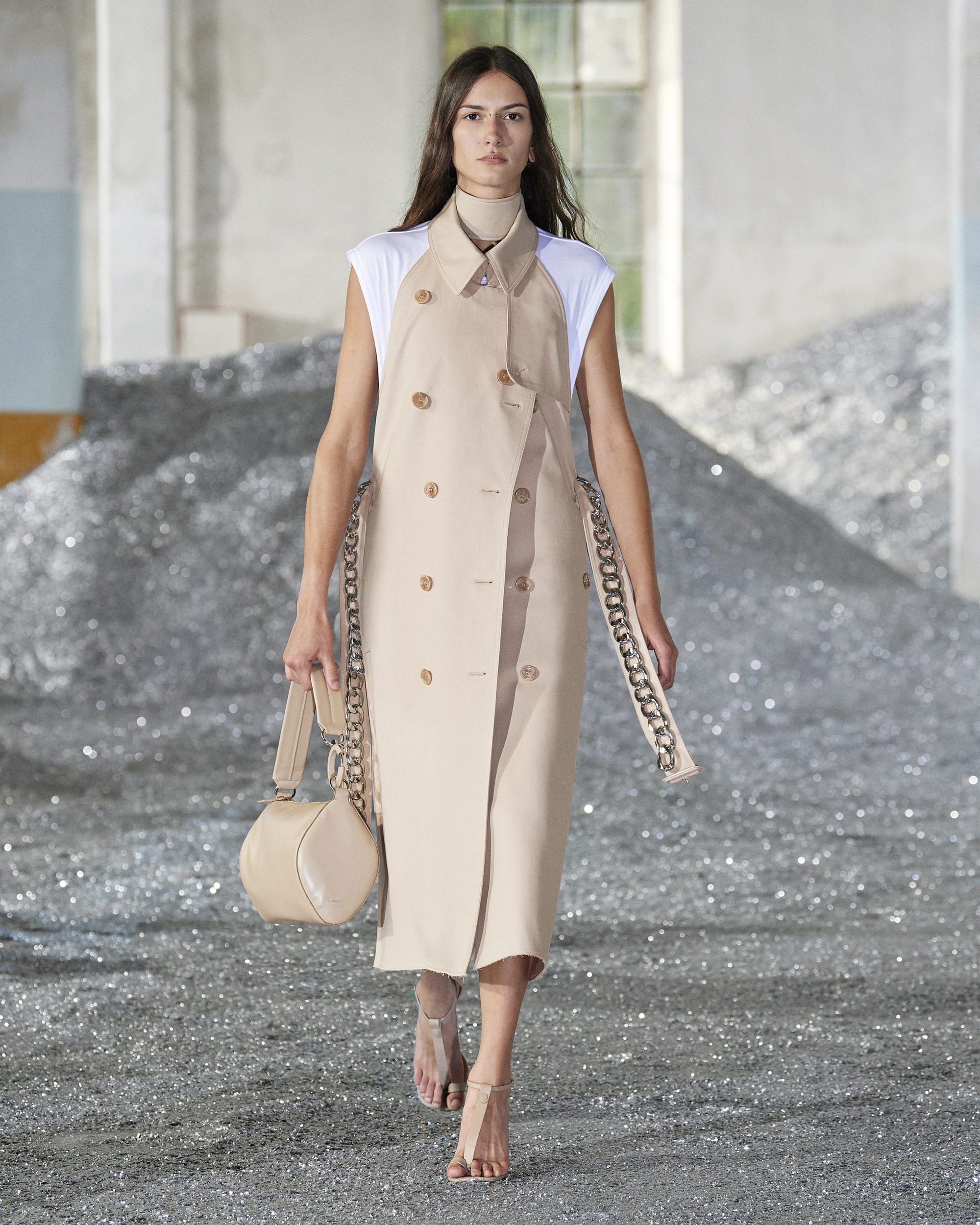 To me, this presentation represented the freedom of our imaginations: how we dream of coming alive. I wanted to move through a series of immersive spaces, each of them unique and unexpected in their sound, texture, and experience. It's that idea of flicking between endless realities and fantasies we have at our fingertips each day," Tisci said of the idea behind the show dedicated to his mother, who passed in late August at 93. 
Titled Animal Instinct, this show is the metaphor of Tisci's proper journey at Burberry, full of obstacles but perseverance and patience and, above all, the will to triumph without having to compromise his innate vision developed and matured in the long years at Givenchy. Tisci gave his models in this digital show protruding animal ears pieces to indicate that sense of natural feeling and freedom and less restraint. 
Burberry has such strong defined historical DNA codes. Now, Tisci continued the process of redefining what this heritage is to the new audience in a personal way. 
In this spring show, Tisci unraveled traditions and garment structures to foment new ones, a process that he started in earnest with the menswear shown in late June also during Paris men's show week then. Here in this new collection, Tisci demonstrated his breakthrough freedom in moving beyond the confines of the brand-heavy tradition gravity. 
He opened the new show with obviously the khaki Burberry trench, but this time structured like an haute couture dress, a little bit of the rigidness of form on the boat neck rather than the customary large collar with a tuck-in waistline giving the trench a look of a knee-length dress belted at the waist.  A few more inventive varieties of this anchor trench, then Tisci was done, and it was time to move on to new territories. Oh wait, even within the trench category, Tisci made some of the trenches backless, revealing pink underwear and a white t-shirt underneath this outerwear regiment.  
These are now Tisci's Burberry trenches, finally. 
Tisci is a black corset under a front cut-out black jacket/cape and pants, a tight black bodysuit with front and side circular holes, and another black corset with shoulder bolero and legging tights' answers to the current sex-driven clothes either elegant, intellectual, or coarse. Tisci's versions are, of course, very womanly in that old Italian 1960s cinematic ways.
For the rest of the collection, the designer dealt with clothes for now – that meant couture-level sportswear merging couture cuts with familiar streetwear tropes. Sleeveless t-shirts are lengthened into tunics adorned with prints over short white skirts, a black sweatshirt now cut into an elegant long vest as a pullover, a khaki dress, or a hoodie lengthened into a white cape hood on a black knee-length dress. Tisci did these mutations in such a natural way it was hard to notice the transition of one element of a garment onto the other. The various colorful prints add to the dresses with dangling swatches of fabrics on their sides.
Indeed with these spring collections, Tisci has embraced his past comfortably and how he has been able to put forth his instinctual feel of fashion in such a forceful manner. Since joining Burberry in 2018, Tisci has held back his creative thrust, but no longer. Tisci's is pushing the brand forward in a creative construction manner with a defining personal touch. 
---