---
Review of Burberry Spring 2022 Men's Fashion Show
Universal Passport
Sexuality and Heroic Physical Clothes, Not Dark Romanticism, Heightened Burberry Menswear
By Long Nguyen
"This presentation is all about the power and the beauty of self-expression and about escaping and coming together as one to celebrate our creativity wanted the collection to capture that free spirit of youth and its honest and daring attitude, that sense of experimentation and fluidity. There is a strong feeling of unity and individuality – encouraging and uplifting each other to express ourselves freely. It's very raw energy that's infectious, exciting, and full of life. Like an awakening," Riccardo Tisci, the chief creative officer of Burberry, said of his men's spring taped show presented for the first time on the official Paris calendar.
Filmed at Millenium Mills in Royal Victoria Docks in East London, this new men's collection intends to express the new sense of individuality – well, in this case, it simply means that sexuality has returned to the forefront and in the sunlight rather than the darker romanticism of yesteryears.
Now, the bare shoulders and the whole arms are the following new erotic zones as sleeves sliced off from camel classic Burberry trenches in the creative director's most frontal deconstruction of this heritage British brand. None of the clothes except for short sleeve tee-shirt have any sleeves at all, a powerful design statement that culminated with the black sleeveless trench with cropped midriff tank and black underwear briefs.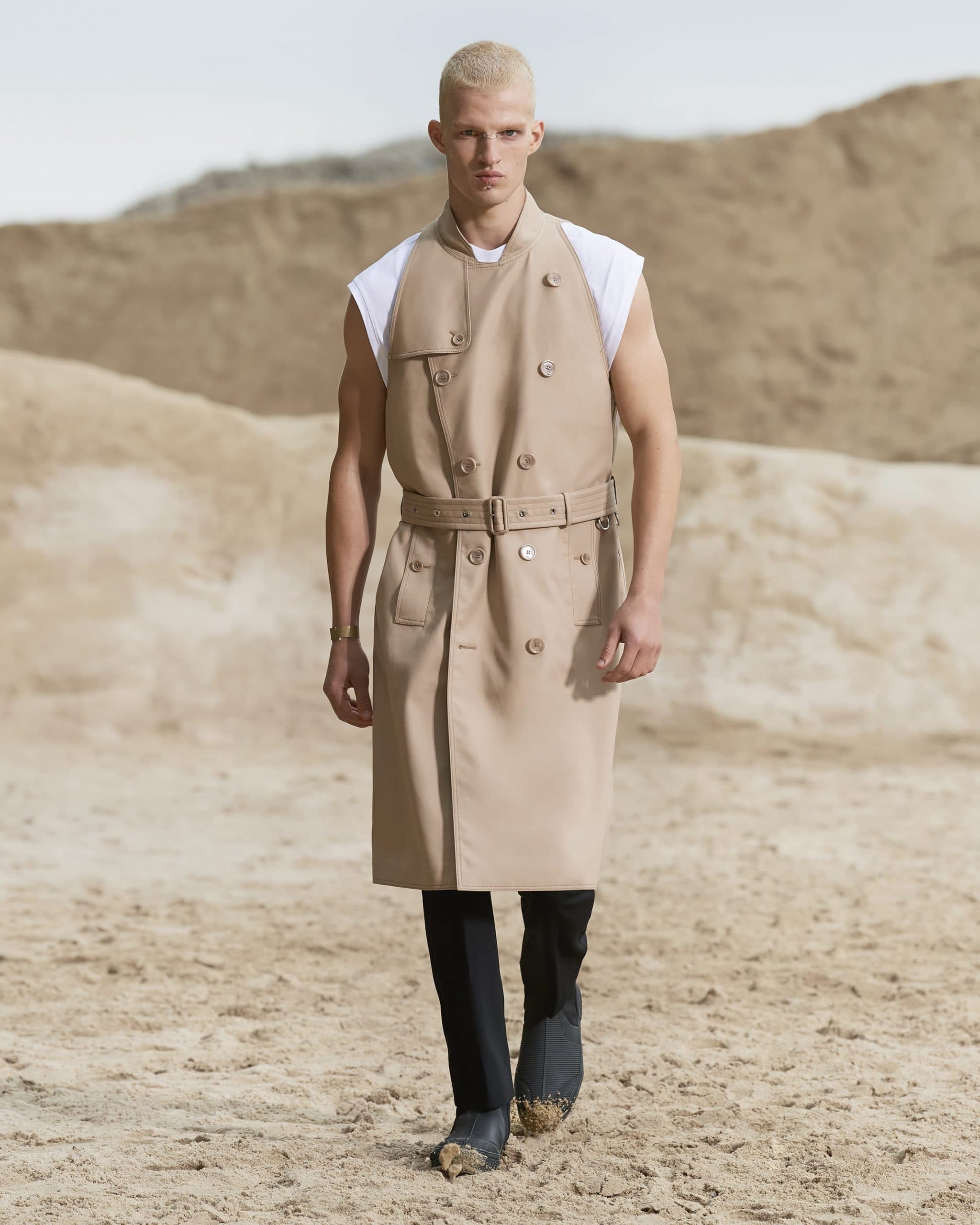 The entire collection portrayed in the taped film reeks of overt sexuality, the kind of hardcore sensuality so central to Tisci's menswear aesthetics. Now, the designer is applying this ethos full-on scale to his Burberry collection. The Fall 2021 was just a teaser show leading to this spring power load. Tisci sliced off the sleeves of the hard shell of the Burberry trench, showing off the whole length of the arms and the shoulders to reveal the soft skins are coming out prominently off the coat intended to protect.
However, the silhouettes of these clothes are soft and loose rather than tight fitted, giving room to imagine the body underneath. A pink sleeveless one-button single breast jacket or a black double breast rectangular cut coat hovers over the body, and tailored pants show off the legs' contours. The trench coat belt takes on different functions, now serving as multiple side decorations on a beige trench with an enlarged cape collar, a new garment accessory. The new suit shape is a boxy single breast jacket and cigarette pants or two tones of peach pink and black.
But here is the thing to consider.
While these new clothes cloned many of the most crucial moments of Tisci's menswear at Givenchy, perhaps it is time to say that Tisci has a confident and definite idea of menswear. The designer's point of view, the way he designed the clothes, and the kinds of models he chose to wear remained consistent over his years at Givenchy. Tisci is now beginning to impose this view since the fall 2021 show, the first time for a standalone men's show for Burberry.
In that fall 2021 show, Tisci went back and revisited his work and craft those fall clothes as a reminder of his accomplished vision of menswear in the past. Now, Tisci is planting his view of menswear at the giant Burberry, with this spring collection coming to its maturity.
What is perhaps the most potent element of this show is that it is not genderless or unisex. These are men's spring clothes.
The Bambi prints from Fall 2013 or the Rottweilers for Fall 2011 now find new homes here with red and grey oversized graphic big tee shirts or even a black sculpted vest worn outside a light pink sleeveless coat. The nose ring from Fall 2012 is back to this time, matching with multiple earrings. No fashion designer can ever forgo their past oeuvres, especially if their past is a continuation into the present and the future.
One of Tisci's primary impulses at Burberry is to deliver collections in tune with the changing moods of the young generations, now one of the primary sources of revenue for all luxury brands. That means making the types of clothes that are in sync with how these youths like to dress and using these Burberry clothes as the language to reach these young consumers. But this also means creating a desire for clothes, especially these clothes.
Tisci is betting here that a new hedonism may be coming back in the next six months, at least a new paradise through fashion self-expressions.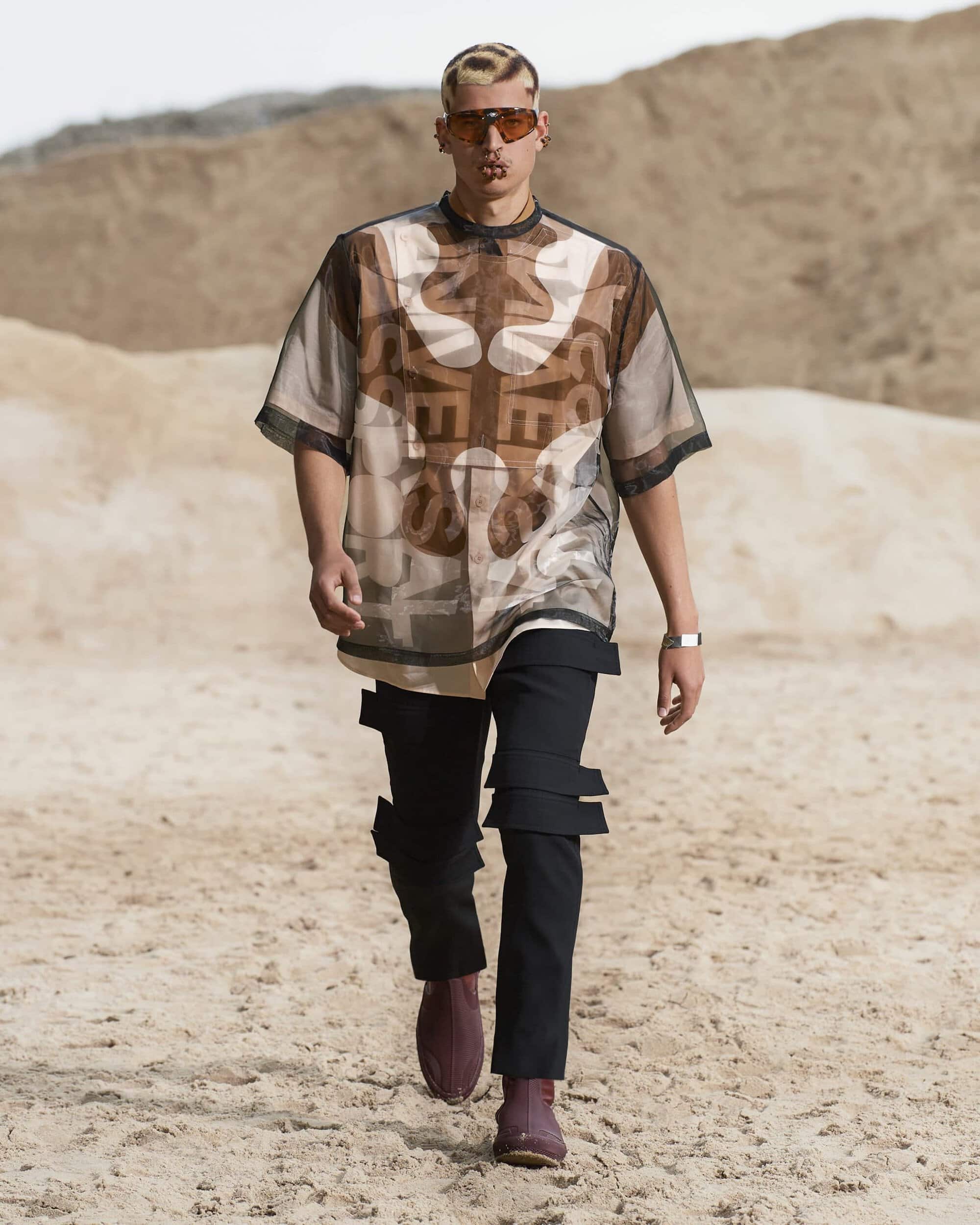 "I have always been inspired by music and by its ability to transport your mind – how it can connect you with times, places, and people beyond boundaries. Music has played a big role in my life, like a running soundtrack and energy throughout my youth. So many of my memories forged through music take me back to an incredible time when I was discovering myself – my voice, identity, creativity – sharing my experiences with friends and sometimes even strangers along the way. It was like being on a universal journey, brought together by a collective sense of openness, acceptance, and opportunity," Tisci said of the trance-like soundtrack from Shpongle's 'Strange Planet' psychedelic electronic sound of the show film.
And where else can a perfect spot be for wearing these hunky sleeveless trenches, tailored jackets, and printed oversize shirts than a loud music party next spring, hopefully somewhere oceanfront?
---