---
Burberry has launched a new Instagram ad campaign entitled "TB Summer Monogram Landscapes" featuring a textural sand inscription by multidisciplinary artist Nathaniel A. Alapide, plus hot air balloons and a fleet of sailboats sporting four colorways of the brand's TB Summer monogram print.
Epically innovative, the campaign utilizes the desert landscapes of Dubai, the sparkling waters of Shenzhen Harbour, plus the dunes and sky of Wuhai in Inner Mongolia to create large-scale installations reminiscent of Earth artists Andy Goldsworthy or Christo and Jeanne-Claude. The campaign capitalizes on grand vistas to reminds us of how spectacular the planet is, which we all call home. Similar to the works of Christo and Jeanne-Claude, large amounts of fabric were produced (and later discarded) to create this magnificently majestic imagery. This creates a strange moral dilemma because on one hand, people are brought together in a larger-than-life way to connect and reflect on this amazing existence we call life…while on the other hand, precious resources have been used up in order to remind us that these pristine landscapes and ecosystems have value, and are worth protecting from destruction by humankind.
Let us focus on the idea of enhanced human connection because during these troubled times, human connections are more important than ever; indeed they are probably essential for the future of our species, if we are going to figure out a way to live sustainably. Along this line of thinking, artist Nathaniel A. Alapide deserves accolades for creating his monumental work using the simple device of different colors of sand, which presumably could just blow away and mix into the dunes after the piece was documented. Similarly, Burberry Creative Director Riccardo Tisci deserves kudos for an ad campaign that accommodates social distancing guidelines (due to the global pandemic) in a unique and interesting way; since each hot air balloon and sailboat can be operated by a single driver, presumably no one was put at risk for contracting Covid-19. Burberry included one of the sailboat captain's quotes on Instagram, which read as follows:
When you're at sea, you really get to experience so many things that you can't experience on land – like seeing the sky full of stars or sometimes, groups of dolphins swimming alongside you. Mainly, I feel a sense of yearning but there's also freedom and then there's also happiness.

— Chen Pinglang, Sailboat Captain
Pinglang's words eloquently capture the feeling of awe and wonder that the ad campaign inspires. Hopefully one day, humans will learn how to channel that feeling into a method of living in harmony with each other, and with the rest of the planet's lifeforms as well.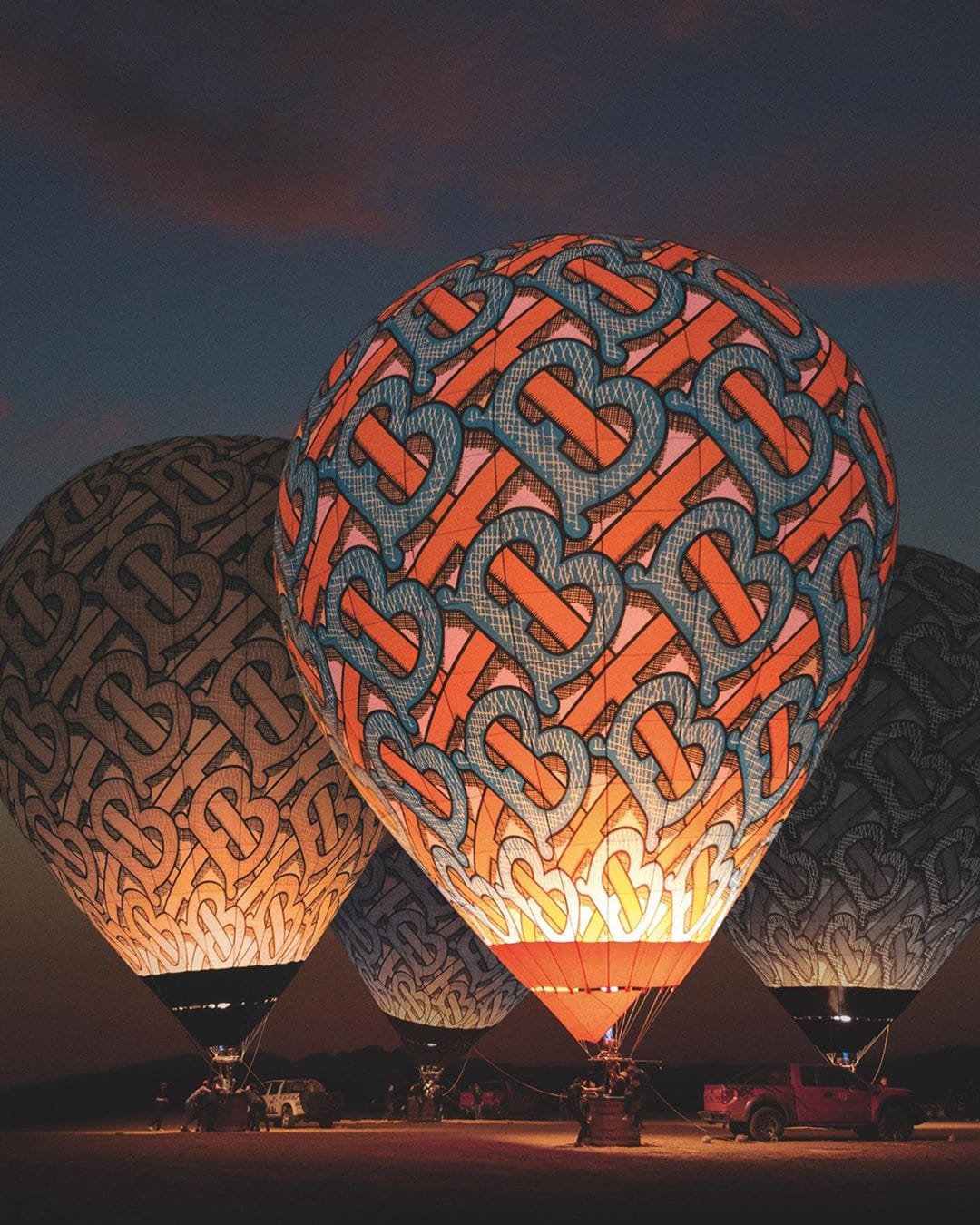 Burberry Creative Director | Riccardo Tisci
Sand Inscription Artist | Nathaniel A. Alapide
Locations | Dubai, United Arab Emirates; Shenzhen, Guangdong Province, China; Wuhai, China
---