---
Review of Carolina Herrera Spring 2022 Fashion Show
In With The Old, In With The New
By Erin Hazelton
"It's art that you live in…"
This is what Wes Gordon, creative director of Carolina Herrera, replied when Mrs. Herrera asked him how he would describe fashion.
It's safe to say this statement is true when either of the above designers are the ones making the clothes.
With its billowing volumes, its beading and bows, its refined fabrics and perfectly polished, well, everything, Gordon's Spring 2022 collection was art many women would be more than happy to live in.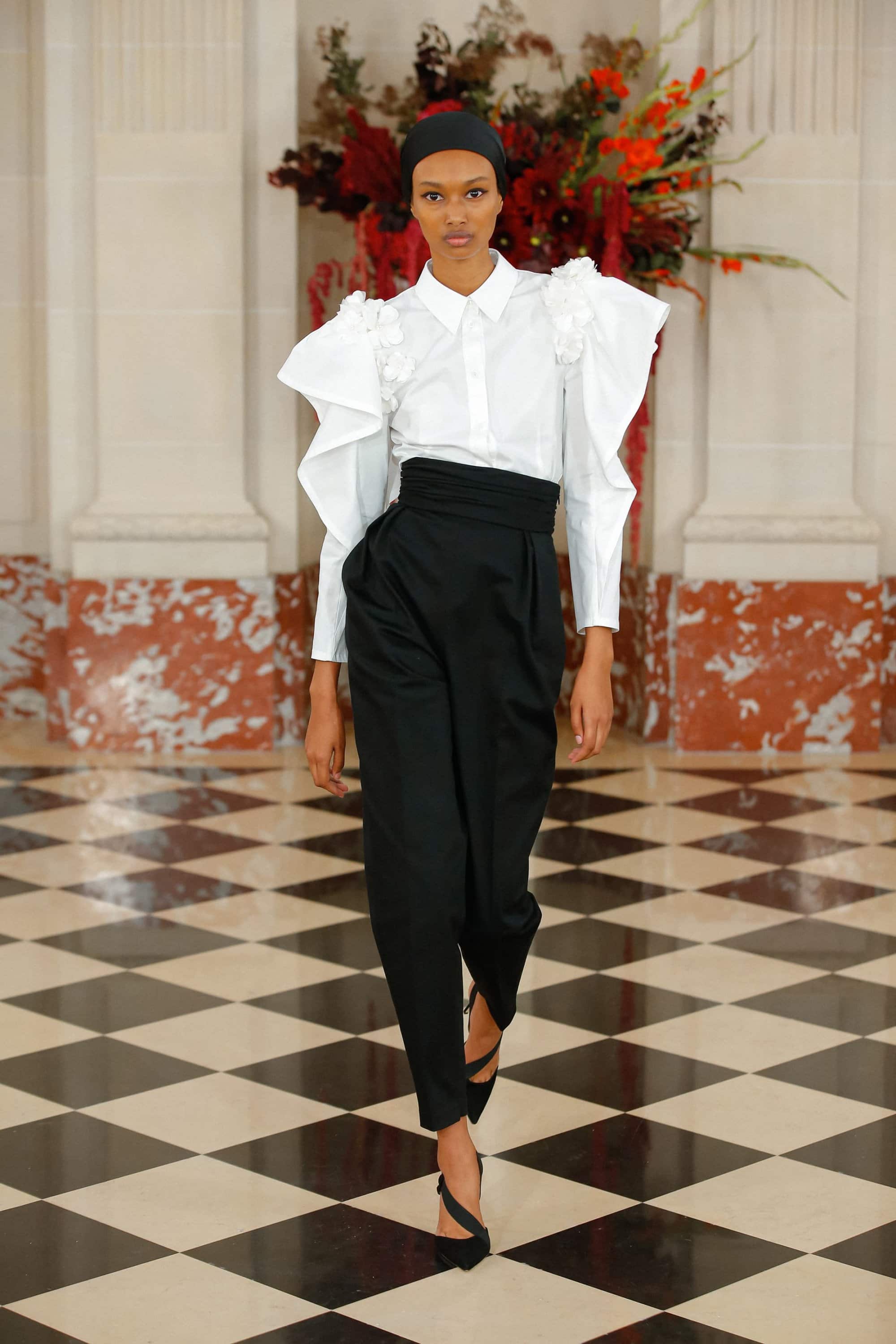 Presented in an empty, but elegant, Upper East Side mansion decorated only with a rectangle of neon lighting lining each ceiling and massive plots of wild(ish) flowers spread lavishly on the floors of the rooms, Gordon's collection fit its setting: classic, refined, but unmistakably modern.
With nods to Mrs. Herrera's famous face-framing sleeves, elegant volumes, and expert tailoring, Gordon kept the integrity of the house's history and infused it with a little, well, youth. While there were a couple of classic Herrera ball gowns sent gliding across the hardwood floors, and a few button-front shirts tucked into high-waisted trousers, there was also plenty of leg to be seen this season, and even some midriff, most notably in the form of two bra tops, one paired with a pair of sporty tuxedo pants.
After only three years as Carolina Herrera's creative director, Gordon is an expert at catering to all the CH clients, no matter their age (not that that is always an easy thing to decipher). While society's ladies with likely sport the more traditional Herrera gowns as they begin to attend their black-tie charity events again, many of the dresses shown this evening will undoubtedly make their way to the red carpets of award season. Perhaps the black and white tower of tulle topped with a criss-cross halter? The embellished black mini with giant bow and a surge of black silk chiffon floating behind it? Those two red gowns that added a blaze of heat towards the end of the show?
In harmony with the looks, each model was groomed to exude easy elegance with a clean red lip, a swipe of thick black liner, and hair, in many cases, parted down the middle and tucked neatly behind each ear. It was simple, chic, and probably made many women watching long for a proper night out.
Gordon's oversized costume jewelry – which can actually be purchased, and is not only for styling purposes – should also be noted: it added a bolt of much-appreciated boldness.
Basically, this collection was a parade of glamour executed by a man who is clearly an artist.
---