Polished Pragmatism
Review of Carven Spring 2024 Fashion Show
By Mario Abad
THE COLLECTION
THE VIBE
THE THEME
Louise Trotter approached this new chapter in Carven's history with a total clean slate. Her focus was on creating a wardrobe for women on the go where they can feel confident and sophisticated. Carven, the fashion house founded by Marie Louise Carven in 1945, has gone through several male creative directors for eight years since it was relaunched in 2009. Trotter, who was most recently at Lacoste but is perhaps best known for her near-decade tenure at high-street brand Joseph, offered a pragmatic series of pieces like roomy coats, elongated dresses and covetable accessories while sticking to a cinched waist and full hips silhouette in keeping with Carven's feminine French point of view.
THE BUZZWORDS
Transitional. Expressive. Dressed-Up.
THE SHOWSTOPPER
Look # 30
This look incorporates several elements Trotter showcased for Spring and combined them into one. The white t-shirt is layered under a black strapless peplum top and chunky black necklace paired with an elegant butter yellow skirt that flares ever just so at the hem and white basket weave shoes that could be an accessory hit on the retail floor.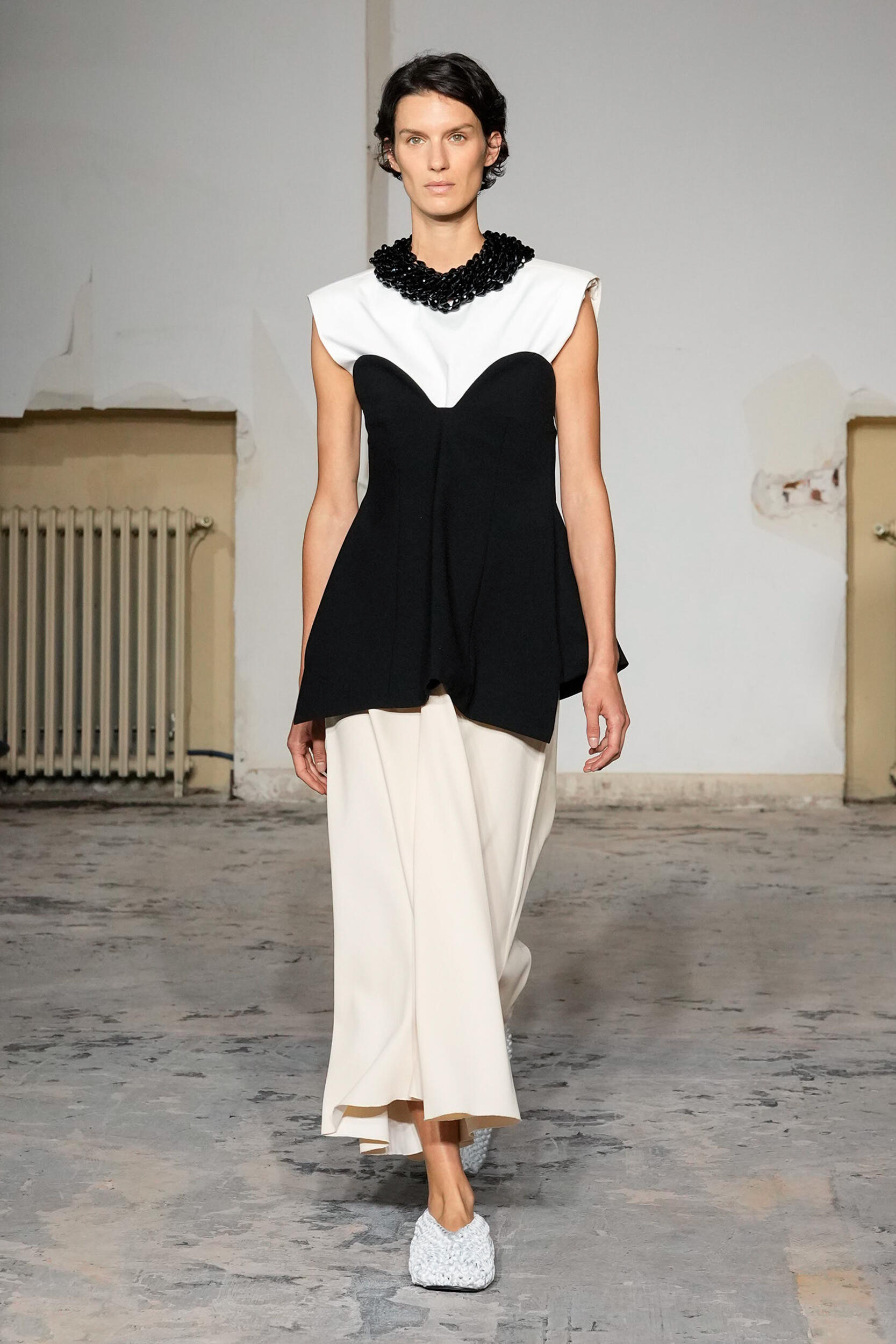 THE DIRECTION
PROS
A promising debut that started from a blank slate which set the tone for a new vision of Carven.
Unique and covetable shoes and jewelry.
CONS
Carven was always very youthful which wasn't as prevalent here aesthetically.
THE QUOTE
The collection is about first intentions. First intentions for the silhouette. First intentions for the woman. Chapter one. It's my first intentions for the vision of the house. I want to offer women real clothes that they can feel confident in.
THE WRAP UP
Having the opportunity to essentially start over is not something new designers at heritage houses get to do often, but the carte blanche allowed Trotter to rely less on archival codes and nostalgia and more on looking forward on how women want to dress in the future. In a season where designers have arguably looked back more than what should be necessary, it is refreshing to have a woman designer design for modern women in every sense of the word while keeping Carven's optimism and joy.
---