---
In December 2017, Mugler announced Casey Cadwallader as its Artistic Director, succeeding David Koma, who served in the role for four years. The appointment marked a new beginning for the Parisian label, but it also marked a fresh start for Cadwallader.
The American designer and ex-architect had served as Head of Design and Design Director at Narciso Rodriguez, J. Mendel, Loewe and Acne Studios in the past 10 years, but he hasn't assumed the responsibilities of Creative Director until now. So what's his plan for Mugler? Cadwallader is creating a new universe for the label that is fused with art and architecture, his two inspirations, and better captures the modern woman.
His first collection for the house, which he describes as a "spectrum of femininity," incorporates touches of activewear, art, technologically advanced production methods and brand signatures such as tailoring, bodycon dresses, and leather, which Cadwallader describes as "Mugler codes."
Much like the collection, the director's first campaign for the label, which was shot by Arnaud Lajeunie at Ricardo Bofill's iconic postmodernist buildings near Barcelona, also captures the well-rounded modern woman. Ten women, an Olympic swimmer, singer, artist, writer, DJ, producer, and models, fronted the Mugler Fall/Winter 2018 campaign in pieces that best represent themselves and gave interviews to better illustrate who they are.
Cadwallader aims to help women become a better version of themselves but not to change them. He's tasked with modernizing the Mugler codes for today's woman that doesn't want to change the skin they're in nor feels the need to.
Obi Anyanwu of The Impression met with Cadwallader in New York City for a preview of the Mugler Fall/Winter 2018 collection and spoke at length about the director's vision for the label, his first collection and campaign for Mugler, and choosing to be a fashion designer over an architect.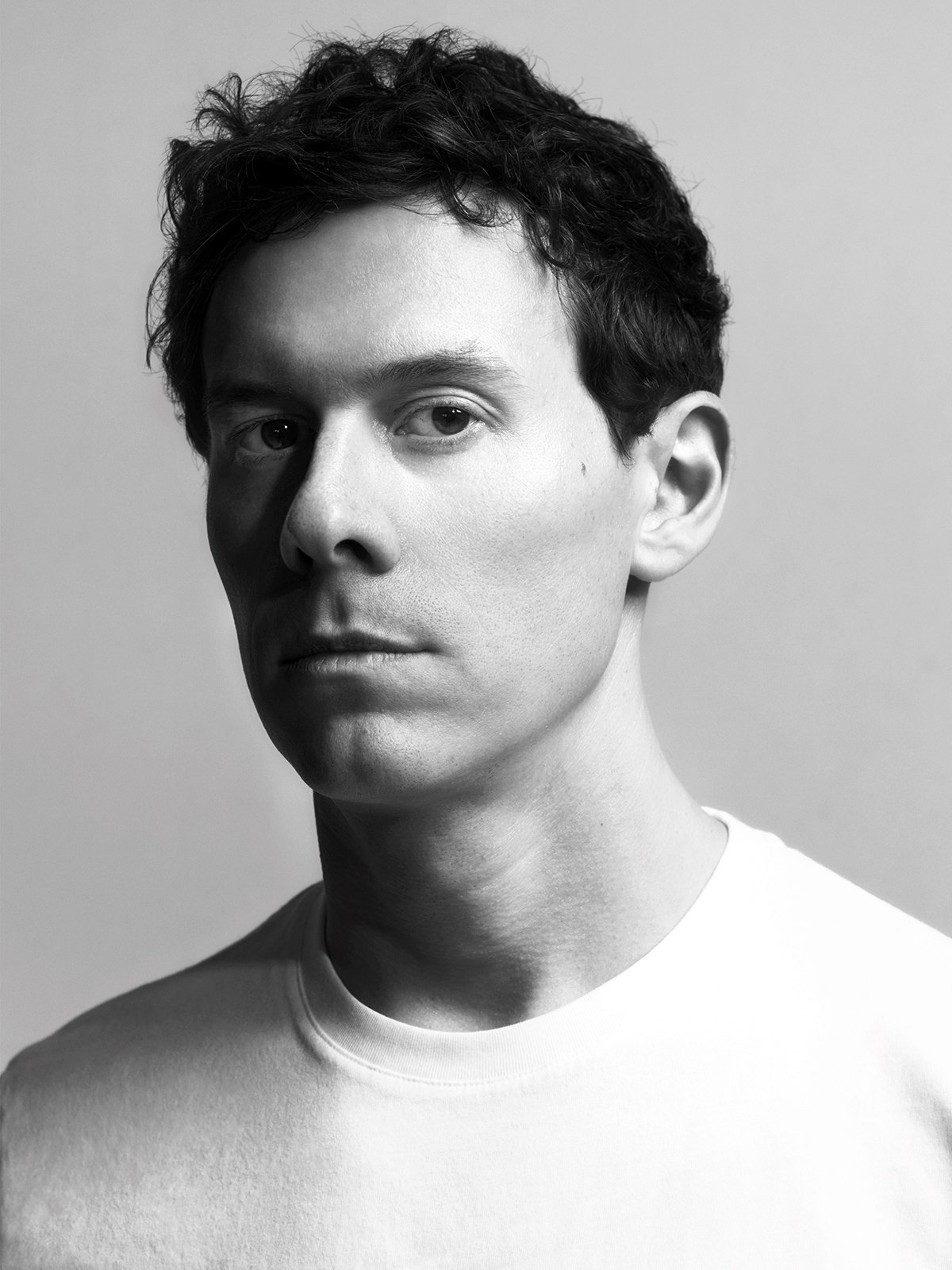 Obi Anyanwu: It's great to meet you Casey and thank you for taking the time to talk about the collection and campaign. To start, how would you describe the Mugler codes and what it meant in the 90s compared to now?
Casey Cadwallader: There are so many different layers to it. I think that most people remember Mugler in the 90s as tailored, haute couture, a bit of S&M, a bit of superhero, but it was always fantastical and it would transform the woman into a very strong character. I think that's still a fun thing to do, transforming for the stage or for the red carpet, but I think that day-to-day women need to be lifted up by clothes and to state themselves, and I think that's the big difference.
People are more come as you are now but be the best version of yourself, and clothes have the ability to pick you up and make you walk differently and to give you a lift. I need to make you the best version of yourself that you can be.
The women in the campaign looked like themselves. We didn't make them into other people. We wanted them for who they were and not just how they look. For what they said and what they stand for in their lives. The big project with the cast was to say in 10 people what the future and culture of this brand is going to be about.
Obi Anyanwu: Let's talk about the Mugler campaign cast of characters. Who are they?
Casey Cadwallader: We have 070 Shake, who is signed to GOOD Music and just released an album called Glitter. She's a lesbian and doesn't care so much about gender. When she sings and raps, she goes off-key just trying to express herself and she doesn't really care about the way a girl is supposed to do it. She's just way past that. She's a lovely person, a sweetheart and so good to people and she's a little tough girl too. She was great to hang with, and it was great to see her speaking to all of the other women who are in the project too.
We have two women from the Mugler heyday: Amy Wesson and Debra Shaw. Amy almost 20 years ago to the T did the Mugler Angel campaign shot by Mr. Mugler. She was one of the biggest supermodels of the 90s, but she had problems with addiction. Now she's a sober mother of two coming back to the game. She's a warm, amazing and strong southern belle.
Debra Shaw, who's in our campaign in a pink dress, was also on many a couture runway for Mr. Mugler. She's the most regal woman from South Jersey near Philadelphia and now lives in Paris and works for the British Council. She also mentors young models about how to be in this industry.
Amy and Debra were on the runway together for Mugler so they got to see each other for the first time in 20 years in front of me.
Obi Anyanwu: Wow! How was that experience?
Casey Cadwallader: It was so cool. They have such love and support for each other. It was just nice to see that we were responsible for them getting to see each other again 20 years later.
Obi Anyanwu: That's amazing!
Casey Cadwallader: Next we have Ami Suzuki, a new model from Tokyo who's been living in New York for a couple of weeks. She's very young—I could see it in her eyes when we were in Barcelona. She was excited saying, "it's so different here and it's so beautiful." There was such energy and excitement coming from her. We talked a bit about what it's like to be a powerful woman in Japan and it's so different. Rules that conflict with Western culture today. You can see in her that she's so driven and this independence is forming.
One of my favorites from the campaign is Jess Cole, a British journalist and writer and a very popular young model today. She writes essays and has been published in the Guardian newspaper in London. She writes often about what it's like to be in the arts as a woman of color. She herself is half white and half black, and she said that growing up mixed race she hid the fact that she was half black. She didn't really speak from it and she didn't appropriate it until more recently. Much of what she does is interview other artists of color, engage in women's rights and modern ideas of feminism.
We didn't just take photographs of everyone on set. We had them do interviews too and Jess' interview is about how models have to be more and have to represent something more than just being a pretty face. That you have to bring something to the world too and she really does that in my opinion.
Next we have Dustin, a really popular transgender DJ in Paris. She believes in using clothing and makeup to transform her identity. Her music is killer—I've been to so many of her parties in Paris and she represents to me this new identity of feminism that's extremely creative and so beautiful.
There's Anna Brewster, a British actress and a close friend of mine. She has always embodied this amazing feline feminine power in my opinion. She's the lead actress in the historic miniseries Versailles.
Anna Santamans is a French Olympic swimmer. The most amazing thing about her that you would never think is that she's really afraid of water and yet she swims like a machine. Basically her whole career has been about fighting this fear and becoming a really powerful woman in the water.
Vera Massias is a French producer for the production company Kitten Production.We were impressed by the power of her calm and her fierceness in managing the production of our ambitious photoshoot, and having spent some time with her we found her to be truly beautiful and interesting. We asked her if she would accept for us to shoot her portrait and after careful consideration she accepted!
And finally we have Vivienne, a 19-year-old Swiss model with this amazing, tough boy vibe to her very feminine presence. She's really comfortable in her skin and she's very inquisitive. In her interview, she talks about wanting to buy a 1967 Mustang in America in cash and how she's going do it with her modeling money when she turns 21.
Obi Anyanwu: I think it's great how the cast is so varied and expressive. I've noticed that the campaign also has shots of the location as well.
Casey Cadwallader: I put these pictures so you could see the architecture a bit more. They also give a good retrospective of some of the tailoring, some of the sportier pieces and also the leather, and then those big earrings that we made with Marco Panconesi.
Obi Anyanwu: Very cool. I also like the references to past Mugler styles and pieces, like Anna's bodycon outfit.
Casey Cadwallader: That's what I meant before about codes. Really sharp tailoring and material innovation are Mugler codes, and it's about what your approach is. Even this very special color of blue is now the lining of all of the black pieces and all of the new labels are blue to reference the special color that Mr. Mugler used for the Angel fragrance, which is the cornerstone of the whole fragrance empire.
070 Shake is in a very strong Mugler leather jacket in the campaign, which a man or a woman can wear because of how the shoulders are built. It's a signature thing to bring leather back to the house in a very strong way like that.
We're also doing denim, which is a new category for Mugler. We made super structured denim with these spiraling seams. This is where the architect comes through. The jeans don't actually have side seams, everything is rotating, and it's the same with the sleeves on the jackets and parts of the body. For me, if you're going to do denim, make it sculptural, make it new, make it in a way that Mugler would make it instead of just making another pair of jeans.
Obi Anyanwu: Does the campaign have a video component too?
Casey Cadwallader: We have a video that's the long play, about a minute and a half showing the women during the shoot. We would take each picture and then do a few minutes of film around it. This will be on our Instagram with their interviews on top.
We'll probably put a longer video on Youtube, but I like the short ones better because you get to hear everybody and that to me is the most important part.
Obi Anyanwu: I totally agree. Can we talk about the locations—Ricardo Bofill's La Fàbrica outside of Barcelona and his Mont-Ras summer house near the Costa Brava. Why did you choose these locations?
Casey Cadwallader: Sure. The culture that I want to have around Mugler isn't just about fashion, it's about arts and architecture, and that's why we're doing art collaboration projects as we go along. I'm very inspired by art in general, so I wanted that to be part of the world.
I'm an ex-architect and studied architecture for 5 years, and I wanted to find a place that was really special. I remembered Ricardo Bofill, because my husband and I have been sending each other pictures of his main house and studio that we would find on Instagram or on the Internet, so I asked the production team to check it out and they got it.
And then we found out that Bofill has a country house that he switches between, so we shot on Sunday and Monday on the days that he wasn't there. We really got to see both which was pretty cool, but the best part is that he actually came out of his studio while we were shooting and we took pictures together. He was so nice and it was really cool.
I have this great fortune to have built my own little world for Mugler and to have all of these dialogues open.
We've even been doing some work with art and design school ECAL in Switzerland. They have a big photography department and we gave them things from the Mugler archive and had them do shoots about what they thought Mugler was, and we've been curating their work and featuring them on our Instagram. All of the wheels spinning make my life and my world more fun and I think that's really important.
Obi Anyanwu: How you would describe your vision of the Mugler?
Casey Cadwallader: I want a very open-minded collection that suits all of women's different needs, but is also built around a culture of really vibrant communications. Supporting and collaborating with different people to charge everything with a bit more meaning and a bit more intimacy and real relations.
Obi Anyanwu: Where do you want to see your Mugler universe go? What's your ideal vision of the brand?
Casey Cadwallader: I really want to work on performance, work with musicians on their tours, and work with ballet dancers on their stage costumes. I want to get into that, but all of that will come in due time. First I want to build the business and make the clients of Mugler excited and proud to buy and wear the clothes. That's the most important thing. I want to have fun with this and I hope that in a few years we have a bigger brand that can do more big projects and more collaborations and have a lot of energy going in and out of the place.
Obi Anyanwu: Let's talk about the collection. I've noticed some touches of activewear, how and why are you injecting that into the brand?
Casey Cadwallader: It's very personal. I have been a very active person since I was young. I've been skiing since I was 6, I run a lot, I do yoga and I do a lot of hiking and mountain running. The gear for hiking is super fun because it's all breathable, stretch, keeps you warm sometimes, has ventilation and zippers. I love all of it and I think it's also because the technology of those fabrics and the way that those clothes are assembled are constantly changing. I love thinking about those new technologies and using them on other types of clothes too.
Obi Anyanwu: There's an artist collaboration with Samara Scott in the collection too. Can you walk me through it?
Casey Cadwallader: Samara Scott is an amazing artist who makes very decadent surfaces out of different types of materials. We made these two art coats with her that are two layers of ultrasonic welded plastic and inside the trapping pigment is chewing gum, spices, toothpaste and all of these different things to make this surface collage.
She has been working on her technique for many years. She does different types of installations like she'll carve the floor of a gallery open and put a liquid inside and then collage onto the surface of the liquid and it changes over time. Sometimes she installs in outdoor fountains.
I decided to write her a letter and see if she's interested in collaborating and she said yes. We're going to do other things in the future too just on whatever schedule works for us. This was just the beginning of that relationship.
Obi Anyanwu: The collection is also very edited. Was that intentional?
Casey Cadwallader: It's partly about reality. I started in January and this collection had to be done in March so the stores could buy it. I did only 25 pieces and there are multiple versions of colors and fabrics that the pieces come in. I had to really think about what I wanted to be the most important things. They're going to stay for a little while so I have to really like them. We've sold the collection to three stores this season, and the other stores will be able to buy the other garments next season.
Obi Anyanwu: Where will the collection be available, and which styles will be staying?
Casey Cadwallader: It is exclusive for the Mugler boutique in Paris, Net-a-Porter and Bergdorf Goodman to start. And I'm keeping 15 of these 25 styles into Resort and then making 40 new styles. Resort will be twice the size.
I think that it's important in fashion today to keep pieces and believe in them and keep reinforcing them and maybe get to be known for them. I think sometimes fashion moves too fast for the client. A piece is gone by the time most people see it.
Obi Anyanwu: Is Resort going to be more of a theme or building out the universe more?
Casey Cadwallader: I'm not doing themes at the moment. I'm building the whole idea of what the collection can be at first and then I'll get into the seasonal shifts. The next collection has some themes to it, but when I think of themes I think more architectural or abstract.
Obi Anyanwu: I want to step away from the brand and get into your life. What made you want to step away from architecture to work in fashion?
Casey Cadwallader: There's one thing that's really important to me and that's making things and I don't mind switching the things that I'm making. I know that sounds crazy, but I don't see the lines between things so much.
I was a jeweler from age 12 to 20, working at a really small jewelry store in my town, and when I was hired, I was carving waxes that were then cast into gold. He did a lot of custom client work. Then I was a gold finisher, polishing stuff all day long. I went from jewelry to wanting to be an automotive designer I think just because I wanted to scale up but I also liked metal, but then I decided I wanted to be an architect.
I went to Cornell University for architecture but I started making clothes. There was a textile and apparel design department at Cornell and they did their own student fashion show, but in order to be included in the show you had to be in that major. I petitioned with two friends to be allowed to do the show but the deal was that we had to make our own patterns and sew our own clothes. I would work on my architecture model until 2am and then go home and sew from 2am to 5am. I basically didn't sleep and kept putting the needle through my finger and I did that for 3 years. Because of that I had this fire in me to want to know more about being a fashion designer. I really lucked out because a good friend of mine was an intern at Marc Jacobs and got me an internship there.
I saw this world that was on fire with possibilities. When I graduated from Cornell, I applied to architecture jobs and fashion jobs. I didn't get a job for three months so I became very nervous, but in the same day I got the architecture job and the fashion job that I really wanted and I had to pick.
Obi Anyanwu: What were the jobs?
Casey Cadwallader: One was to work for Richard Gluckman. He was the architect who designed all of the Helmut Lang stores in the 90s and all of the Gagosian Galleries. His world of architecture was my dream world. I was the first person they had offered a job to straight out of school, but I decided I would be a fashion designer. I still feel bad about it because they are so amazing and I was very humbled to be offered the job, but I ended up working for Richard Chai, who was the design director of Marc Jacobs at the time. He started working at Tse and I joined him to be his assistant. That's where I kind of learned what I was doing. Three years later, I started working at Narciso and I pretty much say that is when I went to school. Narciso is so precise and so talented and the way that his atelier runs is really beautiful so you learn a lot.
Obi Anyanwu: You have a very long resume. You've worked with Narciso Rodriguez, Loewe, Acne Studios, what are some challenges that you have leading this brand compared to some of the others.
Casey Cadwallader: This is a new role for me. Being a Creative Director comes with a lot of challenges like having to be public, having to always be ready with words in addition to clothes. Before that, I've always been a Head of Design or Design Director under a Creative Director who had those responsibilities, so not only do I have to grow into the role but I have to build the business around Mugler.
Mugler is a very big name and a big company, but the ready-to-wear section is not very big and we really want to make something out of it. I'm here to sell clothes and to help to make women's lives better and that's important to me.
Acne Studios was an amazing experience, because we made clothes for so many different types of people. It was younger and I think that freshness to me is something I closely identify with, whereas at Loewe or Narciso, the clothes were extremely beautiful and extremely well made and they were for a very specific discerning kind of clientele and I want to have that and also have the casual ease of Acne. That's kind of where I am today, it's built on my experiences.
Obi Anyanwu: Did you pick up the corporate cultures from the other companies in creating your own?
Casey Cadwallader: Yeah. I think I've learned a lot about being a boss and being a manager from other bosses and managers. You're built from your experiences; it's all you are.
I decided a long time ago that I'm into being a nice guy and to push people from a place of motivation instead of a place of fear and I've experienced both in my career. I like my team to come to work with a smile on their faces, because then we can really think and explore and be creative together.
Obi Anyanwu: Finally, having experienced being an architect and a fashion designer, do you feel like fashion design is more freeing compared to architecture?
Casey Cadwallader: No, I think it's about what you bring to whatever design category or design career you choose. I think that when I graduated from school it was a little bit drier, but many of my young friends today have their own firms and are doing amazing works so it's what you make of it. I think both of it can be really creative and both can be really dry, it just depends on you.
Mugler Artistic Director | Casey Cadwallader
Photographer | Arnaud Lajeunie
Talent | Ami Suzuki, Amy Wesson, Debra Shaw, Jess Cole, Vivienne Rohner, Samara Scott, & Dani
Stylist | Alex Harrington
Hair | Jonathan De Francesco
Makeup | Christine Corbel
Casting Director | Walter PearceIn
---