---
Review of Celine Fall 2021 Fashion Show
PARADE
Poetry as Verses, Symbols, Revolts, Ideals and as Clothes
By Long Nguyen
At the end of the Celine fall show taped at the sumptuous Jardins d'André le Nôtre at the Château de Vaux le Vicomte located in Maincy an hour south of Paris, the references quoted the lines written by three of France's most significant poets in the late nineteenth century – Arthur Rimbaud, Charles Baudelaire, and Paul Verlaine.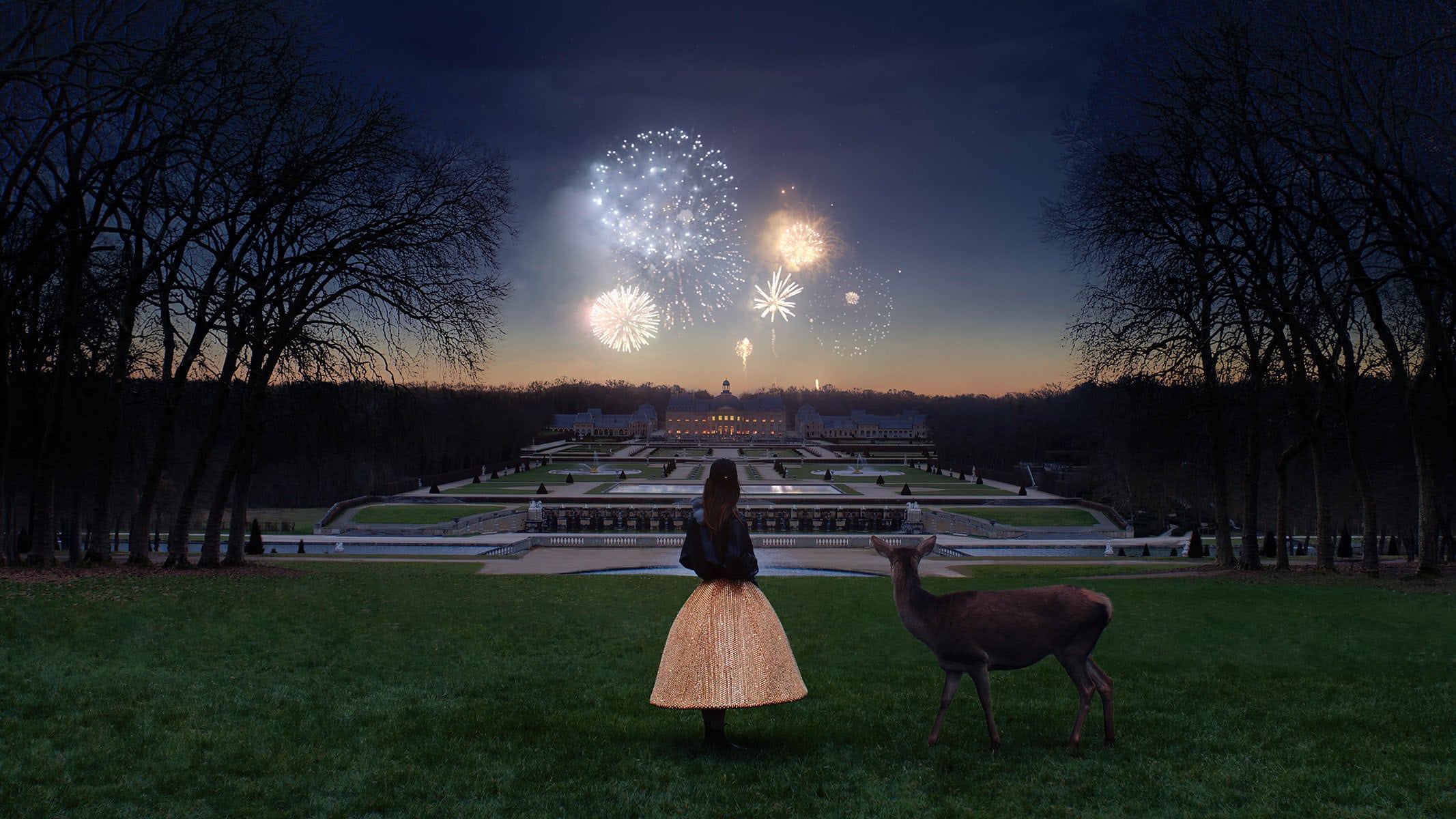 The French poet Arthur Rimbaud forged a new path for poetry and literature as deployed idioms and languages to transcend the rigid structures of orthodox poetry into uncharted territory. His visionary and novel linguistic verses celebrate the physical joy of life outside of the confines and moral rectitude of bourgeois society, a celebration that, of course, included the outrages of accepted notions of good tastes. Rimbaud influenced modern literature was far beyond his brief moments in literature. He decided to stop writing altogether at the age of twenty, only less than five years after his first published compositions.
Titled 'Parade' derived from a Rimbaud poem of the same name, this fall collection intends to depict 'a utopian parade, and melancholic daydream of youth interrupted.' With its easiness and perhaps such approachable ways, this fall collection is stellar in its revolt against the loud and noises that are so inherent in the many fall collections shown since the beginning of February.
In those collections, surface decorations substituted for genuine fashion design or, as the novelist William Faulkner wrote in his 1929 novel The Sound and the Fury – "full of sound and fury, signifying nothing."
The taped show opened with an allusion of the eternal gazes of the stone statues draped in fabrics with a model wearing a sparkling slip dress covered by a black cape in a poetic tribute to a Paul Verlaine poem Mon rêve familier – "Son regard est pareil au regrade des statues." ("Her gaze is like the gaze of statues")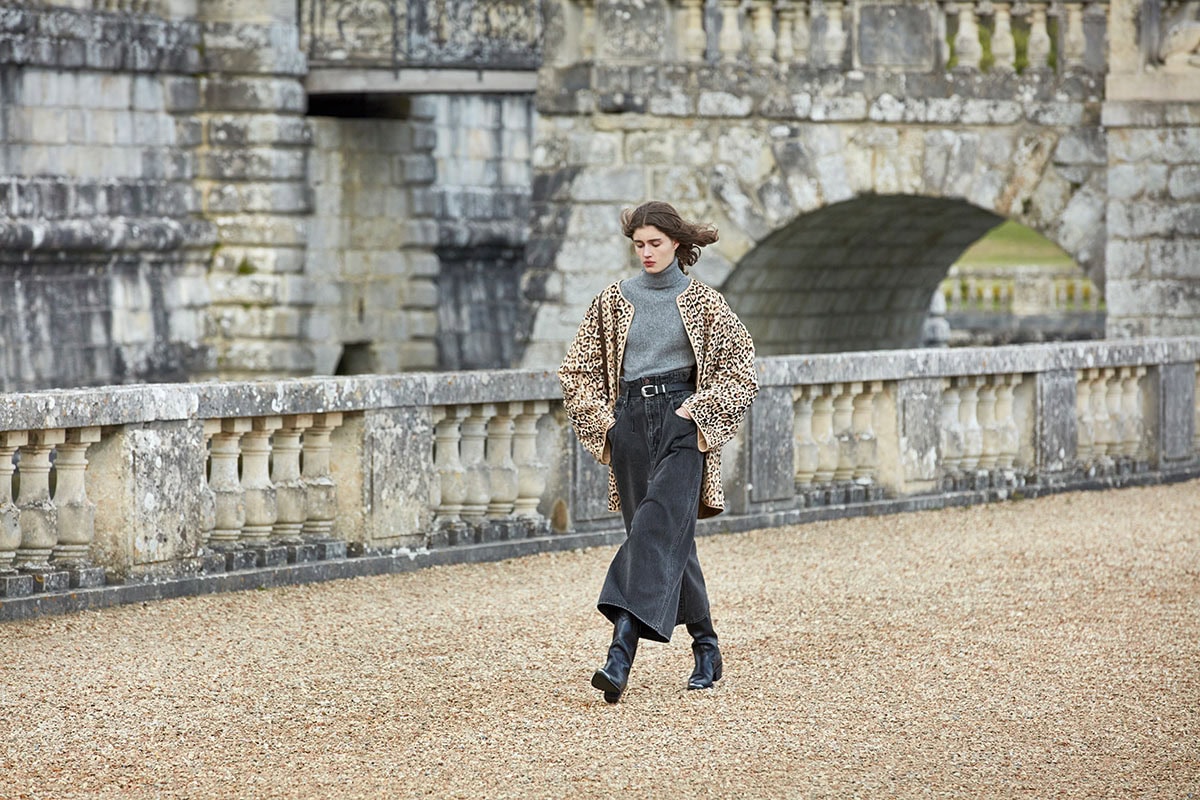 Here in this fall collection, the poetic is the parade of these realistic clothes throughout with little fanfare. It is hard even to notice a young woman wearing a brown wool single breast drop shoulder jacket with a white tank and faded blue jeans, and black leather boots. This look opened the show as models meandered around the spacious gardens along paths lined with impeccable round stone pebbles. The formality of dressing no longer exists in this collection, where the mood of the black leather hooded blouson and leather pants is the same as that of a gold long puff skirt worn under a black flight jacket. Even the old notions of avant-garde or bourgeois dressing no longer valid.
Presenting in the gardens that André le Nôtre created in 1656 at this château as a precursor to the more famous gardens in Versailles, this collection is also very French the different types of garments mixed that offers a balance transcending the differentiation say between day or night wear categorization.
Here, this transcendence is in the contrasting juxtapositions of unexpected elements. – an olive cotton hooded military anorak with a black pleated sequined knee-length dress with long white front collars and light tan construction boots or a tweed cropped hunting jacket with a white poet blouse and blue jeans. Day and night merge into one look. Or how casual are the black and yellow plaid cropped mock neck tank with matching long skirt, a leather sleeveless hooded sweatshirt?
The poet Arthur Rimbaud experimented with the structure of language in the same way that Hedi Slimane composed his consistent fashion vocabulary at Celine in this tenth collection. Slimane has always managed to separate his collections from how fashion operated at this moment, avoiding playing into that typical hype machine scenario. The models in this show are more like ordinary girls than the stereotypical super models typed that populate these levels of shows.
We are now in an age of endless collaborations. All the luxury fashion houses employed, especially those with 'artists,' enhance the often weak fashion bearings. Slimane has done none of these types of co-working in the hopes of attracting new audiences to his views of what Celine is. The designer works principally with musicians to come up with original scores to his shows – like the music for this fall show – 'Un Day Dream' – composed and performed by Regina Demina featuring the harp arrangement by Leonie Favre-Tissot.
What Rimbaud probably had in mind over a century and a half ago was his quest to shock the accepted norms of beauty and taste that hindered young people's capacities. There are no longer any sacred styles anymore in writing as there are even less structured good fashion tastes today. A silver sparkling cocktail dress is paired with a black leather car coat, a hooded sweatshirt, and brown leather thigh-high hunting boots. Or a silver pleated long skirt provides a touch of shine with the now-signature plaid wool shirt jacket and denim blouson.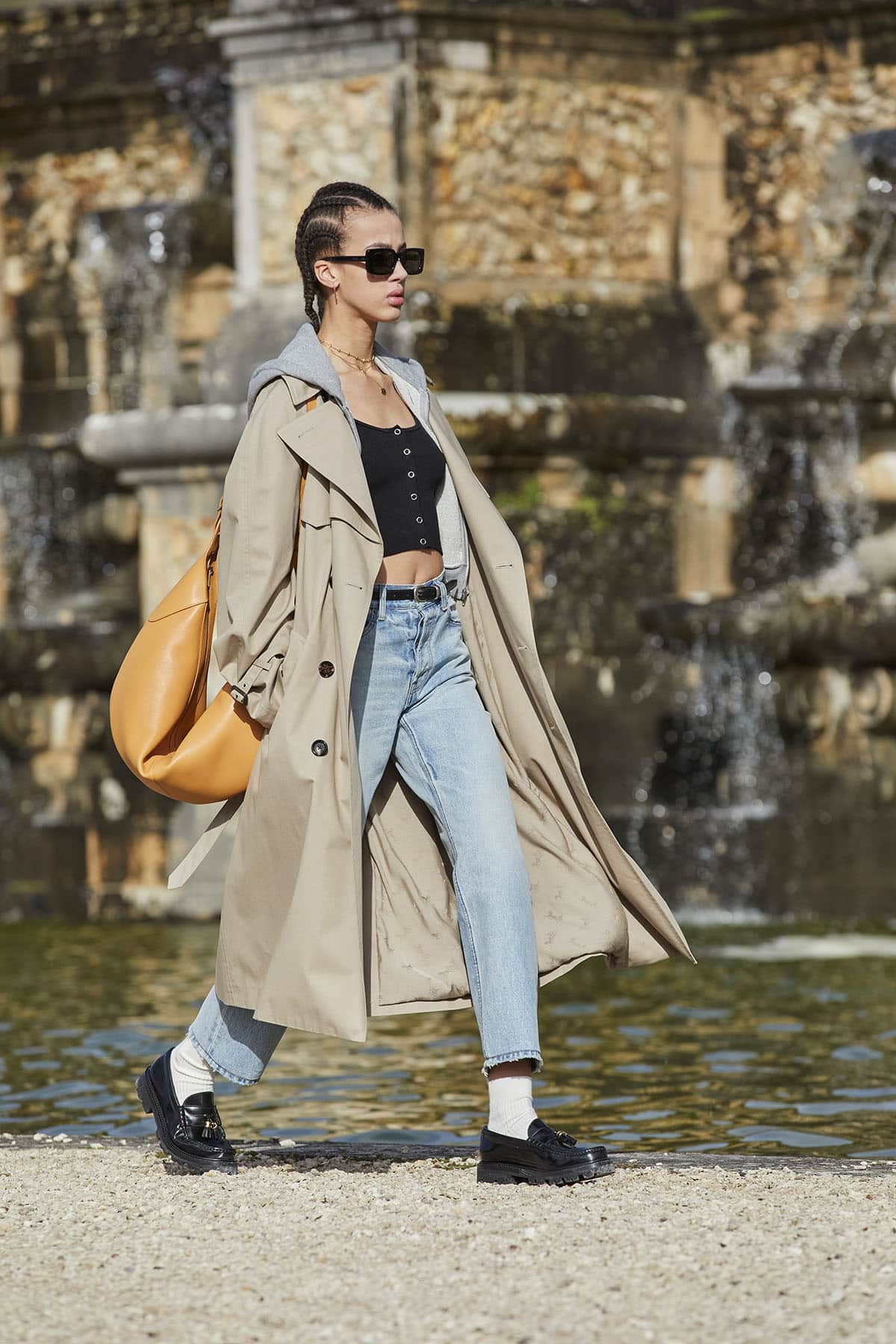 Starting with the spring 2021 and now with this fall show, Slimane establishes a new signature for Celine.
Perhaps more than anything in this show is how Slimane crafted these clothes to be so easy and so transparent that they are hardly noticeable and lacking any signs of logo attached to any of the garments. It may be a challenge for some to accept a loose light brown mohair dress paired with black fitted jeans, a denim jacket, and an oversize leather anorak as designer brand clothes. Designer sportswear is vital here.
For a high luxury French brand like Celine, it had taken time to absorb the new methodology of style, just as how the writings of symbolic verses of Rimbaud and Baudelaire influenced modern literature. There is hope for this new aesthetics or as Baudelaire wrote it with such enthusiasm in his poem L'enemi "Ma jeunesse ne fut qu'un ténébreux orage, traverse ça et là par de brilliants soleils." (My youth has been nothing but a tenebrous storm, pierced now and then by rays of brilliant sunshine."
Here is the agility of how Slimane has been able to sustain the Celine brand's quiet excitement without resorting to collaborative trickeries and aiming to speak to an intentional community with clear fashion notions rather than through well exciting anything like heritage or craftsmanship. The designer is never timid at achieving the fashion and the aesthetics that he espoused.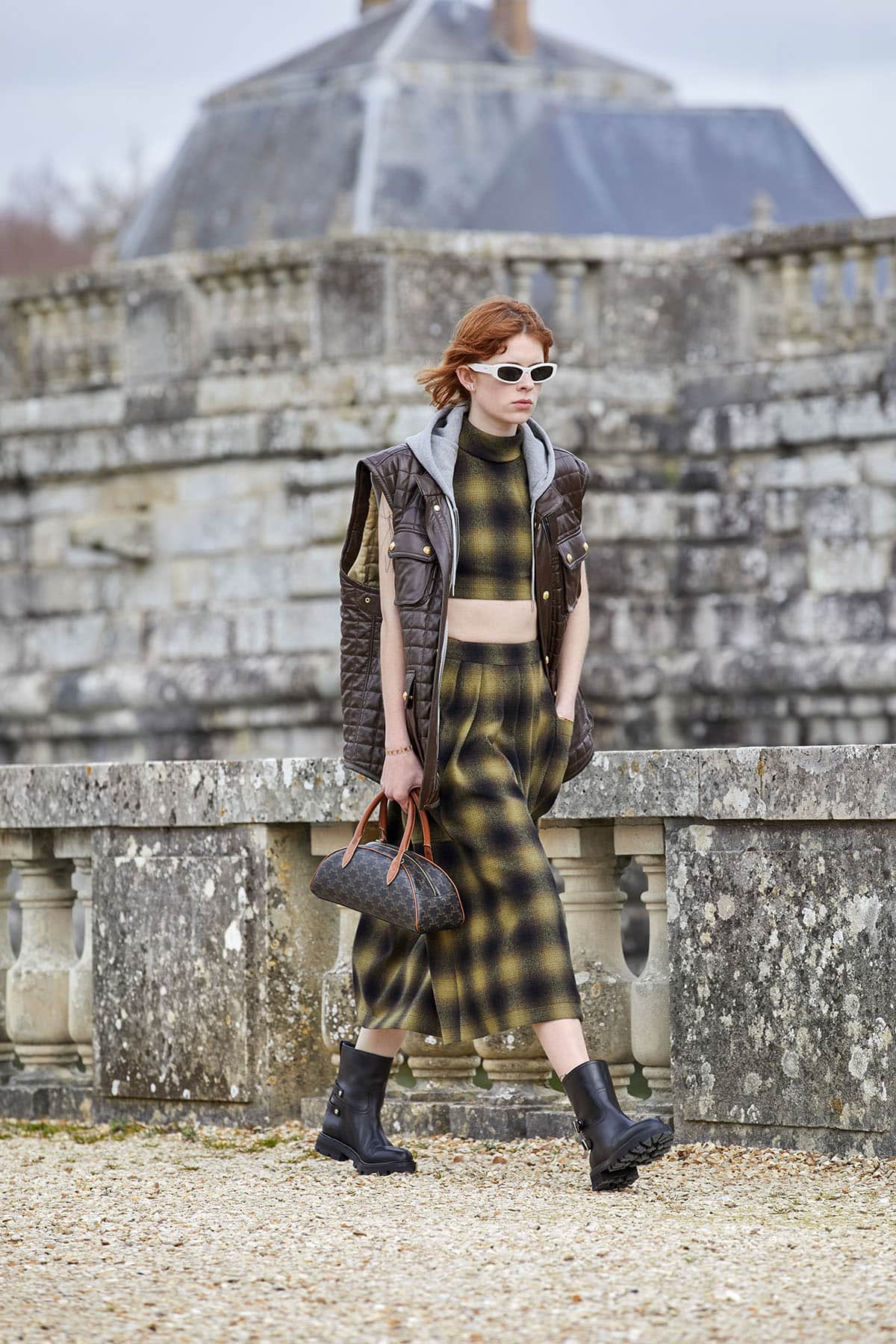 Each season, Slimane carries on a conversation with the clothes and his images of the people wearing these clothes as his vocabulary broadcast to the culture at large, not just at limited fashion circles. There is a tranquility here, not a rush towards a new aesthetic standard or new vibes that seem expected from designer fashion; well, that's the term to describe high fashion in the years before being replaced with just the brand.
But the Celine aesthetics are evolving, starting with the men's collection staged outdoor on a racetrack near Marseille last July and the subsequent women's spring 2021 filming in Monaco. These taped shows delivered for the Celine collection have evolved out of the more structured 1970s bourgeois and nightclub vibes of the live shows inside Paris's tents. Celine no longer makes sense to return to the old ways of showing under the old fashion calendar system that is very still in operation. The casualness of these outdoor shows is more aligned with the mood of young people today.
"J'ai seul la clef de cette parade sauvage," ("I alone have the key to this savage parade") wrote Rimbaud in one of his poem Parade, written around 1873 in his last work Illuminations.
The poet affirmed that he alone holds the key to his revolt, self-discovery journey, and the parade of the ideals that he had cast aside and cast anew. In the same way, this Celine show cast a new light on these mixtures of everyday clothes.
---