---
Review of Celine Spring 2022 Men's Fashion Shows
The Ingenuity of Mythologies Amidst New Grands Classiques Merchandises
By Long Nguyen
The black helmet was spotless. The reflective goggle curved just right over the nose. The slightly oversize black leather sleeveless biker jacket opened against bare skin. The tight black leather pants or black leather shorts fitted just right over the black leather kneepads or black leather boots. The roaring of the KTM 250SX 4-stroke engine signaled its unrivaled power delivery. The chassis of these KTMs provided the requisite stability and agility on the terrain.
Then, together in a group they – Matej and Pepa from Team FMX4Ever and Aurélien, Chad, Pierre-Louis and Tanguy from Team Honda SR – rode out of the sandy dune light forest in the Île du Grand Gaou and the Archipel des Embiez east of Marseille into the stage set of an actual freestyle motor cross course painted in black.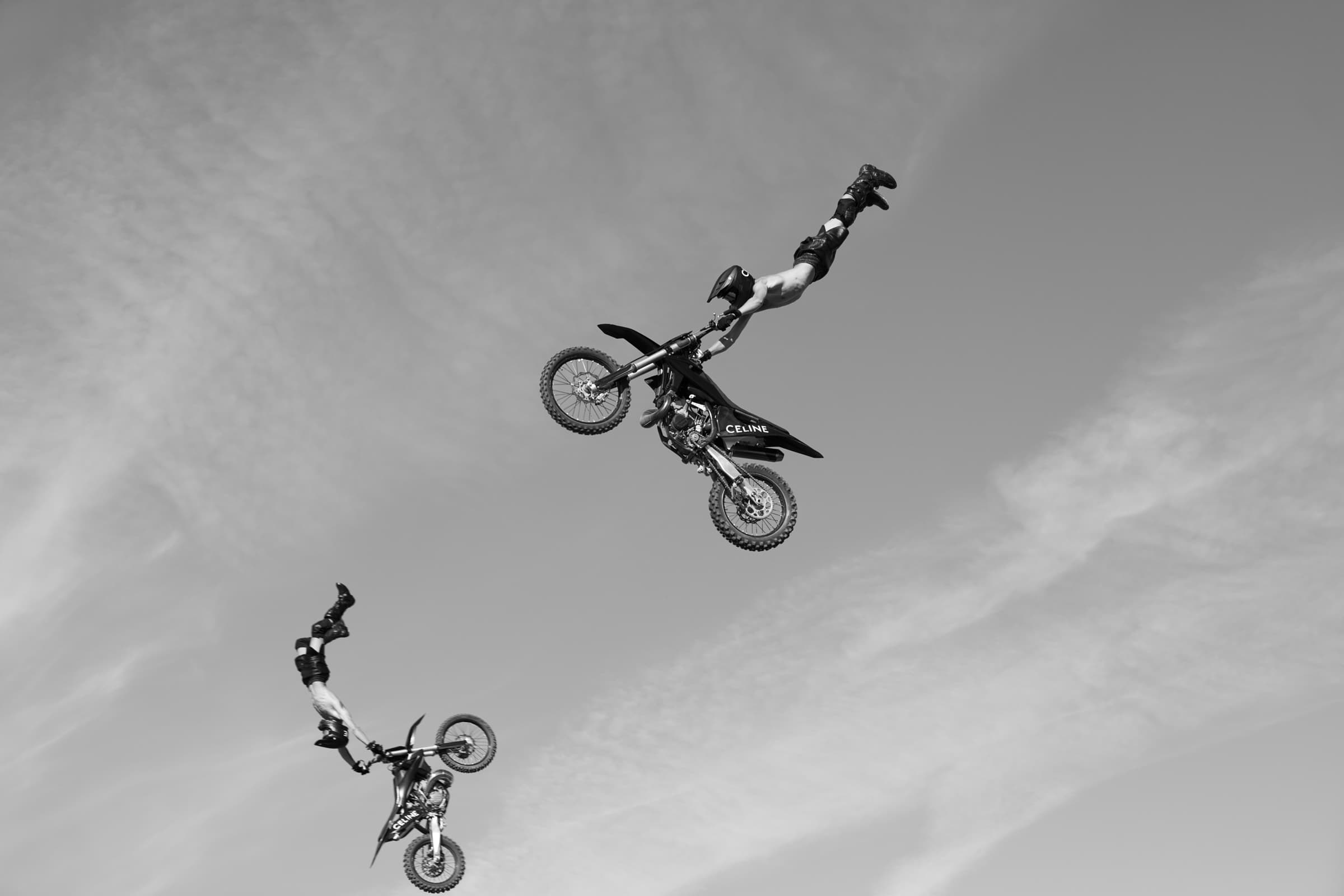 Before showing any actual clothes, Hedi Slimane, the creative director at Celine, has already created a new mythology for this collection, pushing the subculture and the surrounding lifestyle of the motocross biking community into the main fashion arena.
Here is a new birthplace of hybrid culture – the space of collision of music, art, and now motorcycles – is once again the platform to steer this men's spring 2022 luxury sports collection forward with a range of mixtures frayed bell-bottoms, jeans, and silver metallic tanks to broad shoulders black tailored single breast jackets with 'Heavenly Days' sequined in the back paired with black fitted denim tucked into thigh-high black leather boots.
This stellar men's show defines a new view of luxury today by placing denim and leather at the forefront of this youthful, sporty collection in a seamless merger of the roughness and delinquent of black oversize denim pants torn at the bottom of the legs paired with a charcoal lurex sparkling short sleeve long shirt and a beaded black denim sleeveless vest. The show intends to demonstrate the "restless dreams of a cosmic teen, riding a new age" in clothes like a black hooded sweatshirt loose fitted tracksuit paired with a cut-out sleeveless silver sequined denim vest.
The mixture of luxury fabrication and grunge lies at the heart of this Celine men's spring show fomenting a new way of looking at elegance beyond the province of staid tailoring and rigid dress codes of bygone eras.
An oversize snakeskin print leather blouson, a slightly torn denim shirt, a leather sculptured vest, and a large flowing painted pants are one example of the height of this aesthetic merger. That also included a light pink mohair sweater and a black lamb leather long skirt. Or the silver leather blouson, black knit long sweatshirt, and flowing beaded leather pants.
It isn't so much about making luxury sportswear more commonplace to converge the language of luxury fashion into the vernacular of youth via the kinds of garments worn daily by these young people. These physical clothes are a new part of the new vocabulary, constantly evolving.
A perfectly tailored black pantsuit makes no sense to these kids. Still, the same tailored jacket or a black straight line short single breast jacket, cut a bit loosely, paired with fitted denim jeans or bell-bottom jeans, may entice this generation to experiment with some new clothes. The kids may also notice the ecru cameo nylon blouson, black and white stripe hooded sweatshirt, oversized denim bell-bottoms pants, and flat red sneakers. It is changing the perspective on how to look at clothes.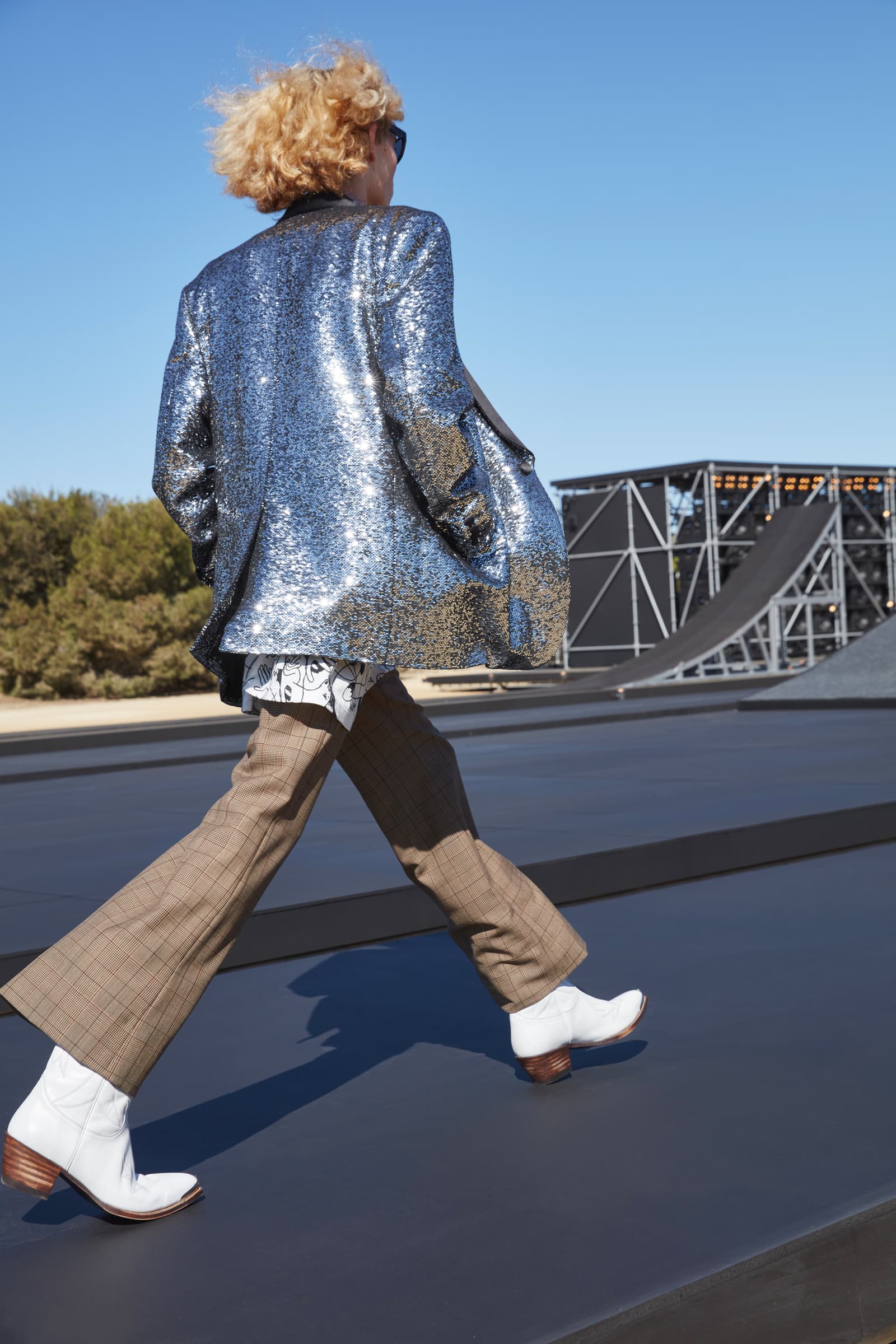 This season's tailoring is clean and streamlined with a prominent shoulder on straight-line cuts, from a black cropped wool jacket with silver front embroideries to above-the-knee black coat/jackets to a zebra print single breast slim jacket. But tailoring does not simply only exists within the constraints of pantsuits. The definition of a pantsuit or suit also needs to evolve forward, embracing other forms of suiting, however unconventional. It may be hard at this moment for many to accept a silvery leather blouson and matching pants as a pantsuit, but this outfit is a pantsuit for lacking any more precise definitions. The red blouson and matching flare pants are a suit worn with a denim vest with metal encrustations.
To understand the thrust of the fashion aesthetic and the business that underpin the flow of commerce for the Celine brand, take a quick look at the brand's recent postings on its Instagram from a few weeks ago in early July.
The new fall clothes and accessories are from the 'Teen Knight Poem' Fall 2021 men's show that took place as a taped film at the Château Chambord in Centre Val de Loire, about two hours southwest of Paris back in early last February.
Each Instagram post promotes one or two items from the Fall 2021 show. A combination of images taken mostly as backstage shots from the actual show, now converted to highlight the exact product currently on sale at global retail locations and e-commerce platforms. The attribution of the photos of the merchandise to the show at the castle built by the French king François I in the 16th century serves to imbue with the romanticism dandyism via French Renaissance history.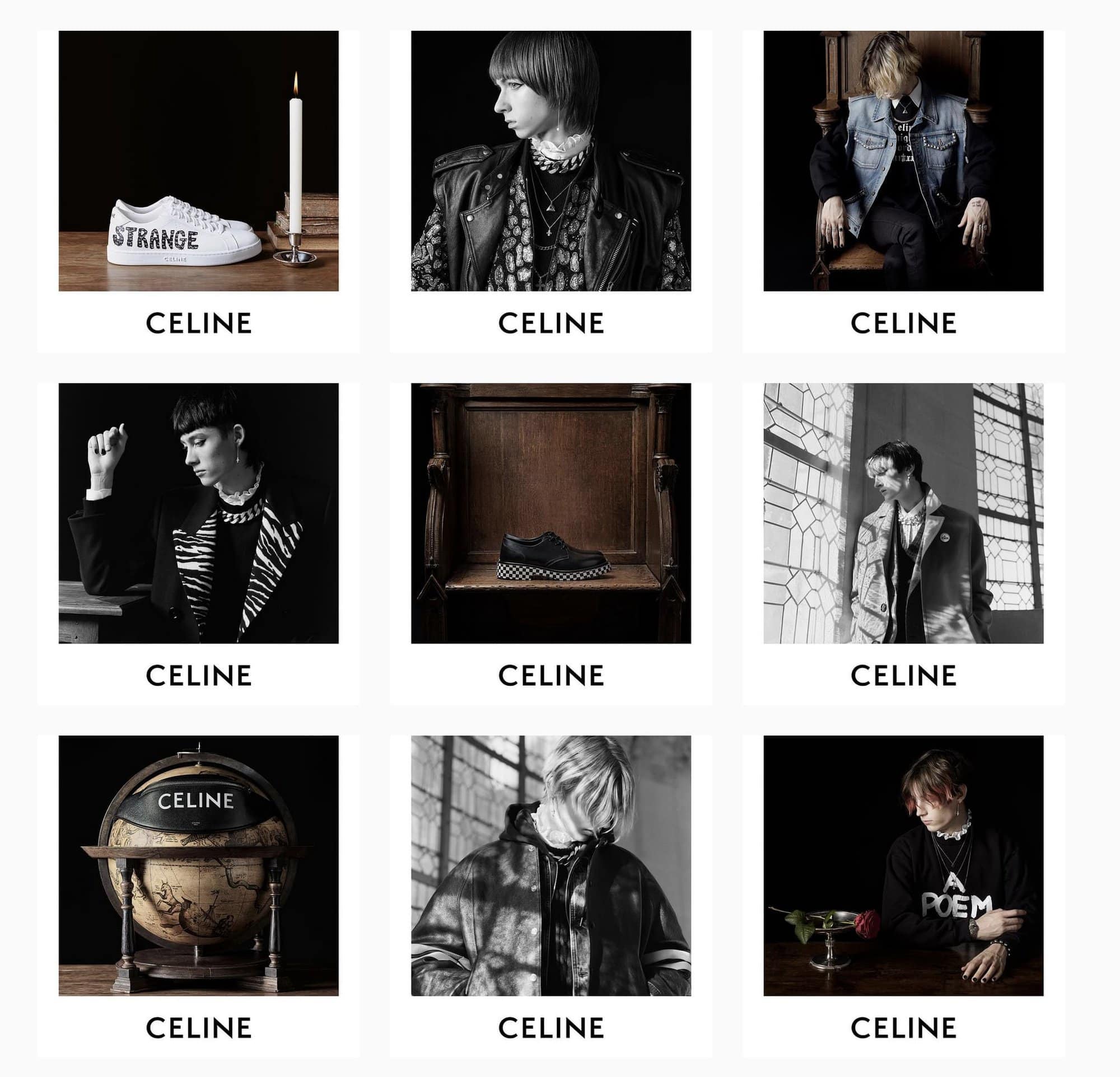 A black and white still from look five from the Fall show becomes for the knee-length wool tweed coat in one post, and a close-up shot showcases the same coat and the giraffe print shoulder bag. Similarly, a close-up of look 46 shows the availability of the white page shirt, the wool coat with zebra lapels, and the large metal chain necklace. And the black sleeveless oversize leather jacket from look 60 is also now in-store and at Celine.com as per the post of the same model wearing the entire outfit now shot inside the castle.
Sometimes in late January 2022, new Instagram posts at the Celine official account will indeed show other versions of pictures of this Spring film show with details of the new products arriving early next year. Many of these Spring 2022 clothes will then become part of the pantheon of Celine's Les Grands Classiques products ranging from primary leather bikers – black or pink – bell bottoms jeans, tracksuits, and wool coats to shoes, bags, and the category of jewelry pieces starring the leather and metal choker. Or those blue jeans with circular steel rings on the waistband and the black sequin cape that closed the film's final frame against a setting sun.
Fall 2021 provided the aesthetic mythology incorporating the bits of medieval history for these modern-day poet knights, elevating the clothes into luxury items with meanings more than, say, an excellent lamb leather sleeveless black biker coat or a waistband leather pouch. Now for Spring 2022, these motocross teen cruisers spearhead another wave of great merchandise, all blessed with an underground status.
Art and photography have always been central in Slimane's work.
Here, the designer featured a group of fourteen young artists. Each artist has contributed to different editions of products, and separately a group show of their work will take place shortly as he has done in past seasons. Rather than a formula of constant collaborations that permeated other high fashion luxury brands, Slimane has so far, to his strength, eschewed these easy steps towards expanding reach.
The works of these fourteen artists provide the template for print motifs, but here the art collaborations do not define the collection in the same way as Kim Jones' work at Dior Men.
The prints from the artist Amy Dorian's 'Brain on 2020' formed the motif patterns on a pink cardigan worn with a black tulle panel pleated skirt, a logo torso belt, acid-washed denim pants, and white leather boots. Harry Wyld's illustrations 'Busy' graced an ecru tunic tee shirt with light brown pants and sequined smoking jacket. Anna Hoffman's 'So Happy to be Part of the Show' is embroidered on the back of an acid-washed sleeveless denim jacket.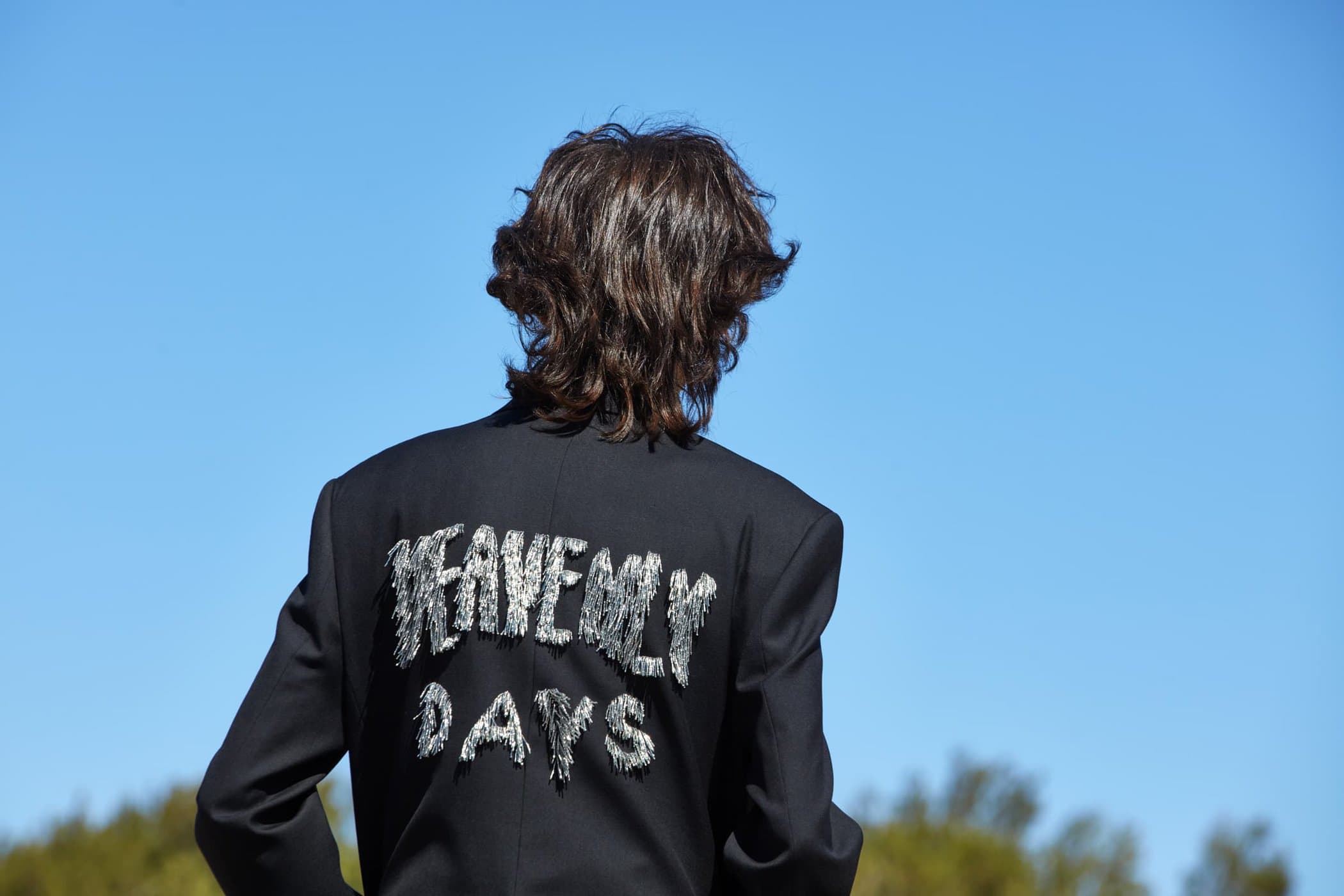 At Dior Homme (2000-2007), Slimane created the powerful men's silhouettes and ethos. Dior has not been able to replicate a feat in terms of influencing the direction of menswear at large since his departure. The designer has placed men's fashion sensibility into a specific look and feels for Celine with a range of commercial products permanently attached to inklings of subculture references.
The clothes with their late 1980s vibes do not have that feeling of trying to be artsy. They are just as seen in this show – a great blouson, a flawless soft lamb leather sleeveless biker, or the bell-bottom jeans. Some decorated, even say a black sparkling sequin tank with fitted leather pants that require a lot of time to make, but the decoration serves as an element of shine and joy rather than needless adornments. The art elements aren't just superficiality over any sense of advancement for fashion design.
Hedi Slimane has always been able to grasp and create the critical essence of aesthetics that strike an emotional chord with young audiences and directly connecting with this critical youth group with conversations using the kind of language this generation quickly absorbs.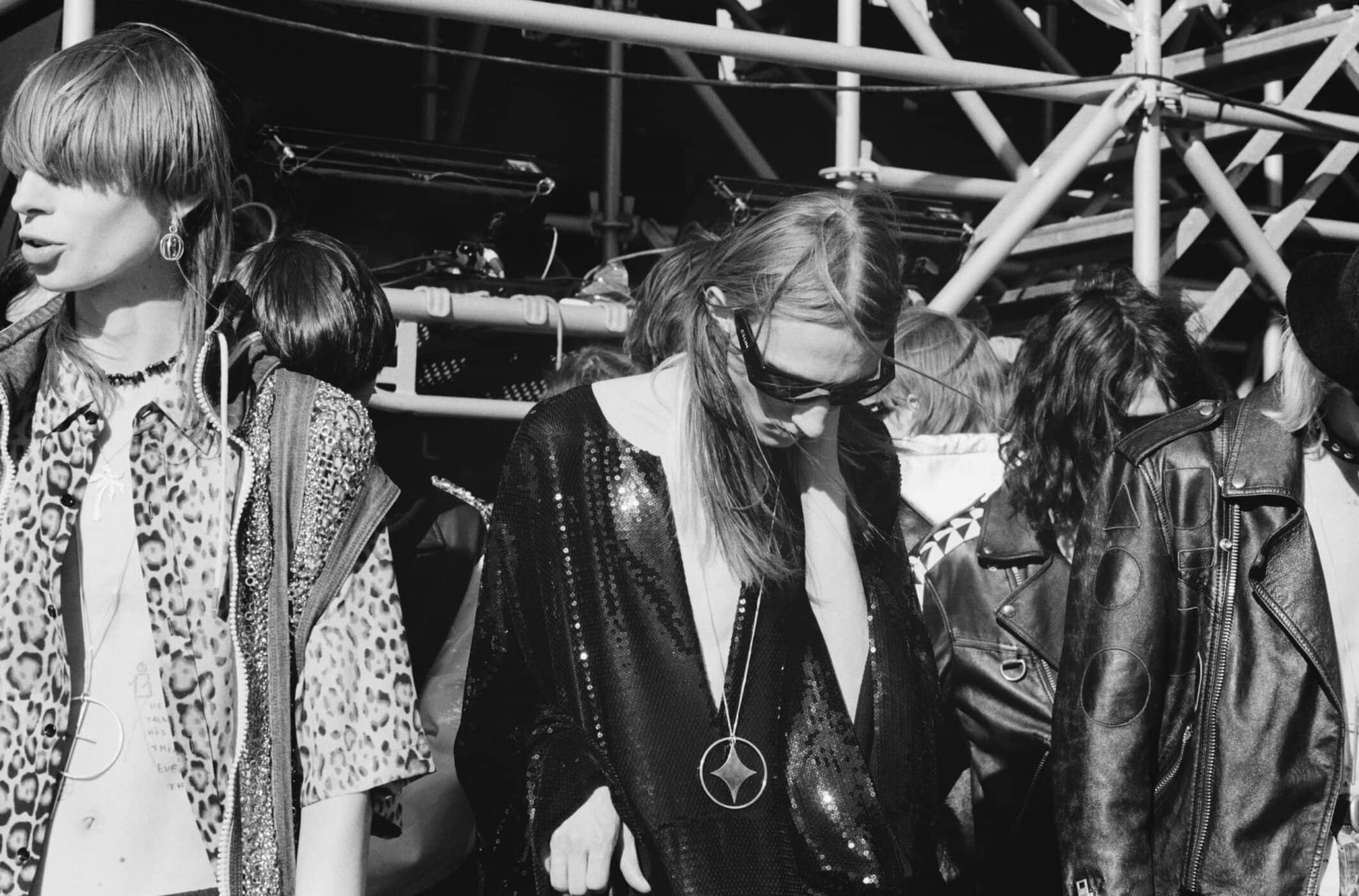 The designer's focus on youth rallies on – he was the first designer to occupy this 'youth' space decades before 'teens' become the target of luxury brands as the next critical consumer group. These youths are again the protagonists of this 'restless dream' show film with commissioned original soundtrack titled Up N Down performed by Izzy Camina specifically for this spring show as new music remains central where each fashion show.
Times have changed, and with the new era indeed come new tempos and new clothes.
---