---
Review of Chanel Fall 2023 Fashion Show
Karma Camellia, as Chanel Lucks Out for Fall
By Angela Baidoo
As house codes go, it is often a distinctive pattern, a statement logo, a handcrafted fabric, a specific hue, or if patently possible, a silhouette, which are often most strongly associated with a brands DNA. The house of Chanel stands mostly alone in their adoption of the Camellia as its official brand symbol, utilising this Queen of the winter flowers as a motif, 3D embellishment, or decorative brooch. It is now so synonymous with the brand that it is closely associated with Chanel in all its guises, but in particular in minimalist white against their monochrome packaging.
Explaining the flowers significance further, Creative Director Virginie Viard said in today's preview "The camellia is more than a theme, it's an eternal code of the House. I find it reassuring and familiar, I like its softness and its strength".
The camellia is more than a theme, it's an eternal code of the House

Virginie Viard, Creative Director, Chanel
Clustered around the neckline of a classic leather coat or scattered across the body of a boxy cardigan, in stark white against black, was a whimsical and fun take on florals in fashion, that are so often relegated to an all-over print. A particularly effective play on texture was Viard's use of fluffy feathers to create an almost surreal version of the flower on a sweater – a style which has been making the rounds on the runways this season.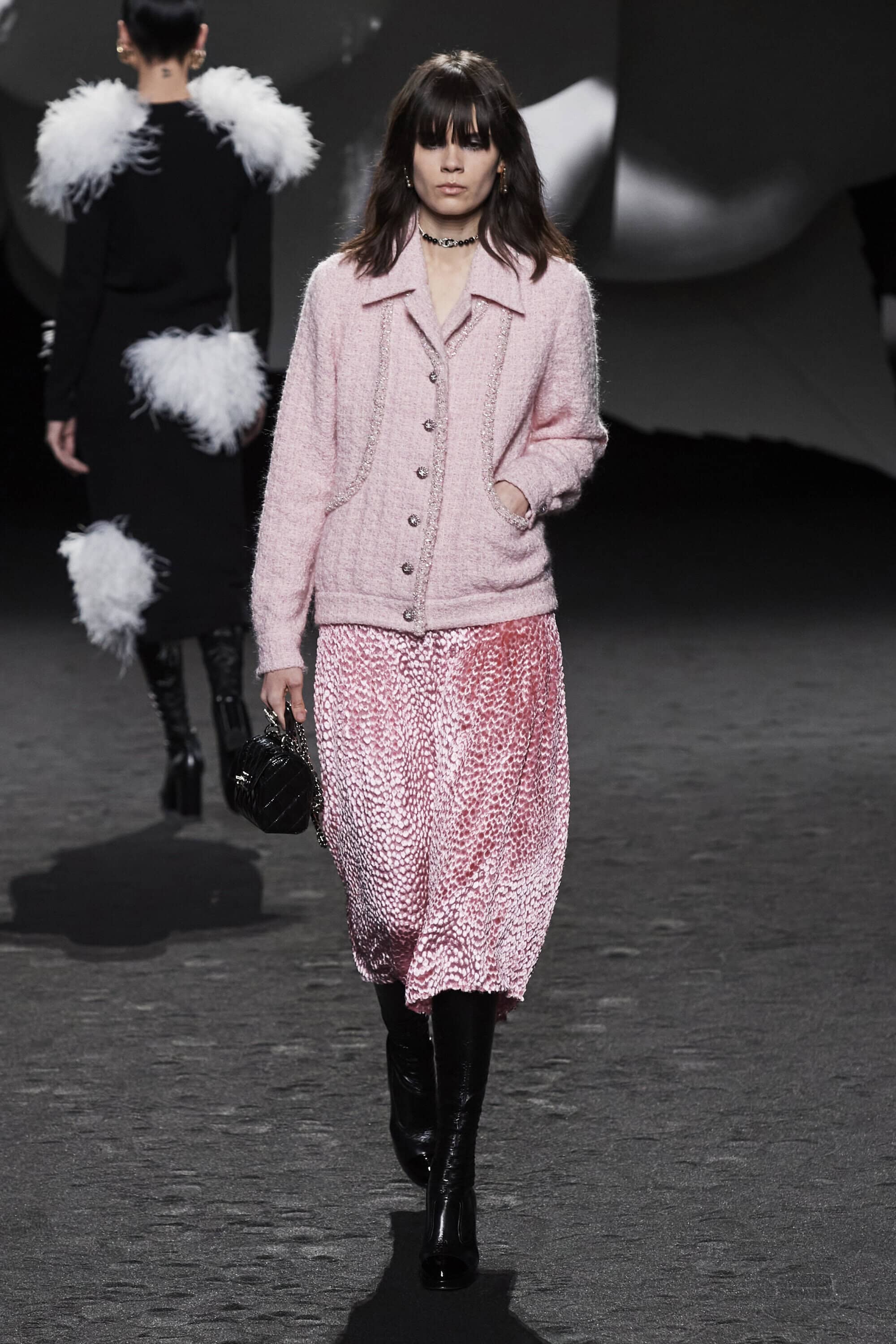 Breaking out of the initial black and white palette which opened the show, there was a welcome step change with the introduction of a sweet fondant pink tone in a devoré spot soft midi skirt and boxy tweed jacket. While youthful additions were seen in the inclusion of biker and bermuda shorts and asymmetric hems on skirts, but also as part of a knitted tweed set that featured a one-shoulder sweater.
There was a definite lightness which permeated pockets of the collection that spoke to the slow rise in bohemian romance that we have seen over the last few days of Paris Fashion Week, Viard noted that she wanted this collection to be "delicate and in motion", and this was executed in the most Chanel way, boho became a coral tiered jacquard skirt that was paired with a fluffy belted knit, a lace-yoke blouson midi which came in a camellia printed chiffon, much in the same way that was seen at Akris and Dundas. And in a love letter to the 1970s an off-white maxi dress was lovingly crocheted with a ruffled collar and a fluffy finish.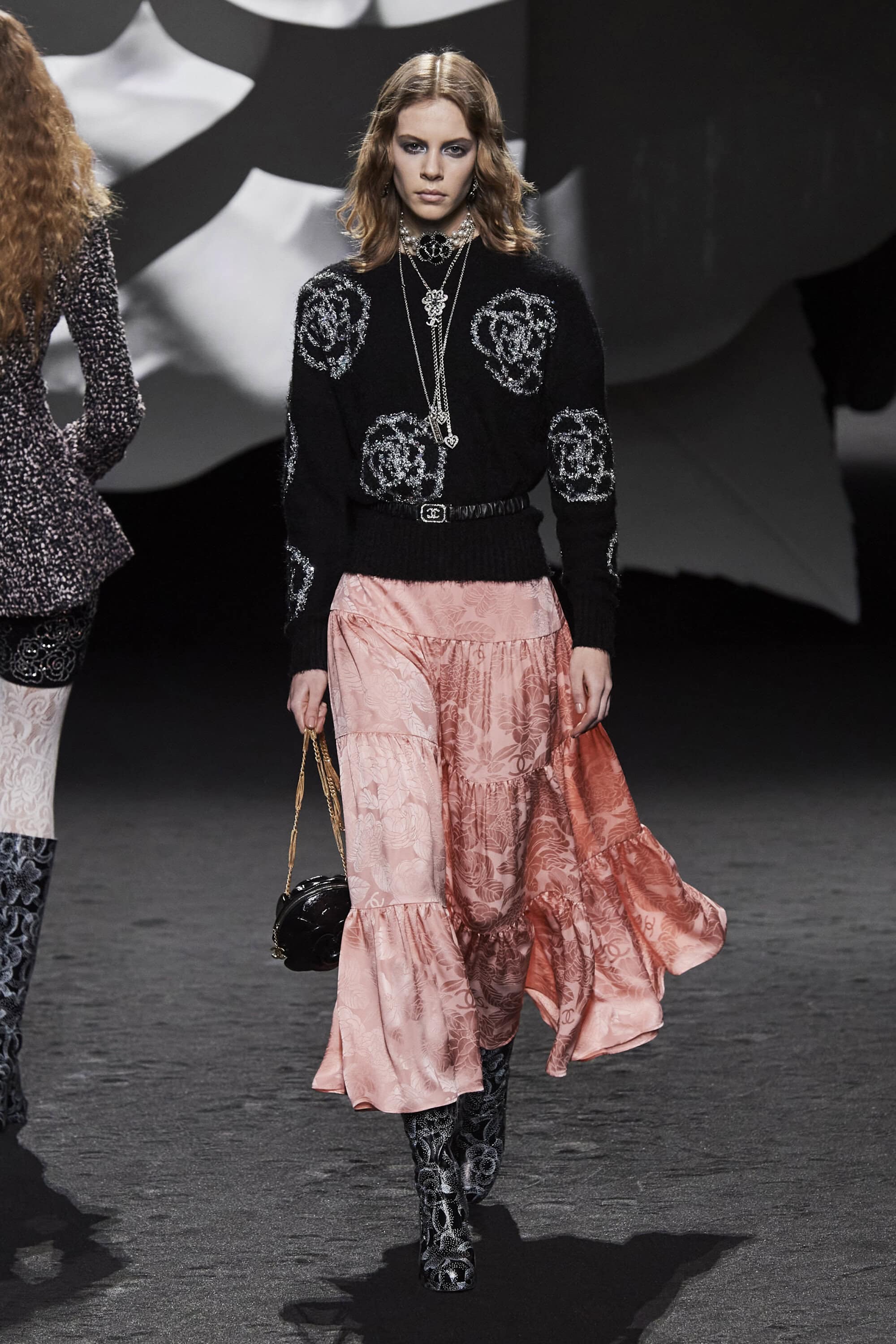 In a moving tribute to the late photographer William Klein, the film and photo series which accompanied the show was inspired by Kleins film "Who Are You, Polly Maggoo?". Selecting Japanese actress Nana Komatsu to front the campaign, Viard did so for her natural sensibility and delicate features which embodied the subtle nature of the flower.
The faded colours, the dusky pink, the crafted pieces, the touches of 1960s and 70s, the authentic materials, make the collections more real, and more charming too

Virginie Viard, Creative Director, Chanel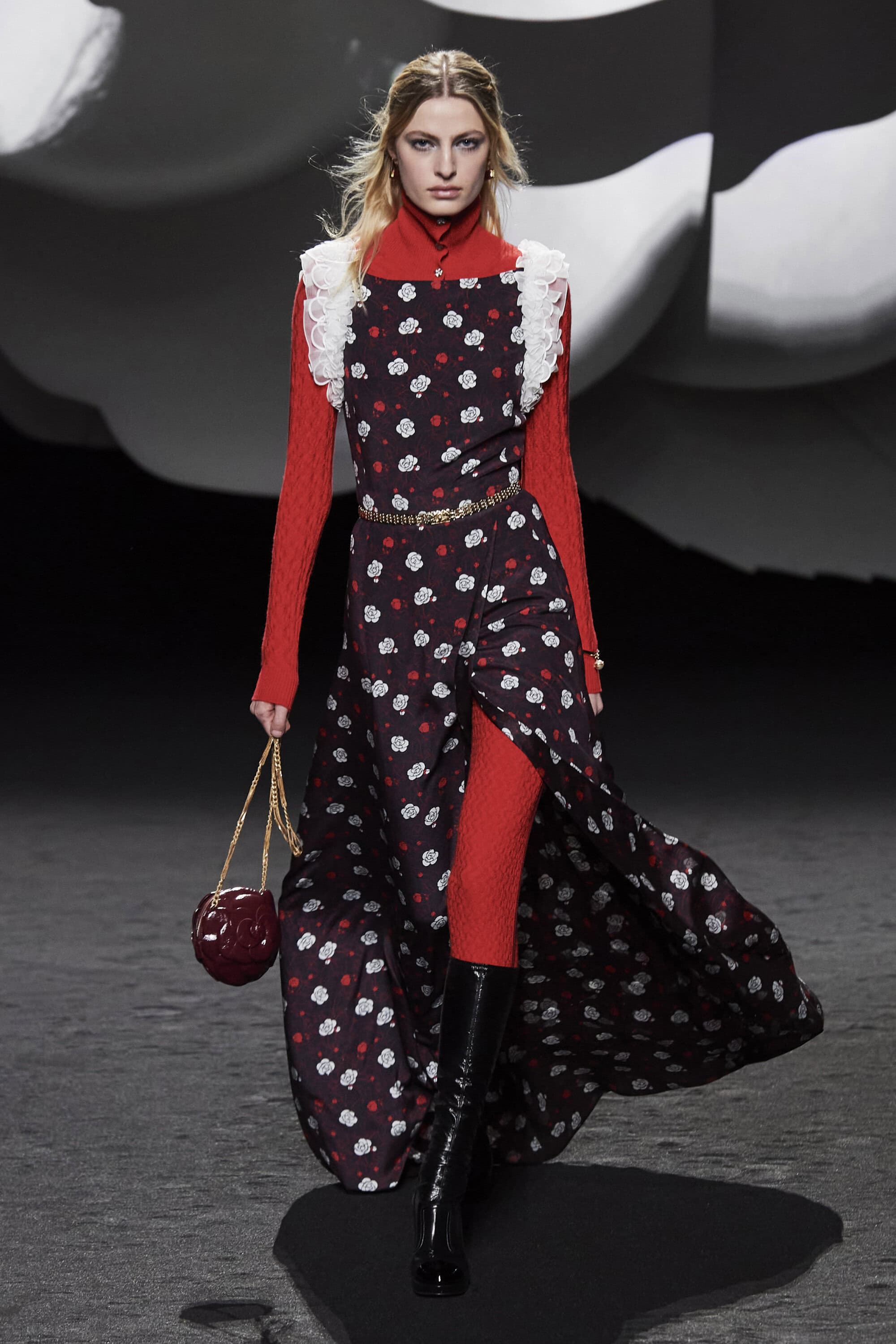 ---