---
Review of Chanel Spring 2023 Couture Fashion Show
A fantastical and playful ode to Coco
By Lizzy Bowring
There is always that curious innuendo preceding a Chanel collection of late. And on entering the fabled Palais Ephemeral to be greeted by an enormous wooden camel – one would wonder what Virginie Viard had in mind. A Trojan horse, perhaps to accompany the lonely camel?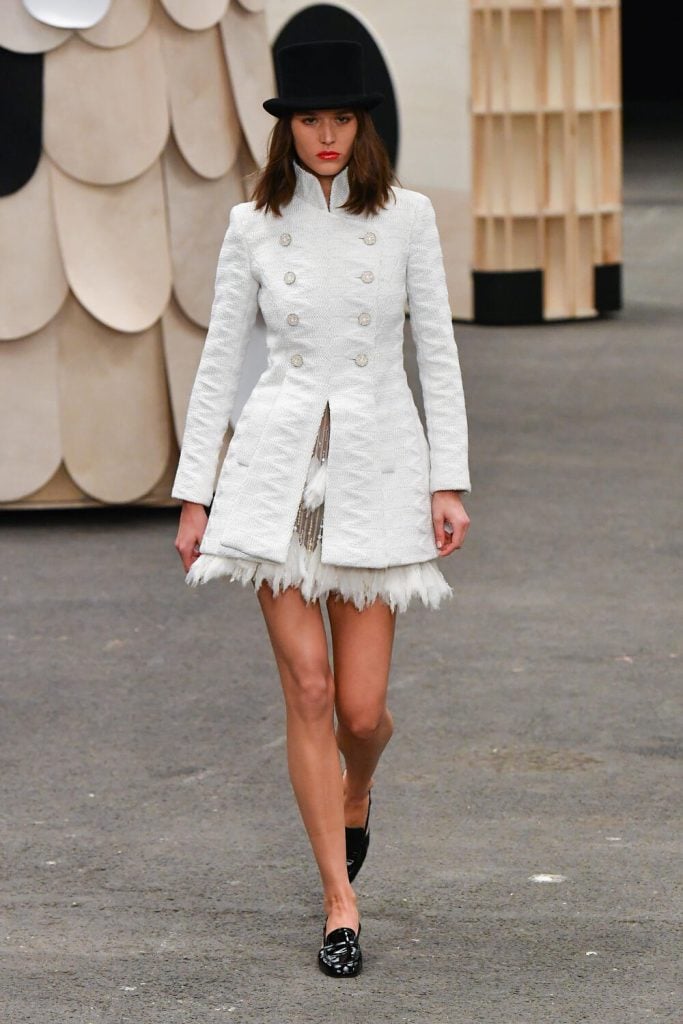 What came to mind was something more profound on the one hand, fantastical on the other, and infinitely more playful.
A little reminiscent of a village fair, a parade of wondrous animals slowly rolled onto the circus ground; it was a wonderful, timeless, and intimate moment. The discovery came not just from the show notes, but if anyone has visited Coco Chanel's apartment at 31 Rue Cambon, the revelation that these sculpted and pieced wooden creatures were actually inspired by Coco Chanel's collection of bestiary animals and birds would come as no surprise. Lions, deer, and birds of several varieties informed the presentation, not to mention — a horse, buffalo, fish, dog, and elephant.
For the continuation of the creative dialogue revealed in 2022, which now enters its third part of the triptych, Virginie Viard invited Xavier Veilhan to reinterpret the bestiary of Coco Chanel's apartment.
Back to the anomaly of the spectacular camel. Joined by a bevy of sculptured wooden friends, the presentation began with models stepping out from several of these endearing creatures. Virginie Viard added surprise and twists from the circus with top hats, bow ties, white gloves, and laced-up three-quarter length boots-come -spats with the chanel blackened tip, all of which contributed rather nicely to the playful atmosphere.
The first outfit, a short coat dress in white tweed with a folded lapel worn over a pearl and crystal embroidered tulle miniskirt, stepped sprightly, emerging from within the owl's protective 'feathers.' From there, a bevy of youthful shapes, one at a time, tripped lightly around the circus ring, weaving around Veilhan's menagerie. A trapeze coat with the slightest of details commanded attention along with intricate details to sleeves on the tweed jackets. A sweet pink sheath with a dropped waist gave way to a flippy box pleated skirt that sashayed coquettishly around the model's thighs.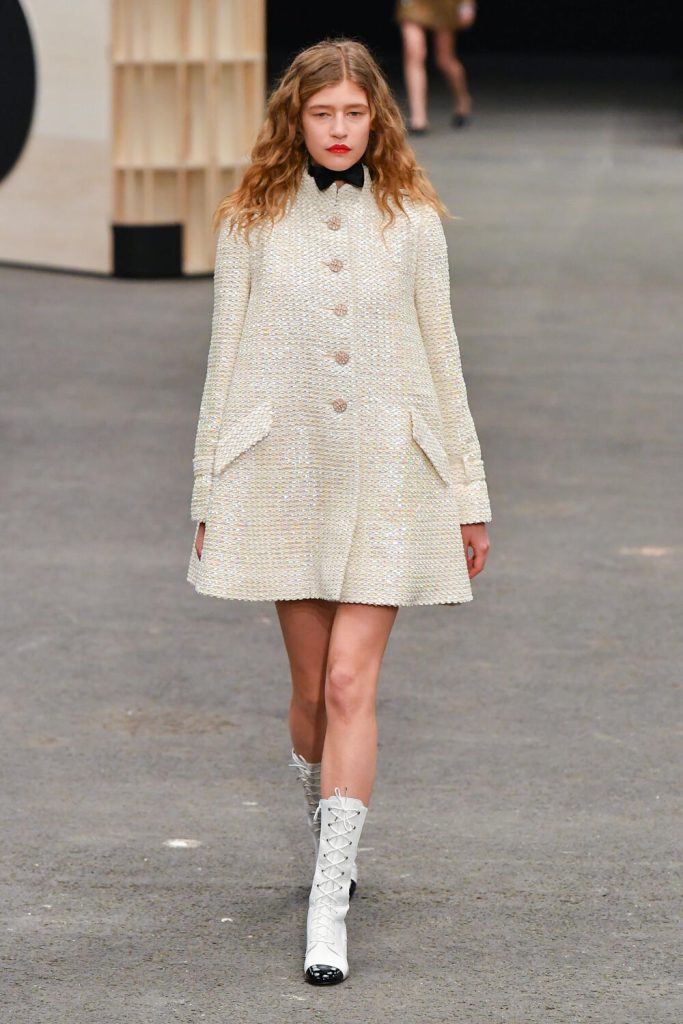 Does the question arise as to what point these delicious abbreviated varieties of Chanel tweeds represent the idea of Couture? It may have something to do with how the dynamics have changed over the last two years.
As the audience has changed, the needs and wants to fulfill a woman's wardrobe have also altered. Therefore, the bevy of sweet short coats, and box-pleated mini suits, reminiscent of that 60s era, remain relevant. The intricate details within these silhouettes are the couture elements. Just saying! It may be the modern wardrobe for a new mode of lifestyle.
Virginie Viard is the forever-thinker, just as Coco Chanel. There are several parallels that can be drawn here and one is, as Coco, that Viard is not a follower but an inspiration.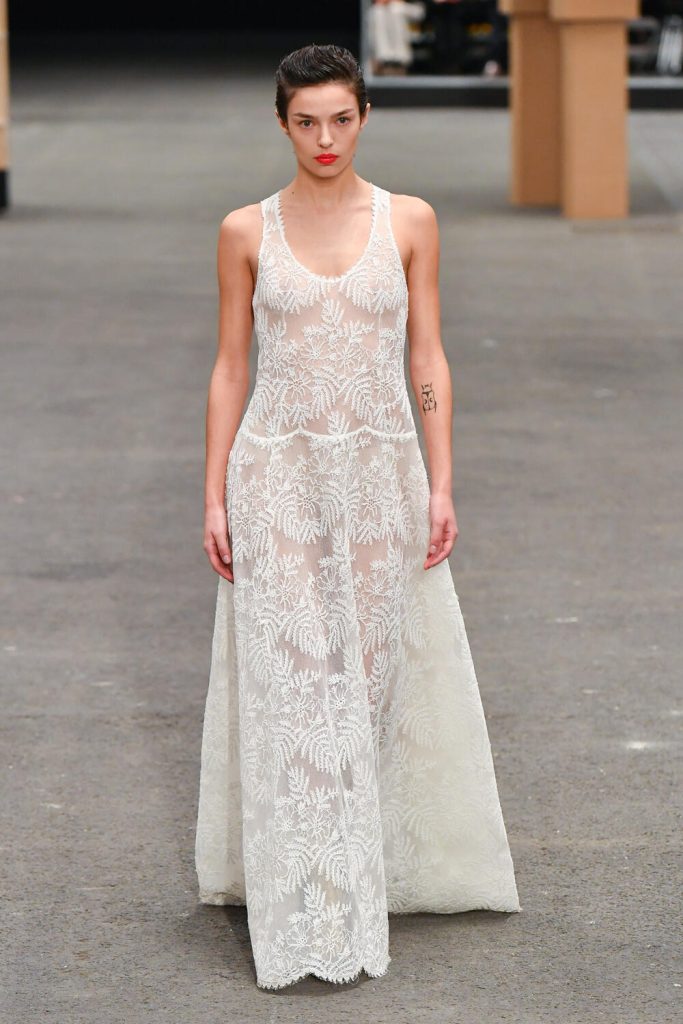 Then the collection switched up a notch, from the sweet daywear pieces to a different silhouette. The vignette of frothy cream displayed several long and slim eveningwear shapes with what appeared to be a 20s adaptation.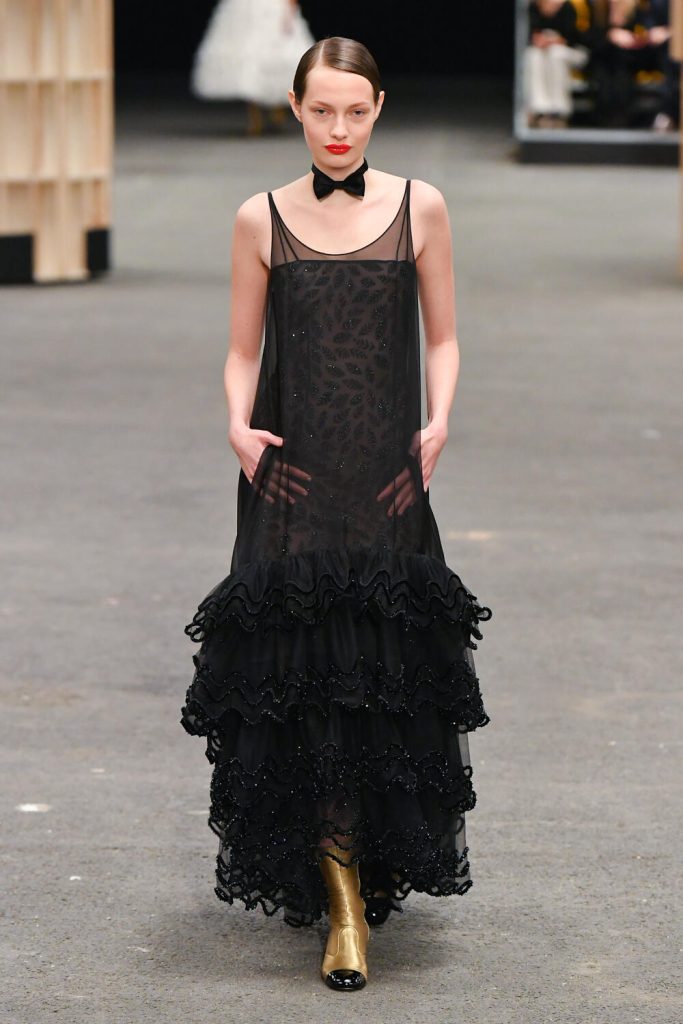 One after the other, they followed in succession. From the first immaculate languid long a-line lace shape to the next item. A covetable long tweed coat was so chic it could be worn over a short or long dress, depending on the occasion, to the ringmaster's suit with full skirt and cropped jacket.
All appear intricately handcrafted with 3-d flowers in lace, taffeta or georgette, demonstrating the incredible handiwork of the artisans that create these memorable pieces.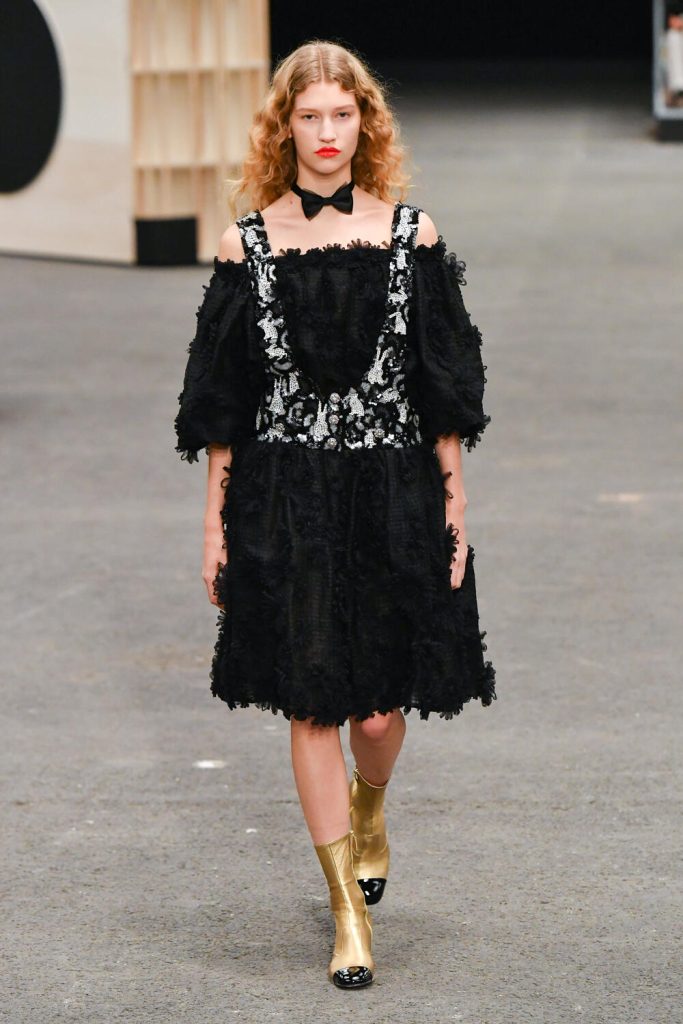 Just as it was all over, an elephant trundled across the space! From within his/her hallowed portals stepped that anticipated wedding dress. Worn by Anna Ewers, this immaculate little gown, embroidered with swallows in a flight of ethereal fancy, served as a reminder that this is the house of Chanel and that the clothes are made to complement every part of a woman's body. And so her lies another parallel between the two women.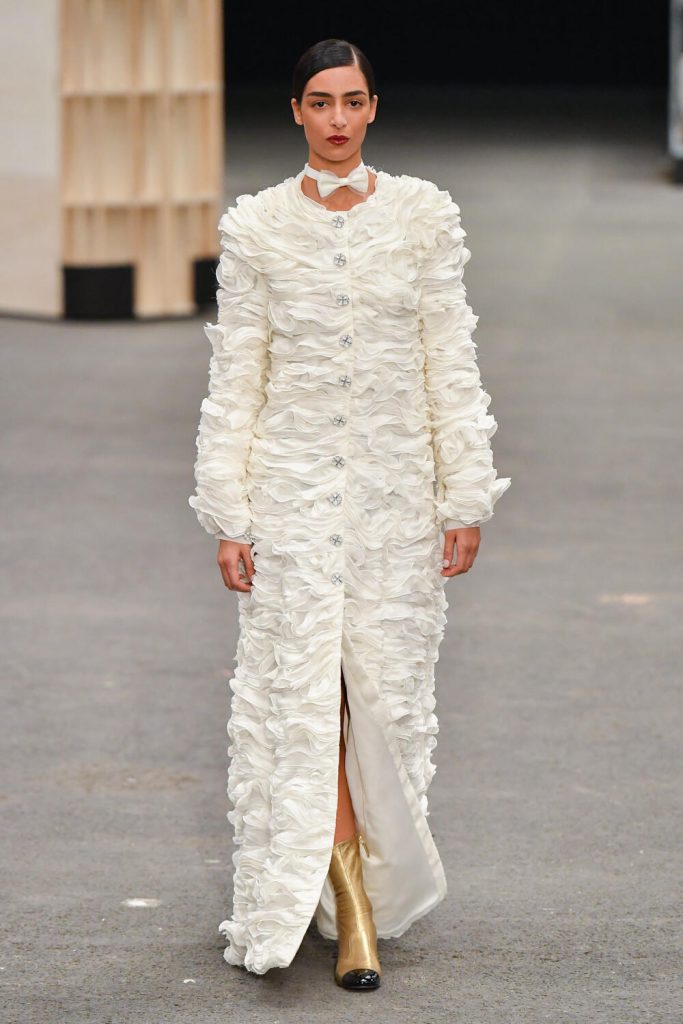 "I wanted to give a woman comfortable clothes that would flow with her body. A woman is closest to being naked when she is well-dressed."– Coco Chanel
---