---
Review of Christian Dior Spring 2023 Couture Fashion Show
A glittering celebration of feminine strength demonstrated in the sublime essence of couture.
By Lizzy Bowring
Could this Haute Couture season be the start of something beyond deep and meaningful but refreshingly provocative? Are we being presented "with a radical gesture of awareness"? There is a clear message rising from our Creatives.
From Iris van Herpen to Maria Grazia Chiuri, both have embraced the power of femininity and diversity in their presentations. Maria Grazia Chiuri seeks femininity through the fabulous inspiration from Josephine Baker, Marlene Dietrich, and black and mixed race women, not dissimilar, who have stayed true to themselves and left an indelible footprint on the world.
Josephine Baker (1906–1975) was born in St. Louis Missouri. Having experienced the horrors of the East St. Louis riots in 1917, she embraced her talents as a way out of discrimination and poverty, becoming a celebrated dancer, singer, actress, and civil rights activist. She also was a member of the French resistance, humanist and universal benefactress! Indeed, her story is exemplary and one in which Maria Grazia Chiuri felt incredible empathy.
It seemed only fitting that Chiuri should tap the African American artist Mickalene Thomas to design the set of sparkling over-embroidered illustrations, portraying images of thirteen black and mixed-race women who have made significant contributions: Josephine Baker and Nina Simone; actresses Diahann Carroll, Dorothy Dandridge; actors and singers Lena Horne, Eartha Kitt, Josephine Premice and Hazel Scott; models Donyale Luna, Naomi Sims and Helen Williams; and the model agent Ophelia DeVore.
But there is more to this portrayal. The influences were seemingly endless, brought about by the glitz and glamour that characterized the 20s era and inspired Maria Grazia Chiuri's haute couture collection for Christian Dior.
It was a skillfully executed exercise in translating these early references appropriate for our times. The clean lines, impeccable tailoring, and tempered eveningwear, perfectly conveyed a relevant and decidedly modern aesthetic.
Baker's narrative has been inexplicably intertwined with the history of Dior, her athletic looks and short hair represented a different type of femininity, exemplified in the looks of the ethnically diverse models that wore these modern silhouettes.
The first look, a lingerie-inspired bodysuit paired with a floor-length velvet robe with diamond-stitched satin lapels, was evocative of the dressing room ensembles. An embroidered silk evening coat closely followed, worn over an ecru satin shirt and black radzimir pants – again portraying the idea of a relaxed Josephine Baker before a show. In contrast, a jeweled bustier top with a crinkled radzimir wrap skirt nodded to perhaps a more clandestine evening attire. Chiuri acutely mastered the look of the day and kissed it with the essence of inexplicable modernity that will make these clothes keepsakes for the future.
But of course, there must be the impeccably crafted tailoring that the house of Dior is known. And there were; skin-tingling outfits such as the rendition of the bar suit, a dramatic cloak that will see being draped over shoulders before the next season comes around, and of course, several trouser suits. There were beautiful floral brocade coats and beaded fringe gowns; one look in particular, 38, spoke volumes in acute craftsmanship, the beads in tendrils dancing proactively at the hem and around the legs of the model. There was indeed a flavor of 20's styled silhouettes that provided a powerful display of femininity, including a slim cream-coloured dress with sharp pleats released from the hips. It was all just so beautiful and endlessly elegant, right down to the palette of natural hues that have been omnipresent – primarily because they provide a sense of strength and confidence.
Baker's eveingwear informed the final gowns. One look was poetry in motion, a crystal-beaded mesh dress with a long skirt split at the sides. Then came those final looks of jewel-toned burnished, crushed velvet dresses in caviar, aubergine, olive, and coffee, with seductive cowl backs, the silhouettes just sheer understated glamour.
The show notes are evocative and mention these lines – She unveils the meaning of this collection and shakes up the vision of haute couture, the essence of fashion that can become a radical gesture of awareness aware of its value and strength. To add another message, Josephine Baker has made several, but one that stays in our hearts: "The things we truly love stay with us always, locked in our hearts as long as life remains." It was a thoughtful collection filled with confident elegance and beauty that will transcend time and stay locked in our memories for as long as life remains!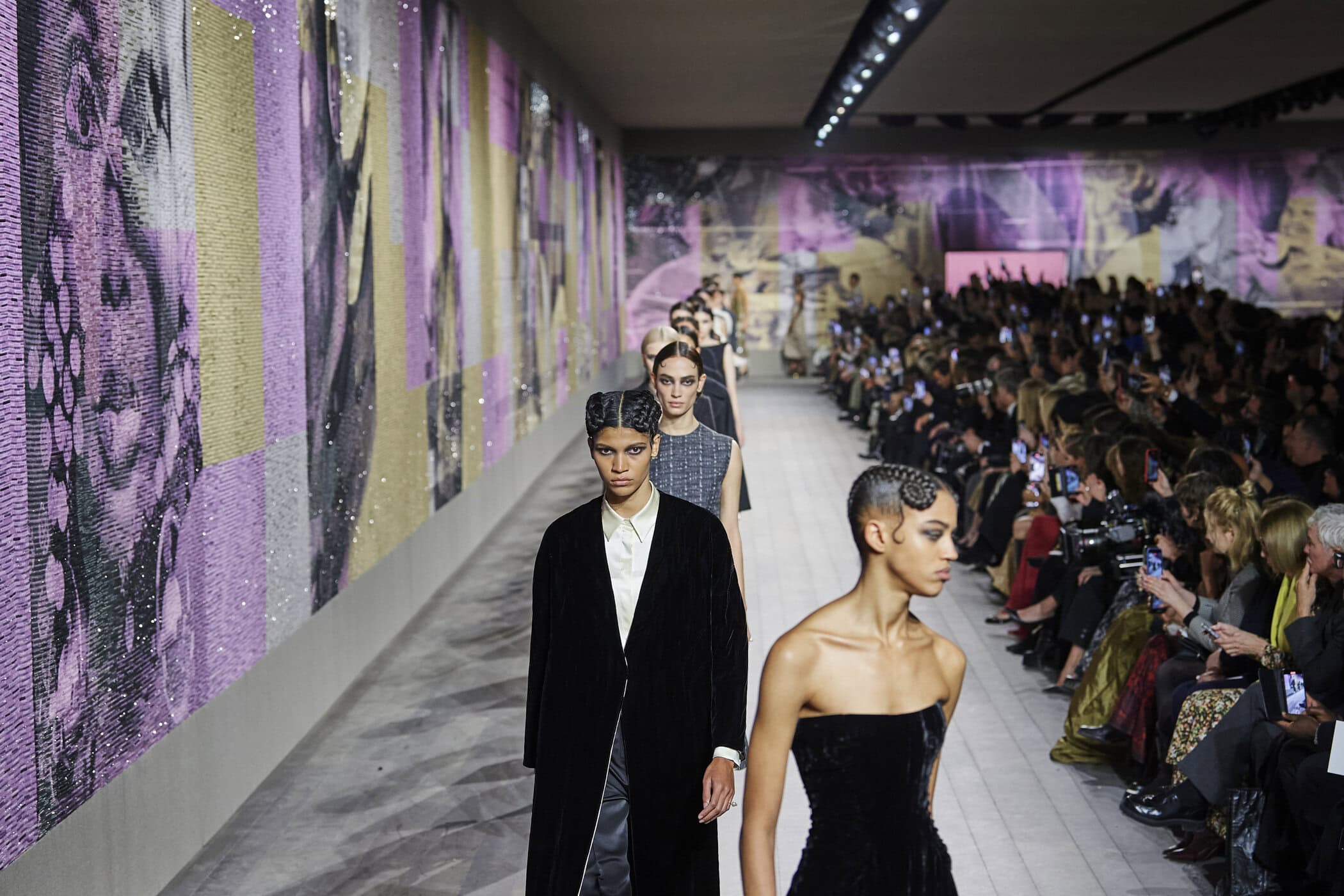 ---