---
Review of Coach Spring 2022 Fashion Show
30 Minutes of Fame Isn't Worth It
By Erin Hazelton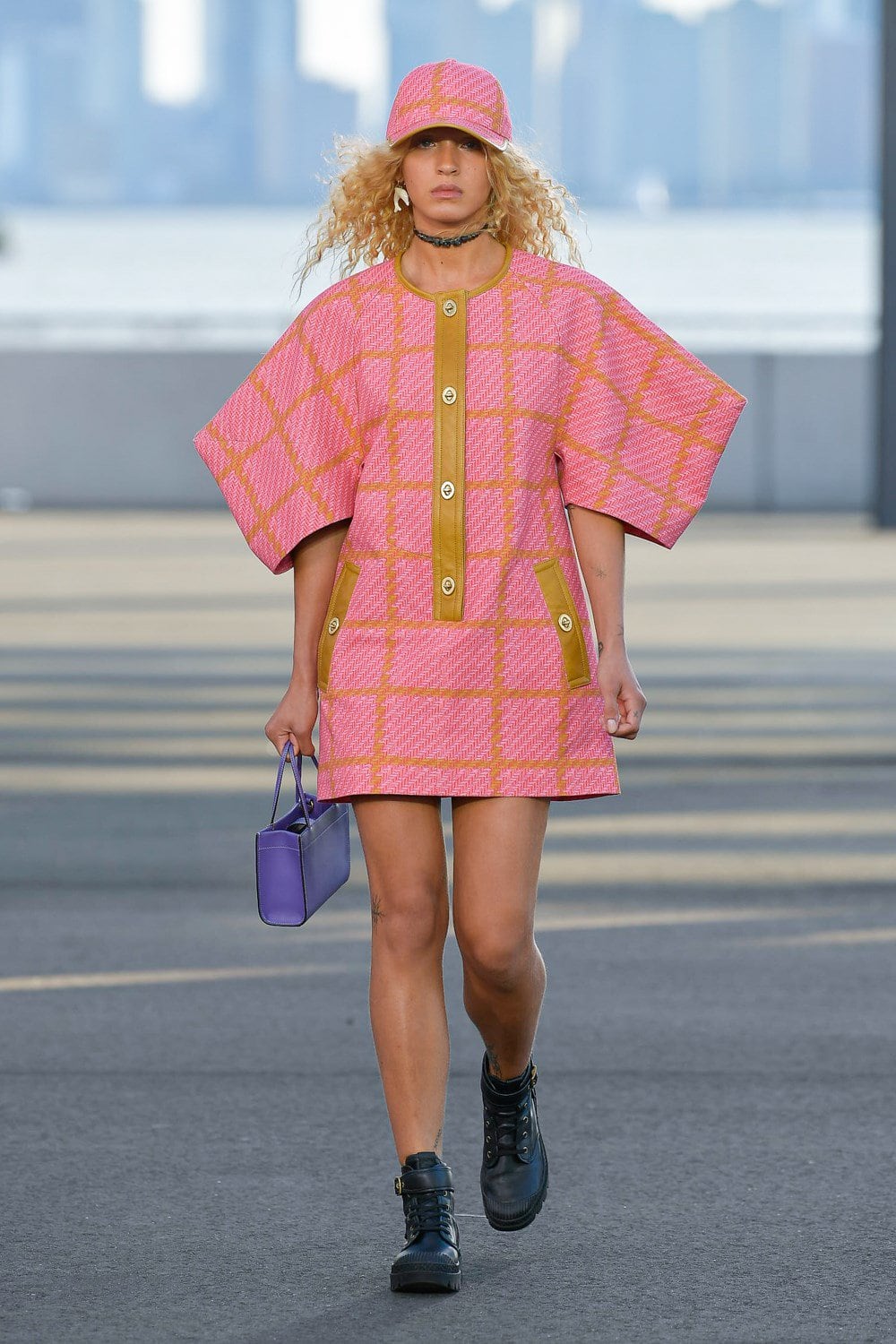 Judging from the looks Coach's creative director Stuart Vevers sent out on the runway (if you can call a big wide open space a runway), Coach is banking on Spring 2022 being cold and rainy. One got the feeling that the wool tartans in the form of ponchos, knee-length skirts and gathered blanket skirts, and the whole array of raincoats and leather jackets presented were a direct challenge to global warming. Even if these coats were mostly styled open with nothing underneath but a bra (women) or bare chest (men), even if they mostly came in cartoonish pinks, greens, purples and blues, the spring vibe seemed distant.
Set in an industrial, wide open space, models literally, and appropriately, marched in off the street. We knew this because there were a number of large screens that opened the show broadcasting a grainy, cable-access-style video montage that spoke to younger audience with the likes of Chaka Khan, Cardi B and a fake Bob Ross with an afro constructed out of teddy bears. 
It is clear that Coach is targeting a much younger audience both by presenting this video and by the grunge-prep-seventies-denim "streetwear" looks shown this season. There was a Perry Ellis by Marc Jacobs vibe, especially with all the "vintage-y" t-shirts and low-slung waistlines, but it felt a little late.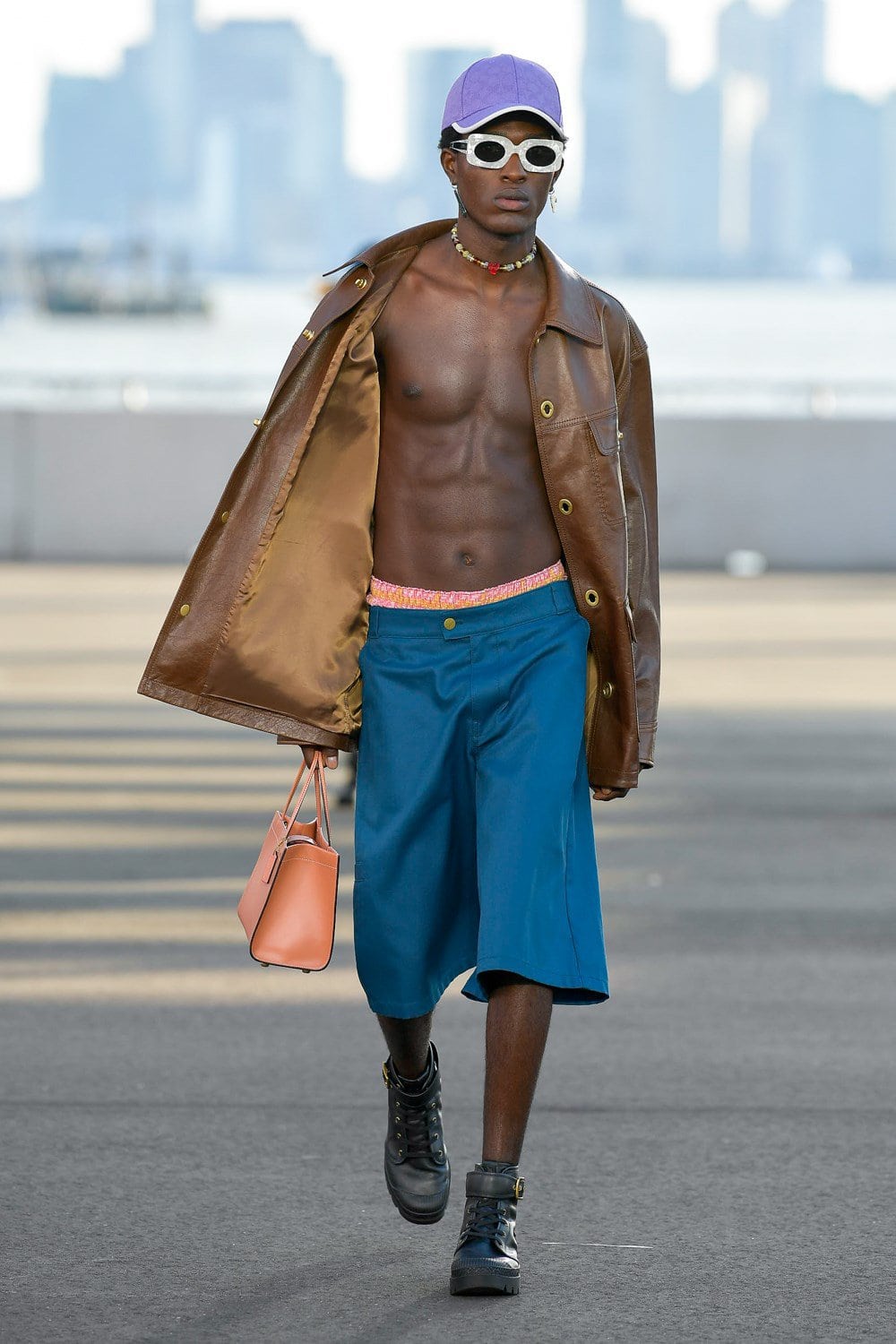 Coach may be shifting their main client to be the Tik-Tok generation desperate for their "30 minutes of fame" (as the video referenced at one point), but it might have been wise to include a few ensembles that looked less like they were yanked from the backs of skateboarders and more like something people over the age of sixteen might aspire to. Isn't that was this brand is about? Aspiring towards a beautifully made handbag? To own a little piece of luxury? 
Perhaps kids want to look like this, but anyone over the age of twenty-eight trying to wear this collection is going to look a little, well, silly. Yes, you can style a raincoat over your "normal" clothes, but you can get a raincoat anywhere. Aside from the dyed leather "raincoats" with wide sleeves, what makes these coats so special?


Though I do love the quintessentially "Coach" turn-lock closures. How many men can wear their shorts around their hips? How many men are going to wear a denim vest suit?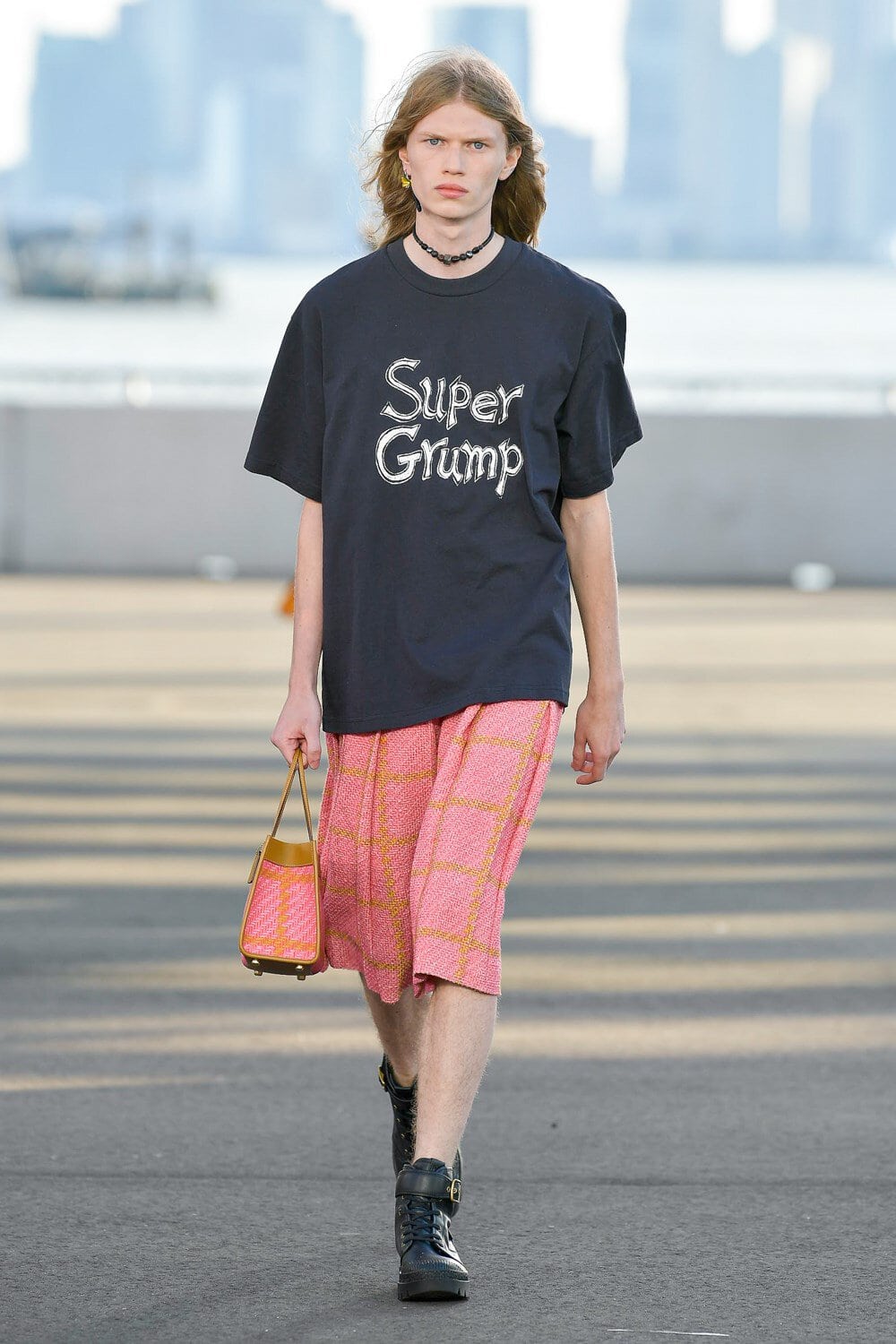 Look, Coach might send me one of their oversized "Super Grump" t-shirts after this review, but I miss the Coach that was more HBO and less cable-access.
---