---
Review of Comme des Garçons Homme Plus Fall 2021 Men's Fashion Show
Out of Darkness, Creative Fashion Not Comfort Clothes
By Long Nguyen
Creation can arise in a dark place where not only the visual but all the six senses come into play. It is in this world sunk in the darkness that we must search and find something new. Just as photographs reveal their images in the darkroom, so can creation, development, and progress, we believe also come out of darkness.

– Rei Kawakubo, in explaining via email her new Comme des Garçons Homme Plus mini-show of the new fall 2021 men's collection at the brand's Tokyo headquarter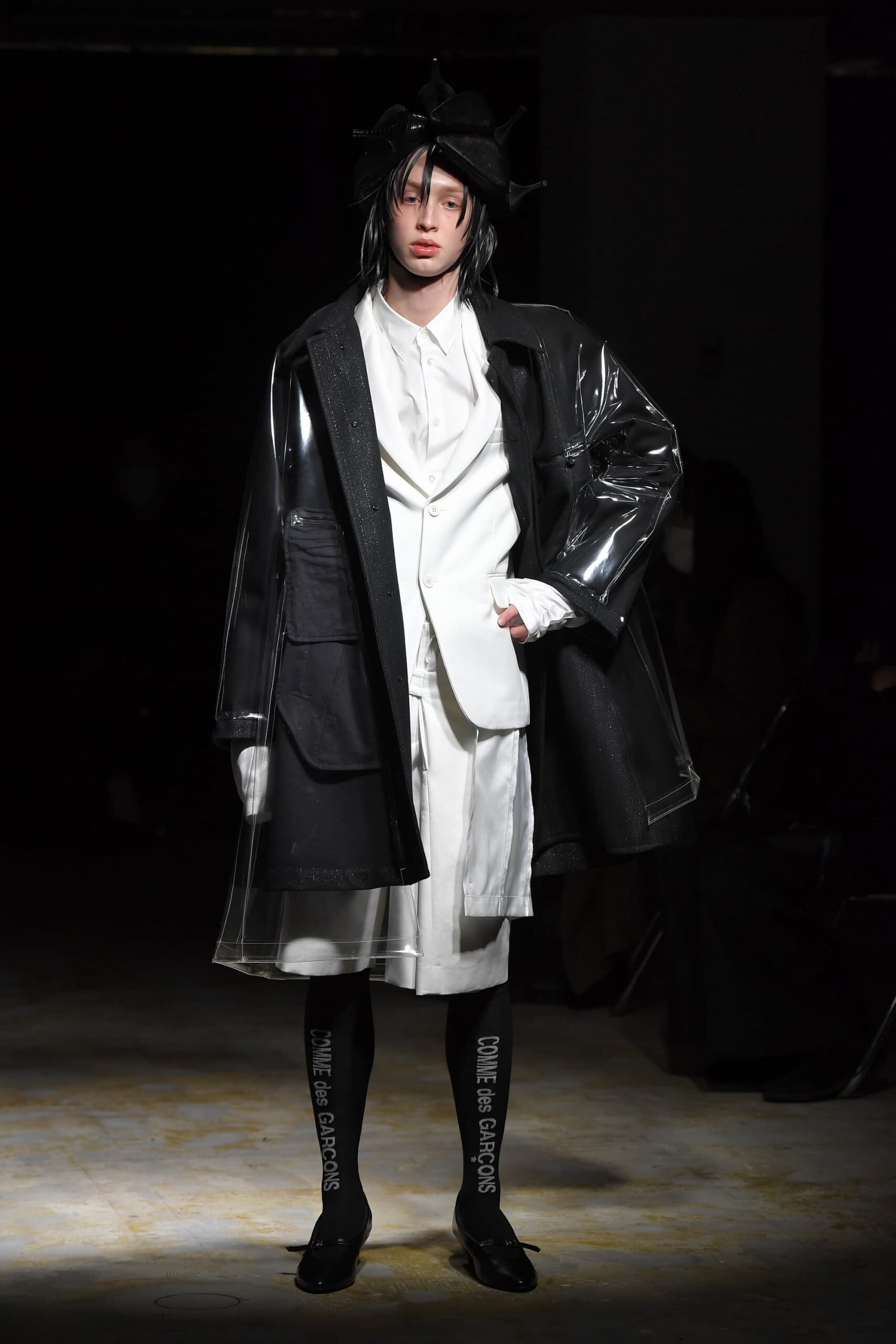 Inside a dark loft-like studio, a series of male models walked into white spotlights that shone on them for a few seconds then faded to black as the models disappeared back to the darkness where they came out of, but not before revealing a series of spectacular and flawlessly cut all white jackets, shirts with lengthened sleeves and with one side falling to the knee, and loose long shorts like the two-button soft but structured shoulder with a medium collar lapel and flap pockets.
This single breast jacket and shorts or the six buttons double breast jacket is worn with the same shorts or with loose pants, this time tucked and tapered into black CDG logo socks are classic Homme Plus signatures men's suit silhouettes that remain consistently and remarkably unchanged over decades, with just seasonal changes in colors and fabrics to fit into the overall idea of the show.
Here, in spotless all-white ensembles, one with a plastic and black wool coat and another with a black silver wool jacquard pattern long coat or by themselves with black sculptural headgear, this Homme Plus signature look is the backbone of a tight and focused collection that revolves around a range of knee-length coats, many with inside out constructions revealing large print pattern or in black and white wool plaid or small checkers and depending on the mood – a cotton print tee shirt dress, along with print tunic and black tights, or very fitted black stripe pants.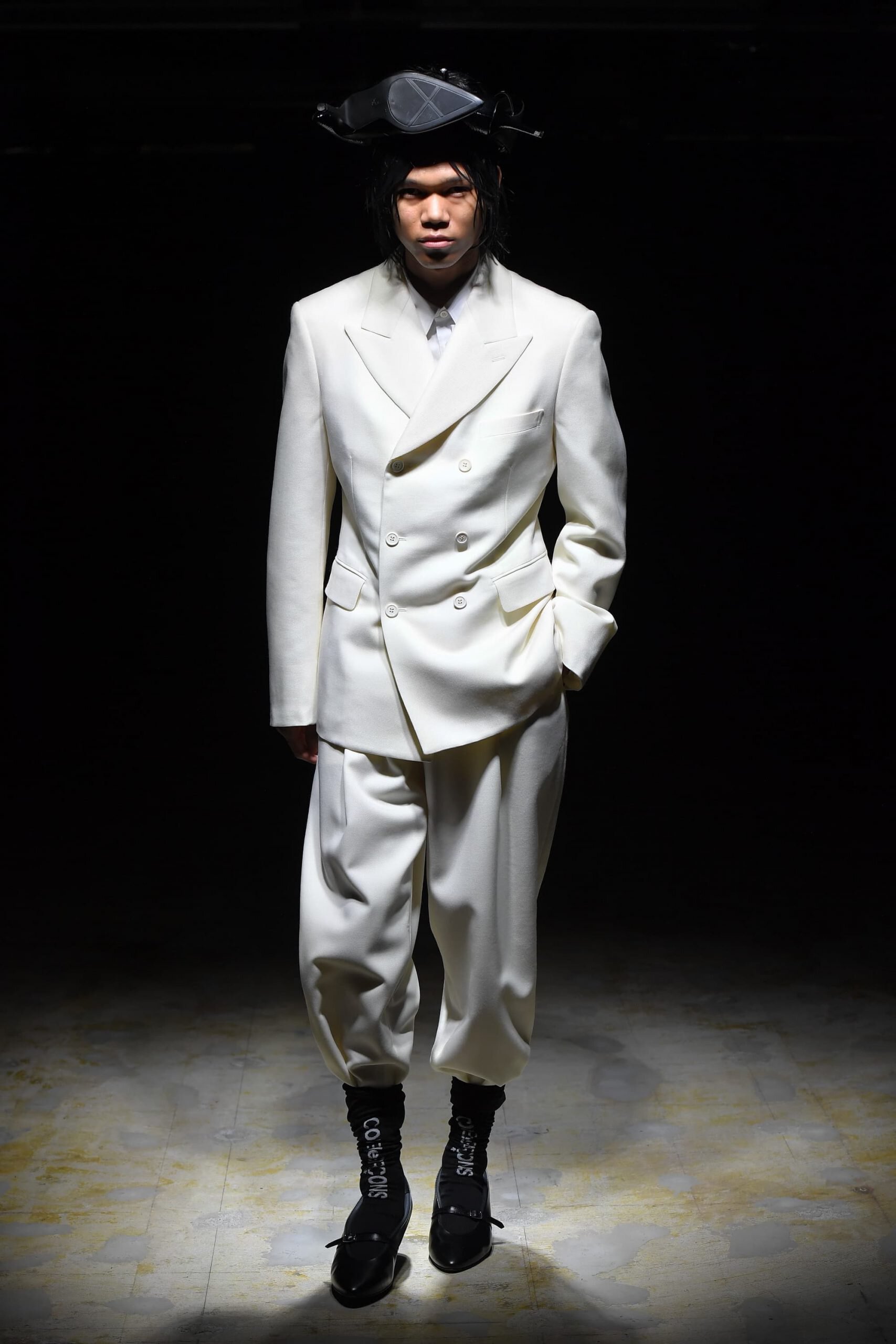 Tailoring on white is even particularly arduous since any small flaws are immediately visible.
New in the collection is the asymmetrical jacket with one side slightly boxier and longer than the other but exaggeratedly, even in a double breast inside out version with black and white gingham fabric over dark navy. Some long shirts have attached trim fringes. A yellow and black gingham short made with a front composing of parts of a jacket that somehow got merged into the shorts showing the two jacket sleeve peeking out under a navy classic jacket, offering a new view of how a combination of different types of clothes can create a look the eyes may not have seen before.
But the green and black print pattern or a long yellow tunic top made from photo print of face mask made from women high heel pumps fold panel tunic top flaring outward from the navy single breast short suit gives this classic a new look either paired with matching shorts or black tights.
On the models head are 'hats' made from different women's leather heels and pumps created by the black American sculptor and conceptual artist Willie Cole who specialize in creating artworks out of common objects with the intent to alter our perceptions of regular objects, transforming these everyday items into a metaphor of contemporary life and consumption culture.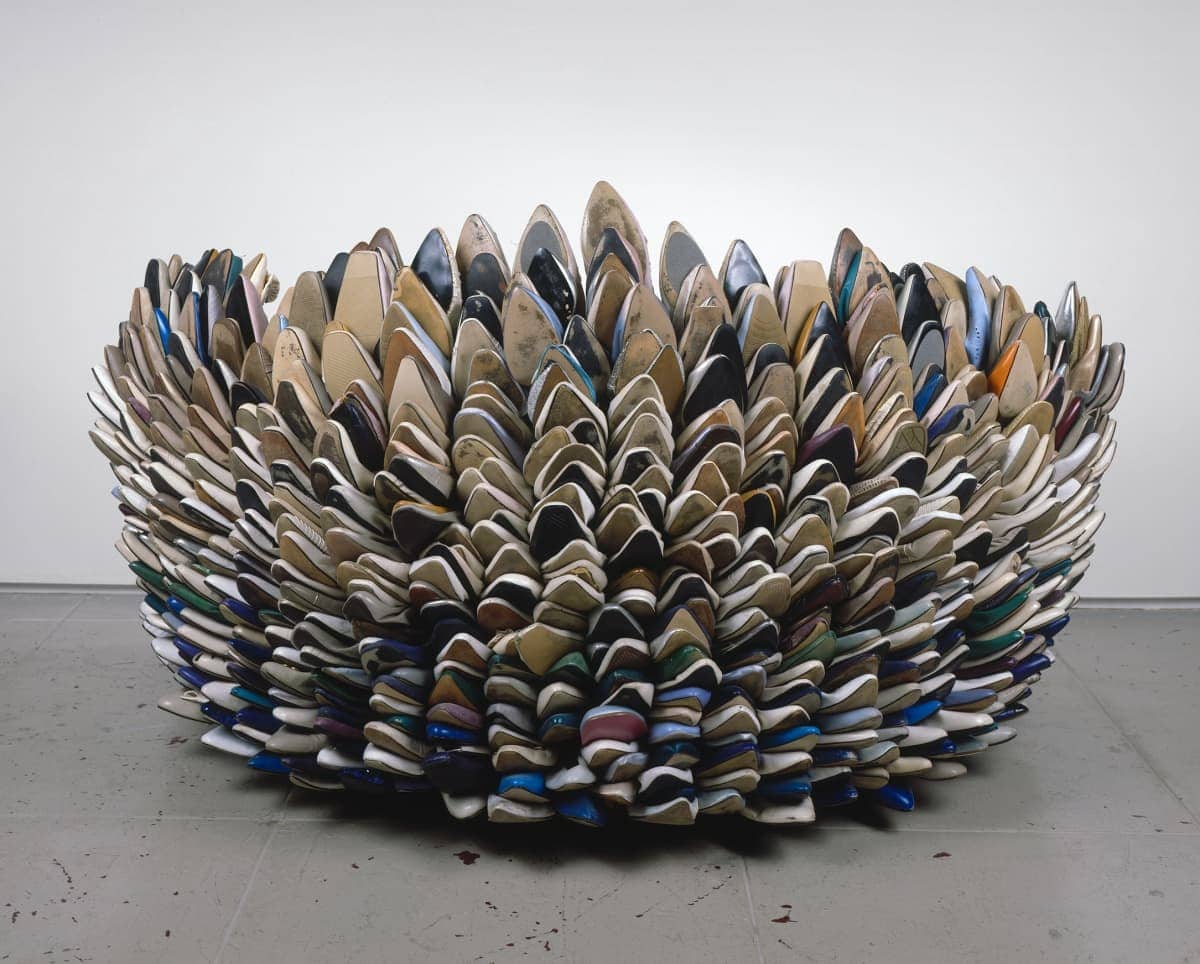 "I came across the sculptures of the New Jersey artist Willie Cole which included these powerful masks made up from black high heeled shoes. I am constantly looking for strong images, and I suddenly had the idea to ask Willie if he could consider making headpieces instead of face masks using black heeled shoes. Even though he had never made any headpieces, he readily rose to the challenge, and we worked together to create these headpieces in the presentation. I also worked with the photo on the fabric of the original masks in the collection itself," Kawakubo said of the origins of the work with the American artist who crafted the hat with two upsides down heels sticking upward or one with the three shoes in a circular arrangement to resemble a crown.
The huge difference here with this collaboration with an artist is how what the artist made enhances the collection's creativity – here in these remarkable hats made from repurposing women's heels. The 'art' is not used to decorate the clothes and in a way to hide the lack of genuine design innovations. Here the clothes can stand by themselves, offering a visual impact like art.
There is no need to borrow from visual arts to decorate any garments, and more importantly, to decorate to cover up the lack of innovative fashion ideas, or just any good fashion ideas like in many other collections this season with artists collaborations.
While the pandemic has led many fashion designers to ponder the kind of fashion needed right now, their answers in terms of making more 'comfort' clothes as their easy wardrobe solutions to the more casual post-pandemic world aren't exactly comforting as fashion requires creativity in bad times to move forward not just another set of luxurious pajamas or new versions of stay at home tracksuit.
Since the spring 2021 seasons, very few designers are asking the same questions that Kawakubo is asking, which is how to elevate creativity and idea in a time of crisis rather than just fabricating a few more sweaters or coats. This show's answer is clear – stay truthful to one's own work and push ahead to create something different.
---