---
Review of Comme des Garçons Homme Plus Spring 2023 Men's Fashion Show
Jester's Privilege
By Mark Wittmer
Emerging after isolation into a world of simultaneous joy and horror, the first Comme Des Garçons show since before the pandemic digs deep and fiercely reaffirms the house's place at the conceptual forefront of modern culture and all its strange tensions. Iconic creative director landed on the proto-punk spirit of the court jester – an almost mythologically unlikely historical figure who nevertheless was very real and whose legacy continues to deeply shape contemporary culture.
In addition to providing amusement and delight, jesters also often had an important exclusive role as political emissaries, holding exclusive rights to delivering news to a monarch that nobody else could, or speaking freely before them.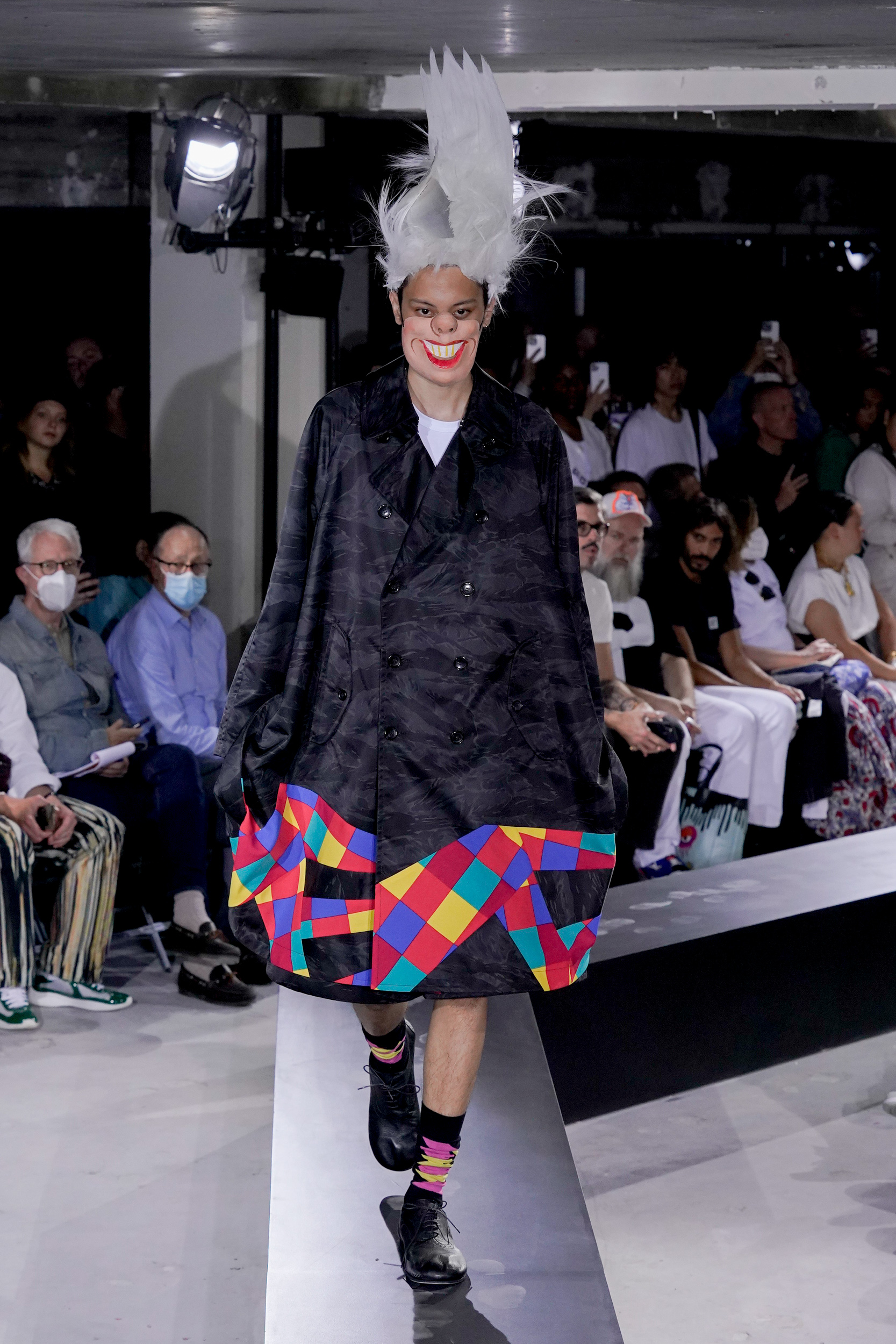 Today's world is absurd and often horrifying. With this collection, Kawakubo plays the role of jester, holding up a distorted mirror to its comical paradoxes, its absurdity and twisted excess.
Leaning into the house's classic avant-punk spirit, the looks are beautiful, challenging, and strange. Kawakubo applies baroque structures to elegant modern tailoring, transforming her protagonists into contemporary street jesters. Offset by black, motley diamond and check patterns drawn from jesters' costumes – which in turn were caricatured renderings of heraldry symbolism – lend noisy and vibrant pop-art moments of color to the pieces.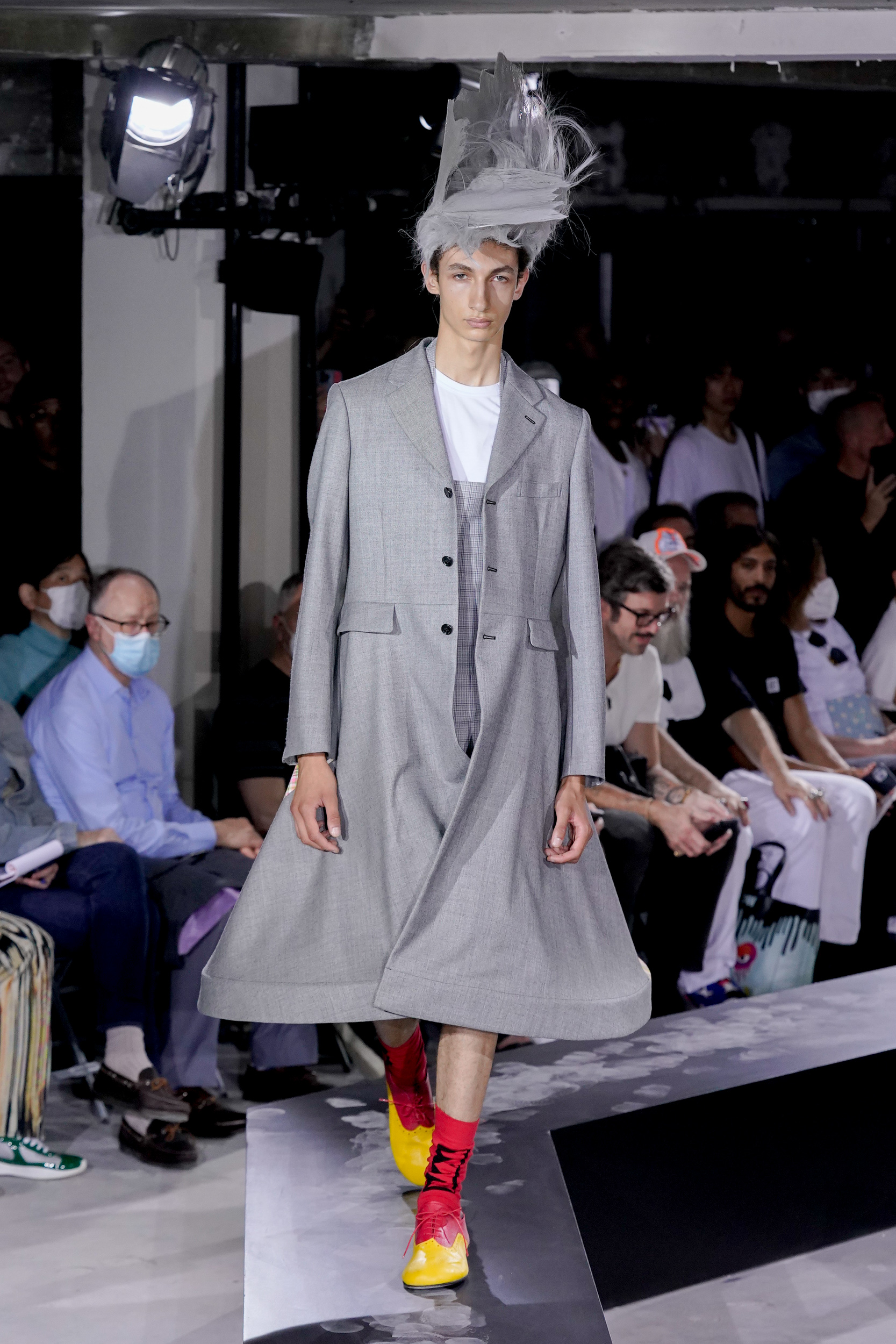 Found antique papier-mâché masks (some over 100 years old) lend the characters a sort of grotesque hilarity, as do exaggerated wigs that fall somewhere between Marge Simpson and anime hair.
As if reflecting the fractured state of mind and alienation of living among the over-stimulating commercialism and war-shadowed media of today's late-capitalist society, Kawakubo makes frequent use of patchwork, uniting out-of-context emblems and patterns into a jarring yet playful exchange of harmony and dissonance. Strong tailoring skills make for weaponized stylishness, slashing suit jackets, adding sleeves and superfluous layers, revealing the process behind the garment's construction.
The fashion industry itself isn't safe from Kawakubo's incisive wit either, and there's certainly a critique of its excesses and blindness to its own absurd extravagance here – even as she celebrates the privilege of unbridled creativity it affords.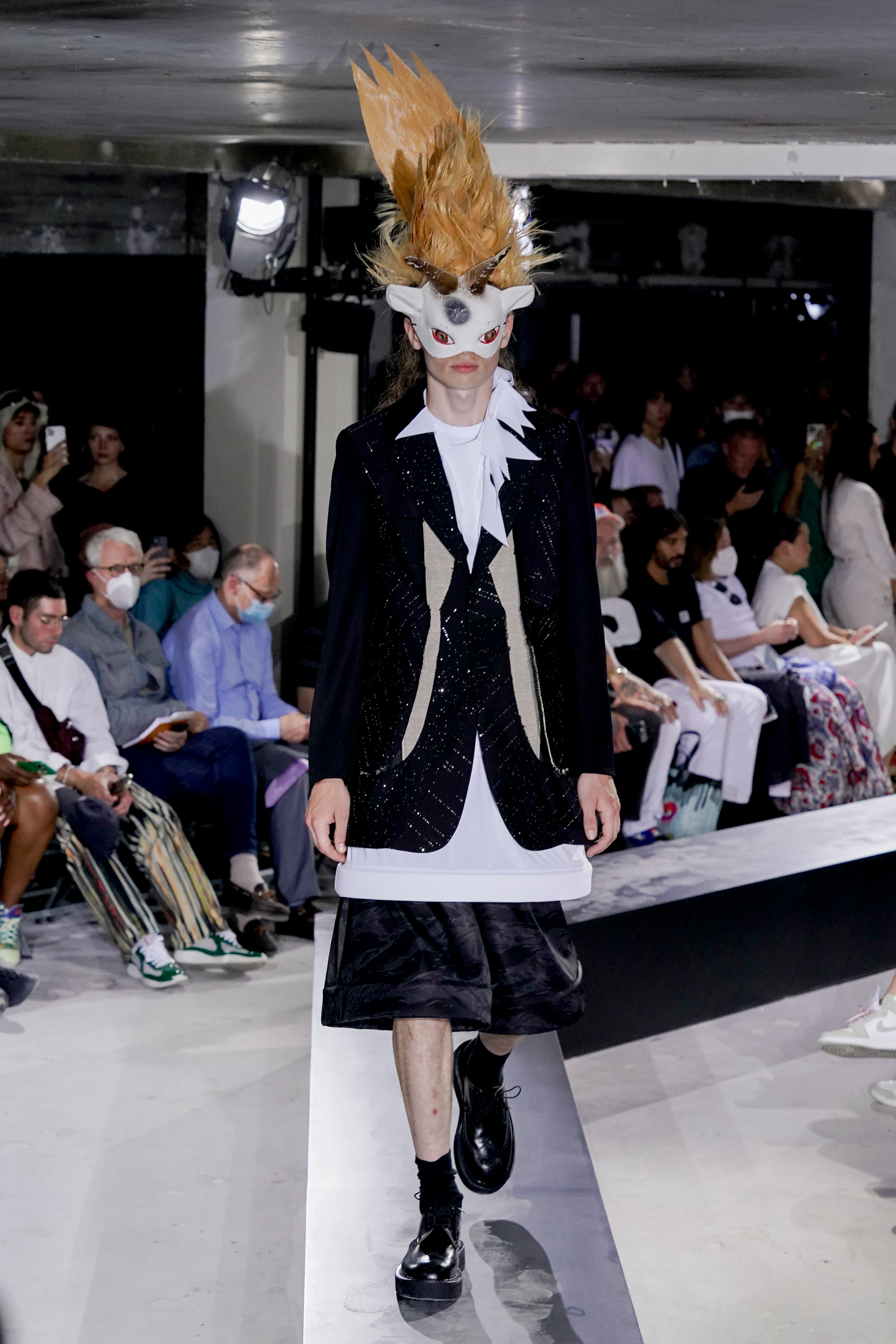 Balancing the sincere and the sardonic, the familiar and the strange, Comme Des Garçons acknowledges the horror of our world while reminding us that it is also full of joy, and inspiring us to find new ways out of it.
While the jester's role may, at a superficial glance, seem farcical and superfluous, he has perhaps the most important role of all. He shows us the truth when reality cannot. He is a healer, and laughter is still the best medicine.
---