Review of 'The Wolf And The Lamb' Fall 2023 Ad Campaign by Directors Florent Canale and Alexandre Silberstein with Creative Consultants Kevin Tekinel and Charles Levai with model Lila Grace Moss
Coperni makes what may be the most interesting use of artificial intelligence we've seen yet in a fashion ad campaign with its digitally augmented and indefinitely reproduced "The Lamb and the Wolf" film campaign. Starring Lila Moss, the digital project was created in collaboration with directors Alexandre Silberstein and Florent Canale and experimental creative studio Everest Lab.
The biggest impact of Coperni's Fall 2023 runway show didn't come from the clothes, but rather from the dog-like robots that shared the runway and even interacted with the models. These now familiar e-canines were created by robotics lab Boston Dynamics and are being developed with an eye to aiding military and police; Coperni's interest in them, however, is in the intersection between the human and the technological, a concept that has been central to the brand.
This corresponding campaign is Coperni's most ambitious example of that concept yet. A continuously running video program is fed a set of variables like scenario, weather, music, lighting, and the looks from the collection that Lila wears, and procedurally generates video clips that translate this data into a unique cinematic narrative. Across otherworldly landscapes and virtual realms, each scenario positions the model's virtual avatar and her robot dog companion in mutual interaction with each other, creating an uncanny exploration of just how human technology can be, and questioning where in technology humanity begins to lose itself.
The piece is set to run from September 21st continuously for six months in real time on Epic games' Unreal Engine and play ever-changing 40-second stories based on the multiple choices of sets, scenarios, and looks from Coperni's collection, shaping a distinct form each time. By the time the project ends, no fewer than 320,000 versions will have been generated and streamed live on YouTube and on a dedicated website.
The project functions as a brilliantly unique ad campaign that forms an ever-renewing stream of branded content over an extended period of time, but it also wisely demonstrates that Coperni has farther reaching ambitions in its interest in technology. In a sense, the campaign leans into the way that artificial intelligence feels limitless, but the polymorphic video is ultimately restricted by its code; it can only generate different combinations of a handful of set variables, which were originally crafted by human ingenuity. However impressive and far reaching artificial intelligence may be, only human intelligence and imagination are free and limitless.
The gimmicky aspect of the campaign ultimately thus works in Coperni's favor; like the brand's spray-on dress and robot dog runway moments, these performative technological risks only pay off if there is human substance (in the form of fashion design) behind it. The campaign probably forms the most interesting use of AI we've seen in a fashion campaign precisely because it uses AI as a digital showcase for reproducing human creativity.
Serving up dystopian digital dreamworlds via a smart synthesis of real creativity and its artificially generated expression, Coperni arrives with its most compelling campaign yet.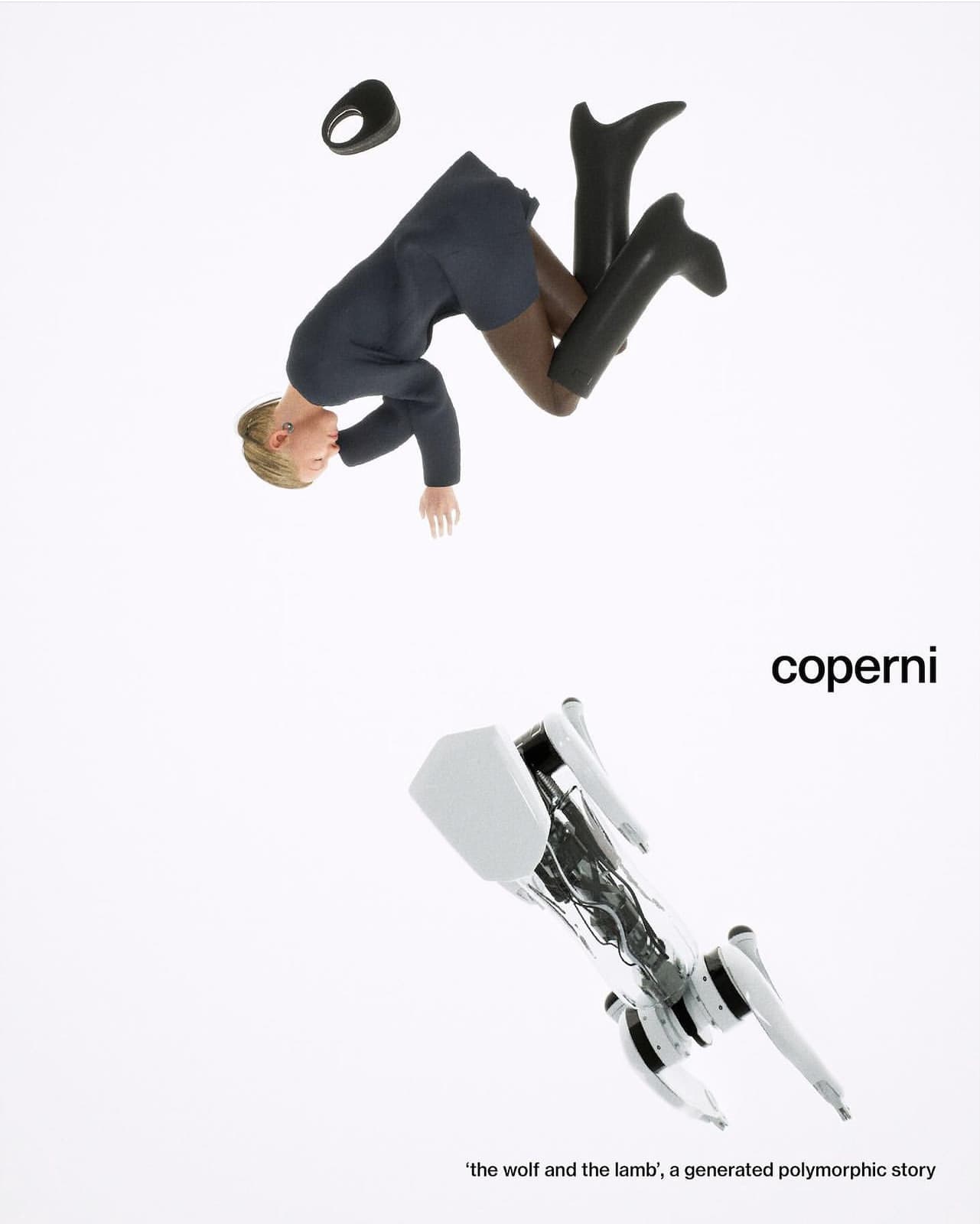 Campaign Credits
Coperni Creative Director and Co-Founder | Sébastien Meyer
Coperni CEO and Co-Founder | Arnaud Vaillant
Agency | Kate Moss Agency Ltd
Creative Consultants | Kevin Tekinel and Charles Levai
Film Directors | Florent Canale and Alexandre Silberstein
Model | Lila Grace Moss
Stylist | Helena Tejedor
Production | 8849 (Everest Lab)
Music | Anomaly Spectre
Video Credits
Directors | Florent Canale and Alexandre Silberstein
inspired by Coperni's Fall-Winter 2023 show
based on Jean de La Fontaine "Le Loup et l'Agneau"
Production | 8849 (Everest Lab)
Co-production | Alexandre Silberstein and Coperni
Model | Lila Grace Moss
Agency | Kate Moss Agency Ltd
3D scan | FBFX (London)
Producers | Sylvain Obriot & Thomas Espinosa
Production Coordinator | Sonlan Tran
3D Artists
Lead Unreal Artist | Vincent Legrand
UE Environment Artist | Somphout Chanhtaboutdy
Clothing, Accessories & Props Modeling Artist | Nolan Hortolan
Robot Modeling Artist | Arthur Palluy
Coding & AI | Louis Jeckel
Motion Capture Model | Marine Lemonnier – Folkr studio
Color Grading | Baptiste Vieillard
Coperni Co-founders | Sebastien Meyer & Arnaud Vaillant
Creative consultants for Coperni | Kevin Tekinel & Charles Levai
Styling | Helena Tejedor
Head of design | Charlotte Raymond
Image and communication manager | Mathilde Matteucci
And all the Coperni team
Music | Anomaly Spectre Musical
Music Advisor | Marco Novoa
Mastering | Jeremy Obriot
Additional Software
Clothing | Marvelous designer
Modeling | Maxon's Cinema 4D, Blender
Ai source scripts generation | ChatGPT
Ai voice generation | Play.HT
Streaming service | Cloudflare
Motion Capture | Rokoko smartsuit pro II Actorcore
Made with Epic game's Unreal Engine 5.2
Lila Moss Avatar © Lila Grace Moss
Looks from FW 23 © Coperni
© 2023, 8849 x Coperni x Alexandre Silberstein
---