Breaking with Tradition at Courrèges
Review of Courrèges Spring 2024 Fashion Show
By Angela Baidoo
THE COLLECTION
THE VIBE
THE THEME

A stark white, barren terrain replicating the surface of the moon greeted guests at todays Courrèges show, which was perhaps a possible nod to the brands heritage in futuristic design inspired by modernity. Always exploring the other-worldly, the history of space-age design often informs Nicolas di Felice's collections, although this legacy is often brought bang up-to-date with a party-girl attitude.
Last summers show set featured a mesmerising 'sands-of-time' installation, while today's crumbled and broke up as the models stomped past. A continuing metaphor on Nicolas di Felice's shifting and breaking down to rebuild the Courrèges brand could be assumed was what the designer wanted to communicate.
Some of the designers more interesting experiments – which went beyond what his customer would wear on a night out – came out in the first set of looks. A shirt and sweater dress were reworked to twist into a dress-cum-playsuit hybrid, layered long at the front and revealing shorts at the back. The designer should continue these experiments which would make a defining differentiator for the house which goes beyond micro mini-dresses and cut-outs, which are an easy win when appealing to the party-set.
Necklines were also a keen focus, as shirts, boxy jackets, and blazers asymmetrically folded down with the collar cleverly detached and fastened to the back, created a conceal-and-reveal moment which felt modern. While a tulip-style opening created a modern-day nod to the sweetheart style. But in animal-skin leather it was anything but sweet, it was slightly defiant.
Di Felice's signature openings resembled elongated ovoid's this season, while perfunctory slashes were placed across the legs of flared trousers and vertically along the torsos of second-skin jumpsuits. His use of cut-outs definitely felt more meaningful, rather than just a way to sell skin.
THE BUZZWORDS
Twisted Construction. Neckline focus. Slashes and shoulders.
THE SHOWSTOPPER
Look # 3
Unassuming, yet inventive, this twisted dress-cum-playsuit highlights an exciting new avenue of exploration for Nicolas di Felice, while still looking back to the brands heritage of modernism and futurism.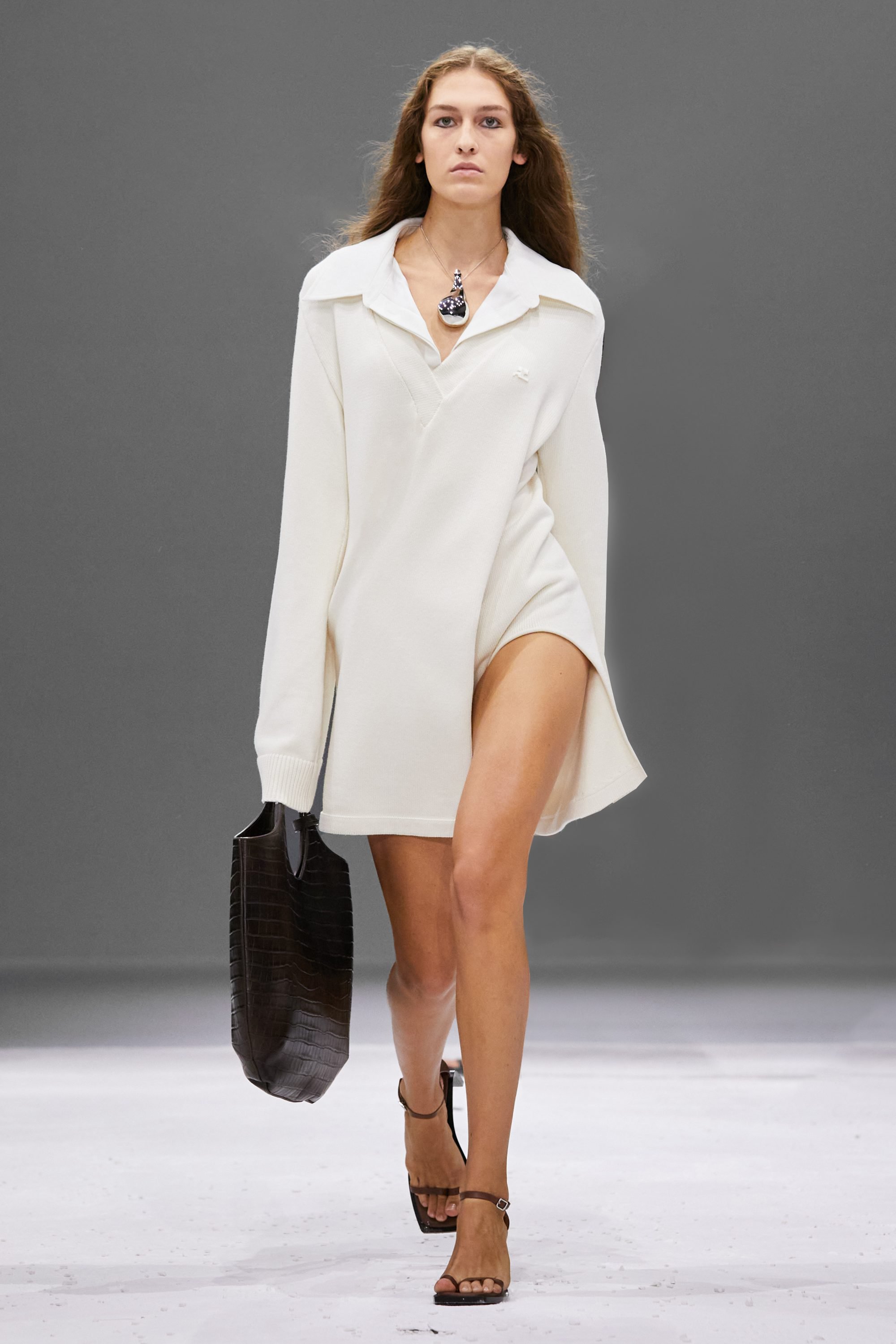 THE DIRECTION
The addition of technical and natural textured finishes adds to the brands legacy of experimentation with fabrics.
THE WRAP UP
Among the archetypes di Felice was designing for this season, he managed to blend several Courrèges girls seamlessly into one show. His textured knits paired back with leather buckle-side pants, which also appeared in an all-in-one, seemed to take us into the world of the bohemian biker-chick, the metallic breastplate and wrap-skirt an homage to the brands sci-fi foundations, and a slashed sequin dress and silver cape remained consistent for the free-spirited party girl persona. In amongst them were also some 60s inspired tunic and flare combinations, which if their naval-grazing cut-outs are slightly altered, is sure to be a hit at retail.
Nicolas di Felice's reimagining of the Courrèges brand through facing into a younger customer who is always seeking out newness to add to her roster of heritage big-hitters that highlight the allure of the body beautiful, will see it continue to remain one of the industry's most successful revival stories to date.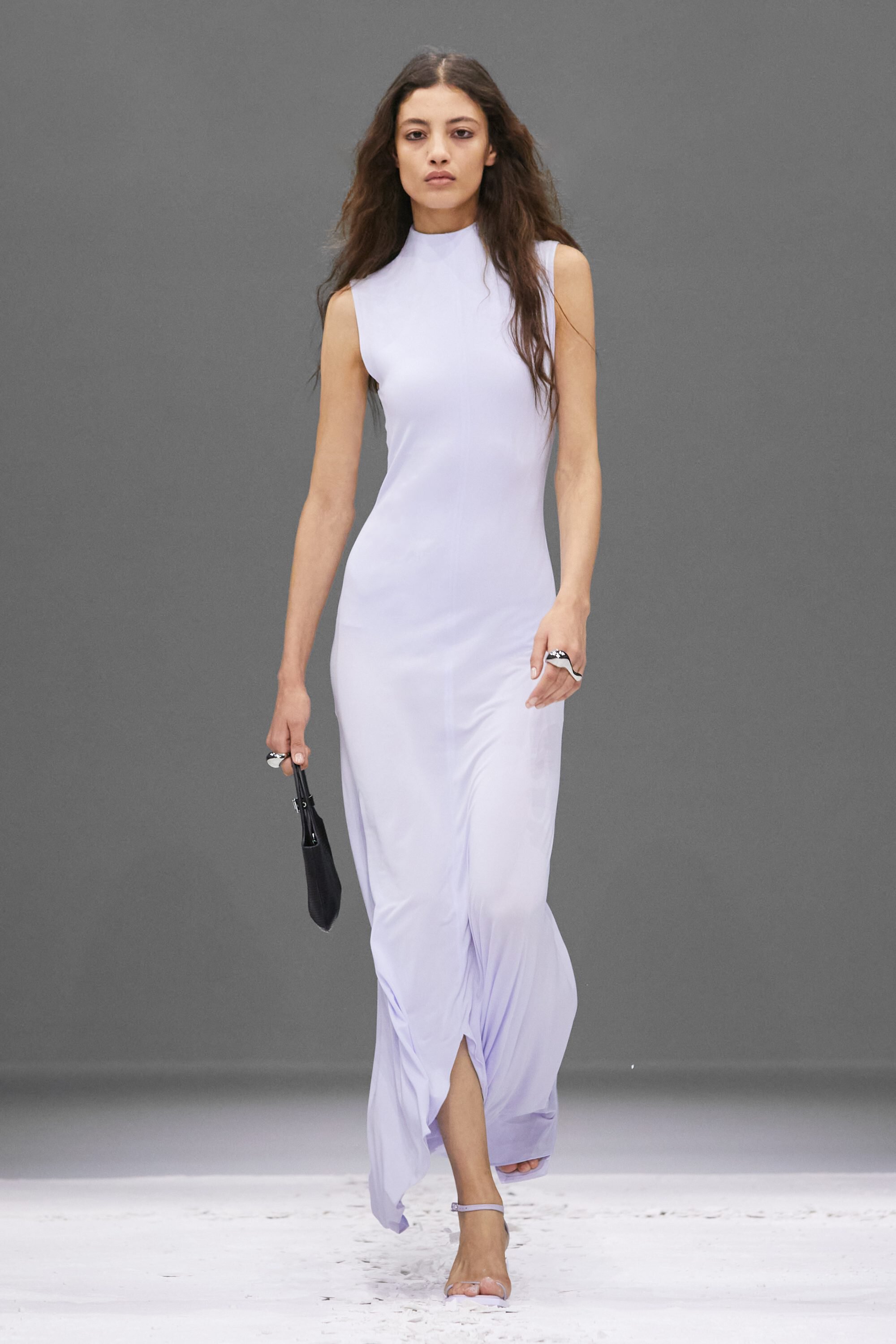 ---