The spring/summer of 2024 may have been marked by practicality and ongoing minimalism, but, it was also a season marked by journeys that celebrated unique craftsmanship, where the lines of innovation showcased fashion's genius creativity. And it came in plenty. A definitive move back towards expressionism, we saw plenty of artful, romantic, and even surreal collections grace the runway. Perhaps the most enigmatic was a focus on genuine artisanal creativity. Materials such as Glenn Martens's wired pieces and Junya Watanabe's collages were crunched, twisted, and sculpted into beautiful tactile volumes. These ranged from pom-pom embellished mesh at Bottega Veneta to artful cut-outs at Valentino in a lattice-work of shells.
With an evident inclination toward intricacy and detail, fringes and feathers festooned pieces in a flurry of texture and movement. Their interpretations varied, from Loewe's nuanced feather details to the unabashedly extravagant, paradisiacal feather displays on Bottega Veneta's floor-length dress. Simultaneously, Prada reimagined fringes in a lustrous silver, crowning them as the limelight-stealing elements of the spring collection.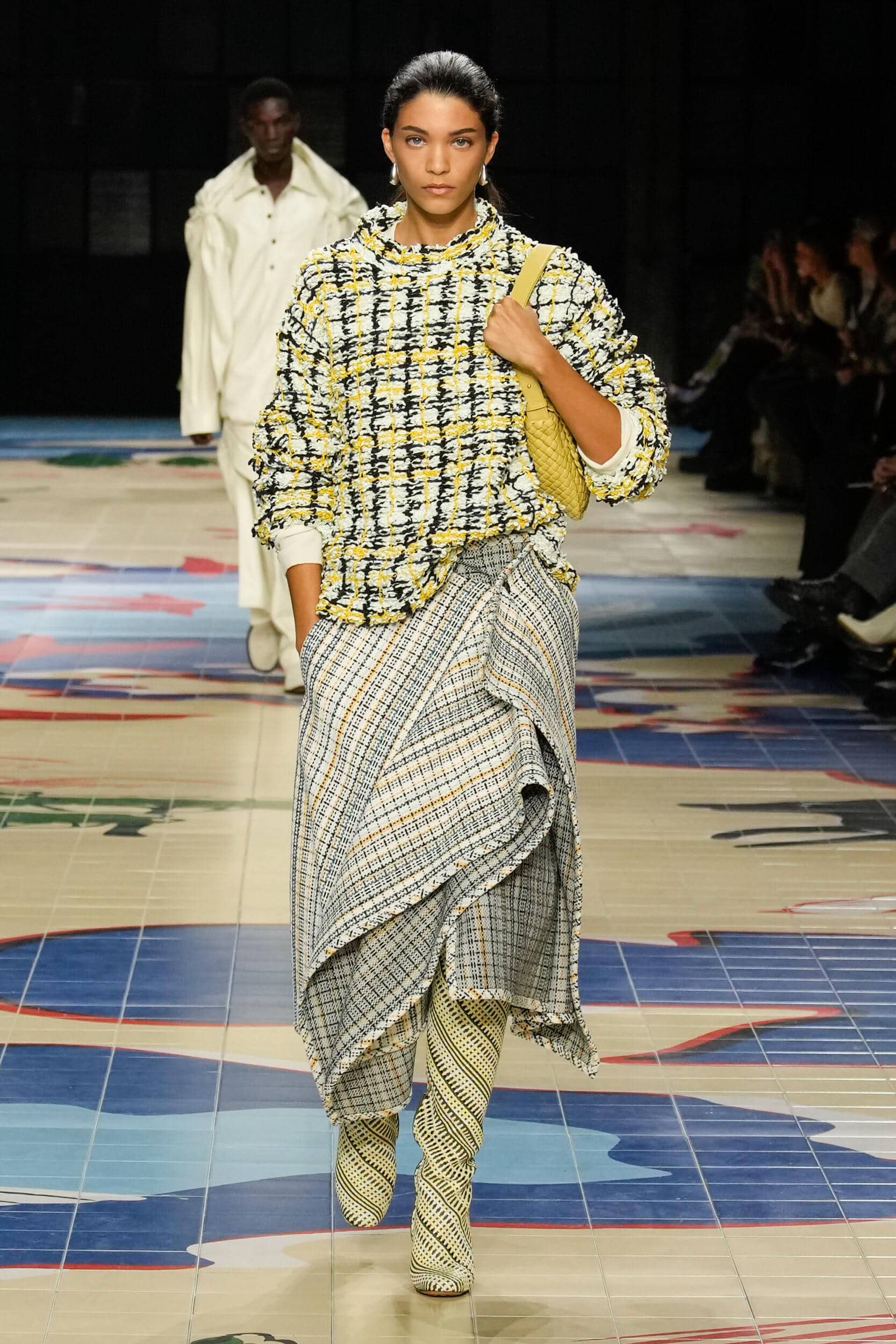 Masculinity found a curious yet eloquent expression through dominant broad shoulders seen in stealthy appearances at Attico and Issey Miyake; these squared, and at times, pointed shoulders at Rick Owens paradoxically carved out a feminine silhouette by cinching at the waist, creating an arresting visual dialogue between form and fluidity. Bottega Veneta's Matthew Blazy elevated craftsmanship by magnifying innovative textiles and classic elegance. With airy pom-pom embellishments and fine mesh narrating the brand's tale, Blazy elegantly swung between serene explorations and experimental couture, exploring detailed narratives etched in every garment.
Conversely, Rick Owens offered ethereal elegance with silk capes, where rounded hems waltzed with the wind and accordion-pleated tulle and organza portrayed weightless charm. The collection's bubble mini dress, awash in soft pink folds, whispered subtle yet grounded resilience and craft into the runway's atmosphere.
In a poignant act of feminine symbolism, Sarah Burton for Alexander McQueen cloaked the runway with the enveloping power of Abakanowicz's textile sculptures and a bold homage to the female form and historical potency. A crescendo of blood-red roses, symbology, and an unwavering artistic vision encapsulated an unyielding reflection of powerful, uncompromising creativity. Amidst the volumes and the structure, the rose asserted itself through multiple collections, including delicately scattered at Balmain.
Marni's Francesco Risso unveiled a series of enchanting découpage, embodying visual enchantment and delicate craftsmanship.
Under Casey Cadwallader's aegis, Mugler sculpted high-impact bustiers and introduced a vibrant reimagining of Thierry's original bee headpiece from Spring 1997. Juxtaposed with a chrome-leather body plate for Beyoncé's Renaissance tour, Cadwallader gestured towards audacious elegance and creative reinvention.
Maison Margiela articulated a fierce imagination, presenting a collection that exuded a breathtaking essay in breaking down and translating elements of high fashion. The deconstructed white shirt collars at the models' necks hinted at the house's fluency in couture technique and rule-breaking vigor brought forth by Galliano.
In an industry that often straddles the lines between innovation and tradition, this season, offered a cascade of designs that acknowledged the beauty and necessity found in craftsmanship and heritage, breathing new life with a potent blend of creative instinct and meticulous execution.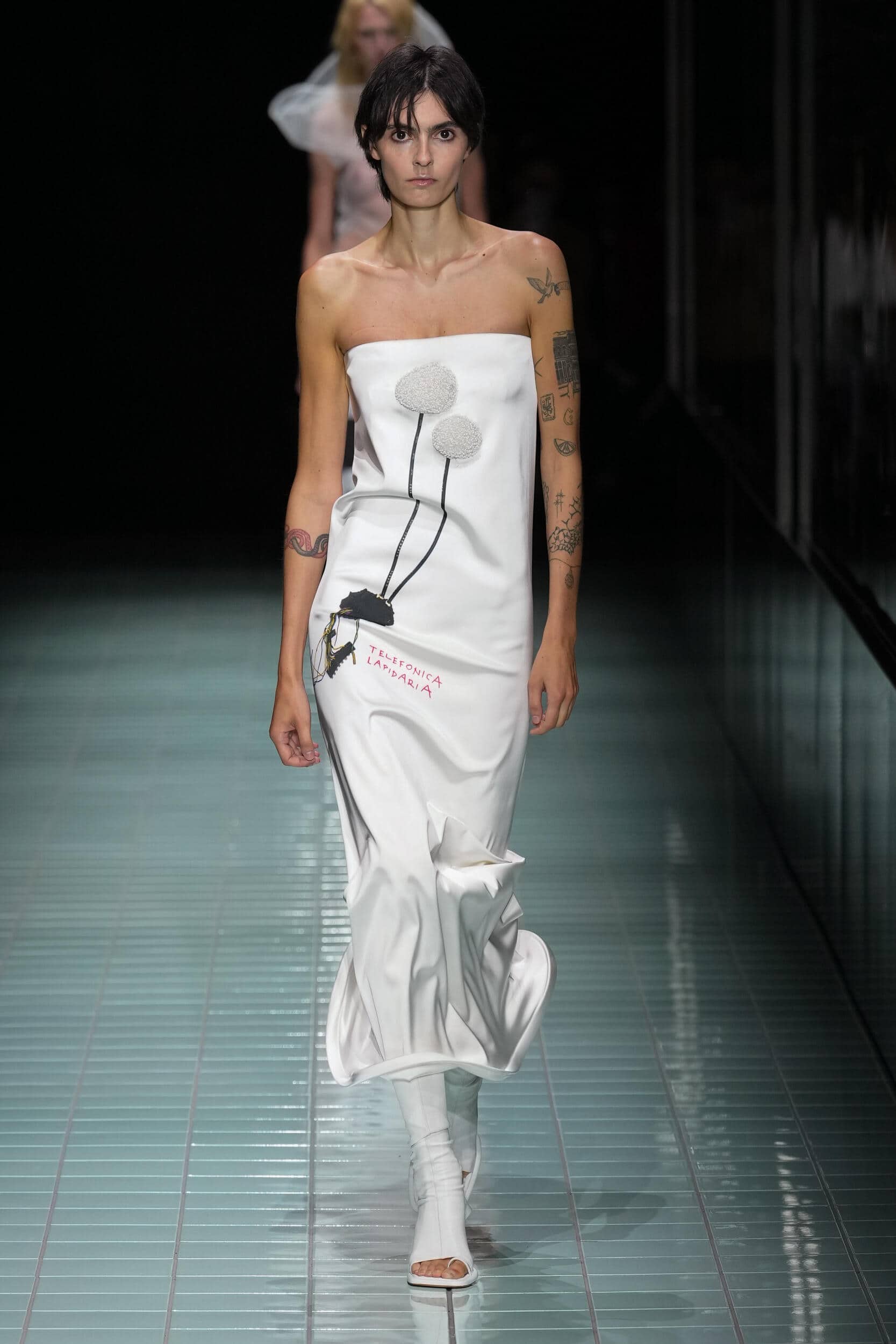 ---