---
Review of Del Core Spring 2022 Fashion Show
Cycles of Life Creating Cycles of Clothes
By Long Nguyen
With a formation from VIP dressing at Gucci, Daniel Del Core understood the flair for the dramatic necessary to bring clothes to life in the same outlandish. The sharp and focus collection contains just a few of the larger-than-life clothes veered towards haute couture handicrafts for the Spring 2022 show at the Palazzo del Ghiaccio. Once a sport and ice skating stadium now restored, smoke spurted out in the glass-like structure, giving the audience a sense of the dramatic, as Del Core did with his debut last February, the first show of his newly formed independent company.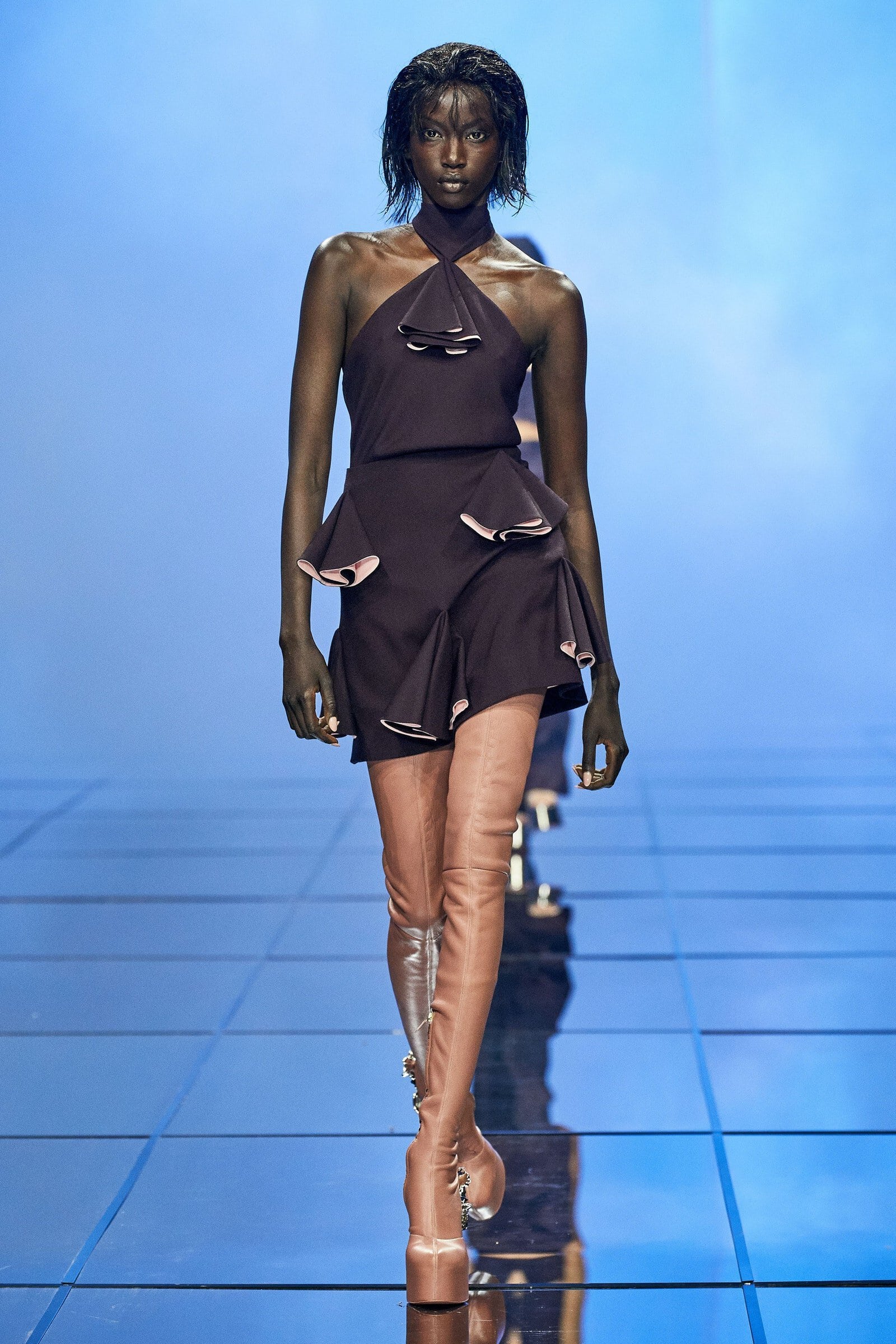 Water activates the cycle of life, letting evolution happen, and new forms take shapes as it changes from liquid to vapor to mist to fog and back to liquid. New bodies emerge from this constant movement, both hard and soft, protective and evanescent," Del Core said of his exploration of nature through the prism of fashion fantasy in sumptuous and inventive bright floral fluid gowns.
Del Core had sharpened his fashion skills at multiple houses, including Dolce & Gabbana, Versace, Zuhair Murad, and Gucci in Rome, where he created unique costumes for VIP clients.
Nature, specifically fungi and tree barks, was a point of departure for his current Fall collection. Now it is the transformative power of water taking shapes in "Mother nature is in the atelier. The atelier is the lab of further evolution," the designer said of his Spring 2022 show.
While theatricality was inherent in the drama of the staging and the clothes from his first show last season, Del Core has evolved that urge for high performance in this very focus collection.
Now with tight-fitting fluid clothes as the main starting event, save for perhaps a few moments of yellow ruffle tensions on a long white dress or a pleat organza giant floral sideway hat. Or maybe that beautiful white and light pink flowers petals are growing right out of a hand-painted floral long dress at the end of the show. Oh, let's not forget the lime green sleeve collar long dress with slightly bend descending ruffles. There must be a place for fantasy, even for a two-season brand trying to sell clothes, both the more simple and the haute couture.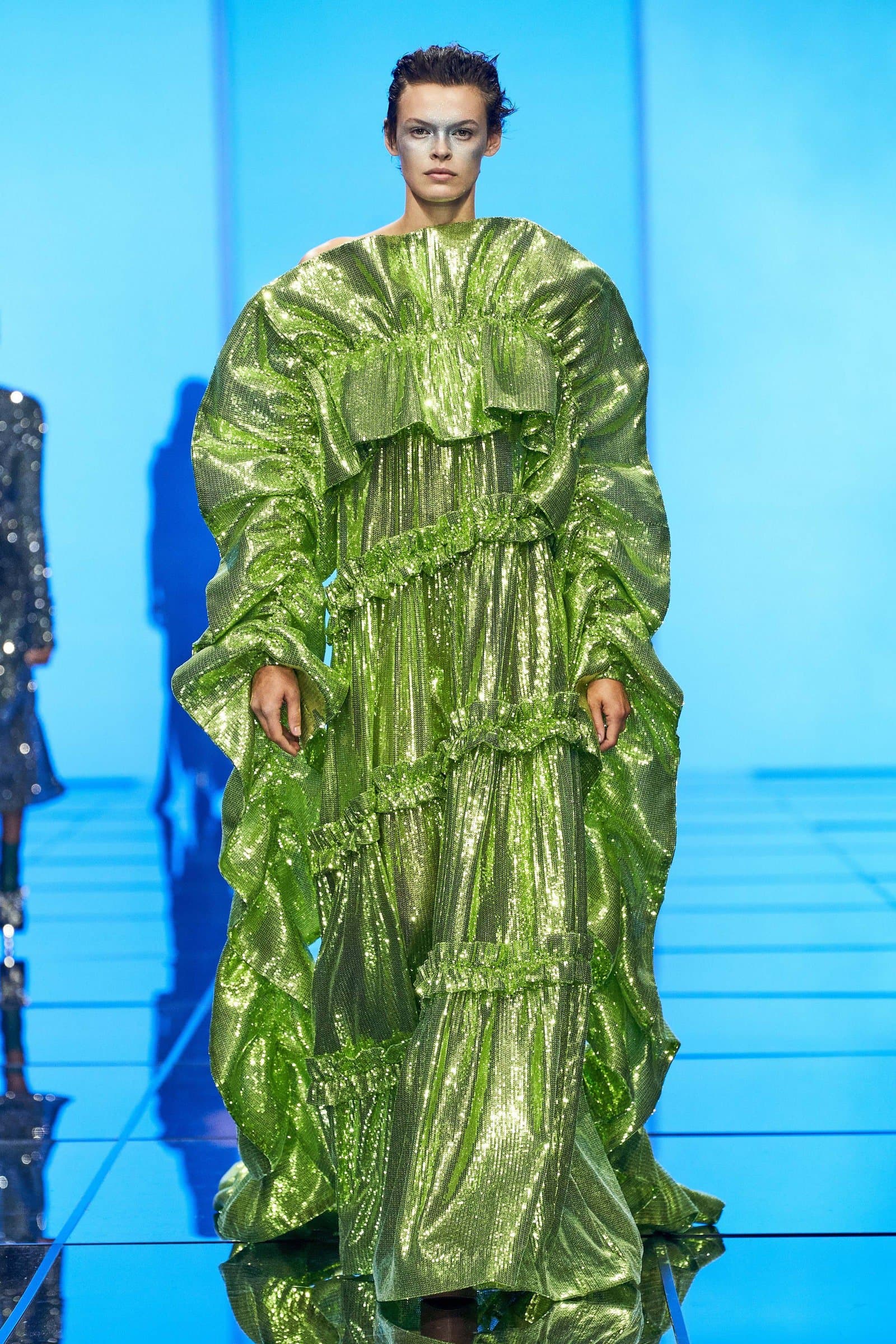 "Layered with a thick fog of mist, carnal flowers dripped with enamel stains, delicate orchids as menacing as nails, flowing in water that solidifies into ice.  A change of state: the fluid thickens, ready to melt again, evaporate, harden again," Del Core described how the flowers began to grow on the clothes transforming both the surface decorations and forms of the dresses themselves. The tight fitted dresses in the beginning have evolved into the full bloom dresses like undoubtedly the long white chiffon double layered dress with bright yellow petals neckline and a simple sheer chiffon tank paired with a lime green ruffle skirt and a giant flower hat grown sideway like hanging on to the bricks of a building. 
In the show titled 'Women and Clouds,' Del Core used the idea of the different states of water to view how clothes can also transform from one state to the next. That meant slim fitted shapes that opened the show – a short fitted chocolate cut-out micro dress, a barely-there bra/vest in brown with straight-leg pants, and a long black side ruffles strappy silk dress. As the colorful flowers grew organically on the white print long dress, the shapes also began to grow into a giant floral billowing sleeve floor-length dress with strands of 'ivy' leaves trailing from the front.
"Allowing forms to cling, expand, curve, bend, and wind," was how Del Core said about the two forms of dress collide onto one – the black tulle structure of a dress blown onto and attached to a light purple floral silk long dress. Several outfits leaned towards haute couture, namely the red panel corset long silk side slit dress decorated with hand made red and white flowers or the black and silver painted slim white pattern dress with floor-length sleeves. Or the deep v-neckline black and pink embroidered dress with a big twirling hat is indeed couture worthy.
The show reminded me of some of the early shows from John Galliano collections.
Then Galliano was the masterful designer with an all-in mind on the romance of clothes. However, Galliano would be so much more theatrical in his shows back then, where audiences could sense the drama happening on the runway. The flower dresses reminisced those Galliano years in their sensibility, but none of the clothes looked anchored to the past.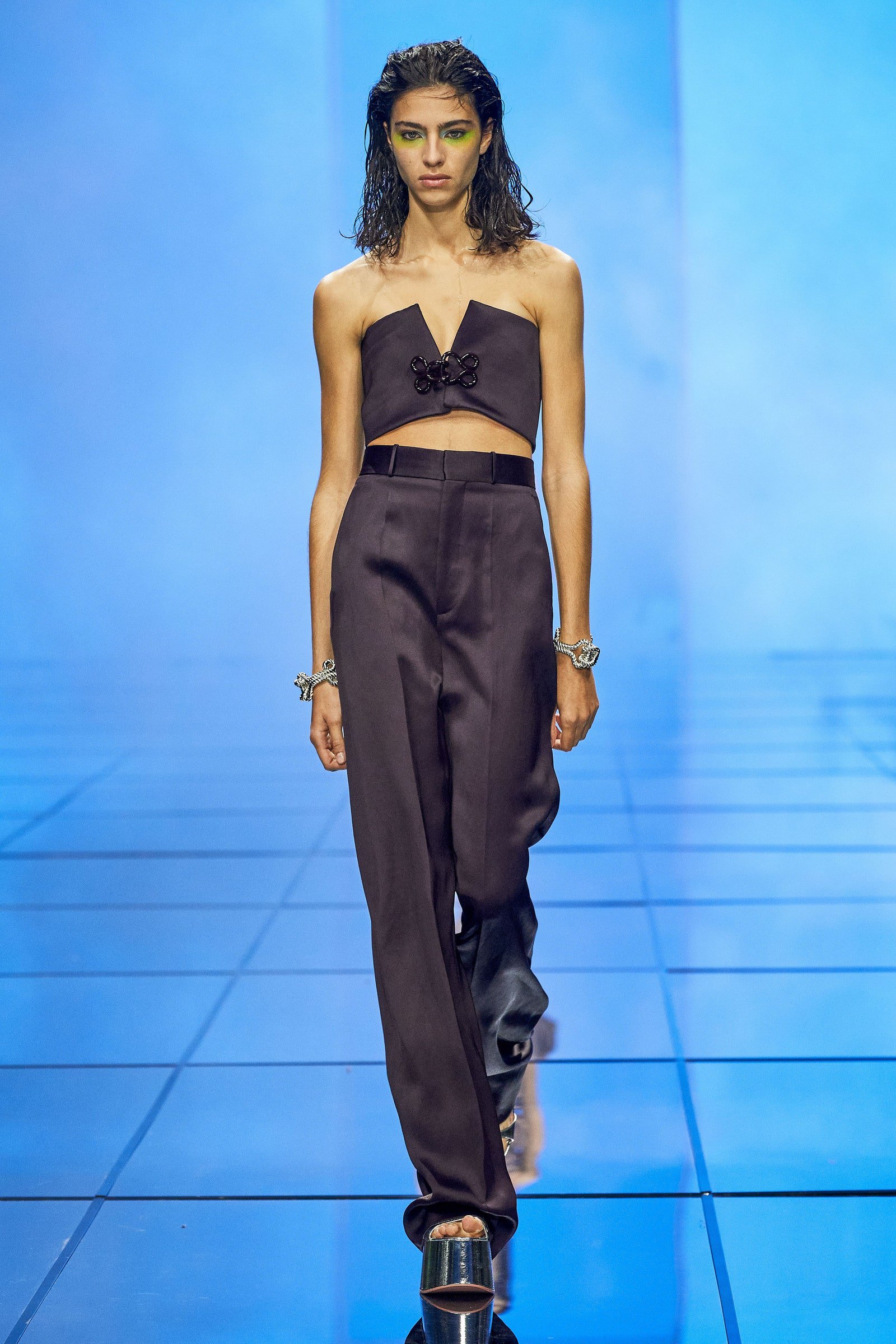 But, already, Del Core has developed several signature looks – the duo panel corset dress or just bra top paired with pants and the deep v neckline strappy dress as a base to construct outward.
Del Core works with his sensibility rather than looking around and borrowing this or that from others. Trust one's ideas.
A few menswear looks appeared in the show: a very soft and short tailored jacket with one fancy button closure, shorter sleeves, and pants in light pink and cement. In this age of gender fluidity, it is not hard to see the long lime green silk dress or the long white embroidered sheath as not unisex but sexless.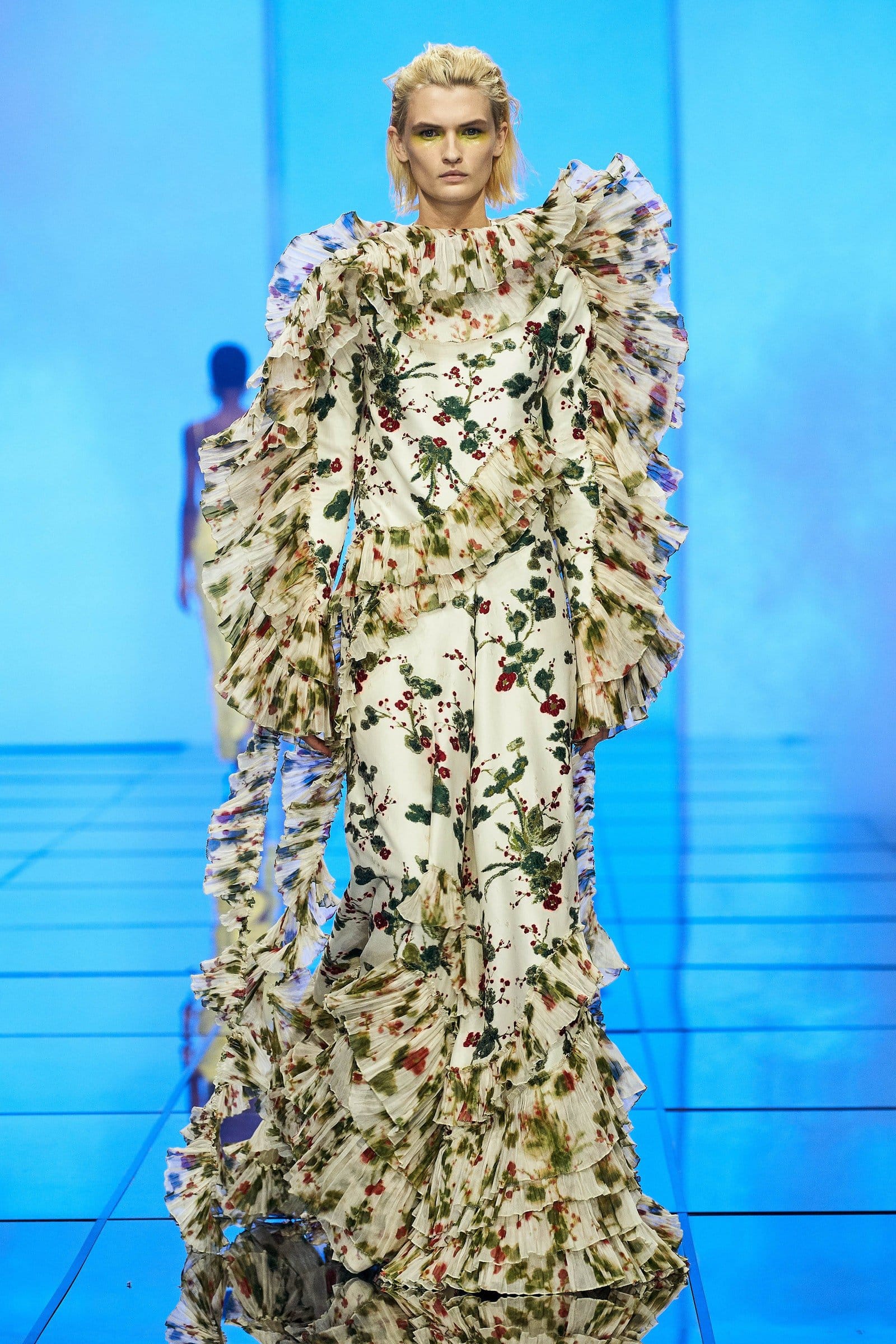 Fashion is now visual arts, and clothes have to have that visual power to draw audiences. Intricate and innovative design elements take a secondary role in considering the newest requisite of this all-in digital realm. It's the dawn of a new era, as fashion designers must consider this visual impact of their designs and incorporate them in how they show their latest products. Even in this backdrop of a swamped internet superhighway, this collection felt honest, and that's not a word that describes many fashion collections these days.
Del Core is part of this rising generation of independent designers with an eye on both social media and commerce prizes. With just his second, the designer has managed to temper his extravagant leanings and created a poetic collection in shapes and cloth.
This sure is a good beginning on solid ground.
---