Historically celebrated for its durability and utility as workwear, S/S24 embraces the re-generation of denim. From humble beginnings, this much-loved fabric is crafted into innovative silhouettes and reimagined staple items, tapping into the continuing familiar echoes of the 2000s. Almost every collection, from New York, London, and Milan to Paris, was infused with denim influences, with designers breathing life into familiar core items.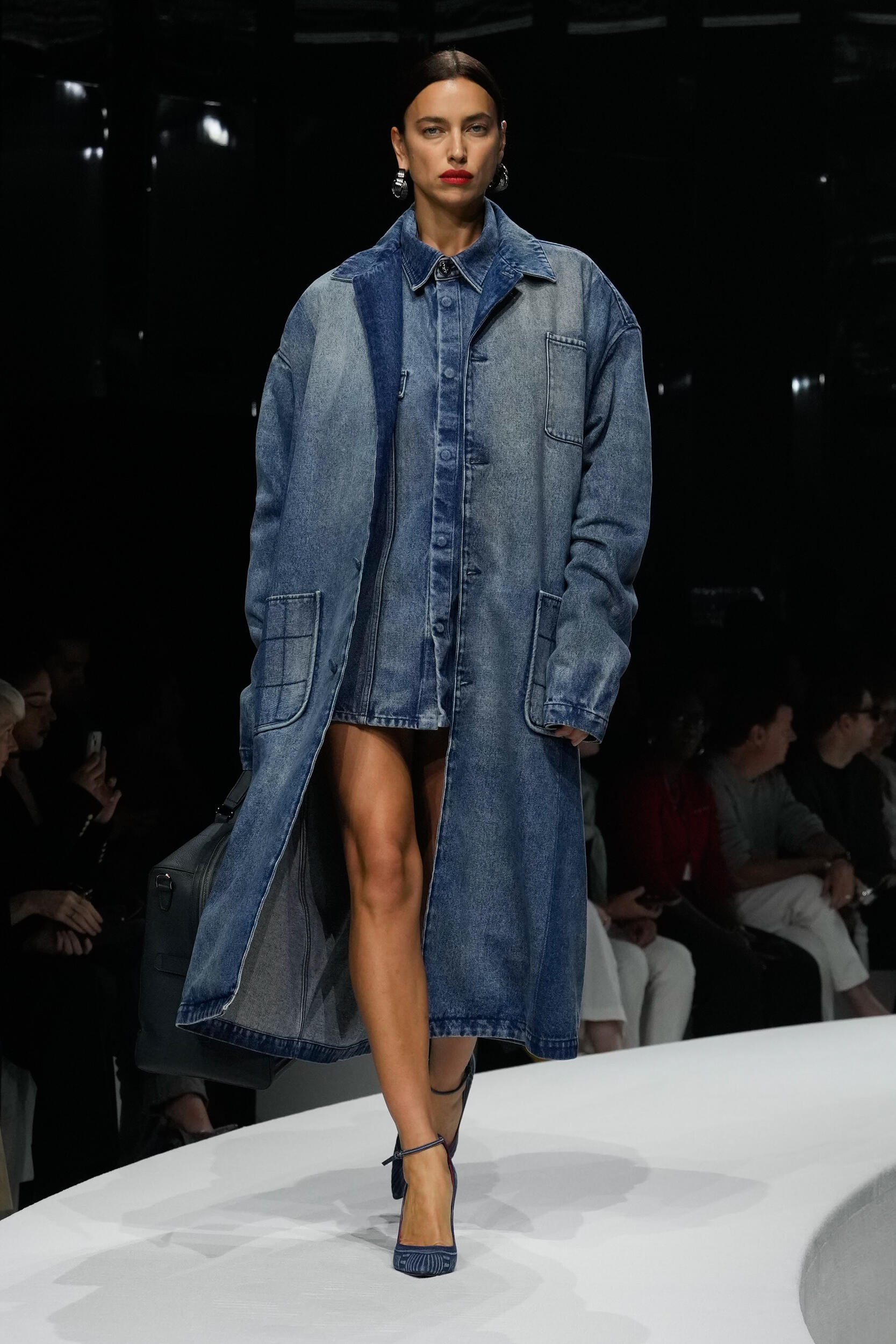 And all the loved and familiar pieces were represented – low-slung jeans came artfully paired with fitted, body-revealing bralettes and cropped corsets fashioned into an edgier, body-revealing appeal, especially with proven styles like wide-leg trousers and column skirts. These outfits created a revitalized 'Canadian tuxedo' – a look that generally consists of a denim jacket and a matching pair of jeans – the exclusive uniform of the working class crossed over into the realm of fashion in 1951 after Bing Crosby was reportedly denied entry at a Canadian hotel because of his full-denim attire – now pioneered by brands like Dion Lee, Dior with a full-length pencil skirt or at Schiaparelli and The Attico. The two-piece suit continued in other iterations – a Sculpted micro short suit at Alexander McQueen or the Bermuda suit at Valentino, Dries Van Noten, or Ferrari's matching suit set.
Simultaneously, the cargo pant's presence, driven by youth-led brands, continues to explore aesthetic territories. Acid wash denim tentatively steps back into the spotlight, whispering of an '80s resurgence. Uber wide legs and low-slung waistlines were seen at Dior, and Gucci also marched the street at Stella McCartney, wearing either a contrast bib front cropped denim jacket or a crisp white shirt, signaling the rising popularity of a sexy sartorial uniform. While specific trends like the wide-leg trouser uphold their presence, there's a subtle migration towards slimmer silhouettes on the horizon, signaling a potential revival of the skinny jeans from the 2010s.
On the other hand, the denim blazer, manifesting in an oversized, relaxed fit, voices a gender-inclusive silhouette. The oversized blazer at Coach will be a favorite as much the same as the perennial trucker jacket, worn juxtaposed with a slim pencil skirt at Gucci. The distinct take on denim trucker jackets in essential cuts and washes suggests a lingering appetite for familiar styles amidst the experimental waves, including versions of outerwear pieces at Dries Van Noten – inimitably covetable.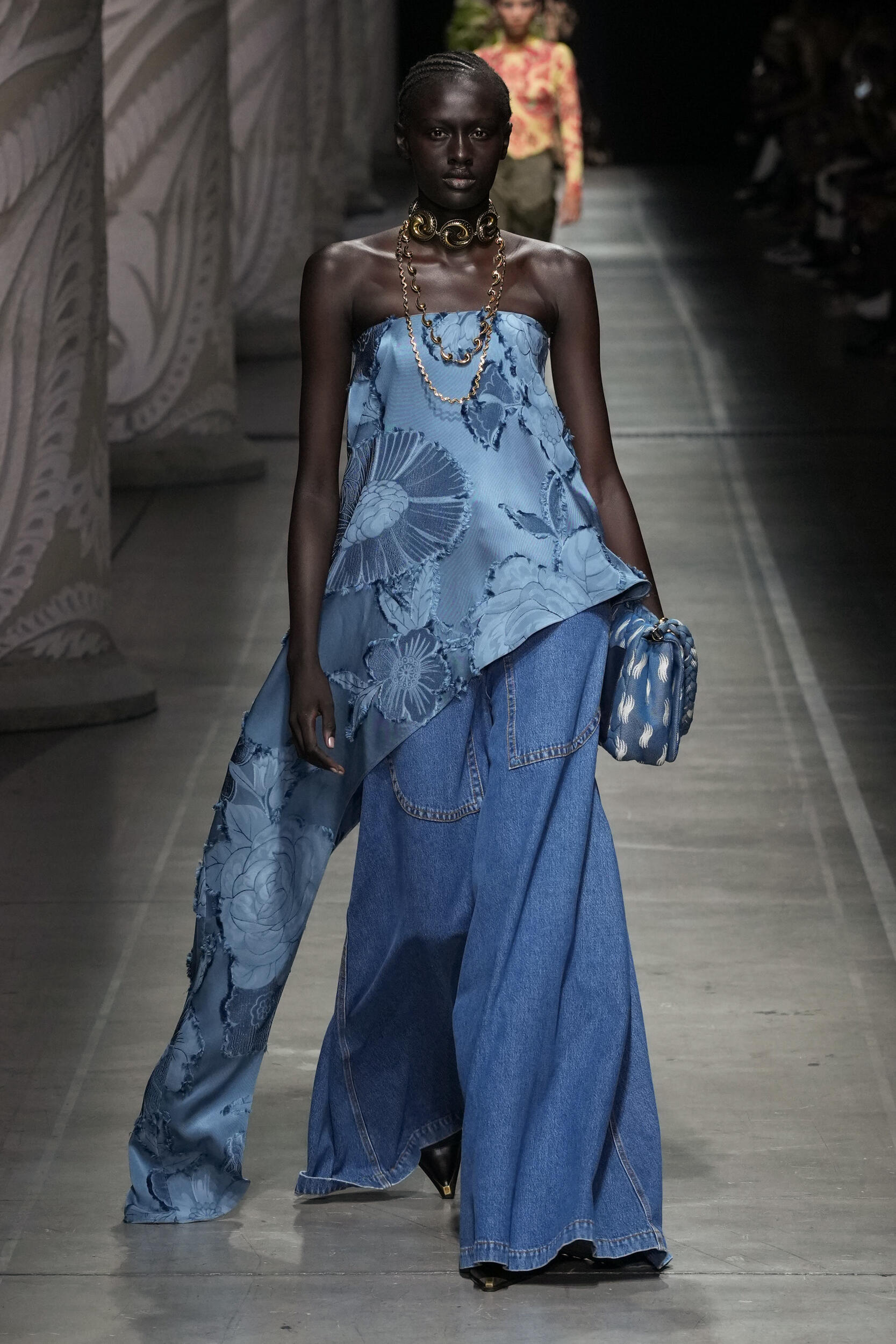 Hemlines are abbreviated or take a downward plunge; the Maxi skirt makes a striking return in fabulous full-length maxi versions, such as at Mame Kurogouchi, while 3.1 Phillip Lim crafted his into asymmetrical wrap iterations. Ralph Lauren displayed overprinted acid-washed denim, lined with chiffon and tulle and burnt out into devorés. It was then over-embroidered with sequins and beads, a couture edge also present at Versace, with pearl embellishments glittering on long-legged trousers. Voluminous cuts and ornately worked surfaces culminated in eye-catching, dramatic looks, satisfying the appetites of trend-led consumers.
For those wanting a more subtle take on denim's robust and weathered character, Jason Wu presented raw edges, enriching skirts and minidresses with a slightly more nuanced aesthetic.
And there were plenty of distressed versions, Who Decides War collaged, re-embroidered denim, or digging into Glen Marten's collection at Diesel, shredded jersey overlayed on sheer fabric artfully emulating a peeling paint effect. Additionally, denim layered under polyester with a velvet finish and sometimes accented with floral or camouflage prints marks a bold nuance in material innovation. While at Prabal, refined versions of frayed edges and torn hems were covetable items for the new season.
Subtly navigating through these intricate weaves of familiarity and novelty, SS24 links the workwear heritage of denim with a fresh, innovative future oscillating between practicality and innovation.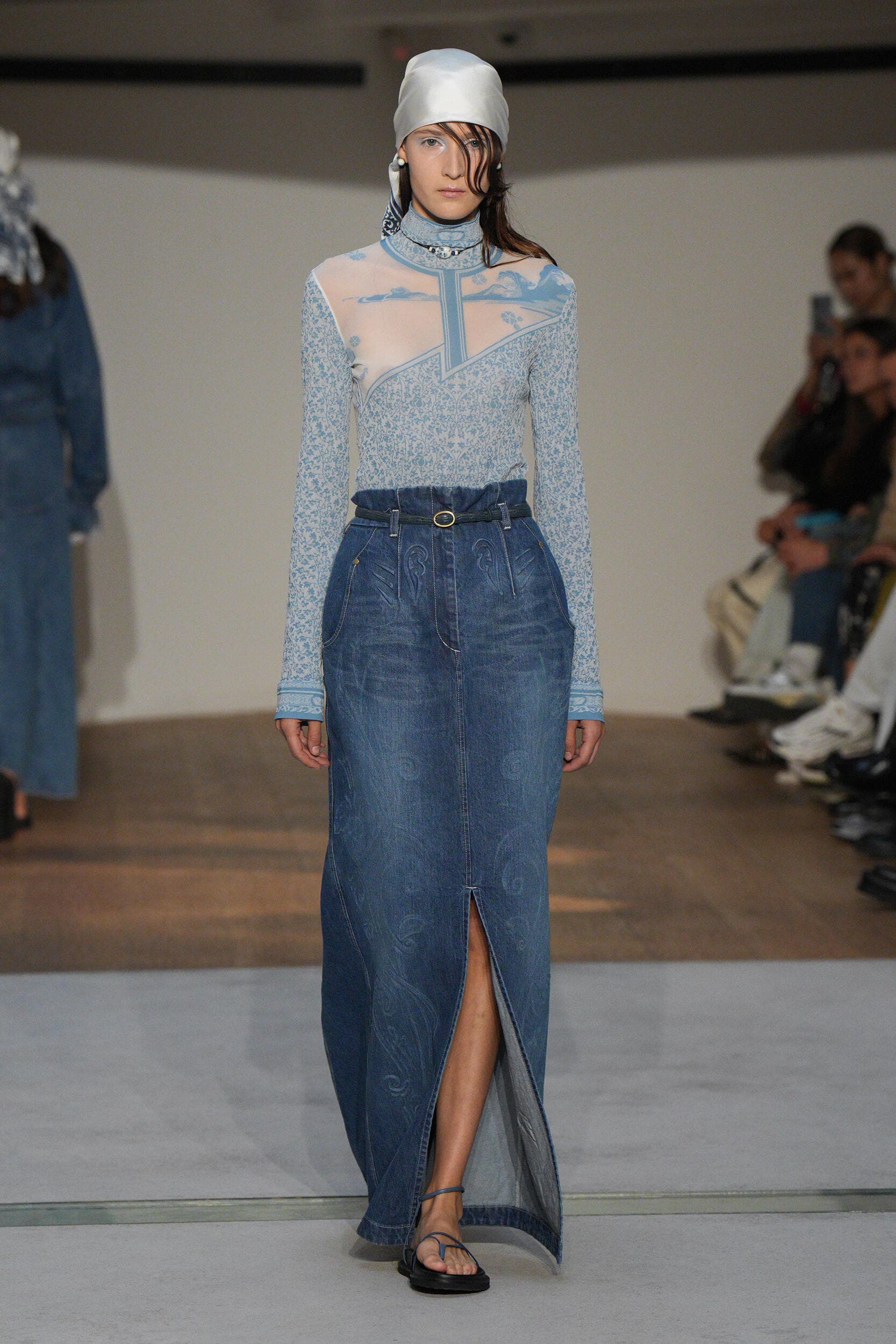 ---