---
Review of Dior Men's Fall 2021 Fashion Show
Feeding Fashion's Culture of Excess
By Long Nguyen
The American Los Angeles born artist Kenny Scharf rose to prominence in the trendy art world in the early 1980s as part of the very brief tenure of the epicenter of experimental art, conceptual and anti-commercial scene centered in Alphabet City in the lower east side of Manhattan, and dubbed as the East Village Art.
Anchored by newly established storefronts galleries like Fun, International With Monument, 8BC, Gracie Mansion, and Nature Morte, the collegial cultural-social scene was a mesh of young artists like Keith Haring, Peter Hujar, David Wojnarowicz, Nicolas Moufarrege, Jean-Michel Basquiat, Mark Kostabi, Martin Wong, Timothy Greathouse, Futura 2000 and Lee Quinones sharing new aesthetic ideals. At night, they mixed with budding musicians like Patti Smith, Blondie, Sonic Youth, and Madonna in a rising nightlife scene that birthed the vibrant downtown nightlife scene at Club 57, The Pyramid, Danceteria, and The Mudd Club as well as newsprints like the East Village Eye to document every event.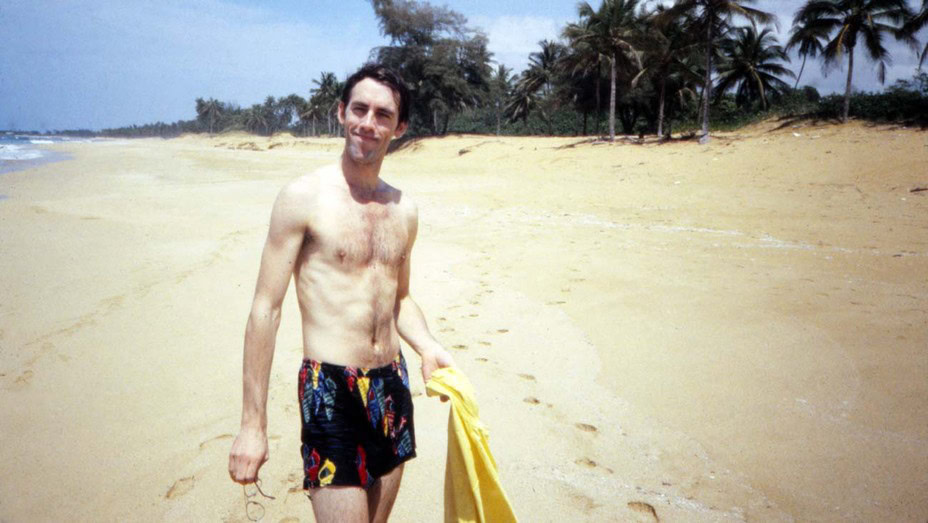 In a documentary on his life and work by Chris McKim titled Fk You F*ggot Fker released at DOC NYC Festival this November, Wojnarowicz said this much about his multi-media work 'All the paintings are diaries, that I always thought of as proof of my own existence."
Among the East Village artists from four decades ago, Scharf – muralist, painter, sculptor, installations – is the least interesting of the East Village Art group as his art is more glazing the surface appearance and often lack that more profound way and personal in which a painting, a photograph or a sculpture can pull an observer into its own orbit. At the time, Scharf was more oriented towards commodity art with his vivid and colorful explosions of cartoon figures that combined abstract expressionism, pop and surrealist tendencies with a nod to futurism with a mix of science fiction from the Jetsons and the Flintstones to creepy monster figures in somewhat halcyon worlds.
Scharf's cartoon world stood at the opposite end of Wojnarowicz's emotion-laden works with fierce social-political activism and critique of the avarice of the 1980s.
These Scharf bright ultra colorful science fiction cartoons surface from that era four decades ago that now find a new home on spread collar shirt-blouson, loose silk shirts, embroidered belts, and even a crossbody strap bag in the creative director Kim Jones for Dior Men's new fall 2021 taped runway show, stream on Prime Gaming like the Burberry spring show in September.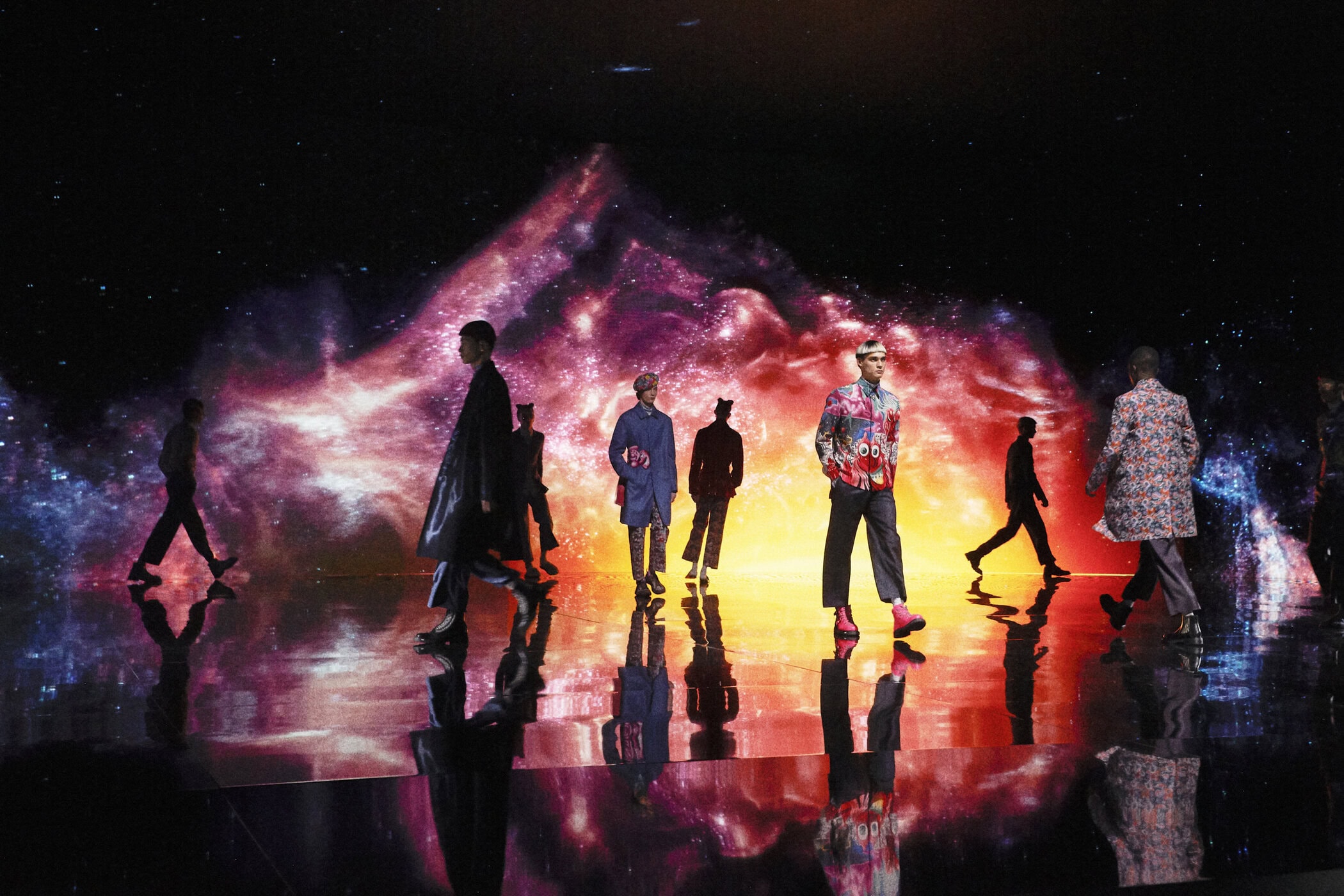 Bold statement items like those loud print silk shirts and turtlenecks and other casual streetwear pieces, sneakers, and small leather goods are the hallmark of luxury brands' business, at least in menswear. This drives the bottom line each quarter, not the heritage suits like the new versions of the double breast with patch pockets that serve w a nice high five to the Dior heritage, but the juice is clearly elsewhere.
These luxury cross overs have driven prices of basic tee shirts, sweatshirts, sweatsuits, and sneakers to astronomical heights in the race to connect to young consumers less accustomed to the traditional heritage menswear staples of suits, coats, and dress shirts, and the likes, creating a frenzy of ubiquitous luxury streetwear. Supreme, the grandfather of streetwear, was recently sold to VF Corporation with a brand valuation of over 2 billion dollars.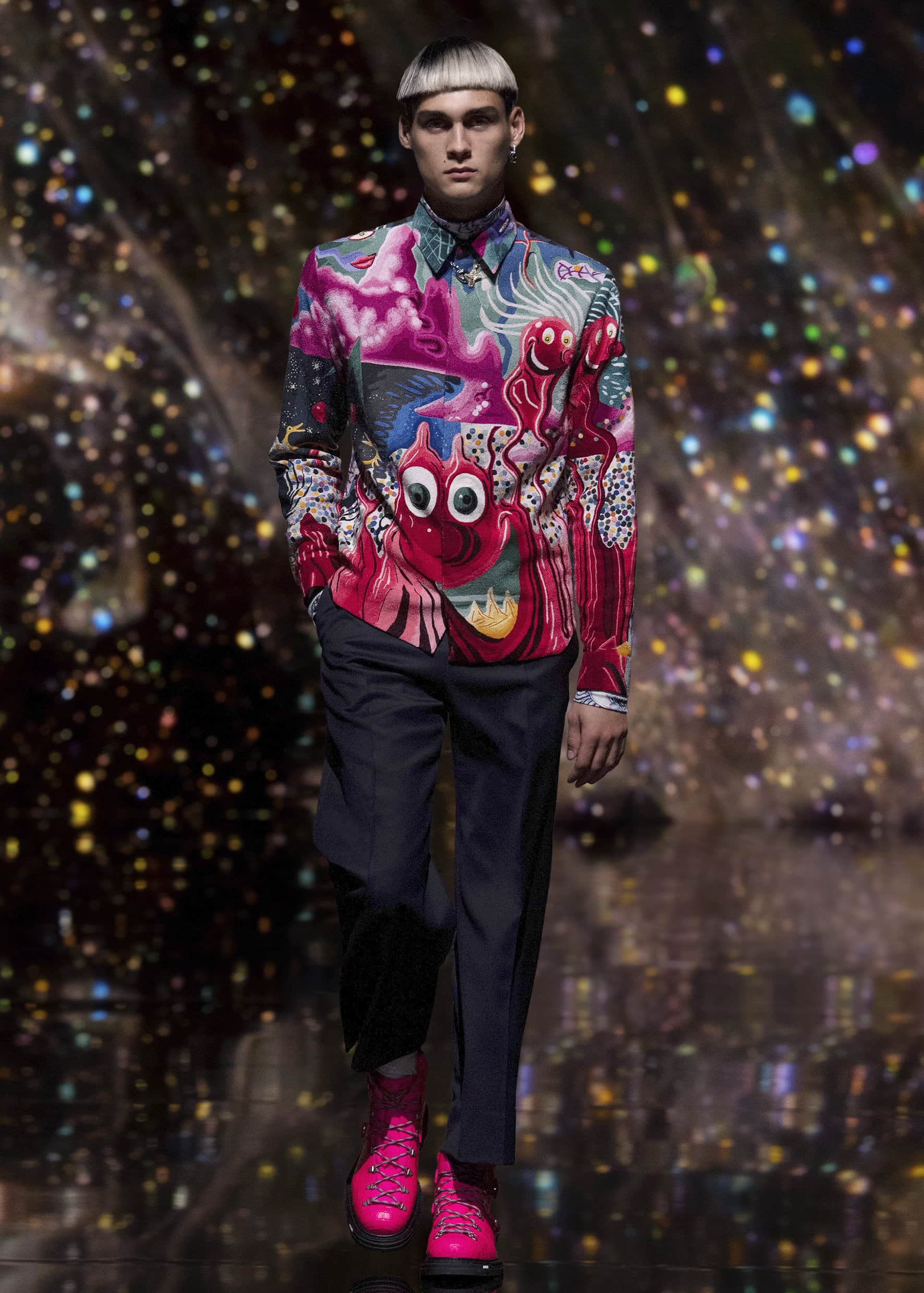 Another collection, another collaboration; another collection, another artist motto is fast becoming the standard operation here, which can spell dangers ahead. One may say that these kinds of artistic collaborations with the high fashion houses amplify the art by bringing art to new audiences, but how is the art served by the merchandising effects on prints on tee shirts, sweatshirts, or sneakers or even to the extreme some embroidered art?
Using both archival artwork from Scharf in a red print blouson shirt, dark black/purple pants, print leather boots or imprinted on the best selling Saddle bag that Jones made for his men's collections and a slew of new 'art' made specifically for this Dior collection, namely the different drawings of animals from the Chinese zodiac elaborately embroidered into very fancy waist belts or patches sewn onto a brown leather blouson.
The act of looking and purchasing, say, the Scharf print shirts, embroidered belts, or the saddlebag with crossbody straps has little to do with the promulgation of the understanding of art. Whatever remains of art here is just plain decorations on merchandise – costly merchandise – and not much more.
Scharf's archival and new artwork printed on tee-shirts, woven on sweaters. Hand-embroidered tiger on a short sleeve Shetland sweater serves the purpose of merchandising the collection to add a bit of noise to an otherwise straightforward collection of fine garments that in today's climate may not be sufficient to drive young consumers to stores on or off lines. But this process practiced by luxury brands in recent years helps the explosive transformation of ordinary clothes and sneakers into costly garments. And this beast has to be feed constantly with new and new collaborations and drops months after months.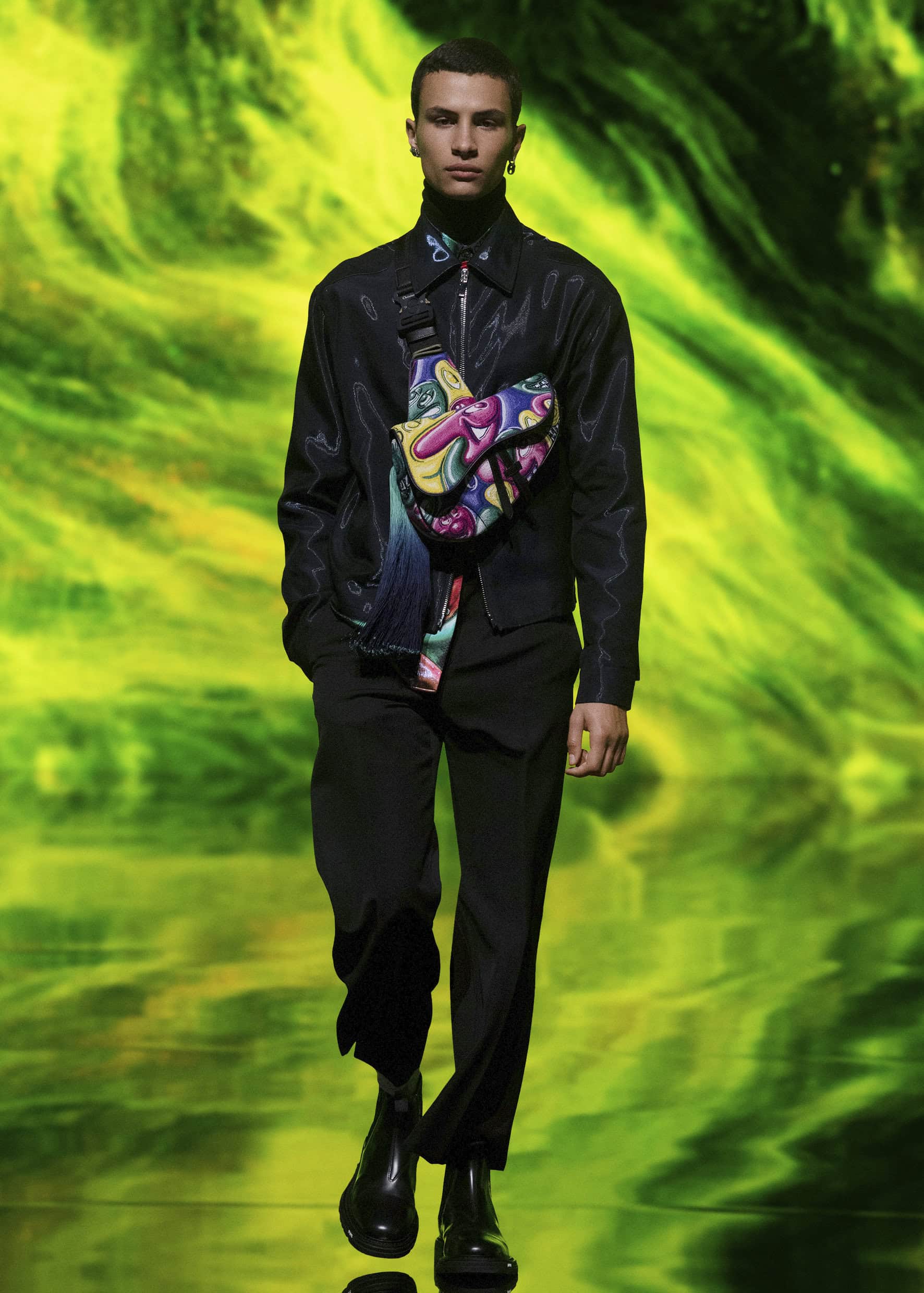 At the end of the day, someone wearing a Dior x Kenny Scharf print turtleneck or carrying the new saddlebag may convey something other than an appreciation for this East Villager of the early 1980s who made his art for canvas, cement walls, and stainless steel but not on these delicate cotton garments. Is the art of Kenny Scharf even relevant today as it has not been relevant since the early 1980s when he emerged in the East Village as part of a wave of new artists in the sleuth of galleries in that unprecedented era where new art meant something and where new art contributed to the cultural discourse?
In one sense, this may be a way of addressing the rapidly changing composition of the young customers yearned by all luxury brands, a way to show a product that's a bit different to these 'kids' by smashing a bit of art or music here and few real sports there. (The Dior x Jordan Brand capsule was a considerable success, sneaker wise.) Just look at the number of small leather accessories that each of the male models carries with them – small white leather square pocket strap purse, thin rectangular leather print strap purse, or a light brown leather rectangular pochette.
The other critical question lay at the heart of what menswear has become today. Are the collections of high design clothes made with the aid of a distinct and unique atelier has too little worth on their own that collaborations are required to sustain the interests of the targeted audience? Sure, in the digital era, very few in the mass audience care about this cut or that cut except that there is a great sneaker to go with any outfit. I am not certain if this Scharf collaboration will deliver the punch Dior Men may rely on to sell those great sets of suits used to be the commercial backbone in the mix of apparel in the brand total business.
But what about that narrative about heritage, about handicraft, and about creativity that luxury brands like Dior continuously harvest as a unique competitive advantage that many of the newcomers to fashion may not possess? The ateliers deliver the garments crafted to the specifications of the house heritage and standards.
In the midst of all these collaboration hysterias, heritage has been left behind as an afterthought in a Super Bowl game already won. Craftsmanship isn't a fable. Craftsmanship is the backbone of Dior, not a sideline bench players.
The extreme side buttoning double breast jacket, safari-style with military patch pockets and shoulder epaulets, and the slim fitted single breast 'Mao' jacket with spread collar, both paired with loose short pants, bring this Dior heritage of fine atelier crafted suiting in this fall 2021 season with a defining slim and straight-cut silhouette, belted at the waist in a nod to the women's Bar jacket shape. The shorter cut loose pants highlight the many versions of the Dior blue canvas Oblique logo slippers, lace-up hiking boots, sandals, and even light pink leather backpacking boots.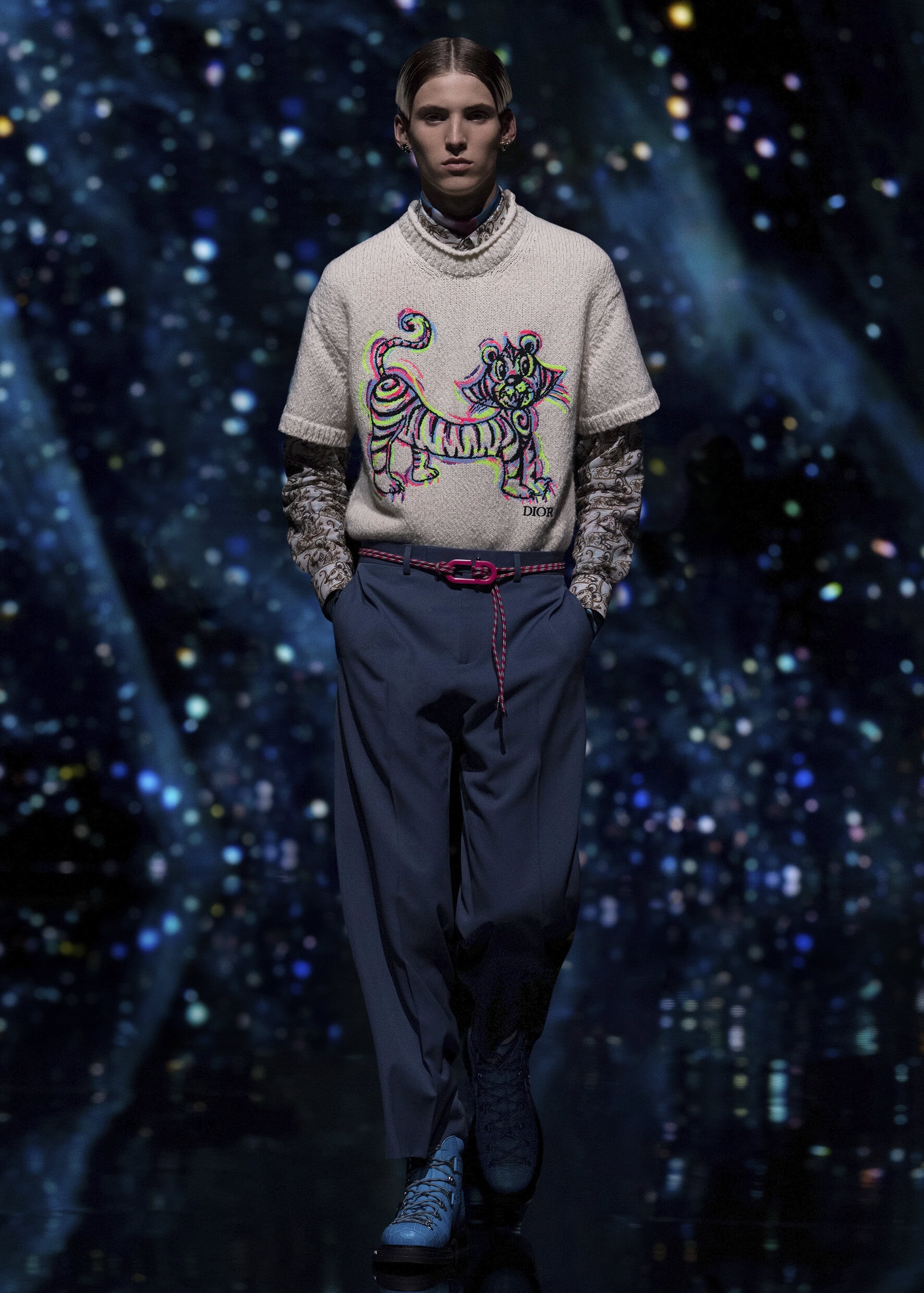 Upon close up inspection, this collection and even the precedent spring summer 2021 collection with another major art collaboration, either are much less revolutionary and contrary to corporate thinking do little to change the aesthetic of the fashion intended consumer. It does not change the aesthetic of fashion but feeds the machinery of excess. Perhaps it may drive some consumers to want to purchase but moving the needle of men's fashion not really, and not in any significant way.
These art collaborations showed, at least, for now, the lack of a unified esthetic for menswear at Dior since the days of Hedi Slimane. In those Slimane days, then called Dior Homme, there was consistent of a signature style seasons after seasons, a style established solely and powerfully only with the vocabulary of the clothes designed for a certain specified aesthetic mood. In those years, underground music played on stage and in the pictures that inspired the collections' characters. Still, the music never interfered with the clothes that spoke for themselves and spoke for a new young generation.
Slimane's Dior Homme was the veneer of men's fashion in the early aught, just as influential as Dior was himself in the 1947 decade in women's fashion. Although it might have been hard to notice, Slimane's Dior men's clothes had sex appeal and even worldliness to them, something Jones clothes, despite their intellectual repository, do not have. And these art collaborations seemed at best generic tricks and, at worst mere merchandising gimmicks. In other words, Jones is not taking any risks with his work at Dior, whether small or significant risks, but the designer instead works from formulas familiar to him. There is no daring, no grand risk in Jones' work at Dior.
What does this art stuff mean now, really? Perhaps, they are relevant to certain lifestyles though minimal.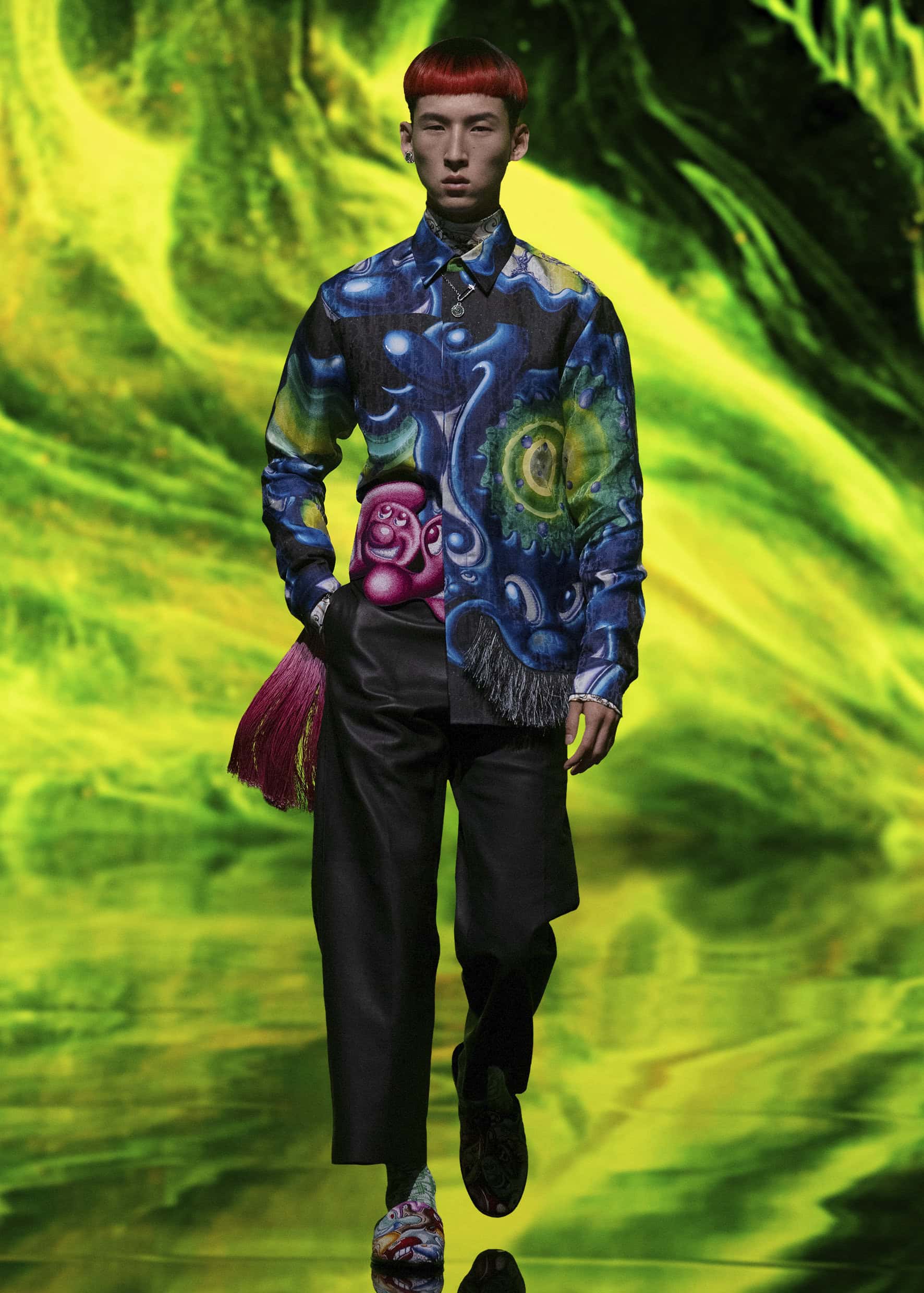 What Jones is selling here are just spare parts but not a whole car, and that may be fine in an era today that is just looking for the hyperbole products – tee shirts, sweatshirts, and sneakers.
Bold statement items like those loud print hood sweatshirts, casual streetwear pieces, sneakers, and small leather goods are the hallmark of the business of luxury brands, at least in menswear – this is what drive the bottom line each quarter, not the heritage suits like the Oblique, while a nice high five to heritage and all of that but the juice is clearly elsewhere. But the trick is that this machinery necessitates a continuous feeding of histrionics.
The larger question here is whether this kind of artistic collaboration is really a way to connect to new audiences, particularly to a younger public who really can care less about the intricacies of men's fashion design. The intersection of art and fashion seemed to trivialize the art that functions as mere decorations.
Jones's approach at Dior is first cerebral – mining the women's haute couture archives to find elements and structures in design applicable to the house menswear. But how many young people today enthusiastic about draping and cutting in the old ways in the clothes Jones made, especially in the last two seasons enmeshed with archival references. Yes, a silk sash ribbon from the inside of a jacket or a coat wrapped around the body of the jacket on the outside and hang loose in the back may be served as a springboard to advance fashion studies. Still, these looks do little or nothing to cater to the young kids the brand depends on for growth now and soon. Here a beautifully cut knee-length wool coat and slim wool pants are accentuated with a colorful print silk shirt bursting out from underneath.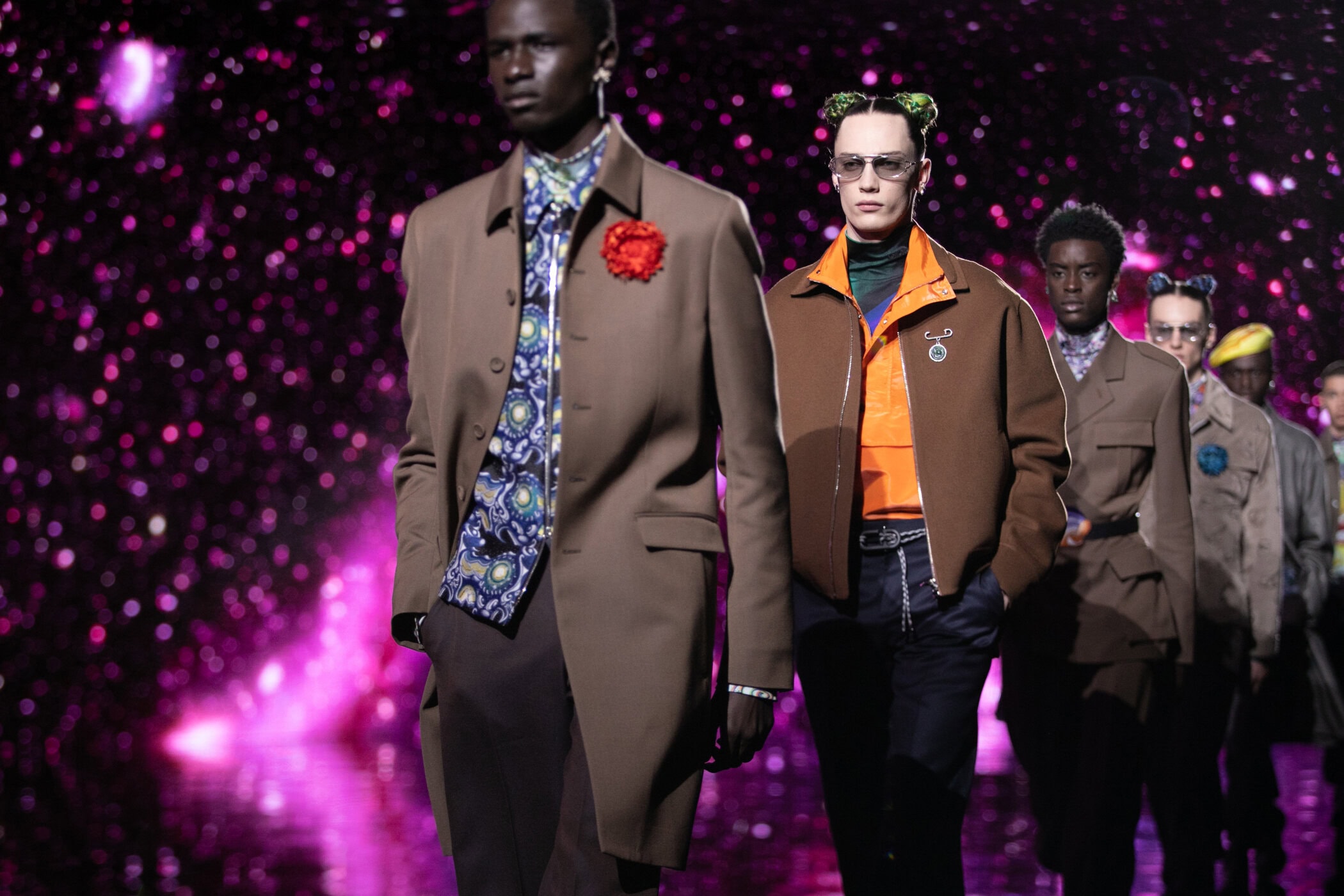 Dior should collaborate with artists to create something new – tweaking an idea or comingling shared ideas and concepts into clothes that represent an improvement from the individual idea existing separately on either end. Fashion has always depended on this level of discourse across disciplines and cultures. Above all, these kinds of collaborations should also be a recasting of joint conversations and exchanges, in a sense, a transformative and powerful exercise.
Great fashion stems from meaningful multi-cultural and cross-discipline discourses coupled with innovative designs that ought to provoke a revelation rather than discourses that only end with more products in the merchandise bins.
Above all, these kinds of collaborations should also be a recasting of joint conversations and exchanges, in a sense, a transformative and powerful exercise.
This Dior x Kenny Scharf fall 2021 collection isn't that sort of revelation, grand or humble.
---