---
Dior has shared with The Impression new content fresh out of Paris, highlighting the fashion house's Spring 2020 collection. With Creative Direction by Baron & Baron, the photographs lensed by Charlotte Hadden and Lean Lui are an exquisite homage to Catherine Dior, Christian's beloved sister. Catherine was the inspiration for the Maison's signature fragrance Miss Dior, as well as for the trail-blazing dress of the same name from 1949, which was made from thousands of silk petals embroidered together like botanical clouds that cling to the shape of the body and then spread out from a narrow waist to create the effect of a human flower.
Catherine inspired not only Christian, but also Dior's Creative Director Maria Grazia Chiurri.
I started this collection by thinking about one of Christian Dior's major inspirations: the garden, which Catherine Dior, his sister, cultivated and nurtured as a professional.

— Maria Grazia Chiurri, Creative Director for Dior
Chiurri has encapsulated essences of nature within her creations that we can all now enjoy through the magic of digital photographic recreations, ocular refreshments that will help to sustain Dior's adoring public during the current global health crisis, which has caused millions of people to be trapped indoors under quarantine. How poetic that even though gardens, parks, plants, and forests might not be available to everyone during this difficult time, we can still benefit from soothing biofeedback as imparted through these nourishing visuals. A short film called 'Dior Garden' that highlights their Spring 2020 collection was released recently as well, and can be viewed here. As Chiuri said at her Spring 2020 women's ready-to-wear show:
Flowers and plants are not just decorative ornaments, they are the essence of our environment. We have a duty to take care of it, today more than ever.

— Maria Grazia Chiurri, Creative Director for Dior
The layered digital collages by Charlotte Hadden herald the coming of spring, with an abundance of pressed flowers provided by Herbarium. Lean Lui's ethereal imagery of nature's bounty in the form of bouquets, persimmons, opalescent pearls, and a pale green Luna moth are fitting metaphors for the delicate beauty of the photographs themselves, which lift our spirits when we need it the most. We at The Impression wish to express heartfelt gratitude to the house of Dior for sharing their captivating creations with us and with our cherished audience.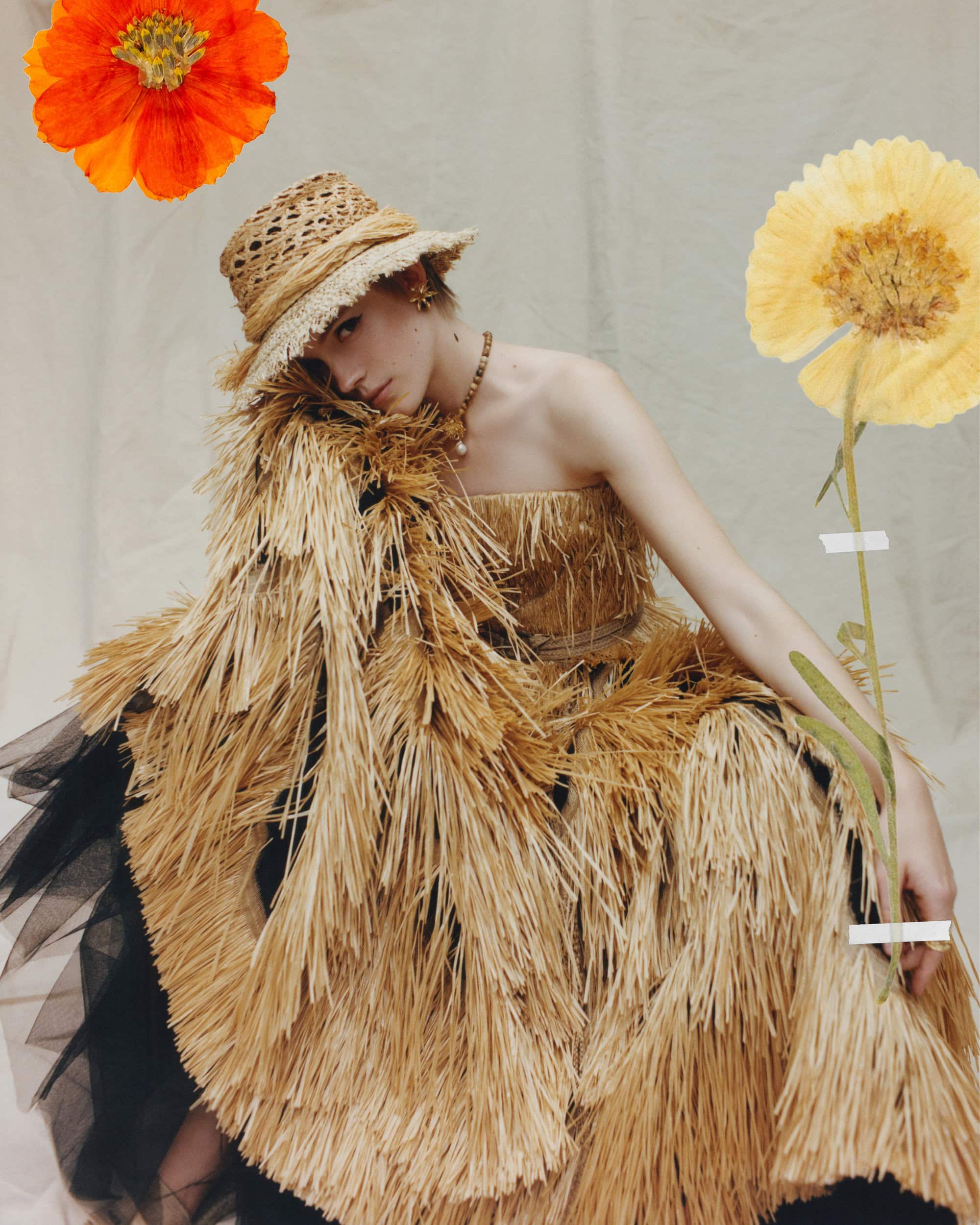 Dior Creative Director | Maria Grazia Chiuri
Agency | Baron & Baron
Pressed Flower Photographic Collages:
Creative Direction | Baron & Baron
Photographer | Charlotte Hadden
Model | Lucan Gillespie
Stylist | Matthias Karlsson
Hairstylist | Yumi Nakada-Dingle
Make-up artist | Lynsey Alender
Set Design | Samuel Pidgen
Pressed Flowers | Herbarium
Additional Photography:
Creative Direction | Baron & Baron
Photographer | Lean Lui
Model | Jia Li
Stylist | Matthias Karlsson
Hair | Christian Eberhardt
Make-up | Petros Petrohilos
Manicurist | Magali
Set Design | Chloe Guerbois
---