---
Review of Kim Jones' Dior Men's Pre-Fall 2022 Fashion Show from London
A Trip Back in Time to Birth of Cool
By Anna Ross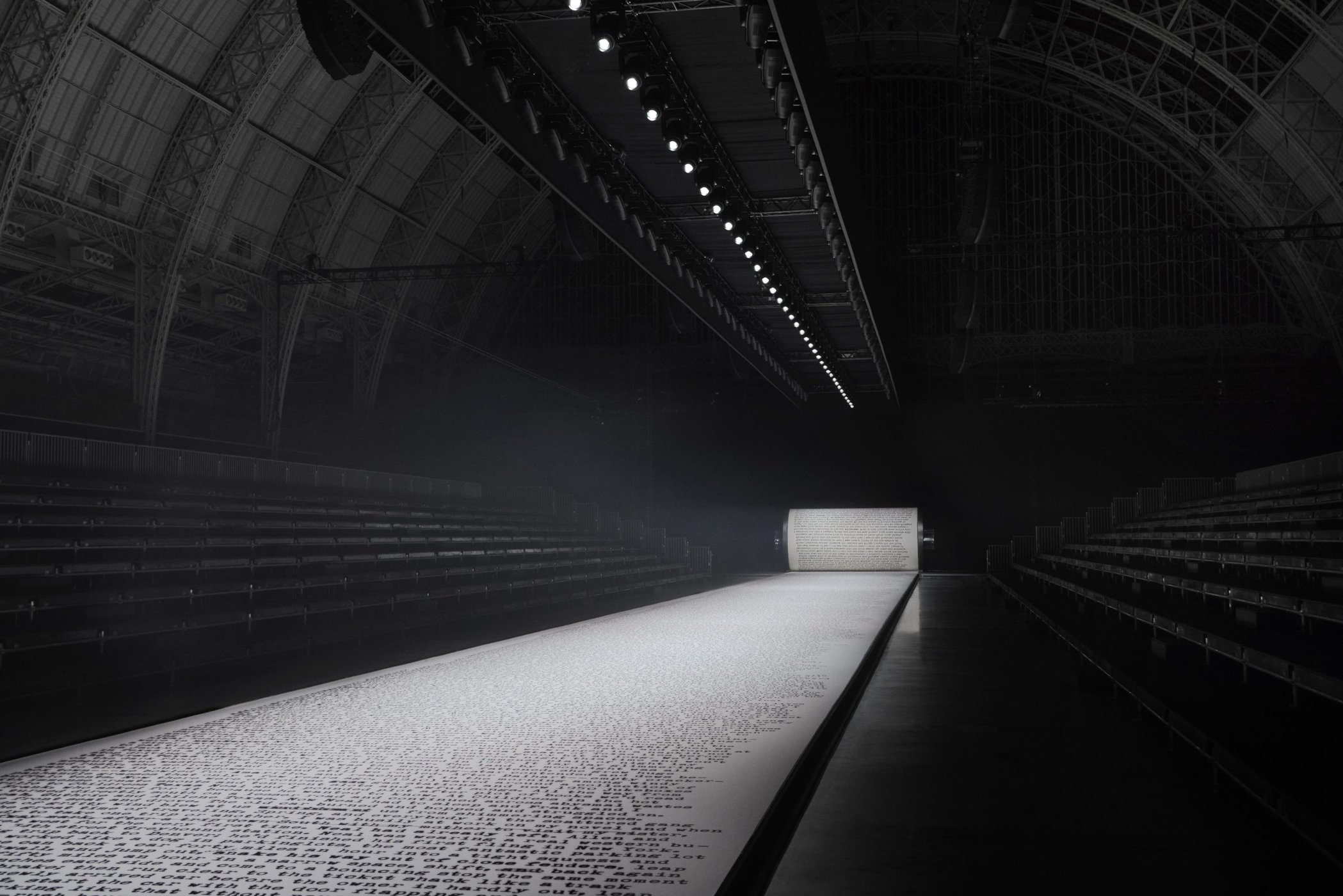 As it turns out, Kim Jones is quite the bookworm. Last night, Jones revealed his latest chapter at Dior with a stadium-sized event at London's Olympia, beginning the evening with a museum-worthy exhibition of his personal collection of rare books and manuscripts from the 'unrestrained creativity of the Beat Generation.'
Amongst the artifacts, a first edition of Jack Kerouac's modern classic, 'On the Road', which tells a story of friends Dean Moriarty, Carlo Marx and Sal Paradise (based on Kerouac himself, his muse Neal Cassady and the poet Alan Ginsberg) traveling America, living the epitome of 1947 post-war Beat Generation; sex, drugs, drink and jazz.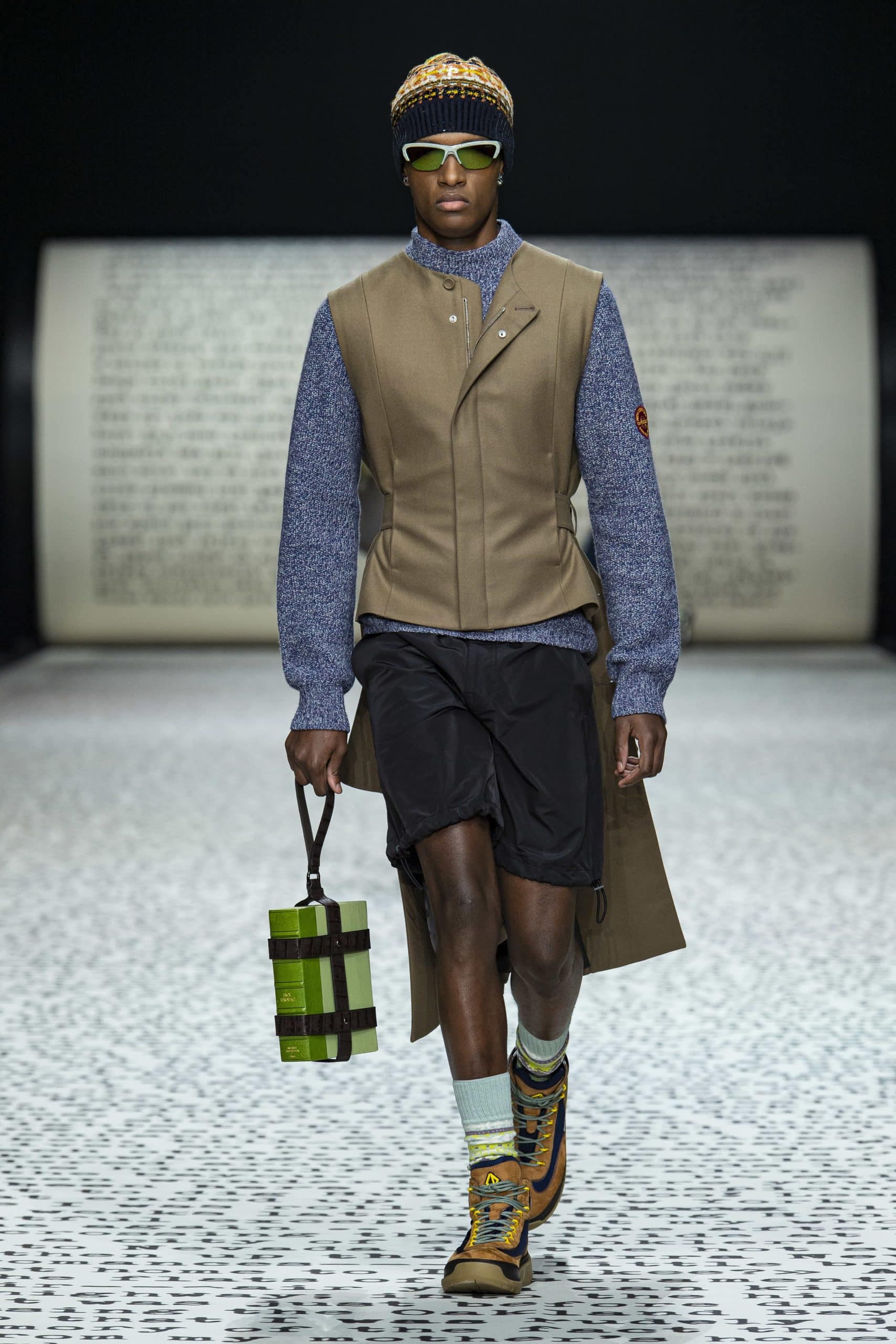 Elsewhere, an array of unseen material from the infamous trio, showcasing letters between the three friends, unpublished manuscripts by Kerouac, intimate family correspondence of Cassady's and vinyls with Ginsberg's poetry recitals. Throughout, other artifacts showcased how Kerouac's work influenced everyone from Bob Dylan to Andy Warhol and Patti Smith, an entire (enviable) library showcasing the birth of 'cool' in contemporary culture.
The exhibition laid the foundations for Jones's Fall outing, whereby guests were greeted by an 80-meter long revolving manuscript of On the Road, serving as the stomping ground for his gang of achingly cool Beatnick boys with their slicked-back hair, charm-laden earrings, hefty brogues and attitude to boot.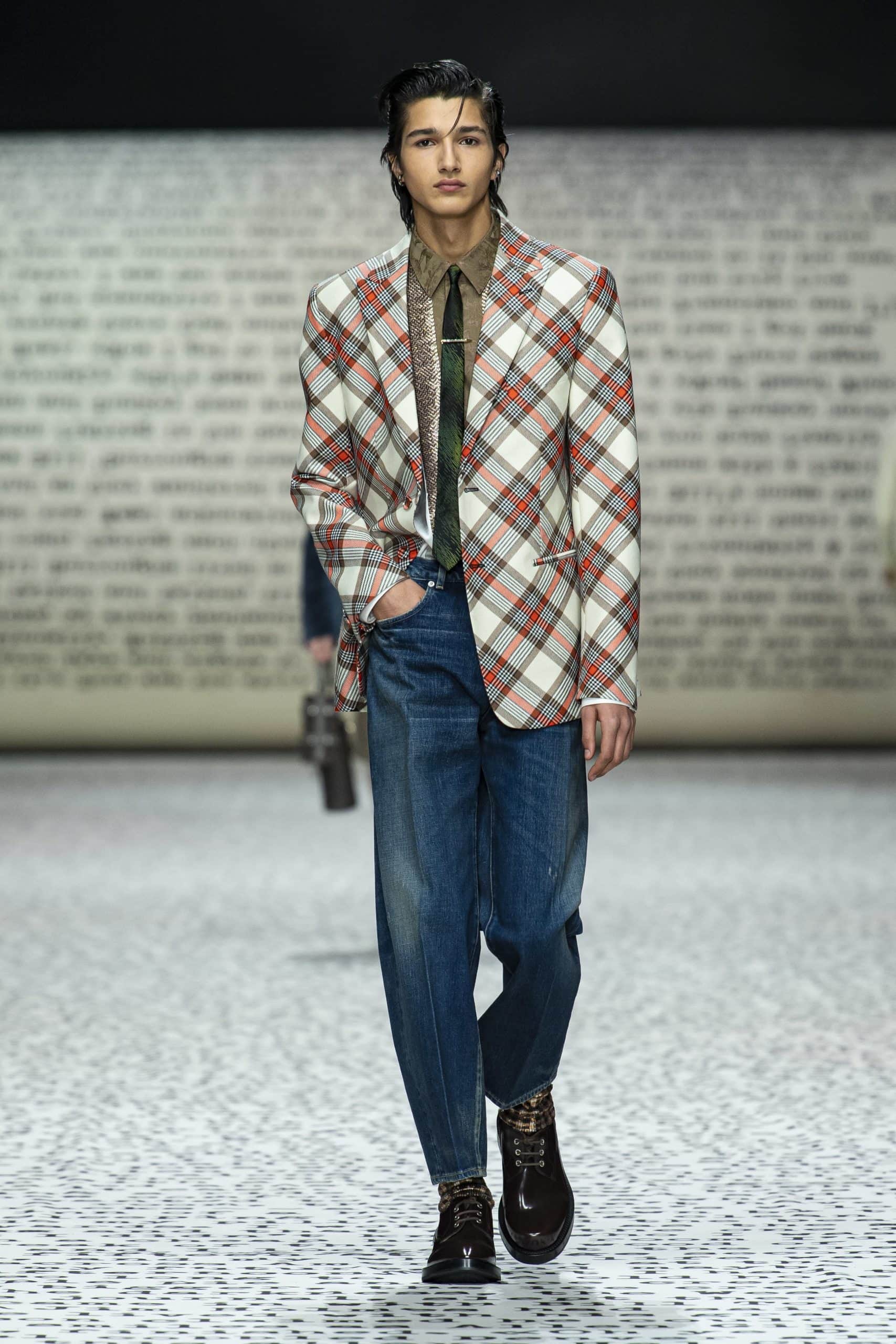 Rich with reference, one could see mid-century Americana sportswear in every inch of the collection; generous aviator jackets, checkered shirts, cropped flares, bias-cut tweed blazers and leather truckers were paired with skinny ties and tie-pins. But this was far from just a throwback.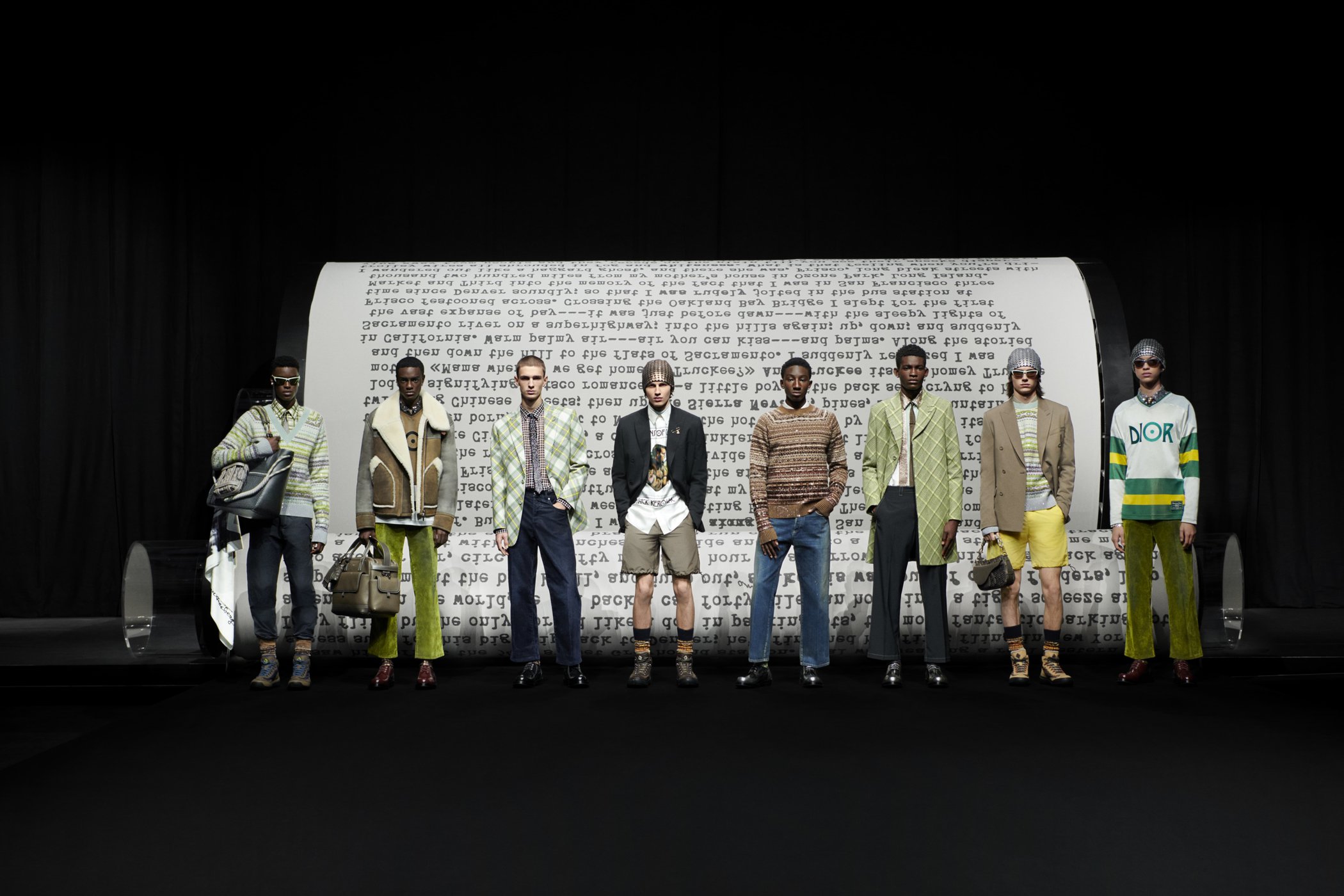 Jones's has a penchant for taking tropes of the past and giving them contemporary kudos; technical nylons were used across parachute-esque shorts and hiking pants, luxurious knitted sweats came tucked into walking boots for the modern man on the move.
That idea of transience and freewheeling was felt throughout: trench coats were re-interpreted into backpacks, the classic saddle bag came super-sized and updated with climbing rope, coats came cinched at the back, ready to be adjusted for whatever the weather.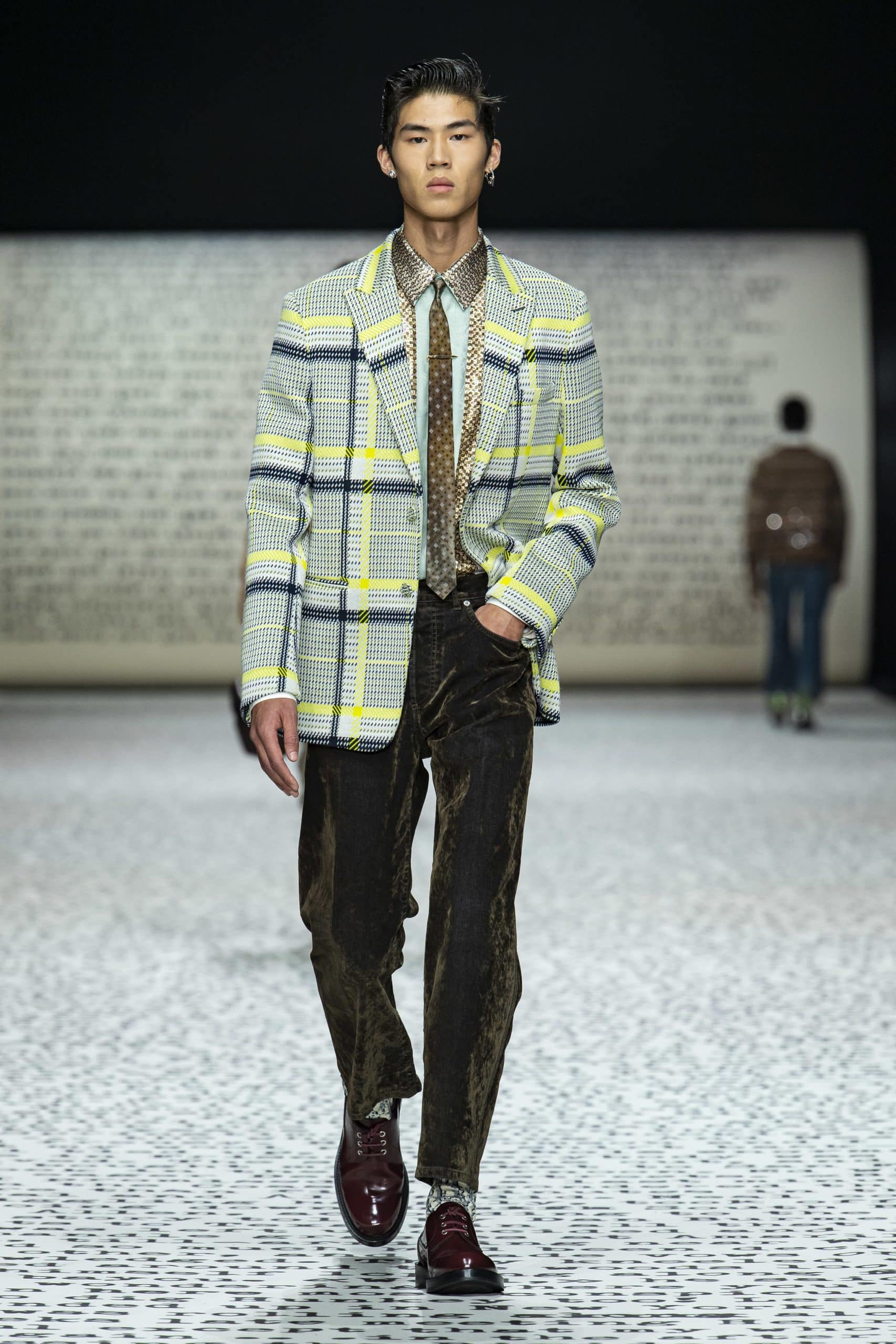 Elsewhere, the subversive, underground glamour of the era was translated by Jones with sparkle and pazazz. Socks came in soft silks or sequins, collars were studded with diamante, denim silhouettes were rendered in tactile velvets, and fair isle sweaters bounced with dazzling paillettes. Smoking jackets were licked in quilted velvet, paired with sport-goggle sunnies and oversized beanies.
The glitz was a jarring assault to the sleek mid-century modernity of the rest of the garments. Still, that defiance felt right in the hands of Jones – as if nodding to the rebellious, carefree attitude of his Beat-trio.
In and of itself, this collection was a voyage. It was a trip back in time to the birth of cool, a deeply personal insight into the mind of a great designer, a collection of eclectic pieces fit for whatever journey life throws at us – and a nod to the timeline of a heritage Parisian brand. The year 'On The Road' was published (1957) was the year that Christian Dior passed and the year that Yves Saint Laurent briefly took the reins and showcased his 'Beat Collection' – one that was received by the fashion world as rebellious and outlandish for its time.
With that idea in mind, the collection felt almost a little too polished. I yearned for something more rebellious, more gritty, a touch of danger here or a Patti-Smith esque shirt there. An attitude was showcased in the characters and storyline, which lacked – at times- in the clothes.
Mind you, I'm not sure the Dior customer yearns for an outfit that looks like it's been in a bar brawl. Maybe that's just me. The collection was ready to wear in every essence; no doubt it will thrive and be adored by Jones's loyal fans, of which there are plentiful.
This is a designer who has his finger on the heartbeat of the Dior brand and is succeeding at translating its heritage to a modern audience. A collection rich with history and one, indeed, for the history of fashion.
---