---
BY LONG NGUYEN
"SHE IS CLOTHED WITH STRENGTH AND DIGNITY"
"White golden is the sky where sweet breasted angels run. Saracen warriors and wise donkeys with opulent ruffs, Lecce, a carnival of stone simulating infinity in a thousand ways," was how a pastry shop owner described her picturesque and historical city Lecce in a film compilation where other residents offered their opinions in a short film by Edoardo Winspeare featured at Dior's Instagram the day before the actual physical resort show in the capital city of the southern region of Apulia.
"During this period, I sought to give collective efforts a new dimension. Despite the disadvantages of distance, bringing a different perspective to our daily lives has given us strength and imagination," said Maria Grazia Chiuri, Dior's creative director, in the press notes released prior to the show where she emphasized the needs to complete this project that had started before the period of confinement to support the local talents and artists.
At the Piazza del Duomo in Lecce's center, the luminous architecture Fratelli Parisi created was a multi-color light artwork in the tradition of Luminarie that decorated and enveloped virtually the entire square, together with the Italian artist Marinella Senatore who created statements now engraved in fluorescent formatted letterings. Here one sign read in white lights 'On peut créer des revolutions sans les avoir cherchées' and there over the arch where the models enter the square in large red letters are 'Be a Builder of Unguilt' and beneath this, the sign says 'We Rise by Lifting Others'(the 'o' on both cases is the female symbol, not a regular 'o').
The Italian composer and conductor Paolo Buonvino directed his orchestra – the Orchestra Popolare – in a live music performance for the show under a lit circular dome in the center near where a group of male and female dancers stood still, readied to perform their special pizzica dance, an old pioneering primitive energy that is native to the Puglia region, re-envisioned here by the choreographer Sharon Eyal.
The 90 models cast for the show entered the Piazza through a lit archway. Each wore a single outfit and walked around the dancers as they performed their routine similar to the dancers in the Dior Spring 2019 show in September 2018 in a tent in the Bois de Boulogne. Due to current health regulations in Italy, the Piazza was completely empty of people where an event of this nature would have been packed. 
While Lecce and the city's history, culture, and architecture provide a new setting for this Dior Cruise, the clothes worn by the models who walked around the group of dancers in a city square decorated with colorful lights are the signature work of Maria Grazia Chiuri, looks that she created and each season has reinforced since her arrival at the house in 2016. This time the silhouette is lean with both long skirts and dresses and hot pants mixed with unstructured jackets cut more like a relaxed shirt than anything too padded. Even the often structured Bar jacket has reincarnated into a sleeveless double-breasted sleeveless jacket worn with a floral knit and a long woven-stripe-patterned skirt. The black long-sleeved square neck or the white cotton open sleeved long evening dresses towards the end of the show are great for their simplicity and effortless elegance.
Chiuri incorporated some of the richness of the region's specialty artisanal craftsmanship into creating fabrics and embroideries from fabrics made from an age-old weaving technique tessitura calabrese now used on linens, cotton crepe, herringbone, and satin jacquards like the green pattern rectangular neck long dress with fringes worn with a white sleeveless shirt or an ecru linen soft short jacket and long skirt to the tombolo embroidery technique that employed wooden bobbins to tie and bind the threads now seen on green or white tulle skirts, with vivid floral embroideries that reinterpreted the floral May couture gown from Spring 1953. Fabrics from Le Constantine Foundation are used to make several versions of the relaxed and leisure feel-at-home jacket.
There is a change of scenery but not much of a change of clothes.
That said, it may be imperative that in these current times presenting something familiar is better than any possible departure, however slight, from the recognized signature. Customers may only want pretty clothes and clothes that they know with certainty will work for them. There is little room for errors now and less for taking any risks. It is also conceivable that since these are the garments that move well at retail, why bother to change course when something is working well business-wise. Consider that now may not be the best moment to tamper with these clothes since so much can be at stake in retail.
But central to the Dior heritage is fashion design and the Dior house is built on the revolution of the house's trademark designs enriched each season. However, this should be a question to ask for the next haute couture season rather than cruise or ready to wear, where the prime directive is placed more on business than on design innovation.
Pretty clothes abound in this cruise show.
Choices are plentiful ranging from summer hot pant suits to long pinafore dresses in multiple types of fabrics, like the different versions of the chiffon gowns. The dark olive military coat – short or long version – with floral embroidery for example is an excellent choice of a garment that can last many seasons forward. The various denim large patchwork jeans – one paired with a multi-color stripe knot vest and fringed coat and another worn with matching dyed jacket – gives a casual break to the show among the lace and embroidered tulle dresses. Here too, the denim jacket with colored fringe sleeves worn with a colored long skirt is a standout. The leather harness belt felt at times constricting for a collection bent on less restriction. After all, the pizzica dance represents at its roots all these movements signifying the liberation from oppression to freedom.
Without a doubt, there is a sense of ease in this show – a sense of bohemia – and the clothes feel much less of an intellectual journey of the previous seasons. And in this time of crisis, the simple pleasure of wearing pretty clothes may just suffice and in fact, more than suffice.
'SHE IS CLOTHED WITH STRENGTH AND DIGNITY.' – are the word of one of the white neon signs scattered around the magically lit Piazza, seen when the girls exited in a large group after their finale. Those words 'strength' and 'dignity' can also be applied to describe this show for the sheer efforts and perseverance that was required to make it a reality – both the reality of a real live fashion show and the reality of a complete and unabridged collection despite all the potential hindrances.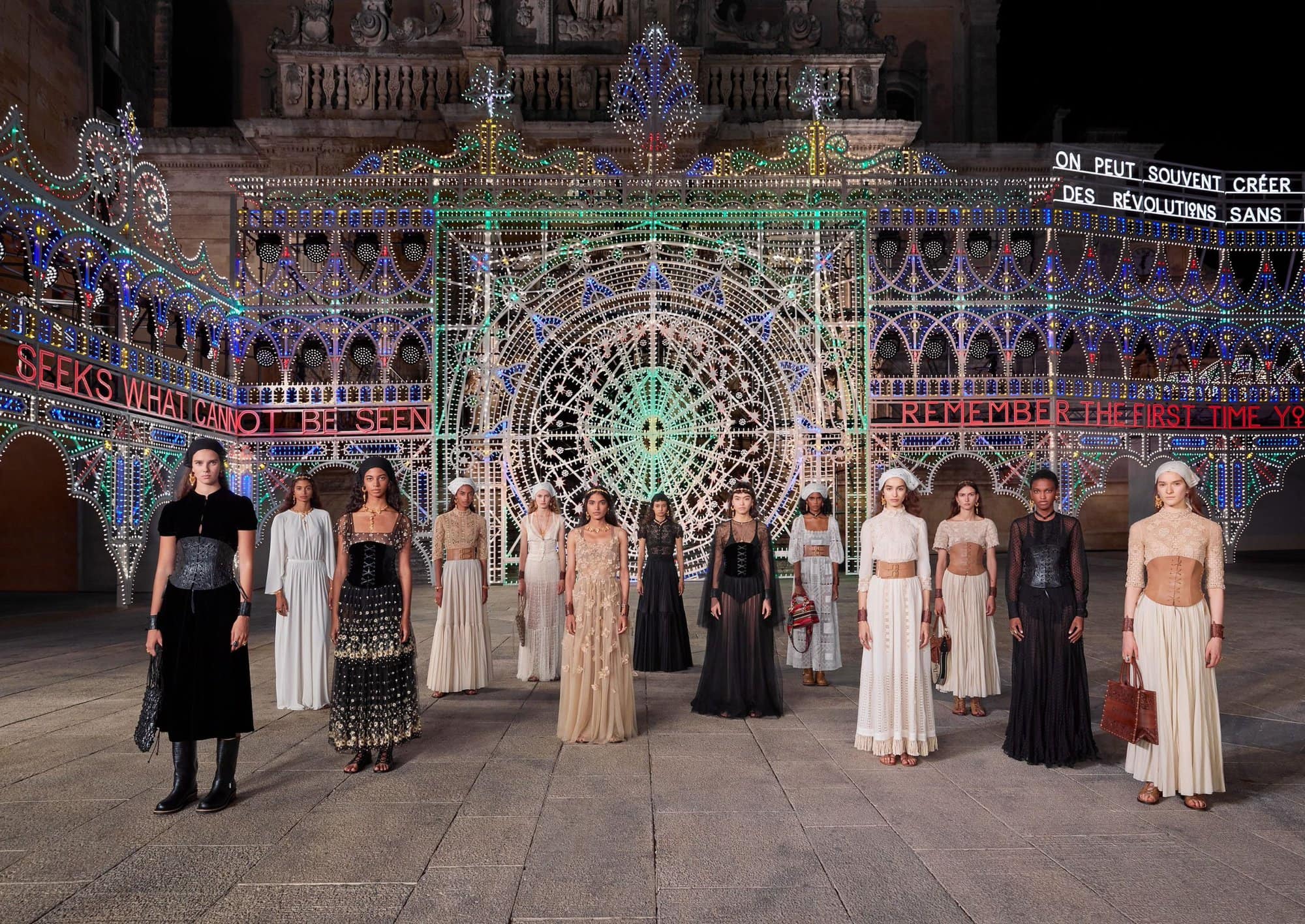 ---