---
Review of Dior Spring 2022 Fashion Show
Radical Pivots to Youth Via Unsung Heritage and Pop Art Colors
By Long Nguyen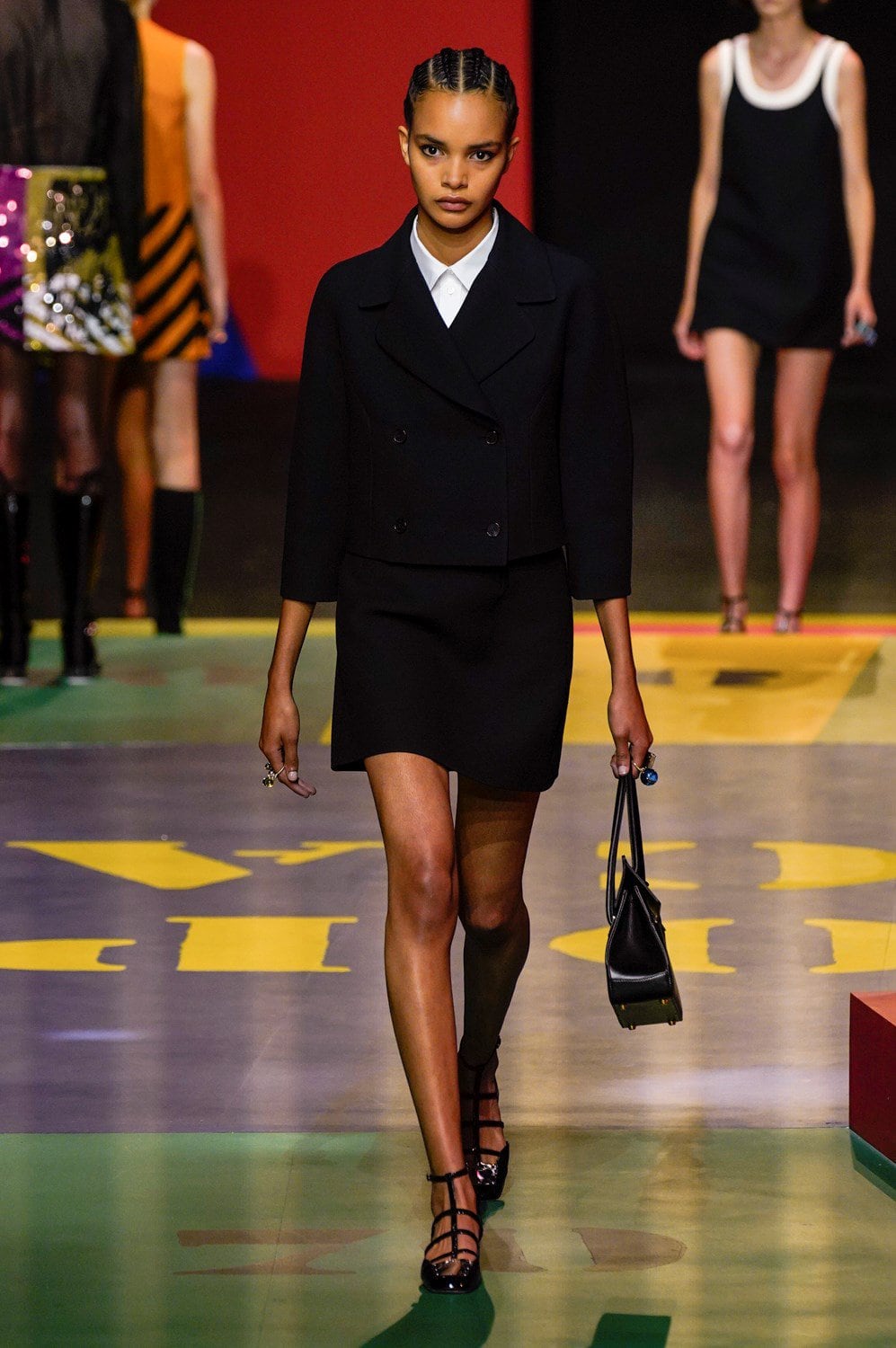 Marc Bohan was a large figure at Dior that was mostly not recognized publicly. Even in his brief two years at the house, Yves Saint Laurent was more known, perhaps because of his successful business. Nobody remembers Bohan even though he was here for nearly thirty years. He was responsible for moving Dior from haute couture into ready-to-wear is the future of the house. Nobody recognized the shape that Bohan created in his first collections. Viewed in this way, YSL was more of a traditionalist. At the same time, Bohan was more revolutionary and the first to breach the Dior tradition," Maria Grazia Chiuri said backstage at the tent in the Tuileries in a preview before the usual model full rehearsal.
"A real show is essential for fashion. Fashion is about people. Clothes are crucial for us, and you have to have a feel for the clothes," Chiuri said about the notion of having a live audience again in a more significant way. This time, Chiuri collaborated with the Calabrian artist Anna Paparatti, visual poetry of the avant-garde art in Rome in the 1960s and 1970s, bringing a new sensibility to the imagery of words and graphics. Paparatti, known for her multiple works based on the idea of absurdist games or colorful work titled Il gioco di nonsense (the game of nonsense).
For Anna Paparatti, life, art, and fashion – at least her personal style – always intertwined.
Here, the colors in Paparatti's art permeate throughout the collection in vivid manifestations of these new streamlined sheath dresses and slim jacket skirt suits. And not just in the wooden circular stage set, especially for this show to imbue that sense of play that can lead to questioning reality and imagination. Models posed on each of the color slates then moved in circular clockwise movements to walk around the structure Paparatti created and titled Il Gioco del Nonsense, 2021 in a stage set realized by Alexandre de Betak to a live performance by Il Quadro di Troisi.
In the pivot to youth for this Spring 2022 collection, Chiuri reflected on this time frame today and asked herself the changes needed in her fashion expression, at least a radical change and not a progressive one that will take several seasons. The linear silhouettes anchored by the miniskirts and short sheaths dresses and new versions of the Dior Bar are nearly unrecognizable from recent iterations that were so much more traditional in terms of the trajectory of the design.
Chiuri is initiating this somewhat radical departure via the route of changing the structure of her fashion.
"I looked at the pictures of them together," the designer said of the close relationship between Bohan and his daughter.
Chiuri was also looking at Paparatti's style as the embodiment of the rebellious freedom of the early 1960s in Roma that impacted artists and involved the entire generation coming of age in the significant post-war era of economic-social-political changes that upended the traditional and patriarchal structures. "She had a style that personified the very active social changes in Rome at the time," Chiuri said.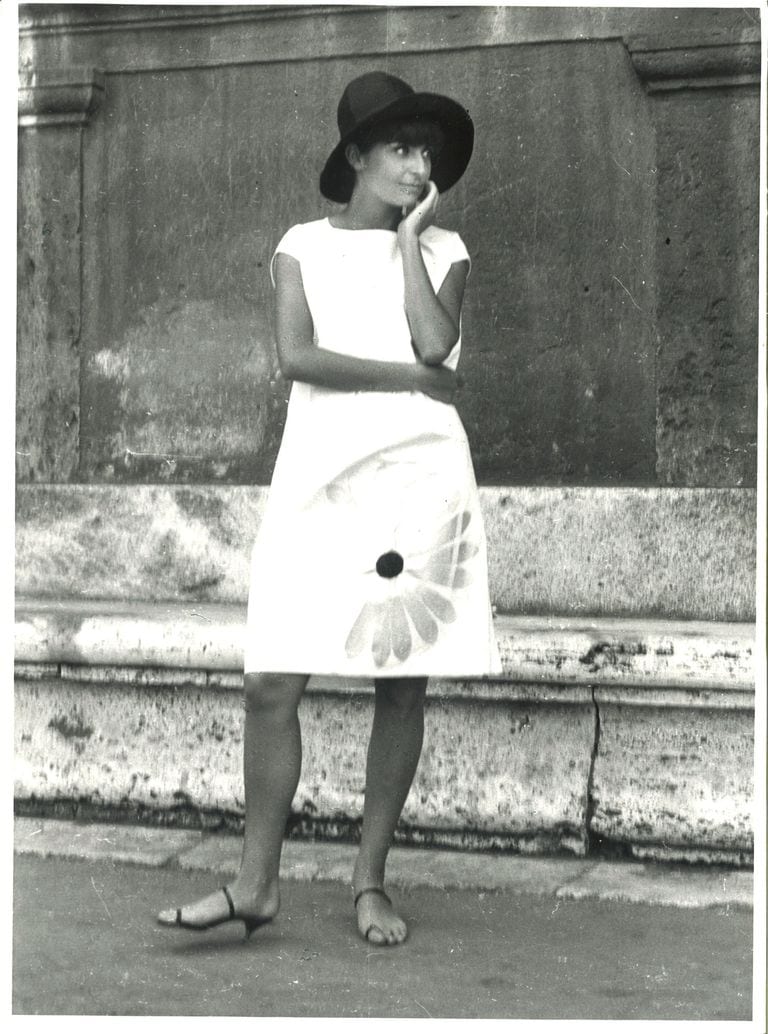 What was dubbed as The Slim Look at the time was simply a shorter, slim, and streamlined jacket and knee skirt, but that was enough of a significant change in design, giving this a new look the blessing of the era of the early 1960s. Then, the spirit of liberation was in the air and in the fight to be free from sartorial confinements considered critical to achieving that level of personal freedom then in the 1960s and now today. It was also the liberation from Dior's New Look which imposed structures onto the body.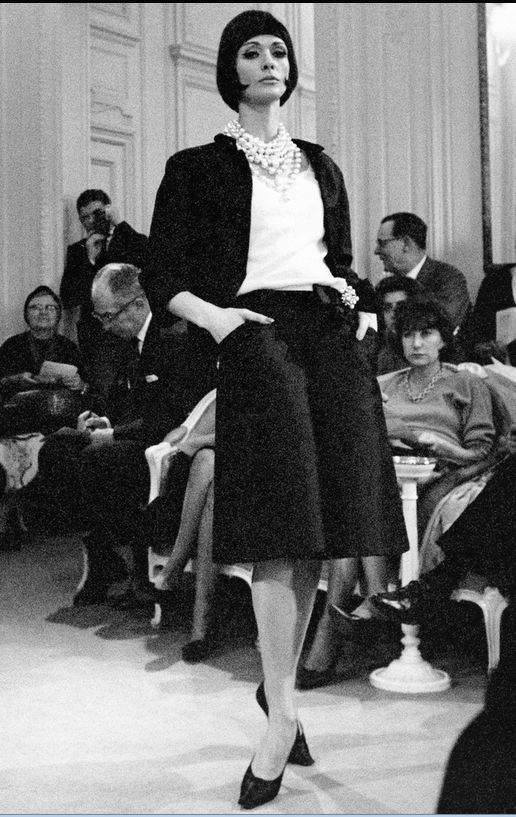 Dior Haute Couture Fall-Winter 1961-1962, Slim Look
"The silhouette is supple, slim, the shoulders are natural, the waist sinuous, the hips are very flat. The skirts flare gently in a mindful movement and stop just below the knee," the Dior press release said at the time for Bohan's fall-winter 1961-62 collection.
Dior himself engaged Bohan in 1957 intended to entrust the assistant designer to care for the New York couture line. Still, Bohan ended being appointed the third house designer in late September 1960. The Slim Look came when women dressed in more unhindered manners to liberate their bodies further within these more streamlined garments considered the silhouette of modernity. Chiuri emphasized the great importance of Bohan introducing the Miss Dior prêt-a-porter when Paris fashion was still about haute couture.
Chiuri pointed to the fourth look in the show on the large board with the model's lineup – the black chemise loose dress worn with a white cotton blouse almost like a carefree schoolgirl uniform as an added point of departure sartorial for of freedom. Freedom in movements and the reins of traditional forms of dressing that were more restrictive perhaps also the kind of clothes even at Dior.
I love Bohan's work. I think his work is very close to my idea of fashion. He broke with the Bar jacket! I wanted to celebrate him and the new silhouette in this collection because Dior isn't just about the Bar jacket. Now with these new shapes, it gives different attitudes as well. I have different fits for these jackets that we have given them numbers," Chiuri said of the different jackets.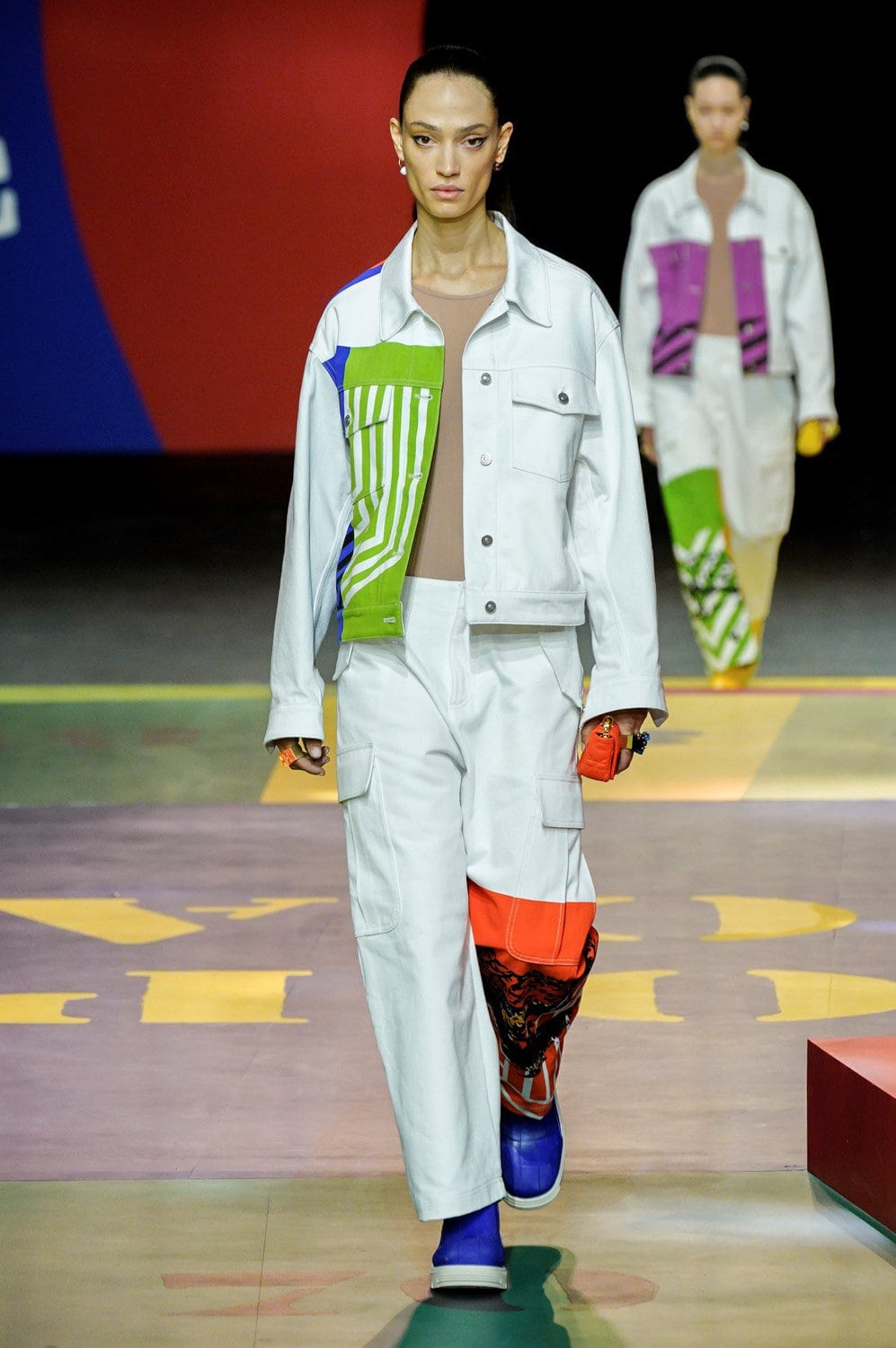 That slender silhouette, feminine shoulder, and hem just a bit below the knee then now translated to the black wool cropped linear double breast jacket, white cotton dress shirt, short skirt, and leather strappy sandal. The new Bar jacket comes as six buttons double breast jacket with a less prominent emphasis on the hips, a bit straight line, and paired with the mini skirt, the show's anchor garment. Every look has either a mini skirt or a pair of slender shorts.
"As in every collection, we have commercial alternatives, but this time the skirts will stop just above the knee as it is the primary shape for spring," Chuiri said when asked if the range of micro skirts would offend the older customers. They may not be amenable to this new length. But, the designer insisted the skirt length that ends above the knee is the limit to preserve the aesthetics of this collection.
I do what I think is right for now," Chiuri said of the radical change she introduced this time.
The colors – orange, yellow, green, white – are not familiar to any Dior collections. "The house is more known for grey, blues, and black rather than so many colors," Chiuri said. The short khaki trench and knee-length skirt or the trench with graphics added patterns to the minimal shapes. "Colors are essential for these simple silhouettes. There are more graphics and less decorative. You have to remember that the Dior color range is minimal. These are clothes for an optimistic moment as we start again."
Chiuri is right to insist that she must create collections she believes are suitable for this moment as a designer.
In the show, there were segments of sports and street clothes that at first seemed unlike the kind of collection that a big luxury brand like Dior should espouse. "Sports have always been important in fashion, and I think today more and more people than ever are participating in all different levels of sports," Chiuri said, referring to the segment of purple, green, red, pink, and yellow silk baseball jacket with boxing shorts.
"Sports in a way is also part of the liberation of women as women can now compete," Chiuri emphasized. Remember, her first Dior collection for Spring 2017 was based on fencing.
As for the denim, the streetwear separates with graphic prints – are they Dior, and should these clothes also be Dior? Posing this question is somewhat ludicrous at this point simply because no luxury brands should be restricted to certain types of vestments.
That said, Dior is reaching out to the younger Gen Zers with the clothes these kids can sense a degree of familiarity. So say a young kid looking online at night seeing embroidered, and chiffon dresses and Bar skirt suits, what would this youth think of the Dior brand? Ya, you guess right. But in seeing the brand conversing in the same fashion dialect, a bridge is built where it might not have been possible before. Genius marketing, maybe, but how about common sense?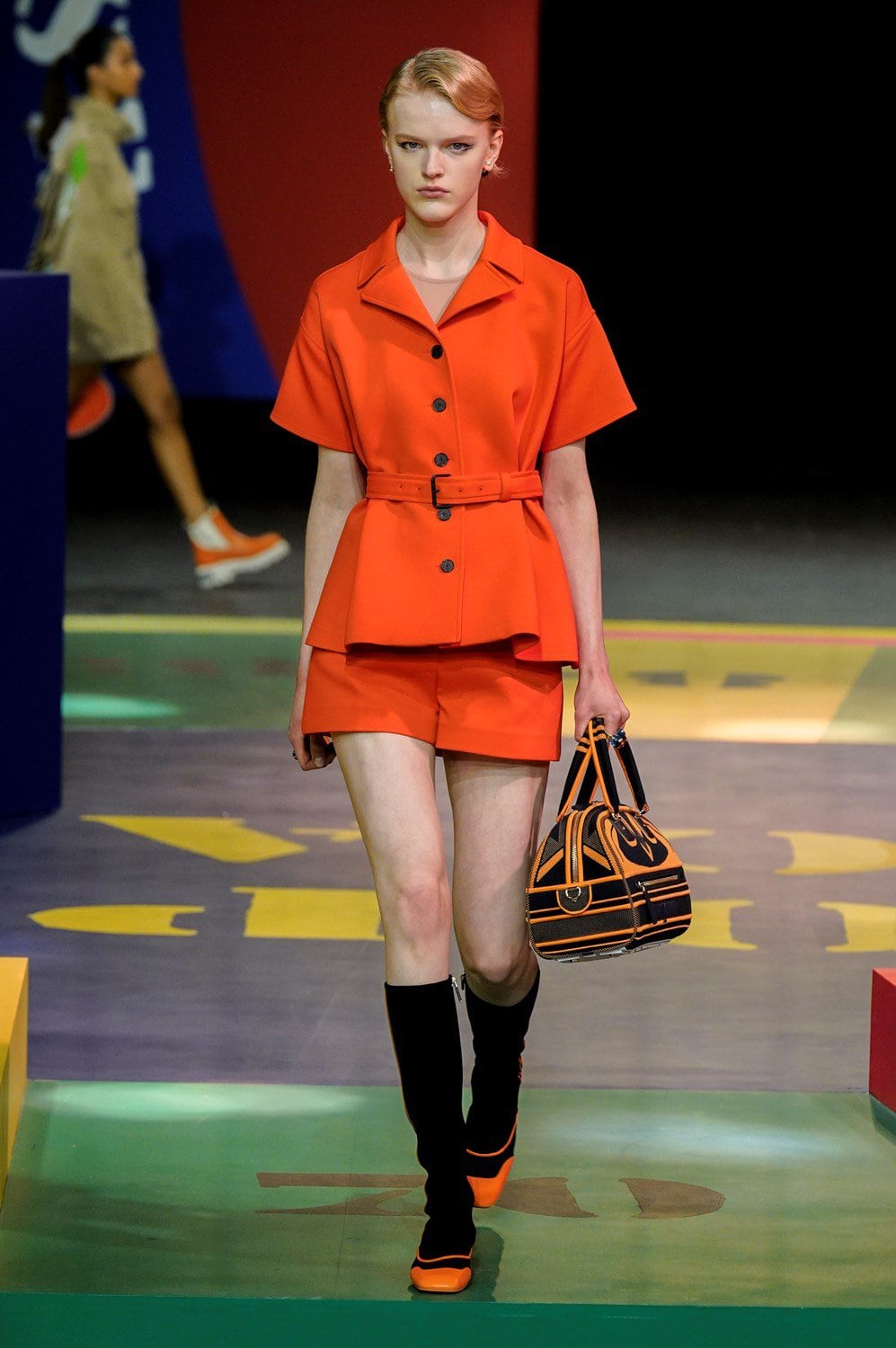 How are these white graphic types of denim jackets and pants not Dior? No one ever said that sweatshirts and tracksuits should not be part of Balenciaga, Celine, and Gucci. These garments – however, their attributes as streetwear or sportswear – are essential modern garments. They are game to luxury and any other brands making clothes. On this point, Chiuri mentioned new technology to develop new fabrics for these sportier clothes.
Chiuri said that as a designer, she has to do what she feels is right. And, in this grand gesture pivoting Dior towards Gen Z, Chiuri surely encounters traditionalists claiming this collection isn't Dior. It was not even that long ago that there were too many sheer tulles looks with Dior logo bra and underwear underneath. Even before many spring collections in New York then Milano featuring bras as the new blouse in the era of a new sexual revolution, well once again.
In fashion, at times, a radical departure is necessary for lieu of small steps. Chiuri didn't brush aside any Dior heritage. She embraces an underrepresented direct lineage of the house, a pretty central Slim Look codes buried and nearly forgotten nearly sixty years ago until today. It is also good to be out of the comfort zones.
---