---
Review of Dolce & Gabbana Fall 2022 Fashion Show
A seductive show of extreme power shoulders and sheer sensuality
By Lizzy Bowring
What's happening in Milan? Well, in just four days, it's like this – one is how some brands are taking a step back and re-evaluating their brand's persona and reach, and the other is a recurring theme – dominatrix, sex, power shoulders, black.
For a city known for Italian craftsmanship and a sense of a more gentle style, we are witnessing some sizzling nuances of absolute sexiness"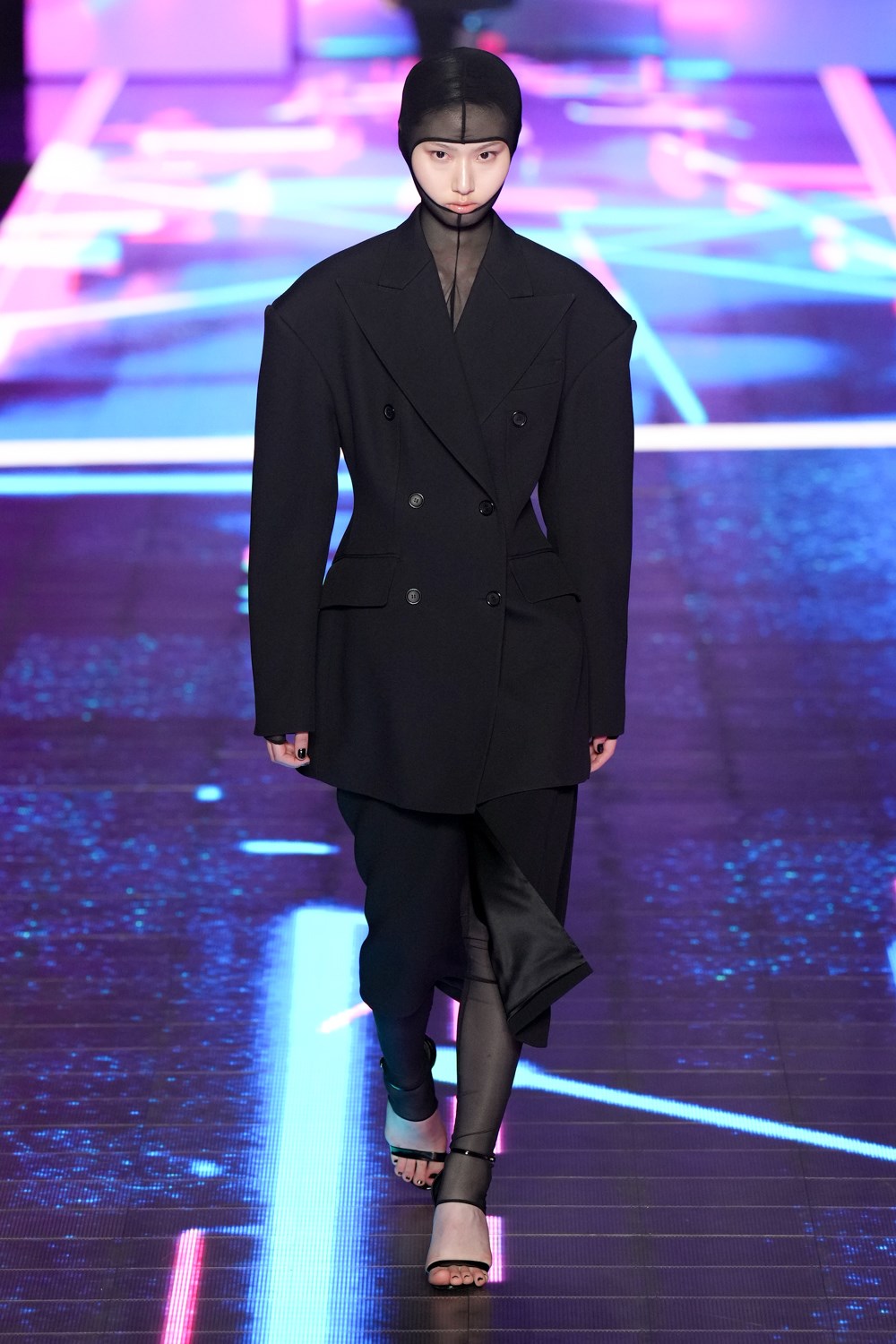 Dolce & Gabbana takes the traditional masculine suit and crafts it into a female symbol of power and confidence. Their woman likes to wear sensual undergarments, masculine silhouettes, and high, high heels. Today's outing embodied this premise more than ever. I"t began with the invitation that alone said enough – a gorgeous shiny red box in which came carefully wrapped in black tissue paper, a suspender belt, and stockings – the stuff that dreams are made of!"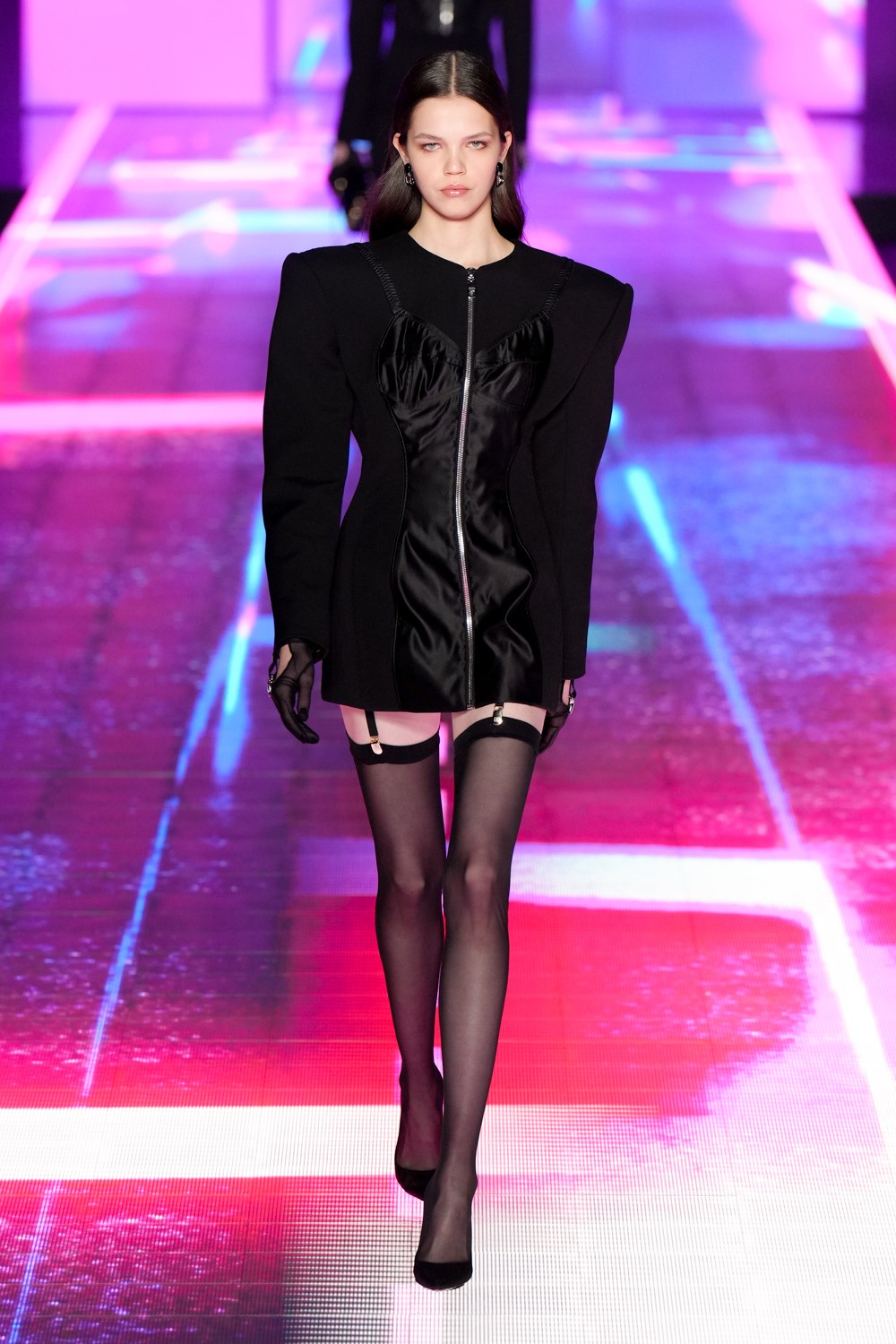 Today, Dolce & Gabbana presented a glamorous episode; a "one-way" street with neon lights laser beamed at one end, projecting digital patterns and avatars onto the runway and backdrop – a not too dissimilar street appearance to that of Balenciaga's Afterworld. Here is the Metaverse in Dolce and Gabbana's language and as in a video game, proposed super feminine heroes – these silhouettes are the new heroines for the future.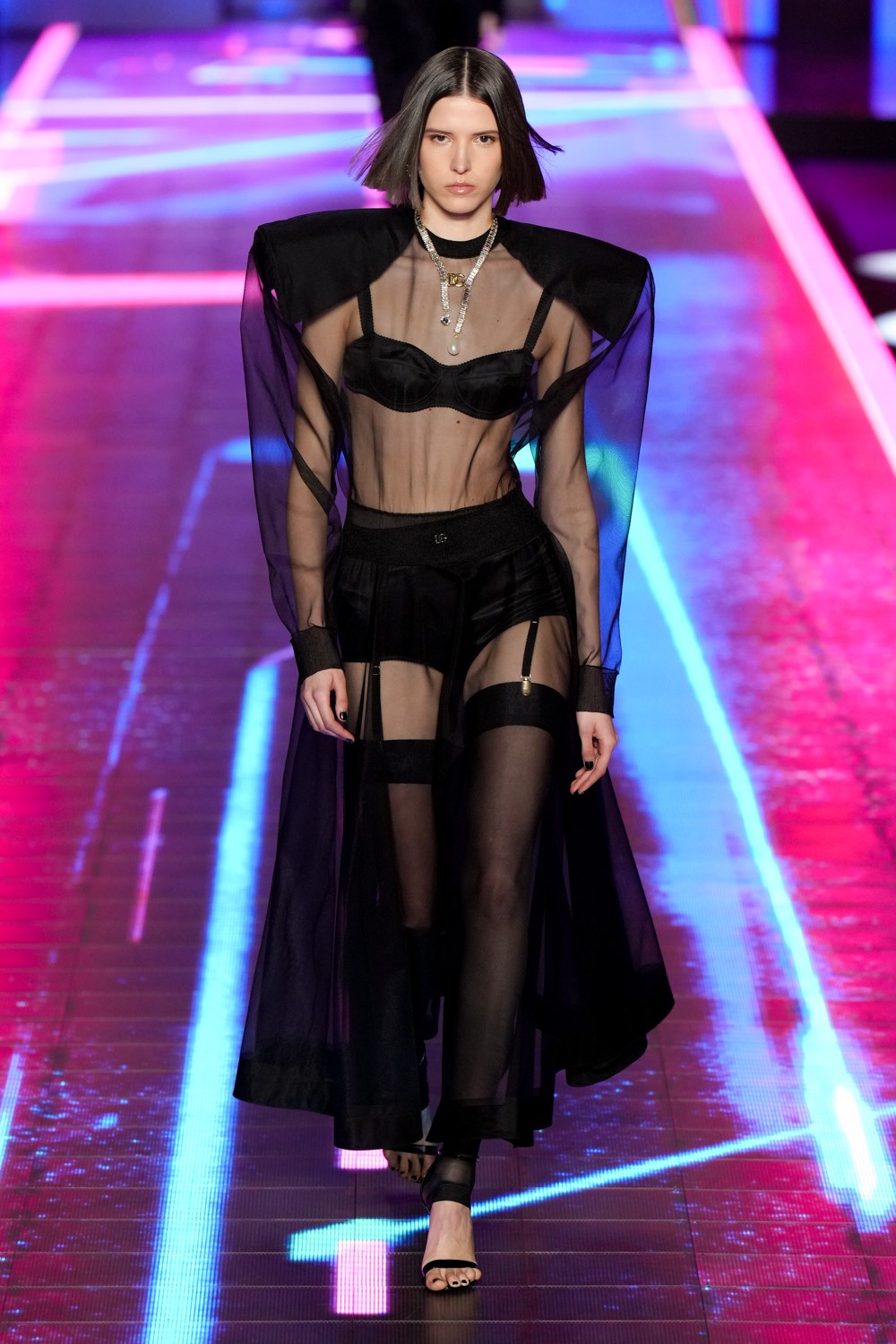 With confidence stamped all over, the first outfit boldly stomped down the floodlit street – a stunning black skirt suit constructed with that Italian know-how – it was beautiful in the way the fabric fell from wide, wide shoulders and draped to fit neatly at the waist down to the hip"
There were coats and blazers and shorts and, yes, all worn with those suspender belts and stockings. Corsetry was also proposed on cropped T-Shirts with tromp l'oeil effects. Skin was on show of course, but not blatant.
There were 92 looks and counting, but each had its own identity let alone the overriding theme  of power shoulders and extreme proportions. We sat witnessing an evolution –
Expressed through the choice and use of modern materials and a reference to the digital realm: iridescent and mirrored surfaces, laminate, jersey and nylon."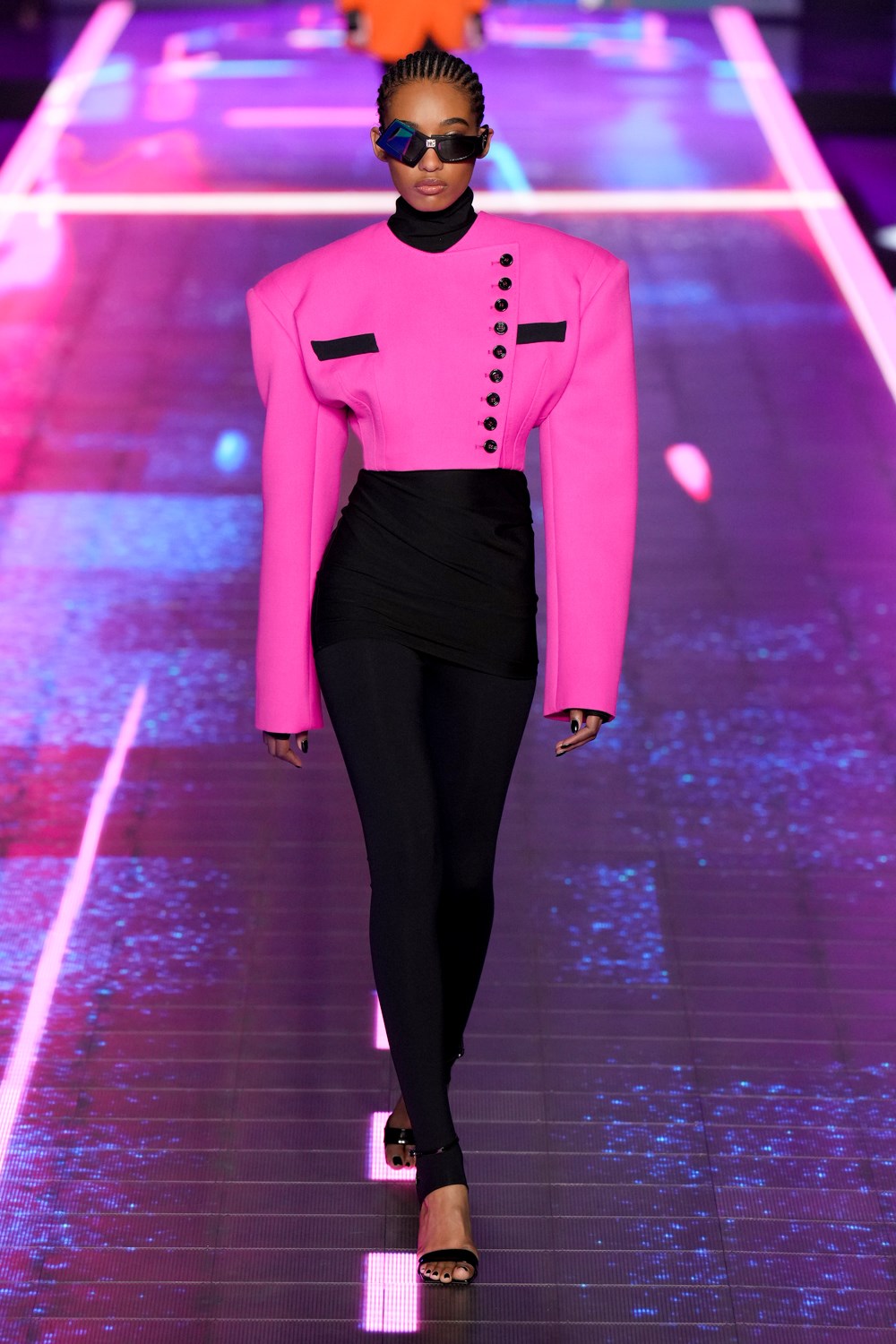 The young women sitting next to me were bouncing in their seats, loving the music and just loving the collection.
Here was an outing from D and G that, although smacked of an underlying fetishism, was carefully curated with finite details and clever craftsmanship".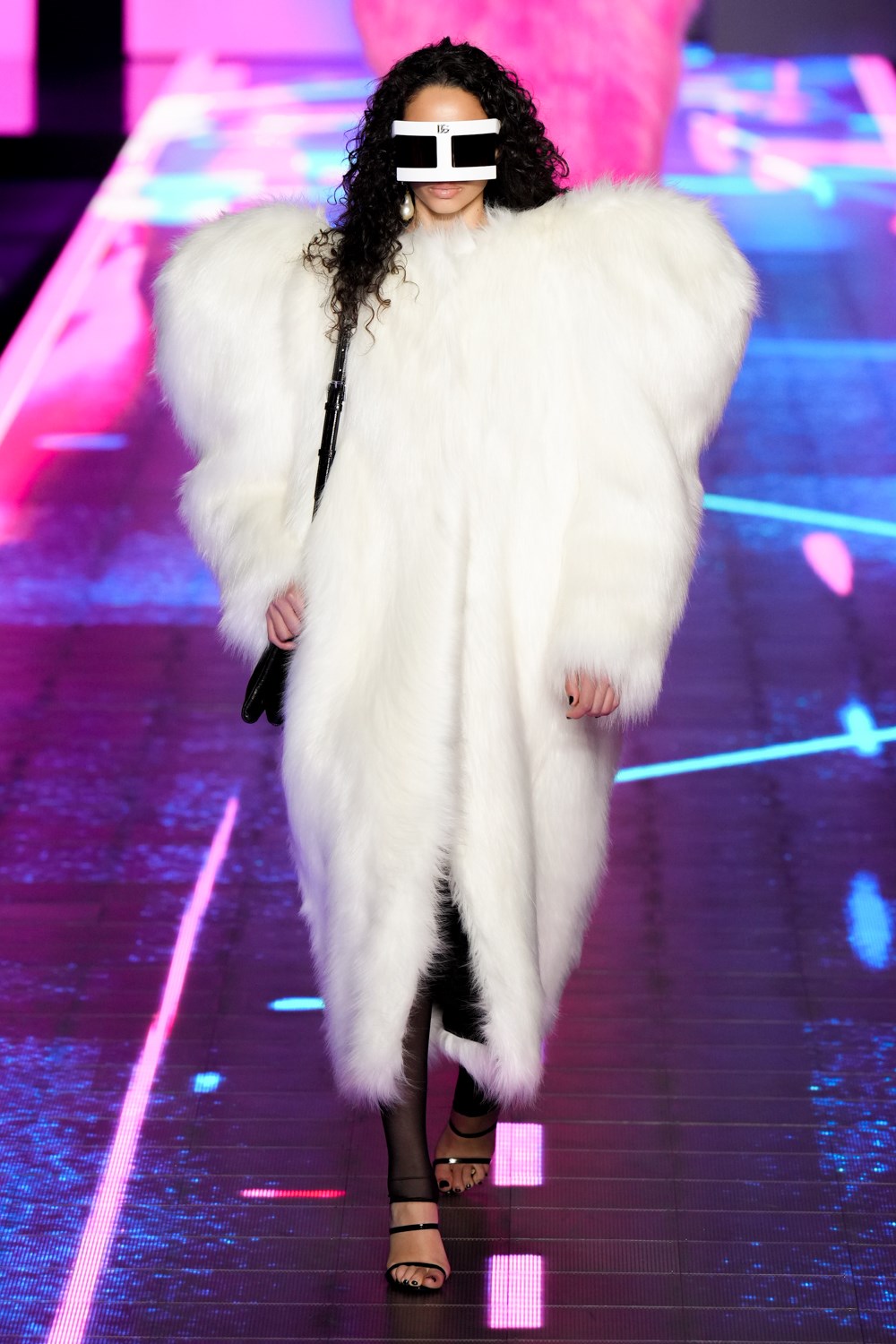 A sheer dress cut in silk chiffon was mesmerizing as the material floated cooly around the model's very slim body (they were all extraordinarily thin – too thin by the way) – but those shoulders, on this silhouette, were even more expansive further placing even more emphasis on those wasp waists. It didn't matter; it all worked as did the shiny red PVC dress with puff sleeves that reached up beyond ears – some darling slip of a thing will snap it up in the flash of a neon light. There were pseudo fur coats and trousers cut in voluminous shapes with those 'fabulous' power shoulders, and some coats came colour blocked in black and white, vibrant pink and black, or a checkerboard of yellow, turquoise, white. Styles and styling ran the gamut, from smart city tailoring, sheer lingerie pieces and streetwear. The slashes of bright colour continued in suits with that excellent tailored cut. I particularly liked the black all-in-one – the trousers cleverly caught at the waist yet opening to the side to reveal a slash of skin.
And the evening-wear items – sparkled and glistened in sheer renditions under the neon lights – radiating glamour and eroticism".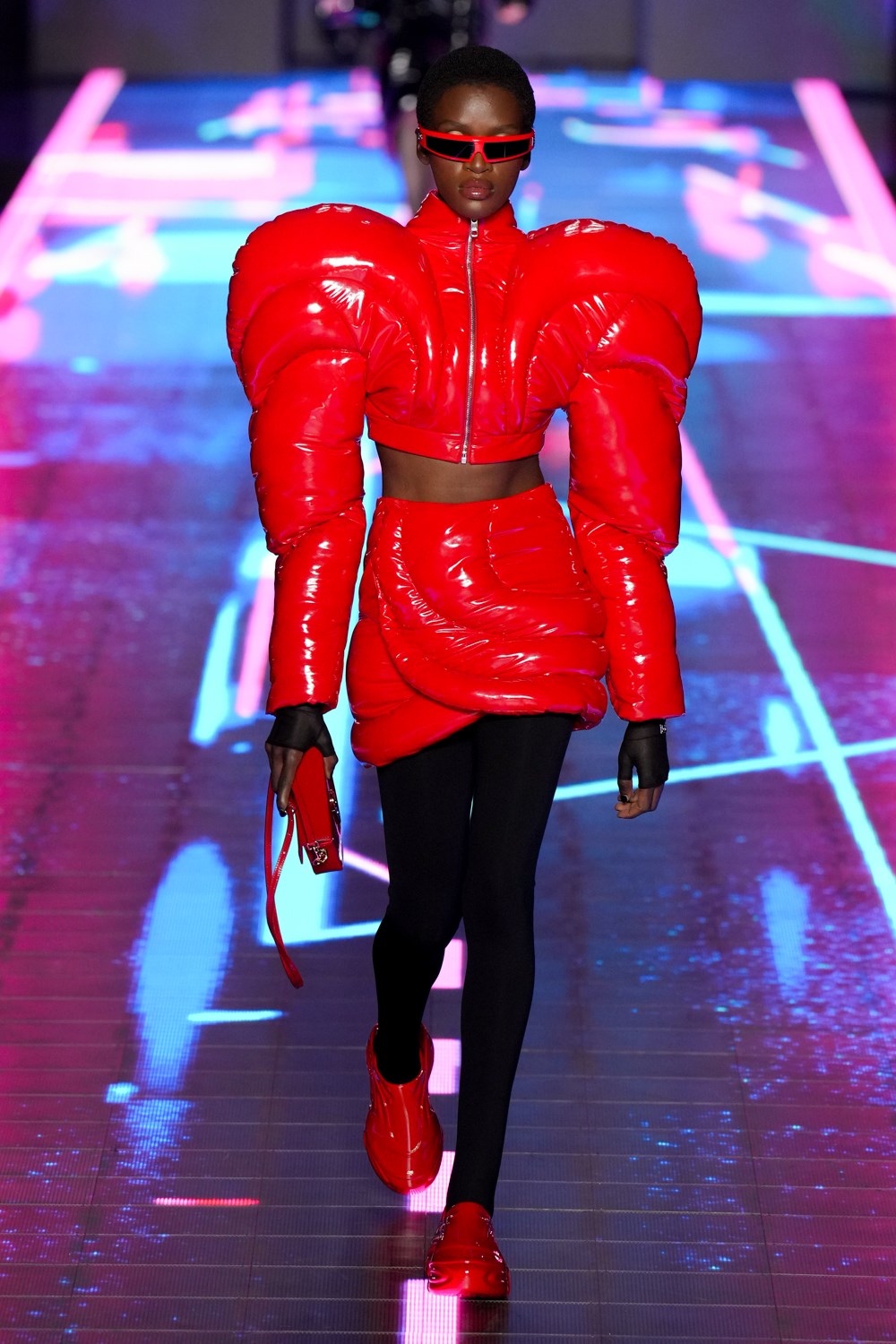 And just to add a playful element,T-shirts and sweatshirts bore cartoon characters designed by Gianpiero D'Alessandro, a young cartoon-designer, who collaborated with the Brand in the creation of some of the graphics. The "Sweety Bunny" character is accompanied by "Baby Carrot" and together they represent the concept of family. Of love. 
The collection was masterfully curated with those glorious excesses we have come to expect. Overt? Yes.Trashy? No. It hit all the right notes for that specific young Gen Z, Dolce and Gabbana customer. As the young woman said – "I love it, I love it."
---