---
Review of Dolce & Gabbana Fall 2022 Men's Fashion Shows
A Glittering Surface With Little Depth
By Mark Wittmer
A cavalcade of shimmer and color, Dolce & Gabbana's overwhelming yet uninspired Fall 2022 men's show featured 107 looks and one special guest.
The show begins as noted rapper-turned-pop-punk-fiance-of-Megan-Fox Machine Gun Kelly swaggers onto the runway in a white suit studded with glittering spikes, and begins to play a beat on his little sequencer. The models come streaming out, and they don't stop.
The ensuing parade weaves D&G's typical, balls-to-the-wall glitz between looks that are ballooning exaggerations of snowboarding gear and, as a merciful breath of fresh air, a few actually very sharp and simple suits. Rather than combine these approaches, the looks tend to alternate between extremes: a marshmallow like puffer jacket with a beanie that recalls Marge Simpson's hair is followed by a shimmering sequined suit, only to be followed by an immense fur coat with matching boots.
In addition to the familiar sparkles, animal print, and monograms, graffiti motifs are sprayed all over the collection. While the graffiti prints have appeared in a few capsules and briefly in the Fall 2021 Women's show, this show marks the first time they've been an overt motif in a seasonal collection for the brand, no doubt part of the same push to appeal to youth culture and street style that led to the partnership with MGK.
The materiality of the collection does present an interesting combination of traditional and forward-thinking, mixing familiar materials with shimmering technical fabrics.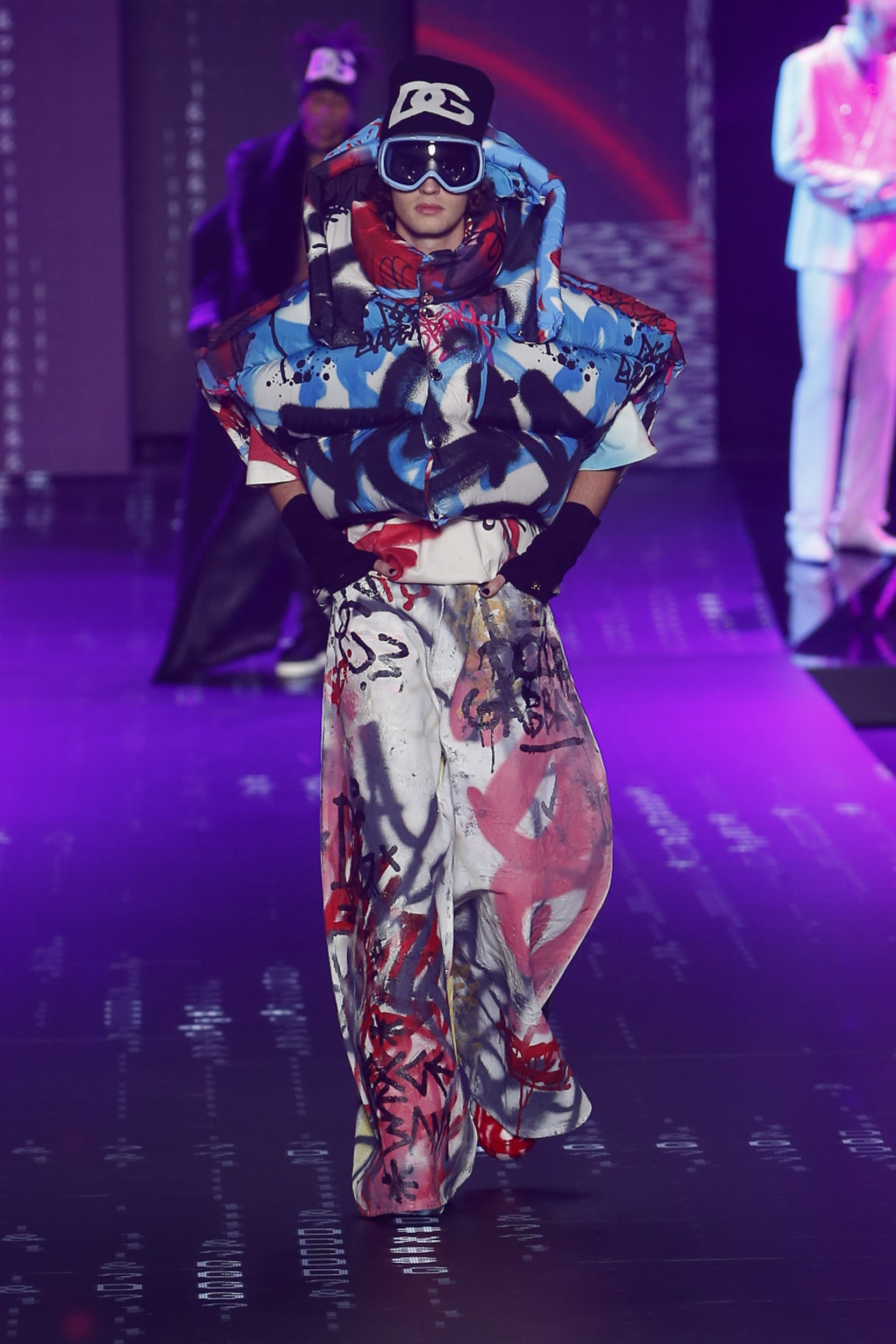 Dolce's accessories have always been a strong point, and in particular the eyewear of the collection points to interesting thinking on structure, detail, and proportion. Some of the collection's many sunglasses almost suggest a retro-futurist aesthetic, a theme which is picked up by the occasional 50's-greaser hairstyling. But these identifiers beyond the immediate physical presence of the collection are quickly lost in the onslaught of sparkle, color, and machismo.
At first, it's a bit hard to pin down an overall theme for such a seemingly expansive collection, until we realize that it's an eighth-grade boy from 2007's idea of what's cool: graffiti, pop-punk, and snowboarding.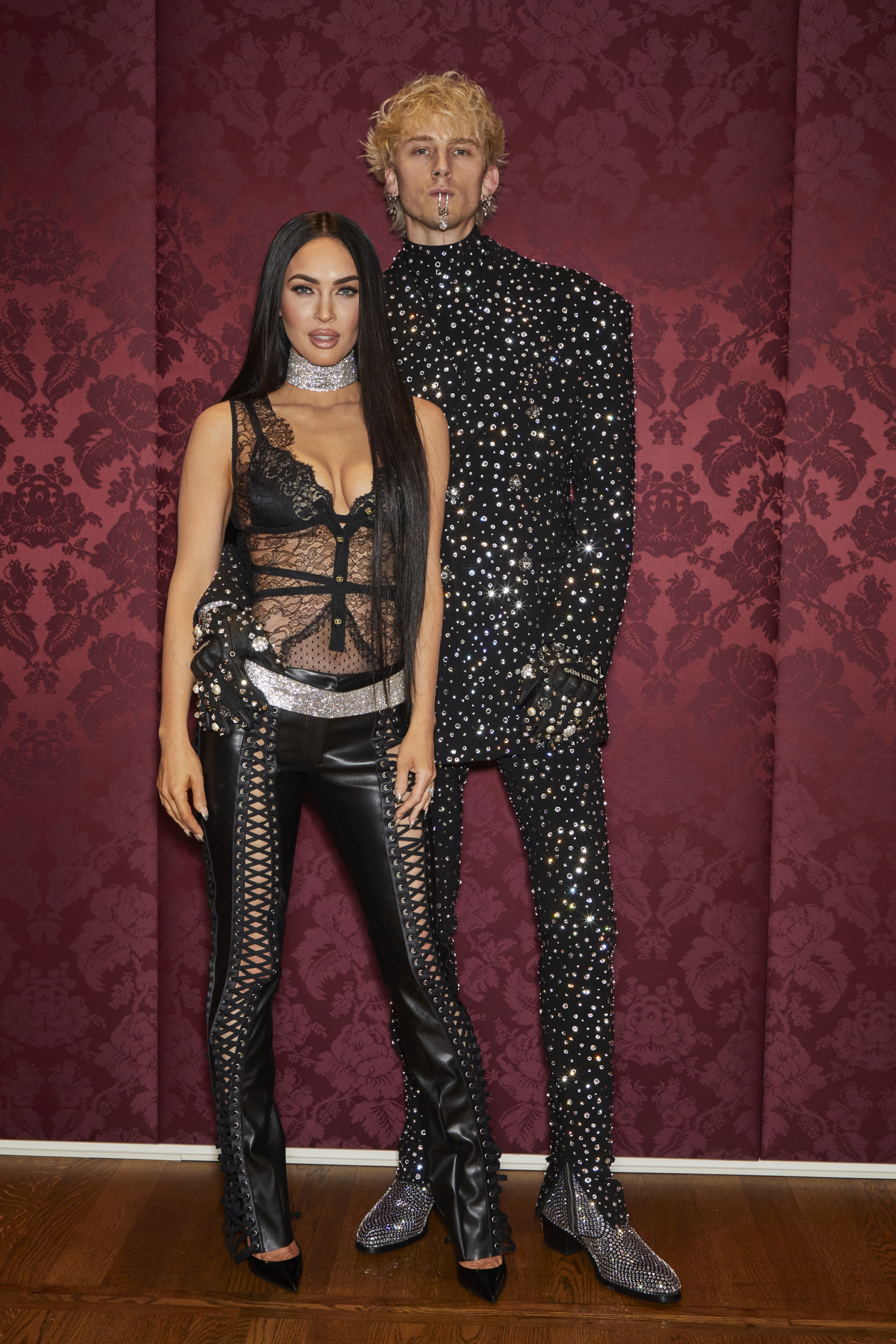 The presence of a guest artist like Machine Gun Kelly sets the tone for the show. He started out as a rapper with all the trappings of that persona, seemed to disappear for a little while, then rebranded as a pop-punk act (somehow getting engaged to Megan Fox along the way). It's not that his values or character shifted; because he never really had any, it was easy for him to take on a new aesthetic to match what he could make money off of in the moment.
Perhaps Dolce & Gabbana had values at some point, but today's show felt like another affirmation that behind the sparkling veneer is conceptual and creative emptiness. The pair remain competent designers, and some of the details and pieces were visually quite cool, if not original. But there is little thought about what matters now and why, what is cool now and why, what is sexy now and why.
The brand is grasping to inject a focused-group idea of what is cool – graffiti, extreme sports, Machine Gun Kelly (who is indeed not at all punk, as proven by the fact he's playing a Dolce and Gabbana show) – into the glittery, anachronistically sexy house codes that made them rich thirty years ago. But those of us not blinded by the sparkle can see that the house may have little left to offer.
---