---
Review of Dolce & Gabbana Men's Fall 2021 Fashion Show
Amidst the Pivot to Youths, A Tailored Patchwork Coat Remains
By Long Nguyen
In a massive fashion show staged in Milano without an audience a few weeks after the Milano men's fall season ended, Domenico Dolce and Stefano Gabbana delayed their initial planned Dolce & Gabbana show when travel and gathering restrictions were instituted in early January. Prompting the designers to fathom a new approach for their 113 looks men's fall collection at the Metropol in Milano that captured the essence of their men's aesthetics over the years since they first introduced menswear for fall 1991 but presented to a new generation growing up on social media.
With a backdrop of video messages lining the walls in a mesh up of monitors broadcasting messages from a range of people from all over the globe, including Sia, Loren Gray, DJ Khaled, Mindy Kaling, Kelsea Ballerini, Douglas Booth, J Balvin, and Canelo, the designers augmented the audience horizon for their men's collection this time by focusing their lenses on how the new generation lives and consumes fashion. And how young guys may still opt for a fine tailored white double breast suit – a DG trademark look – with dangling DG silver key chains but with a tank top, pearly necklace and a few brownish eye shadows or in a shiny gold leather version with matching gold leather sneakers.
The collection, titled #DGTOGETHER, is meant to convey both the sartorial elegance, which is the foundation of the DG menswear, with mixtures of styles that today's social media youths are more prone to. To augment that point, the duo experimented with Justin Beiber's Anyone's tune and a performance at the finale by Sia to turn up the volume more loudly as if the clothes themselves had not done so.
"In the past, when we were designing a collection, it was normal to go around doing research. So we looked at what was going on socially. Today it is imperative to observe life through the Internet, through social media. What we've done is about being connected, like many TVs, like many live streamings, in all the cities in the world, to understand, to see what is happening, especially with the young people," Domenico Dolce said in a taped explanation of the genesis how the show comes about.
A slim fitted patchwork of pinstripes double breast suit opened the show with that instant grounding of the DG signature menswear tailoring in the familiar patchwork fabrics that first appeared in the designers' collection in the early 1990s – it's a way to welcome the audience to the sleeveless puffer oversize vest-coat also made with gray mélange of wool fabrics paired with grey oversize short sleeve sweats and track pants, a colorful mohair turtleneck sweater with sparkling silver pants or giant rust shiny puffer worn with matching pants.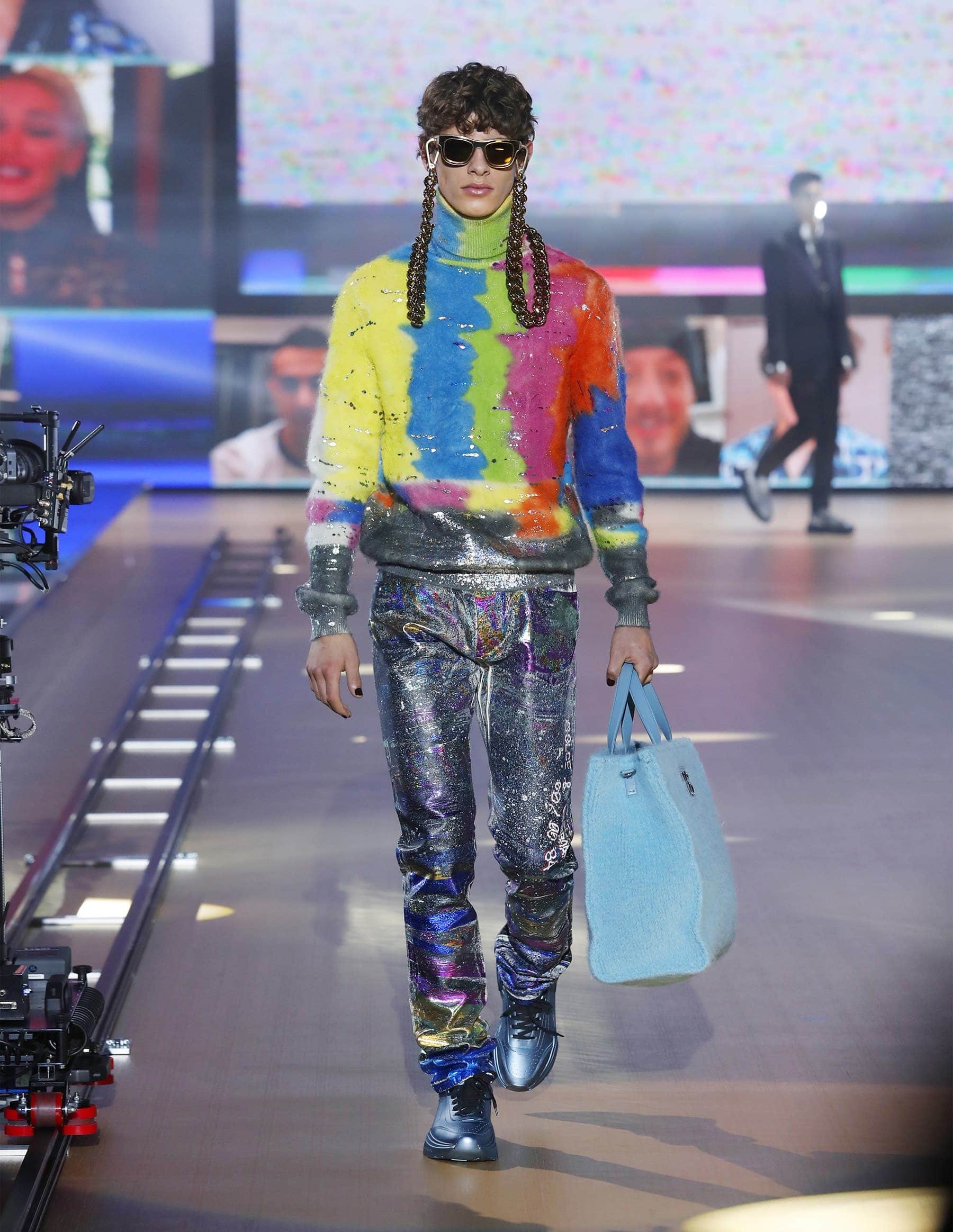 This whole new trend that comes from TikTok, that comes from Instagram, that comes from Twitch, that comes from all of this new technology, it's what has most influenced us for this men's collection, the fact of being able to put on nail polish, make-up – there is a maximum freedom that the new generation has taught us.

– Stefano Gabbana
The DG logo that appeared on different garments throughout the show like a Fuschia furry sweat top and cargo pants, like a stop sign print on a pink tee-shirts under a long purple mohair cardigan, the inside black and white prints of a long black overcoat, or a black headband to match the silver parka and multicolor jeans reminisced the 1990s era when the design duo introduced their D&G line that focused on youth fashion, a line started in 1995 that folded into the main collection in late 2011 and one of the first designer 'streetwear' collection decades before there was such a term.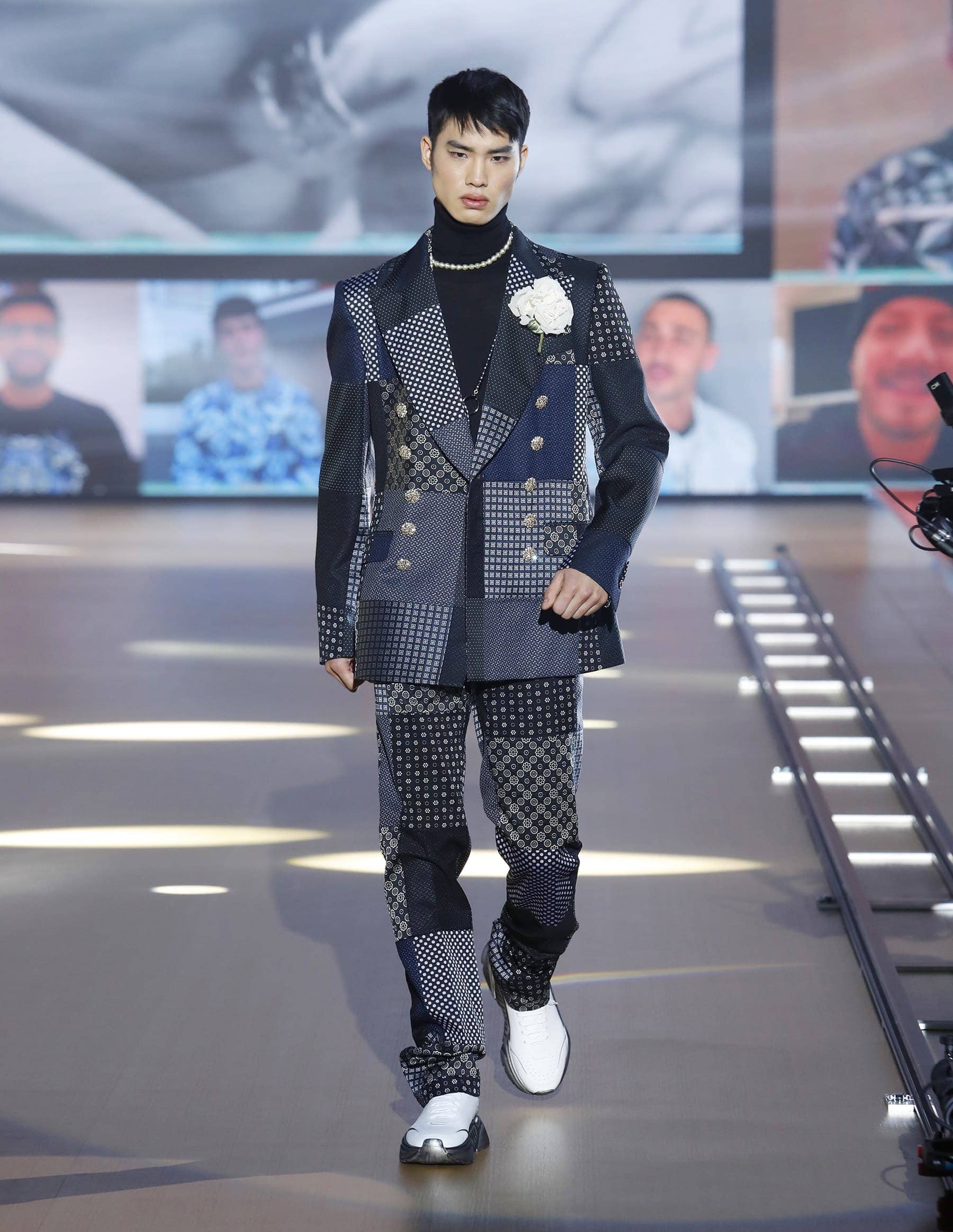 This show isn't an abandonment of the brand's tailoring strength and traditional craftsmanship with a strong whiff of Sicilian macho and tenderness – these basic threads of the DG double helix DNA are ever-present but manifested differently in the clothes. The vestiges of the DG classic are omnipresent in a long fitted double breast patchwork coat in jacquard wools, in an oversize grey patchwork coat, and these varieties of tailored single and double breast interspersed throughout the show. It meant that even tailored dressing has to be adapted to these changing moods and demographics.
The diamond pattern patchwork of grey wool and velvet double breast coat and a pair of navy and white pinstripe pants was one of the strongest of the DG signature that stood out firmly next to a handwritten logo white long parka and matching jumpsuit. A cropped red wool cardigan with a black tank top, slim wool blue patchwork pants, and a red leather mini purse or a sparkling green-blue mirrored long sweater and deep blue leather pants were all denoted the nods to how young people dress today on and offline. Along with the backdrop of video messages, the DG guys connect to their new audience in the way these youths would view themselves and do so in their ways.
In a nod to the immediacy of today's digital lives, parts of the collection will be available post-show at the giant e-commerce site Farfetch.com as the site partnered with DG in hosting the live stream show. "For the first time, in our case and their case, we have joined forces to be able to convey the show through social media. And by the way, there's something else that has never happened before: we are going them exclusive items from the show. This is a different way, a new way for us and for DG to communicate, to offer something new," Gabbana said of the Farfetch collaboration.
Slowly and step by step, Dolce and Gabbana are moving their aesthetics of their men's collection forward by not abandoning their past but by transforming their classics into what should be new classics for these young kids prone to fashion experimentations. This pivot is critical for all the luxury fashion houses as these kids are the bulk of luxury consumers by 2025 – that's about eight more seasons from today.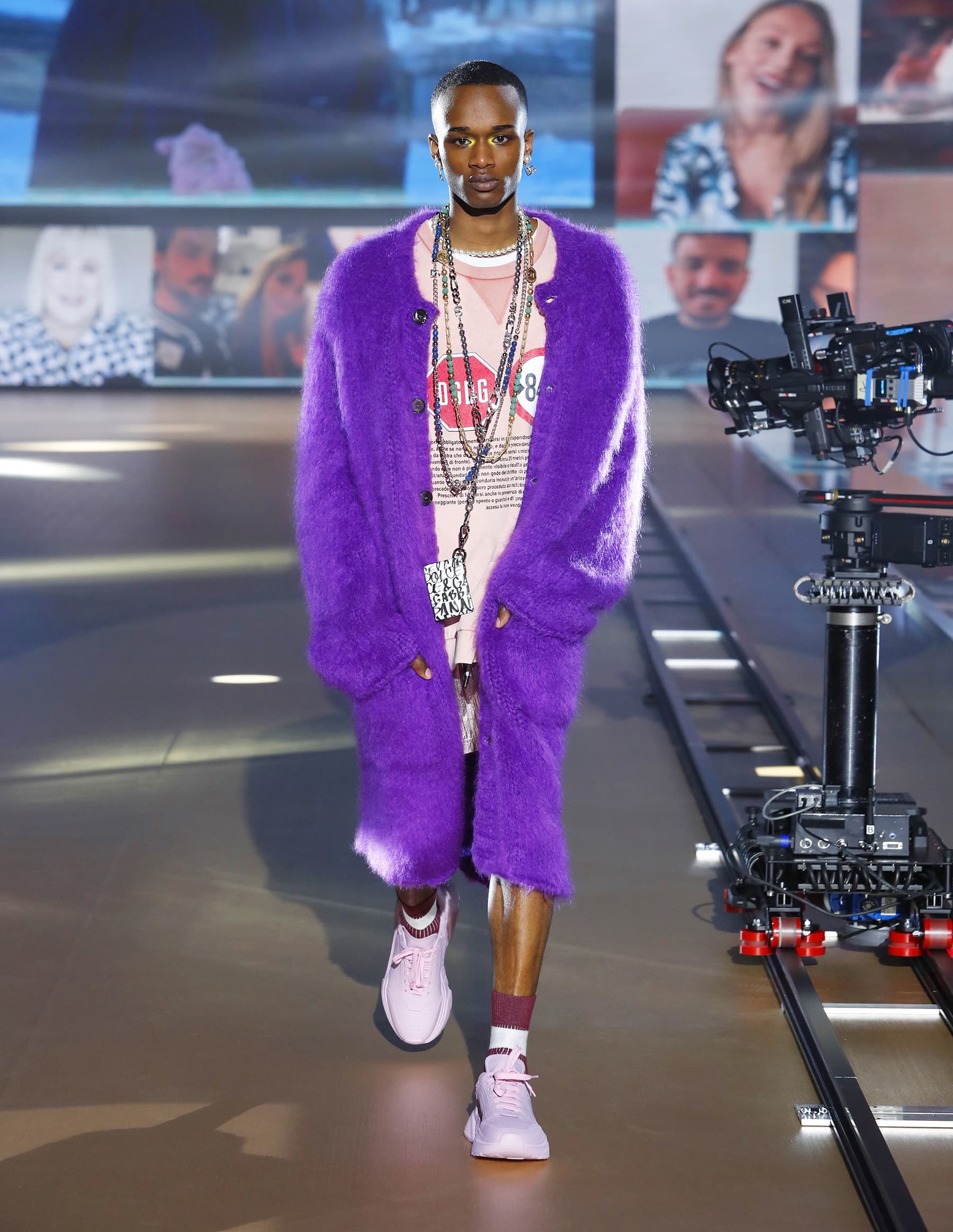 "Our job today is to bring together our DNA, what we are, uniting our vision, and the vision that all young people have," Gabbana said of this endeavor, which for sure will continue in the seasons ahead.
---