Review of Dolce & Gabbana Fall 2021 Ad Campaign by Creative Directors Domenico Dolce and Stefano Gabbana and Photographer Juergen Teller
Dolce & Gabbana court youthful customers with a new campaign that brings equal parts glam, grunge, and futurism. The Fall 2021 campaign features photography by the iconic Juergen Teller.
The campaign was shot in Sicily, but it's not the quaint and picturesque seaside village we might have normally expected from a luxury fashion campaign. Instead, Teller captures his subjects in a more everyday, urban setting, a tangle of concrete, brick, and worn metal. A smaller version of the Hollywood sign makes an unexpected, tongue-in-cheek appearance, looming above and behind the models. There is also a donkey – molto quirky!
Against this backdrop, both dull yet intricate, the designs of the Fall collection really pop. Balancing streetwear and youth culture influences with a healthy respect for the brand's heritage of craftsmanship, as well as a forward-looking dose of futurism, the collection is deftly tuned into the mood of the moment.
As if composing a visual symphony, Teller smartly captures his group of models through different movements of style and color. He begins with the collection's maximalist explosions of color and pattern, then moves to silvery metallics, black and white, and finally gold. Teller also helped to conceive and compose the film's score, which collages human voices from the shooting process over a bouncy electronic beat.
The campaign is a strong effort to capture the eclectic and youthful spirit of the collection. However, in or out of touch the brand itself may be with what young people actually value (it and its eponymous co-leaders have found themselves at the center of a number of controversies surrounding homophobia and racism), the stylish campaign is sure to turn many a Gen-Z head.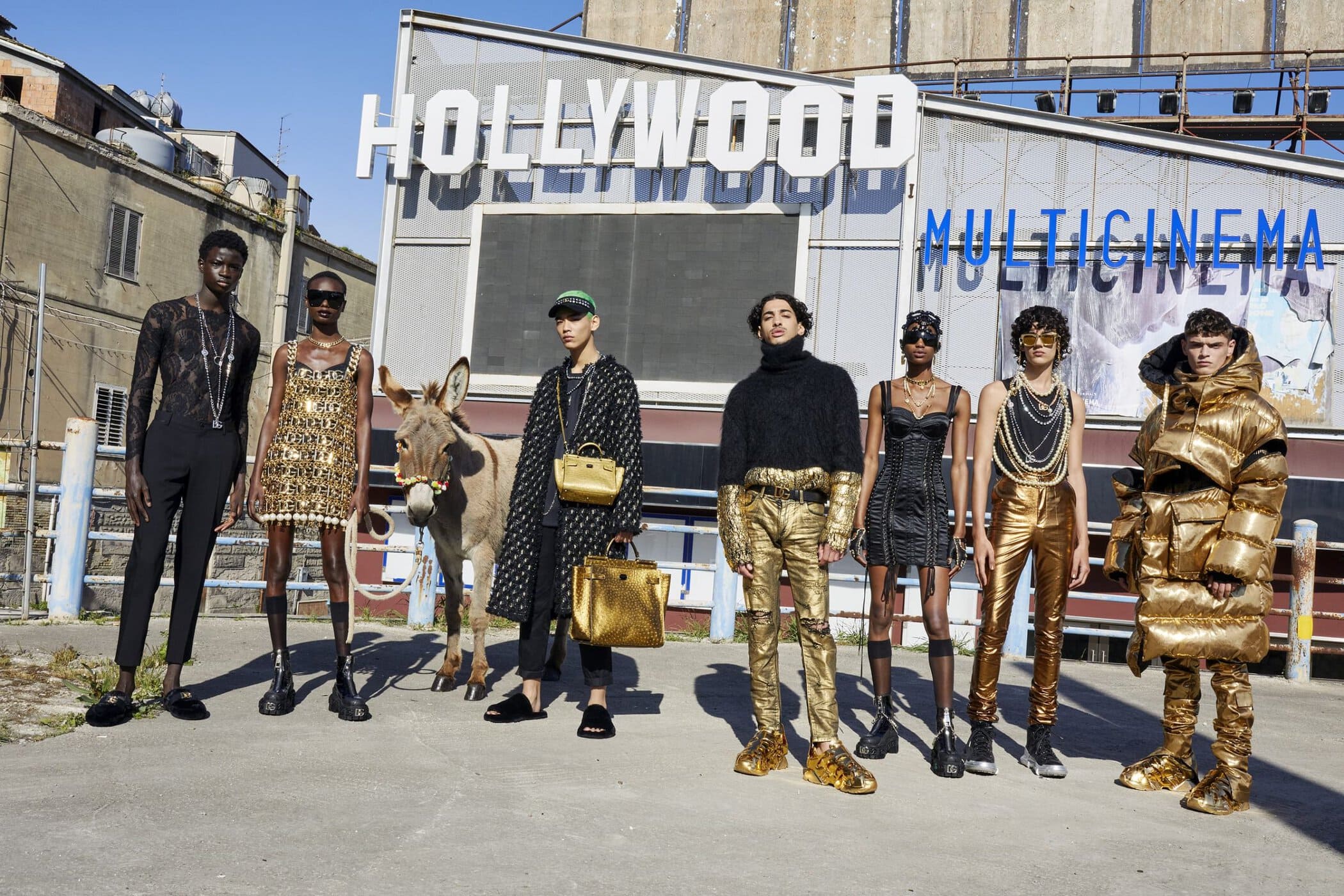 Dolce & Gabbana Creative Directors | Domenico Dolce and Stefano Gabbana
Photographer | Juergen Teller
Models | Ahmadou Gueye, J Moon, Lucas Barski, Marie Kone, & Tobias Dionisi
Stylist | Sissy Vian
Hair | Pierpaolo Lai
Makeup | Tom Pecheux
Location | Sicily

---