---
Review of Dolce & Gabbana Spring 2022 Fashion Show
Sparkles Beads and Disco Balls Lit Up the Signatures
By Long Nguyen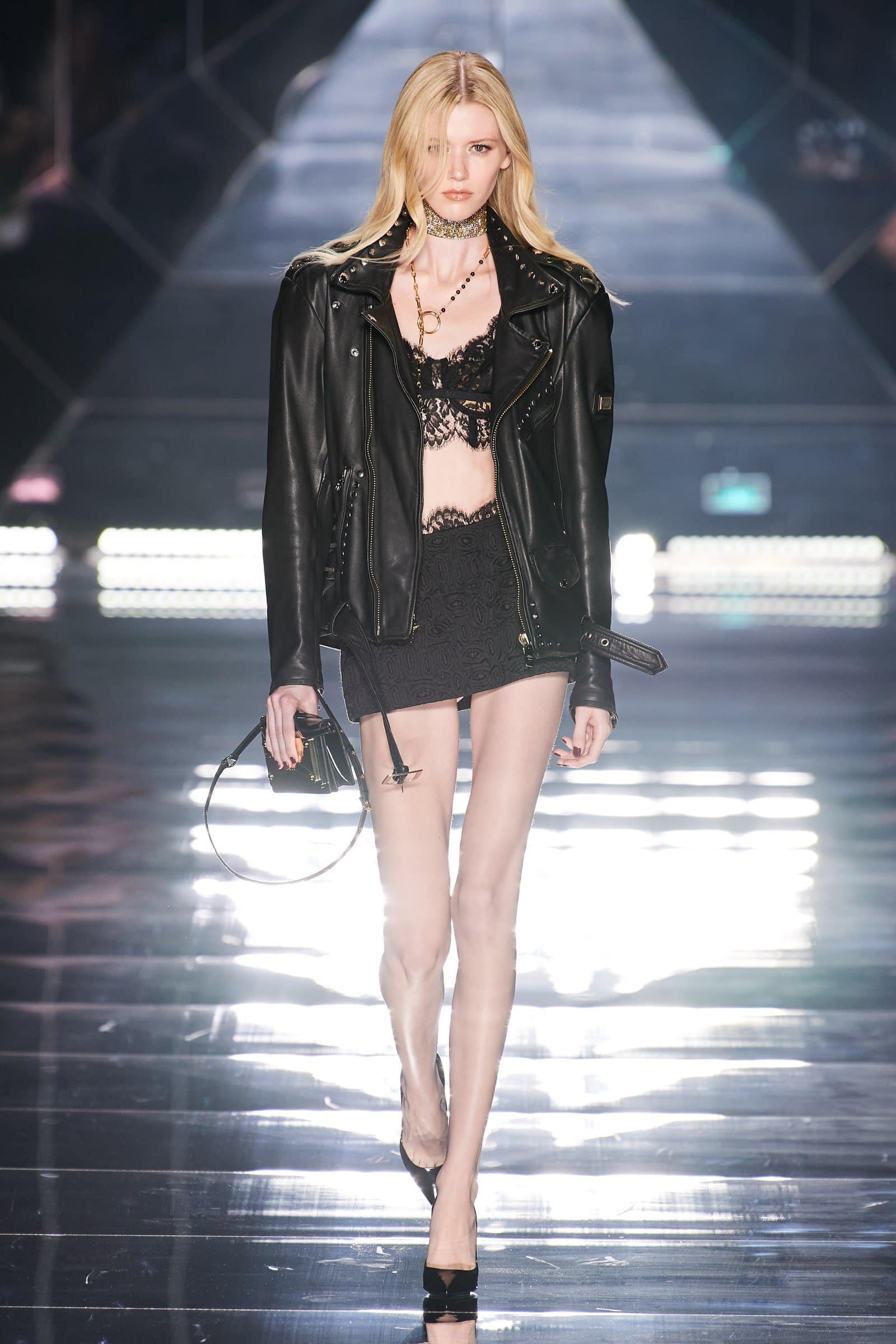 In the past few seasons, Domenico Dolce and Stefano Gabbana have been trying to rethink what their brand Dolce & Gabbana, founded in 1985, can mean to the new generation of consumers. The designers are asking particular questions about how to address their fashion to the young e-kids now are incredibly discerning about how fashion is more about them than about any brand products they choose to purchase. 
That meant a severe dose of introspection in looking back at the highlights and the fashion signatures they have created for their brand, searching for elements that transcend time to invent new modes of expression engulfing the youth's global digital world.
The designers' Fall 2021 men and women collection epitomized this backward-forward momentum – find that perfect pit setting in the new world while preserving the house-recognized fashion styles. Dressed now for a different flashlight and modes of seeing fashion, amidst the sparkling bulbs and walls of young commentators on monitors watching the proceedings, the D&G perfectly tailored patchwork wool suit endures so are the black corset dresses from the early 1990s now newly embellished.
Despite all the pivots to the now, far above the black velvet-covered social distanced seating of the audience below, the line up of large screens monitors showed a continuous loop titled 'Fatto a Mano'. The short videos narrate the stages of cutting black laces into specific patterns accordingly and, therefore, the assembling of the pieces into a black lace corset dress. Others were montages of hand-made leather high heels or the cutting of leathers for a mauve double handle bag.
Photo Long Nguyen
This combination of the hidden knowledge of crafts pervades within each product category isn't touted as young people worry a great deal about craft techniques. But this knowledge is inherent in all the D&G products, including the new ones walking on the mirrored runway.
The lights suddenly went dark.
As it is customary since the very beginning of every single D&G show, the same segment of the Verdi opera played on the sound system, then the pillars on stage began to spin lightly. The opera music constant over the decades is the designers' seasonal reminder that's new can also be traditional, at least their version of traditions.
The disco lights brightened the entire Metropol theater signaling the right moment for the first model to step out wearing a black leather biker over her black bra and black stretch micro-skirt with leather heels and a golden choker plus a few dangling long necklaces clutching a small black leather purse on her left hand and stilettos on her feet. Then another model followed in a black gabardine tailored slouchy double-breasted jacket, low slung cigarette pants, a sparkling silver bra, below waist metallic spike belt, a logo panty, and leather below waist wrap metal stud belt.
Given the title #DGLIGHT, the collection celebrated the prevalent fashion and mood of the early 2000s and a commanding revisit of the fashion terrain the designers owned for many years.
Confident, sexy, glamorous, and sensual women like the strong matrons from Sicily have remained the designers' source for their collections since the start. And from the beginning to today, everything in this 103 looks show has strong bits of D&G history, for example, floral brocade, denim with stones, crystal embroideries, camouflage, animal prints, and lingerie/corsets.
And the clothes themselves are elegant cut in lean silhouettes, low-slung pants, and in that D&G classic body-conscious fit in the colorful mixtures and those thigh-high boots encrusted with different versions of stone beadings for maximum impact. Towards the show's end came a few looks with butterfly sleeves like a red tiger print zipper cropped top and matching mini skirt. It is also a tribute to the brand's tailoring that the last look in the show was a black single breast slim pantsuit paired with a vest and a bra.
Here is the black and white tiger print peacoat with stoned denim boots, a black/green silk satin floral long dress with deep v-neck and a matching corset, a silver beads strappy dress with dangling fringes, and an oversized denim coat and washed denim pants with colorful beadings. The black lace beaded tank and gold micro skirt, a knee length gold-fringed metal skirt and a one sleeve diagonal cut white tee-shirt and a gold bra underneath, and a black long strap satin dress with side corset strings.
These are more or less classical D&G shapes and cuts. Their customers would be familiar with these elegantly sexy looks and how well made they are in stores. There were even two tee shirts made in honor of J-Lo to represent the spirit of those early 2000s.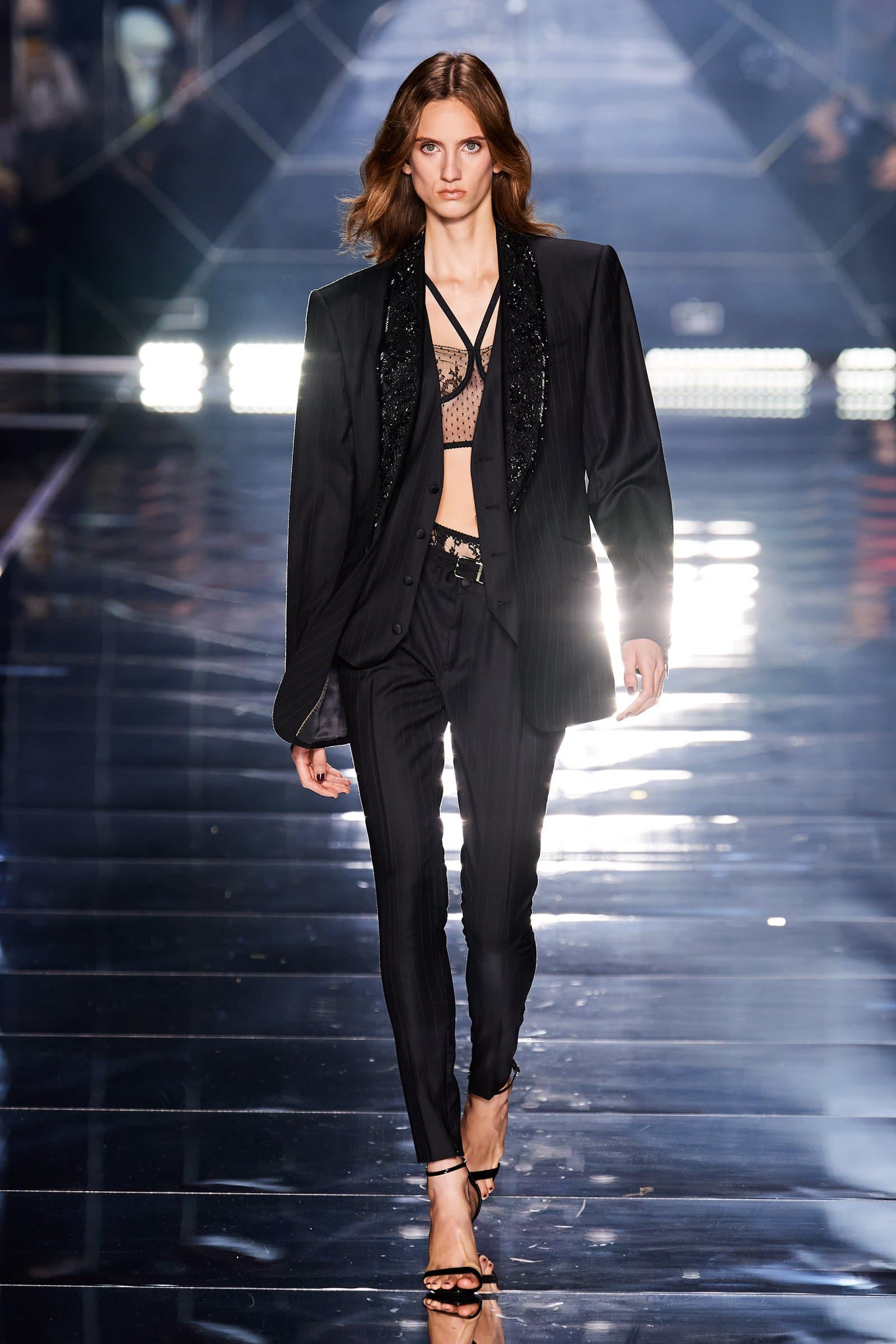 What is entirely remarkable about this D&G collection and its overt sexy clothes is that this specific aesthetic isn't something the designers came up with just for this season, perhaps because sex is back. No, that isn't it. This show is purely the designer's ethos, their prime creative directives over the decades. And, this is what the pair has always done even in the years when, well, showing off a little bit of skin was an absolute no-no in fashion. The difference is in authenticity versus faux seasonal trend followers, and this difference is apparent in these actual spring clothes that never betray the original aesthetic.
---