---
Donald Schneider, Founder and Creative Director of Donald Schneider Studio, is the godfather of H&M collaborations, starting with Karl Lagerfeld, through all the greats like Versace, Margiela, Alexander Wang, Balmain, up to the new, highly-anticipated Moschino by Jeremy Scott collection. The former Art Director of French and German Vogue gave David LaChapelle and Taryn Simon their start, Chloé, Wolford and Hugo Boss their iconic looks, and the world David Beckham in his underpants. The Impression's Dao Tran met up with him to talk about changes in the industry, how every brand can have their own Gucci moment, his growing fascination with film, and the image that broke a war photographer's heart.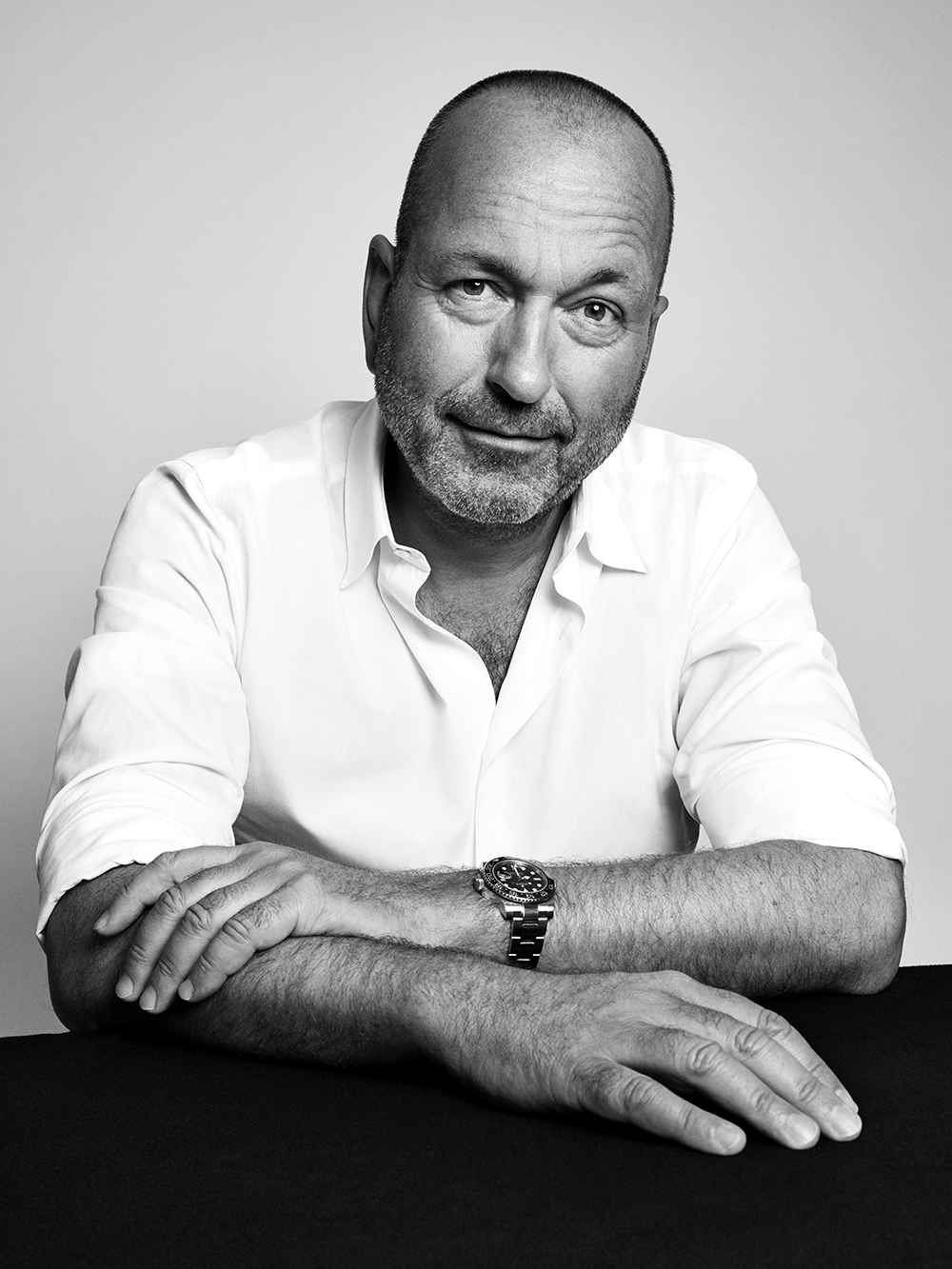 Dao Tran: Let's start at the beginning, where you started, how did you get into all of this.
Donald Schneider: (laughs) It's such a long story!
I'm originally from Switzerland and went to art school, studied graphic design, then I moved to New York when I was 23-24. I just wanted to go; Switzerland was too small. When I was 14, my godmother got me a subscription to Interview Magazine and I loved it. That was probably my biggest influence – it was like a window to the world. She had taken me to a big Warhol exhibition in Zurich at the Kunsthaus that was just burned into my memory. I started to learn about that world through Interview Magazine and wanted to move to New York, become an artist and make paintings every day.
But I needed to make some money, too, so I started to freelance, making album covers and things like that. Then one day somebody called me and said they were looking for an art director at the East Village Eye so I started working there. It was the cool art magazine in New York at that time and my first experience working at a magazine.
During that early time in New York, I also worked in the art department at a night club called Area, and every month we changed the whole theme for the club and sent out really elaborate invitations to the coolest people in New York, like a thousand ostrich eggs. I think about that time a lot because it was very creative, we did so many amazing things. We worked a lot with artists, like Jean-Michel Basquiat, Keith Haring.
Dao Tran: That's amazing.
Donald Schneider: I even went to Switzerland with Jean-Michel for his show with Bruno Bischofberger. It was never about brands, sponsorship and logos back then. We did everything on a cheap budget and had incredible fun. Kid Creole and the Coconuts, for example, came up with their own costumes, not like today, where you have personal shoppers and stylists to get all the right brands. I've tried to keep that spirit with all projects I approach.
I think humor is another super important thing. We need to have humor in everything, a twinkle in the eye, not be so serious. I think all the creative people should focus on how can we protect creativity and how can we be daring and do things. We all have to support each other in that way and encourage clients to take risks. Because looking back, I would say almost every time we took risks, it paid off. In the end, people remember a brand because they did something daring – and there are endless ways to be daring.
Dao Tran: Do you think now is a similarly creative time because of all the changes in the industry, all the developments in technology and the whole landscape?
Donald Schneider: I definitely think so. The more I work with different companies, different creative people and social media agencies and so on, I really believe that artificial intelligence and data are certainly interesting, but it's like driving with a mirror, you get a lot of information about what the customers want, but creativity is the true driving force and each project needs an original idea first. Especially with this new way of working on these much more complex campaigns – you have to come up with an overarching idea which can then translate into each of the channels or each of the touchpoints, but also the windows, the events, into all aspects of it. I find that very exciting.
Dao Tran: Did that drive you from being art director of a magazine to becoming creative director? To expand from one medium to doing the whole 360° and the whole campaign?
Donald Schneider: I'm generally just interested in things. I never had a master plan with what I wanted to do and followed it. I'm very curious, I like to talk to people, I listen to things, and I'm always open. I don't know what I'm going to be doing 5 years from now and I don't want to know, because maybe I'll do something different or have a different approach. It will probably be within the field, but I like doing things I have not done before.
To your question: I had simply been in the magazine world for so long. After the East Village Eye, I became the Art Director at Fame, a magazine started by Marc Balet and Gael Love after Warhol died. They were at Interview during the Warhol days, so it was amazing to work with the people doing those magazines I collected when I was 14. I learned a lot because we had the best people working for us. When it closed down, I moved to Germany and became the Art Director at a magazine called Tempo, which was like the German version of The Face. It was great to be able to assign photographers because a new generation of photographers was coming up. I worked a lot with Schoerner, Corinne Day, and with David LaChapelle, then, and it was a breakthrough for David because when I moved on to Vogue, I took him along.
Dao Tran: Tell me about Vogue.
Donald Schneider: When the editor-in-chief got fired from Tempo, I decided to leave, too. I had been going back and forth between New York and Hamburg the whole time and was a bit homesick for New York so I decided to move back. But then I got a phone call from the Angelica Blechschmidt, Editor-in-Chief of German Vogue, who had heard I was quitting at Tempo and was looking for a new art director, would I be interested? My plan had been to go back to NY, but you don't get a call from Vogue every day, so I said yes and moved to Munich instead.
That opened this whole world of high fashion for me. It's how I met Irving Penn. I thought now as the Art Director at Vogue in Germany, I could actually try to get the big photographers. The first thing he asked when we had lunch together in his studio was why I wanted to see him. I said, 'It would be amazing to do a project together for German Vogue.' And he said, 'But don't you know that I never work for anybody besides American Vogue?'
Dao Tran: Oops.
Donald Schneider: Yeah, I felt a bit stupid for not doing my homework, but then just made the most of what would probably be my only meeting with Irving Penn. And we had a great 2-hour conversation about art – he believed there was no good modern art anymore, that the last good artist was Matisse. But I disagreed, naming Warhol and Basquiat, which made him curious. He revealed he had actually wanted to be an architect, and that two of his favorite architects were Tadao Ando and Arato Isozaki. So I wrote each of them that Irving Penn is a big fan and would be very interested in taking their portrait, to which they immediately responded it would be an honor. When I told him that, he was a bit blown away. And that was the beginning of our working relationship.
But after 2 years in Munich, I was really homesick for New York and wanted to go back. I enjoyed working at German Vogue, but I wanted to be in a big city where it's happening. But Jonathan Newhouse of Condé Nast called me and said, 'I understand you want to leave Germany and go back to New York, but we are looking for an Art Director at Vogue in Paris, would you want to come?' It was again one of these situations where how do you say no to French Vogue? So I went and did that for about 10 years. It was a fantastic time to work with all the best editors and photographers. I concurrently also did Vogue Hommes International with Richard Buckley, which was a biannual.
Dao Tran: How did you get into advertising?
Donald Schneider: Also during that time, I got contacted by Stella McCartney, who was at Chloé, to do their advertising. That was my first time doing fashion advertising and I really enjoyed it because doing a campaign is so entirely different than doing a magazine – it appears everywhere and it is thrilling to think up concepts. I had the idea to put two girls in the campaign because I really enjoyed working with Stella and Phoebe [Philo] and was fascinated by how they talked together, so I wanted to embody that kind of feeling for Chloé. And I had female photographers like Liz Collins, Taryn Simon, Vanina Sorrenti shoot the campaigns because I felt it was the best way to capture that. We did many seasons of campaigns together, it was fantastic and very experimental.
Dao Tran: How did you transition from that to your big collaborations with H&M?
Donald Schneider: For a moment, I was doing everything at once – French Vogue, Vogue Hommes, and all those campaigns. Then I started to realize that it was too much. And I very much enjoyed doing campaigns because it felt new and interesting after having done magazines for so long. So I opened up my own agency, started doing more campaign work for different clients, one of which was H&M.
At that time, when people talked about H&M campaigns, they talked about the models. I suggested we get a famous designer to design a small collection so people actually talk about the product. I went straight to the biggest name, Karl Lagerfeld, and asked him. He immediately said, 'Yes! That's perfect! The future is about high and low. High, I'm already doing; but the low, that would be really exciting – yes!' His only condition was to be the first. We invented it by doing it. Today, everybody does collaborations and it's just a question of whether it was a big success or a moderate success, but nobody doubts that it works. At the time, it was a big risk and H&M was super courageous to put all this belief and money into it and really go for it.
A couple of years later, they asked me to become the Creative Director, which I thought could be interesting for a while because from the inside, you can really make big changes and get other talent in. As an art director, you normally don't get to work with other art directors, but in that position, I was able to get a lot of the best ones, like Marc Atlan, Lee Swillingham, Henrik Timonen and Johan Sandberg, to do amazing projects with. It is important for all of us creative directors or creative people out there to have a courageous counterpart in the big companies to bring the creativity in and help us do good work.

Dao Tran: Tell me about the new H&M collaboration with Moschino – how amazing was the announcement at Coachella?
Donald Schneider: Moschino is a very exciting brand for a collaboration – it's so iconic and fun and Jeremy is great! The event was at a big venue with a lagoon in the middle, it was magic in the middle of the desert, between the palms, like an oasis, really amazing. When Gigi Hadid and Jeremy Scott announced it, they were each wearing a look and the crowd went ballistic. Cardi B showed up and sang. It was a fantastic night
When you google it the next day, you can see how it spreads like crazy on the map, how it moves with the sunrise around the world. It's so interesting how quickly you can spread a message nowadays, you have the key influencers and they just blow up like cluster bombs all over the world. The actual on sale launch will be November 8 so it will be quiet for a while, but we have a couple of good surprises planned.
Dao Tran: Looking forward to it! But what do you think about the backlash in questioning how much influence influencers actually do have?
Donald Schneider: It's interesting that it got exploited. But casting people for their followers has its limits, unless they have a gigantic following. If somebody has 50 million followers, then you buy a lot of reach or impact. But otherwise, you need to look at these followers. Further, you have to think about how many brands an influencer can effectively promote, or whether it's more interesting for them to work closely with just a few brands and be more immersive, do special products, maybe even give the name.
Dao Tran: Like Gigi and Tommy Hilfiger.
Donald Schneider: Yes, perfect example. I mean, she is so big that whatever she does, everybody notices. That was, in my view, an excellent way for a brand to work with an influencer. That way, she became a proud ambassador, and I think that is key – to excite an ambassador, it needs to be the right fit. To just look at it as a currency is not good, but to play with it is interesting.
I've learned that especially with bigger companies, it is important to have one campaign component be activating the employees themselves. In my early stage of doing campaigns, it was more about impressing the fashion peers. But today, you also need to excite the people who work there because everybody has social media followers, and if you treat them a bit special, they can also be brand ambassadors and a very vital part of the campaign.
For example, we launched a #HMoschino crew t-shirt in a couple of special locations and the H&M store staff who got them are so proud because right now, nobody can buy that collection, it's not out yet. So they're excited and they're going to promote that launch. That's just an example of how you can fire up the staff with something quite simple, but that's very effective.
Dao Tran: What other fun projects have you been working on?
Donald Schneider: I just did a campaign with Diane Kruger and photographer Giampaolo Sgura. She's won a lot of prizes for her latest film, In the Fade, by Fatih Akin. Funnily enough, I actually worked with Diane Kruger during her career as a model, and now I just directed the TVC commercial. I asked her to improvise and we filmed a lot of footage of her doing just that, being herself – she even did the moonwalk. I think that commercial will show a side of her that many people haven't seen. In all the official photographs of Diane Kruger, she always looks like a classic beauty, extremely polished and a bit cold. But she is actually a lot of fun, outrageous, daring, she's very opinionated, she's a bit of a tomboy, is cool, does wild things. The movie is heartbreaking – the entire audience in the movie theater was crying – and yet in this TVC, she's like a happy little girl jumping around.
I love working that way. I just did a rebranding for Wolford, where we went in a new direction because they had been doing almost fashion campaigns with Mario Testino in the last seasons, with full looks. But Wolford is the number one legwear in the world, so let's excite people about legwear. I know that Beyonce and Rihanna, all the stars, they love Wolford, but I think the brand itself was not really aware of that so they weren't focusing on it.
Dao Tran: They're not capitalizing on their greatest asset.
Donald Schneider: Exactly. We revisited the history of Wolford, when Helmut Newton did those iconic campaigns, and channeled it in a new way with a female photographer, Paola Kudacki. We stripped it down to the product, did a black and white campaign with a strong, modern woman, Hillary Rhoda, not a super young girl. We did a closed set for total privacy – I wasn't in the room – and that was before the #MeToo movement. I've always thought like that, out of respect for women.
Dao Tran: I imagine also to capture the intimacy.
Donald Schneider: That's what it was all about, intimacy. I think that is probably the campaign which I got the most feedback for; it resonated with so many people because we did very minimal retouching, so you can really feel the skin. And we let Hillary be Hillary. I was always interested by having models be themselves, but now I'm even more clear about it.
Dao Tran: Is it also because of their social media persona?
Donald Schneider: Yes. Now people know how they are because they follow them on Instagram. So we let Hillary have her voice, we let her speak in the video and it was not scripted, it was all improvised. With each project, I enjoy having this part of improvisation, I think it makes it much more interesting. We were so in synch, I think the photos and the videos have what I would call a bit of magic. That is what I try to get with each project – I say, 'Let's get magic.' You can only get magic if you have prepared everything well and you leave room for improvisation. Magic only comes with improvisation.
Dao Tran: You seem very drawn by the magic of film.
Donald Schneider: I've gotten more and more interested in film because that universe of making films is so incredible – thinking up ideas, writing a treatment, storyboarding, doing a casting, bringing a fantasy alive, working with all these people on the set and then in the editing room, putting the edit together, the music and the sound, and you can build emotional trajectories and make it so interesting. It's so enriching and I get so excited about every project when it has something to do with film. I have worked with so many great film directors – Baz Luhrmann, Guy Ritchie, Sofia Coppola – just watching them work is fantastic.
Dao Tran: So, if you could do it again, would you have studied film?
Donald Schneider: Yes. I think I would go more into film, into storytelling through film. I do it now on a little level, as a component of a campaign. I've even started to direct a little bit, which is fun. But those are short, tiny little things. The project with Baz Luhrmann last year was a 3-minute film and there was also what I would call a magic moment. He wanted to do it like a big trailer for a movie – which won't actually be made. So you get this bombastic feeling of a movie, and it's only fashion advertising. It was great. It got so much reaction.
It was also interesting to see the difference between the models and proper actors in the film. I came to appreciate that being an actor is really a profound profession; it's a skill, a talent, and lots and lots of work.
Dao Tran: Does that mean you should work with actors rather than models for fashion films?
Donald Schneider: For certain things, yes. It was so interesting to work with Diane Kruger because she's great at both and she can play with it. But it's a different thing to pose for photos or act in a film, and not everyone can do both. Same as you have to be a filmmaker to work with dialogue, build emotional depth, establish the characters – there's so much more to it than just giving a fashion photographer a video camera.
For example, the Erdem ad with Baz Luhrmann was more like a film, it had dialogue in it. I watched some of the reactions when we first showed it and the audience just got drawn into the story, they wanted to watch the whole movie and get a piece of the collection because of what it represents. It's maybe not about that dress, but more the aura, you want to be part of it.
Also, with Sofia Coppola, when we shot the Marni collaboration at the house of Diana Vreeland's son, the former American ambassador to Marocco. There were no dialogues in that film, but I think it was definitely emotional, there was definitely storytelling. I'm really interested in storytelling because I think there should be more of it and there will be more of it. You see it bubbling up everywhere. Prada is doing a lot of that and I think it's super interesting.
Conversely, if somebody clever integrated a fashion look into a feature film, that would also be amazing.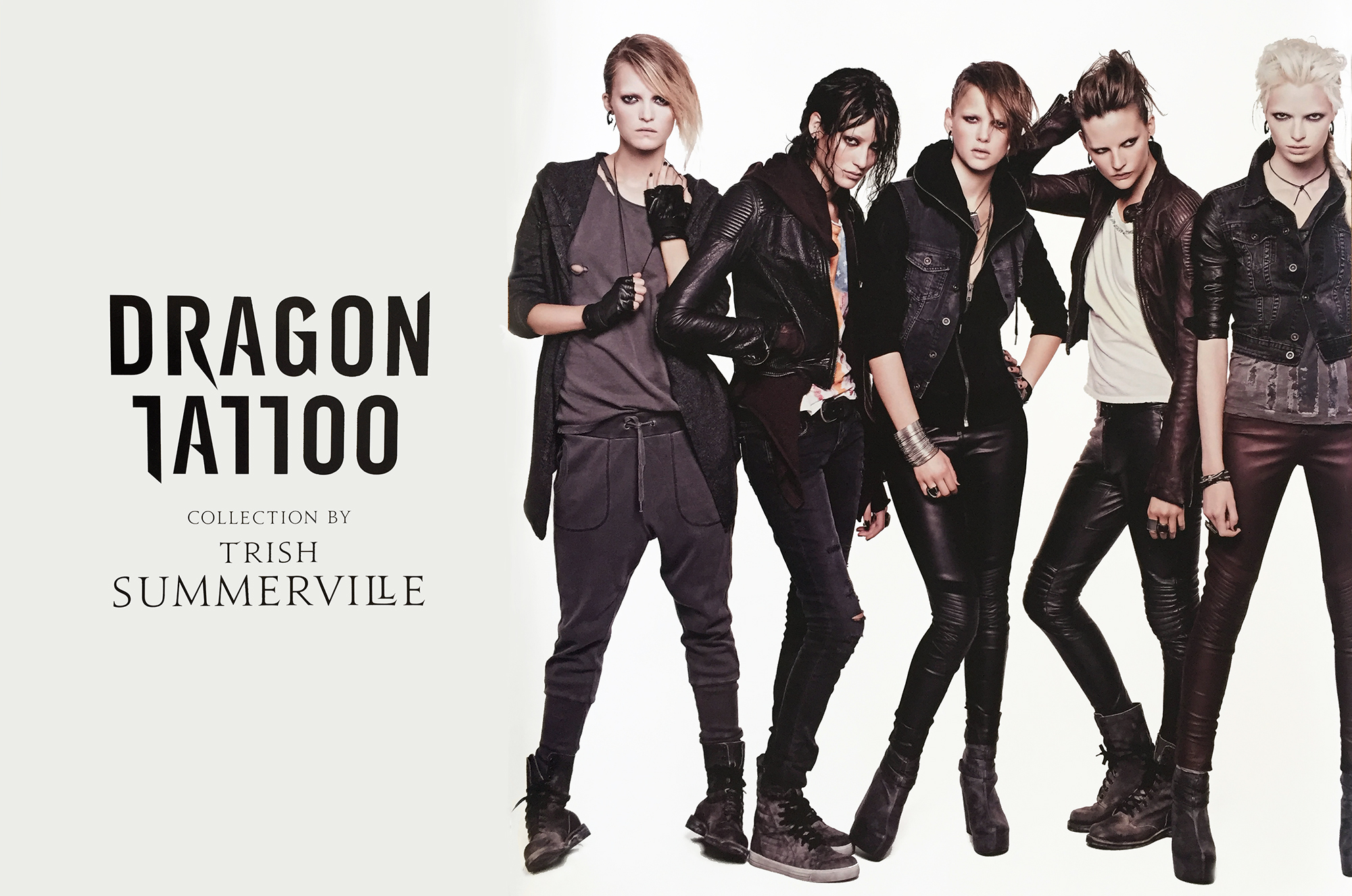 Dao Tran: Yes!
Donald Schneider: When David Fincher did the remake of The Girl with the Dragon Tattoo, I approached the costume designer, Trish Summerville, to do the Dragon Tattoo Collection because it was such a good look. People still ask me today where you can get it, it was so cool, but it sold out immediately. Since then, so many Hollywood film houses have contacted me and asked whether we could do the same thing, but it hasn't been the right fit.

Dao Tran: You have a thing with collaborations.
Donald Schneider: In a way, all of the projects that I work on are collaborations. We worked on a great little collection about 2 years ago with Alex Katz, a brand building thing in select stores in Miami during Art Basel. He's such an incredible person. He turned 90 then, but was so full of power and energy, he is such a curious person, still together with his wife Ada of 65 years, whom he paints from time to time. He knows a lot about what's going on, he's very well informed – his favorite fashion designer is Nicolas Ghesquière.
Dao Tran: Awesome. What do you think about Virgil Abloh at Louis Vuitton?
Donald Schneider: I think that is such a great move – they get Virgil in and everybody is curious what he's going to do. I think he has enough respect for the brand that he will not go bananas, but will take it to another level. This is exactly the learning from Gucci and should encourage other brands to also have their Gucci moment. They did something nobody expected them to do, with so much conviction and fire you can feel it, it's crazy and it's the biggest success, I'm so happy for them. Every brand should learn from it and try to determine their own brand DNA, figure out how can they make it very special and completely unique, and try to speak to the young audience and excite them for it.
Dao Tran: What are you looking forward to next?
Donald Schneider: I don't know. I'm just open and always looking for new opportunities and new projects, but I'm not looking for a particular thing. I'm open, but I also always have secrets which I'm working on and they are very thrilling, and then there will be new projects. I really look forward to the next years.
What I'm very excited about now is putting together a photo book on Perry Kretz, this amazing photographer who had the most incredible life. He was born before the war in Germany, moved to New York after getting in trouble with the black market, became a gang member in the Bronx with a Puerto Rican gang in the late 50s, early 60s. He fell in love with the daughter of a mafia guy and worked for them until the water became a bit too hot, then he joined the American army and went to Korea, where somebody gave him a camera and he started to take pictures. Then he moved back to NY, married a Dior model, a cool woman with whom he is still together.
He knew how to deal with the underworld and the police so he got the best stories of the drug and crime scene in New York in the late 60s, early 70s. He went to South America with drug cartels and lived with street kids in Montevideo. He went to all the wars – he didn't take the famous photo of that naked Vietnamese girl running in the streets after the napalm bomb, but he went to look for her and adopted her and brought her back to Europe to get skin grafts.
Dao Tran: Incredible.
Donald Schneider: He was in Nicaragua during the war taking pictures of Somoza (the dictator) during the day, and spending the night with the Sandinistas (the guerrilla rebels) because he had a thing with one of the women, who later became the Minister of Education or something. That was Perry. When the Americans went to hunt Bin Laden in the Tora Bora mountains in Afghanistan, he went down there at the age of 75, put a helmet on and went on the hunt.
But his breaking point was in Rwanda during the civil war. He was in a Jeep on the side of the road – this photo will be in the book – where refugees filled up the whole horizon, women, children and old people in their African clothes, hundreds and thousands of people. These people had no water, they were dying from dehydration, just dropping like flies, right in front of him. And he couldn't do anything, he had one bottle of water and it wouldn't have made a difference. When he told that story – and he's a tough guy – he started crying. Just for him, I want to do that book, because I think he deserves it. I like to do things like that, too, personal projects that are not about fashion or making money, but just for the heart and mind.
Dao Tran: I love that. Thank you so much for sharing all these incredible stories!
Donald Schneider: Thank you. My pleasure.
---