---
Review of Paris Day 3 – Dries Van Noten, Yohji Yamamoto, Boramy Viguier, & Uniforme Spring 2022 Men's Fashion Shows
In Paris, The Different Voices Focus on Their Personal Stories, and Their Fashions Display Their Visions
By Long Nguyen
Rick Owens staged his fourth and last live stream show from the Lido beach in Venice in an incredible collection, merging the familiar with the new. Meanwhile, Louis Vuitton showed Virgil Abloh's new film 'Amen Break' as a collection reveal, merging past subcultures to the now with colorful items driven collection.
Meanwhile, designers like Dries Van Noten pursued their ways, making the kinds of fashion appropriate for the near future, all within their visions.
Dries Van Noten
"Just what is it that you want to do? We want to be free, to do what we want to do. We want to get loaded. We want to have a good time. That's what we are going to do. We are going to have a party," screamed a voice in the opening segment of the film with sweeping views of the city of Antwerp just before models entered the screen wearing Dries Van Noten's spring 2022 men's collection.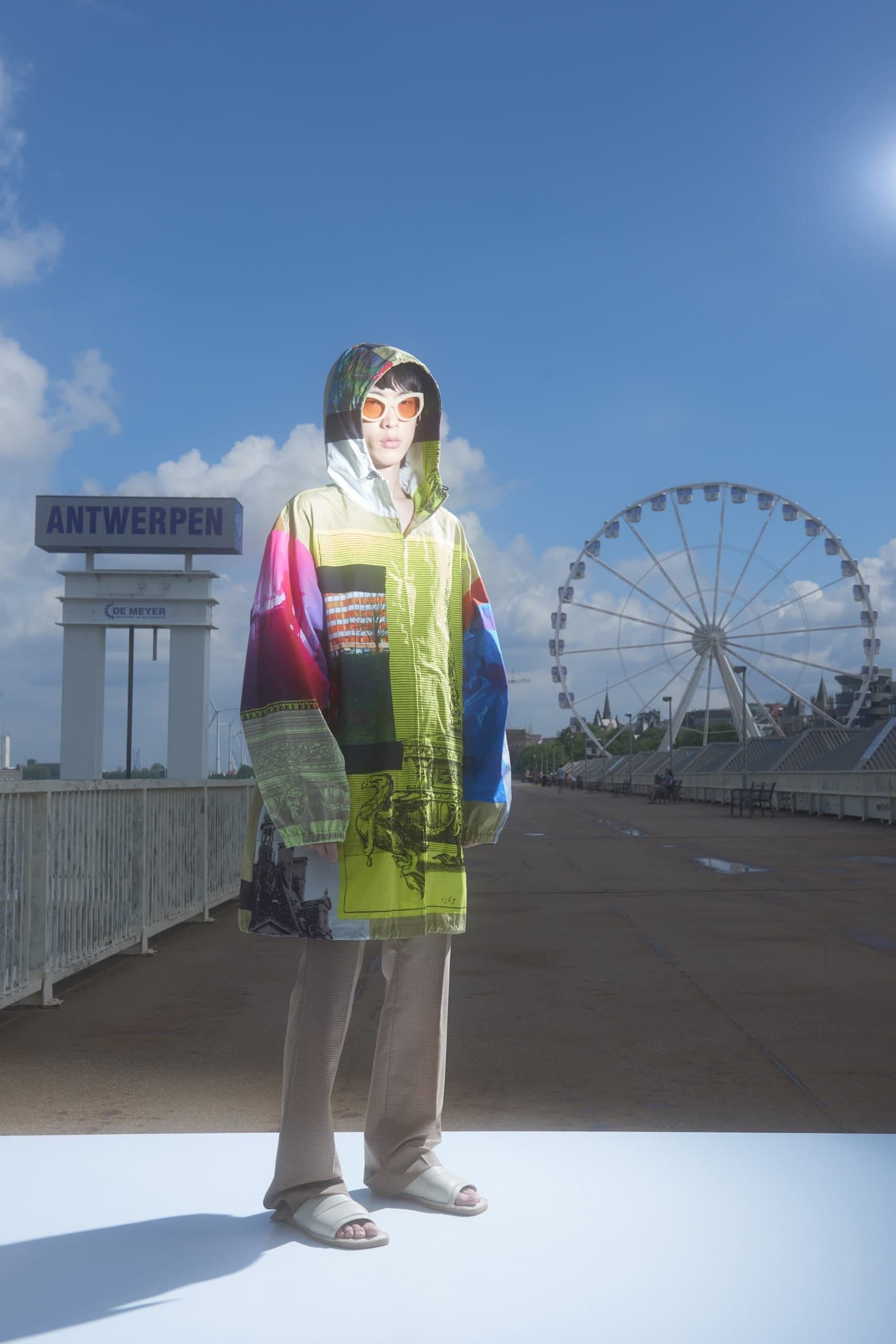 Home, in this case, the city of Antwerp, is where the heart is.
"I have always loved my life in Antwerp and enjoyed my choice to base my company in this city. Through my work here, I have had the pleasure of reliving Antwerp repeatedly through the lives of the International members of my team who have come to live here with us. With this collection, we see Antwerp through the eyes and photographs of international residents of the city, members of my design team. It is always interesting to see what captivates their attention and how the city we know speaks to them," Van Noten said of the genesis of the collection.
Antwerp is where Van Noten found the idea to make the collage of images of the city culled from pictures taken on cell phones by his team at the office. From photos of an industrial seaport to scenes at pool halls and nightclubs along with an old vintage, A municipal logo from the 1970s all served as prints on an oversized paneled parka and loose silk short sleeve shirts.
This personal touch allows for a very private spring collection, comprising principally Van Noten's signature looks reimagined into 56 postcard style images. In addition, the Plantin-Moretus Museum permitted to use several prints from the paintings of Rubens, notably 'The Lion Hunt, 1642' and 'A Wagon Fording a Stream, 1638' and Breugel 'The Temptation of Saint Anthony, 1556.'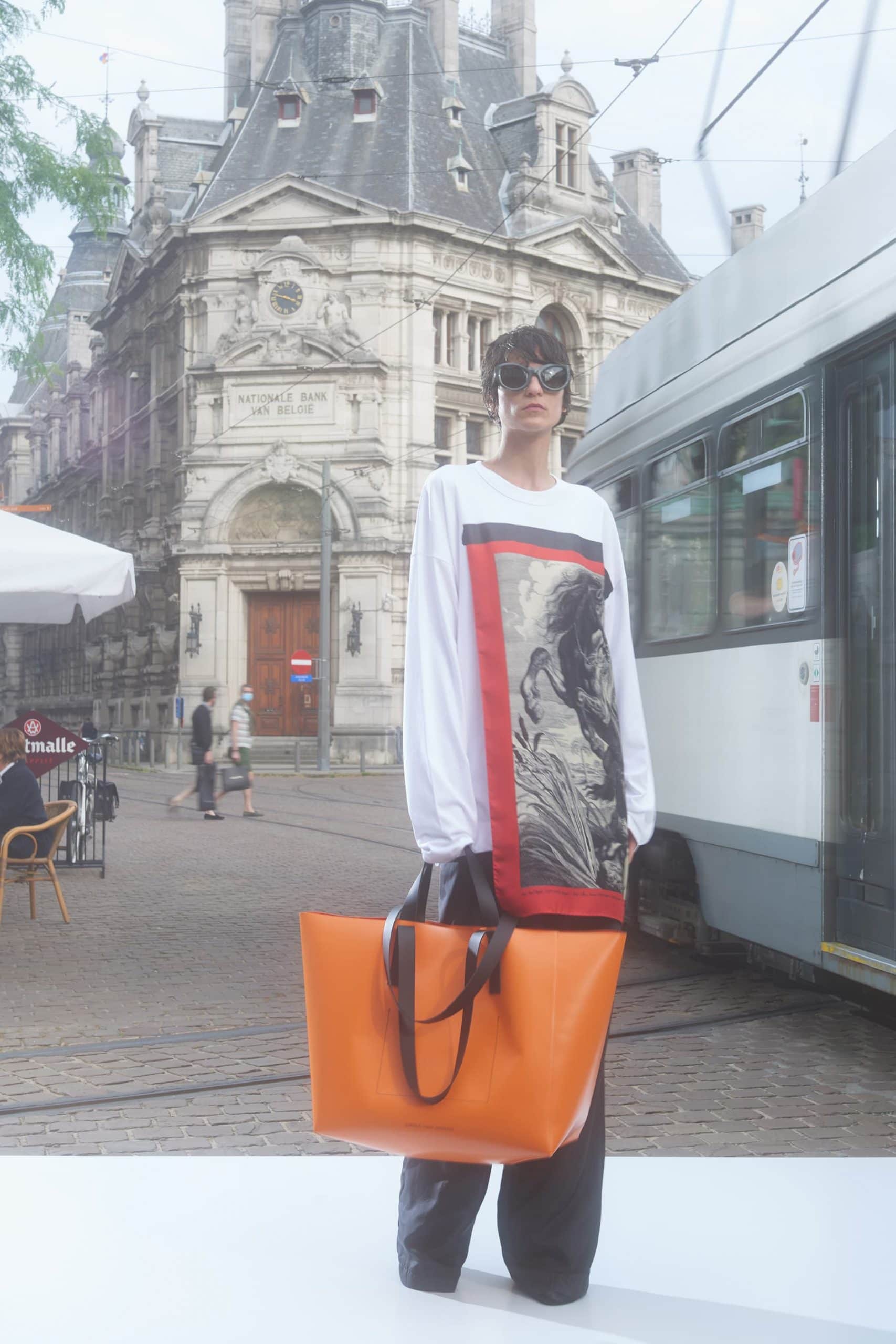 "Lockdown was hard on all of us and especially when I started to design this collection with my team as it was very restrictive and frustrating. We all yearned for a time when our lives were freer. We found ourselves almost bursting out and going through photos on our phones, needing to relive memories of moments when life was carefree and sociability possible. And so, the idea was born. Bring these moments to life again by wearing them. Anticipate the future we will all certainly enjoy together again by celebrating such moments lived now!" Van Noten said.
The notion of comfort comes foremost with relaxed volume in the parkas, trenches, and suiting with elongated sleeves. Shorts and pants have an apron panel added to the front worn with a long knit stripes tunic. Jackets are either fitted like the Maoist shirt collar single breast or with broad shoulders like a single tan breast paired with a pink shirt and camouflage pants. An oversized patch pocket light purple long sleeve shirt and long-short suggest a new summer suit version.
All together conjures a quintessentially Dries Van Noten collection.
Yohji Yamamoto
The Japanese designer Yohji Yamamoto has always made his fashion according to his vision, placing design at the centerpiece of his collections rather than borrowing inspirations from art or another subcultural phenomenon globally. Fashion has always been that personal outlook, and the clothes have always had that individual look.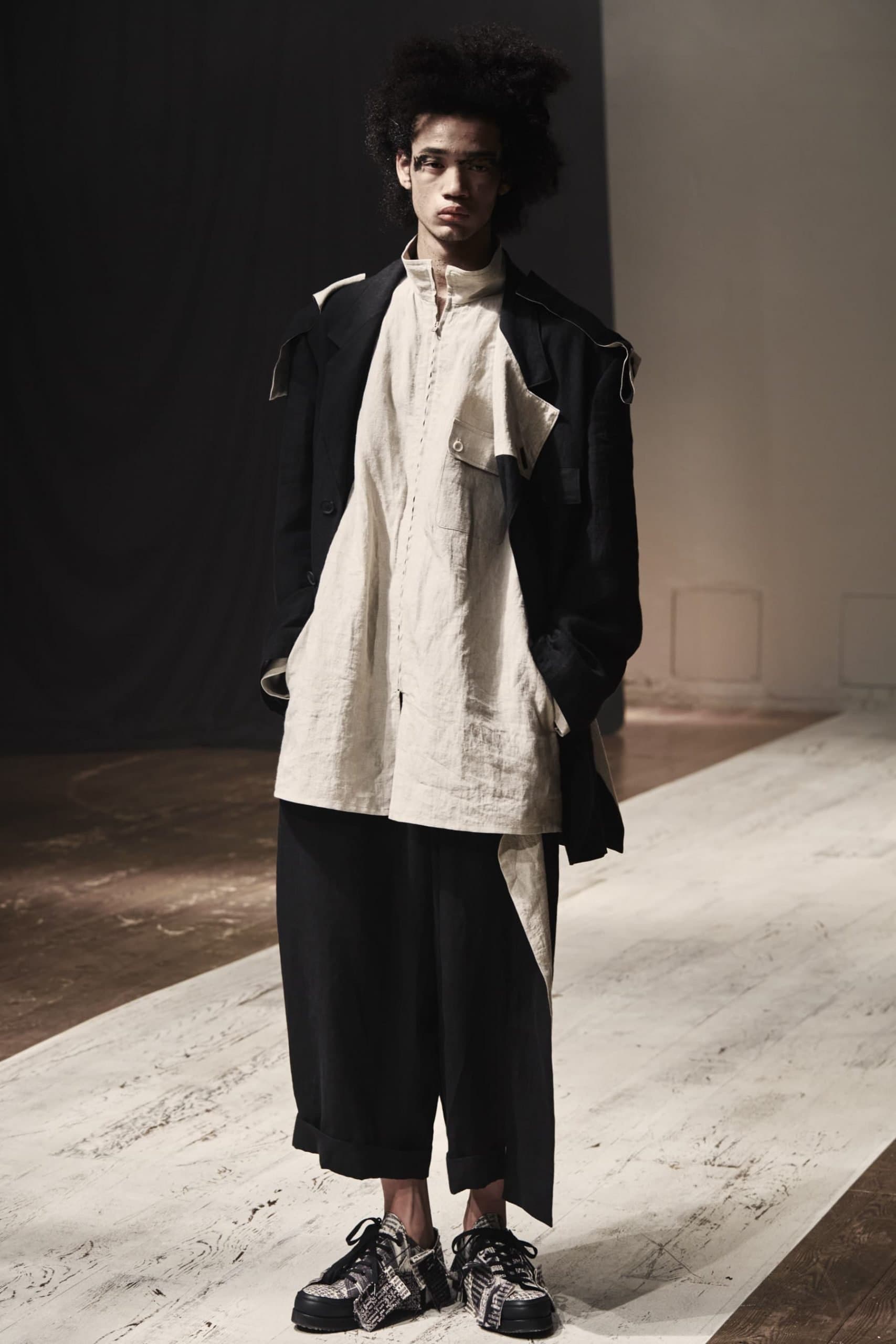 With no exception, Yamamoto continued this train of thought with a men's spring collection that is said to be base on a spring 1986 men's show in an 18 minutes long film show joint venture with the photographer Takay accompanied by songs performed by Yamamoto himself.
Deconstruction and oversized shapes have always been a principal design tenet at Yamamoto. References to his past 1986 show seem more of a formality than an absolute necessity. This spring collection finds new find expressions within Yamamoto's signatures. The black and beige linen silk fabrics mix and layer over each other. Light cotton in a tan linen shirt, a black workwear jacket, loose short pants, or a tan linen single breast unconstructed loose jacket with tan cuffed pants highlights the essence of this spring range.
The light fabrics help to render the soft feel of these oversize silhouettes without making them bulky in any way. A long black coat over a tan draped tunic over a black t-shirt and long shorts is a standout look worn with white leather perforated sneakers.
The Japanese artist Yuuka Asakura contributed paintings on the black suits with the surrealist images of eyes and hands placed arbitrarily on the surfaces of trench coats and suit jackets. Elsewhere, long coats have patchwork collages with colorful pictures of plants and flowers made by the house's internal design team. Random newspaper headlines become black and white prints collages on a coat, vest, and short pants at the end with the white and yellow makeup painted on the model's face and legs.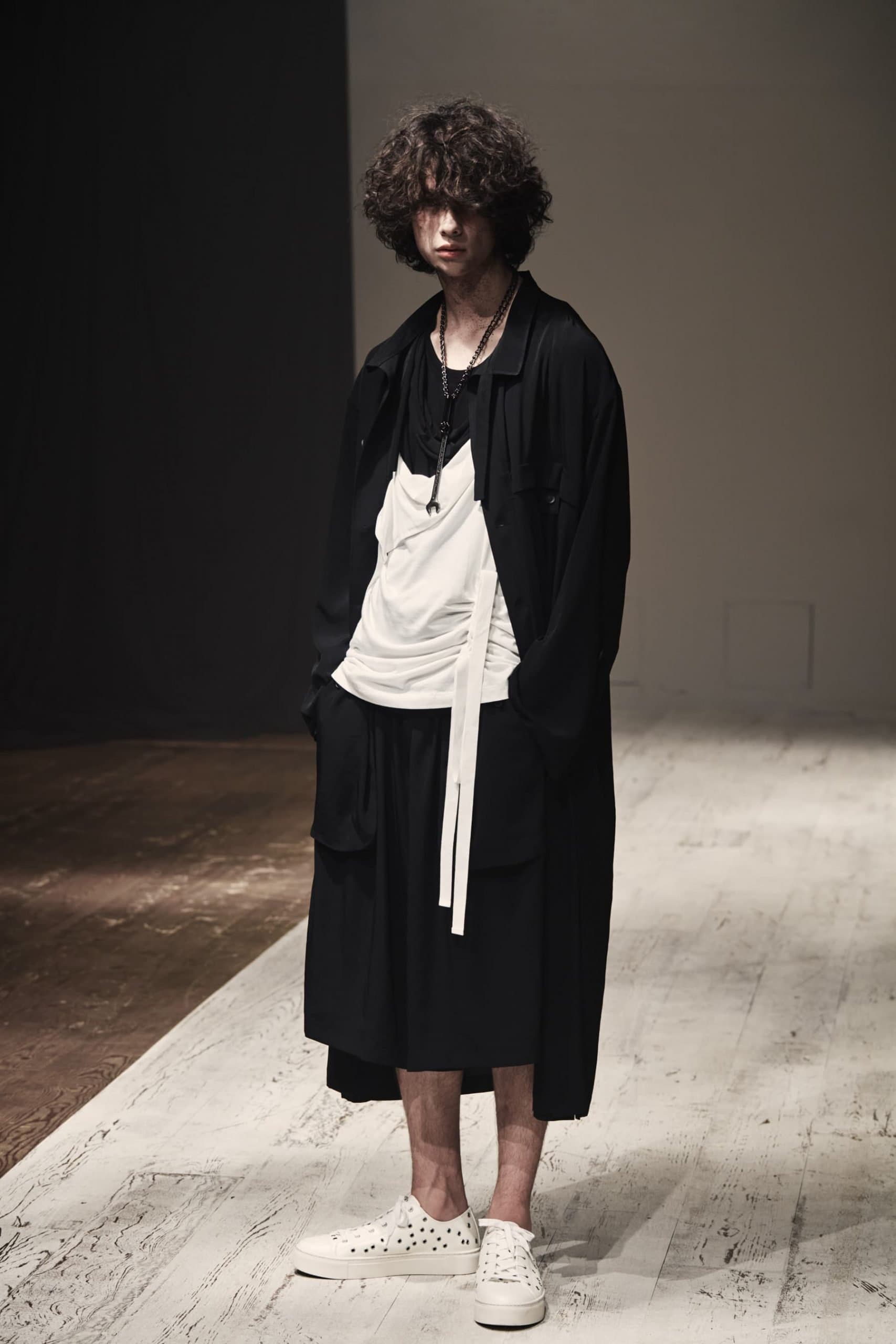 Perhaps this final outfit reflects how Yamamoto sees the situation in the world at this moment from his perspective. The touches of splash paint can easily discern as an act of anger. Still, the collection portrays the confidence in his work with clothes that are now recognizable and his designs becoming more and more influential, but with little acknowledgment to the designer himself and his oeuvre.
At the end of the film, Yamamoto painted the words 'Love' and 'God Bless' onto coats. That's an affirmation of his work and fashion.
Boramy Viguier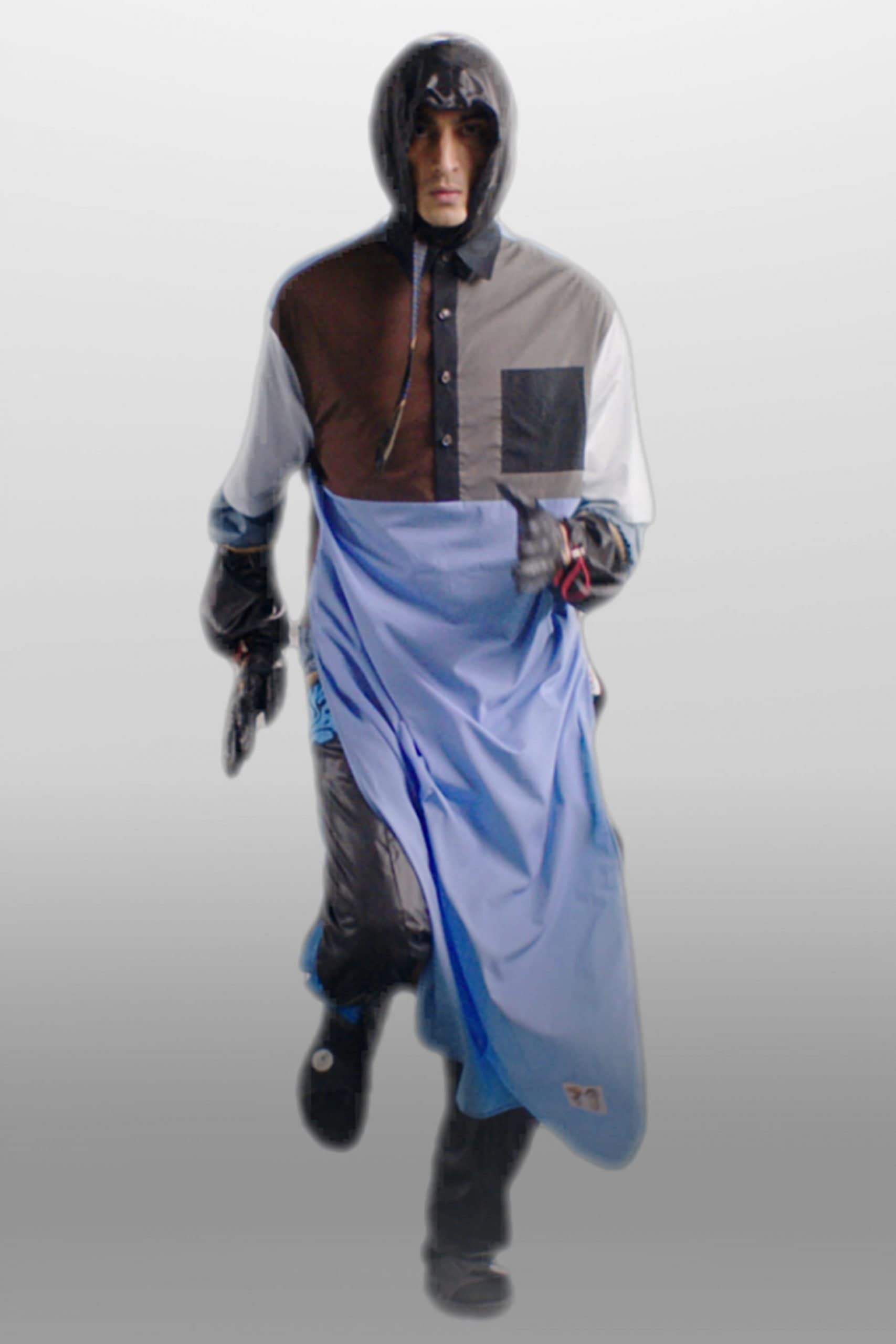 Eschewing the shorts film in the last two seasons featuring more fantasy and other worlds, Boramy Viguier had his models running in slow motion on the spot like running on a treadmill with the clothes moving together with them towards an imaginary unknown destination. The slow-motion allows greater visibility and closeness to the clothes.
A change of show visual format did not alter how Viguier approaches his fashion with his unique takes on combining couture tailoring with sports performance wear. Here, shirts become colorful panels of a long tunic, white shirt-dress over white pants, and a fitted single breast windowpane brown striped jacket. Tailoring has been a specialty for Viguier, especially with his coats here in white, black, or orange jacquards.
New this time is the ties in each of the filmed looks, worn not formally but loosely as they fly off the necks.
The designer is also launching a new project – '1/1 One-of-a-kind' – clothes crafted from his studio's dead stocks and second-hand clothes as a way to offer more creative freedom making inventive clothes.
Uniforme
Hugues Fauchard and Rémi Bats started Uniforme in 2017 as a brand that focuses on two fundamentals of the new fashion approach by the younger generation designers – local sourcing of manufacturing and environmental conscious minimal artisanal luxury.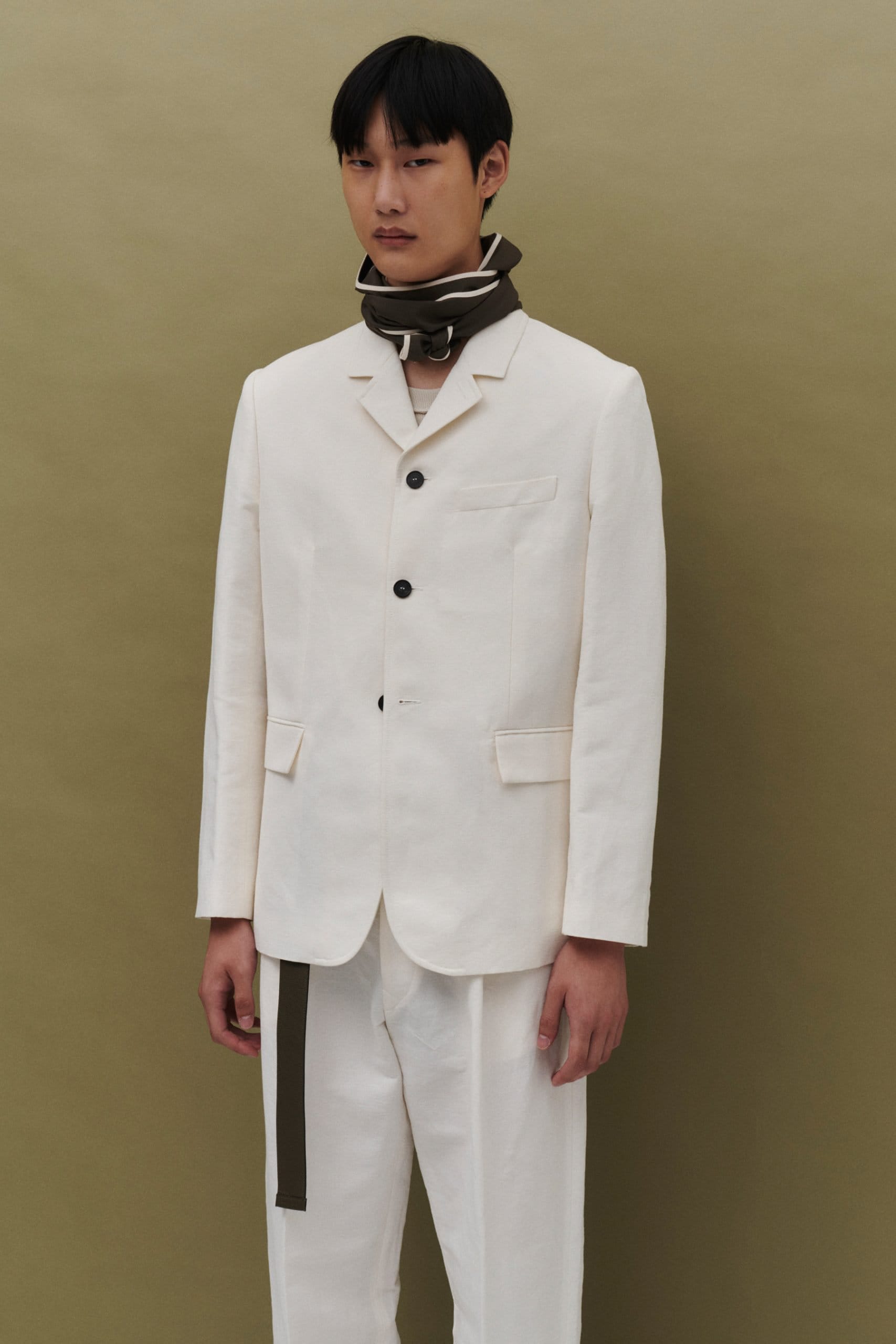 They have perfected this dual mission now with this clean spring offering in line with their visions in the short years.
The pair made for their spring 2022 presentation, filmed outdoor with an open sky's central idea, allowing for a much looser and relaxed collection with a more extended range of clothes than in previous seasons.
Based around the theme of aviation and the pilot's uniform, Fauchard and Bats had their models wandering around an open airfield mimicking motions of flying wearing a precisely cut bomber jacket in light grey silk cotton with widening collars and more oversized pockets.
A light grey linen work shirt has snap closures, while a grey safari belted suit is fair enough as a pajama suit. The designer did a nice mix of ribbed stripe knit worn underneath a soft blue cotton elbow sleeve shirt and white cotton pants.
More visible this time is the knitwear made in Normandy, like a deep v-neck polo knit short sleeve thick weave top or a light grey and white stripe light sweater.
"With this collection, we wanted to say that you can dream of fashion, flying, or anything else. What inspired us to go into fashion in the first place is that it's an industry where everything is possible. We were inspired by great designers who came before us, and we hope that others will consider our work and follow their dream," the pair said.
Fauchard and Bats are considered finalists in the Pierre Bergé prize for the Andam awards this year.
---