---
Bridge over the river …
BY LONG NGUYEN
Slated to start precisely at 1PM, the Eckhaus Latta show on South Street along the East River at the Manhattan Bridge started the live stream on thier website with a prolonged live shot of the bridge with all the noises of cars and subway across over the river. Nothing happened for a while until the camera turned towards the South Street pathway as models approached from the other end walking alongside joggers and couples with baby strollers on a cool sunny midday start of the weekend.
The show reminded me of some of their shows a few years back when they took place very late at night in Brooklyn with a very diverse casting at a time before diversity is taken seriously on the runway in New York.
Mike Eckhaus and Zoe Latta who started in 2011 have always envisioned their fashion a bit outside of the mainstream in aesthetics and in products. Their spring 2017 ad campaign for example featured adult models having real sex in the photographs studio and a few clothes here and there. Since their first show in 2013, the pair had always embraced real people or unconventional models of all ages and sizes and gender-fluid casting.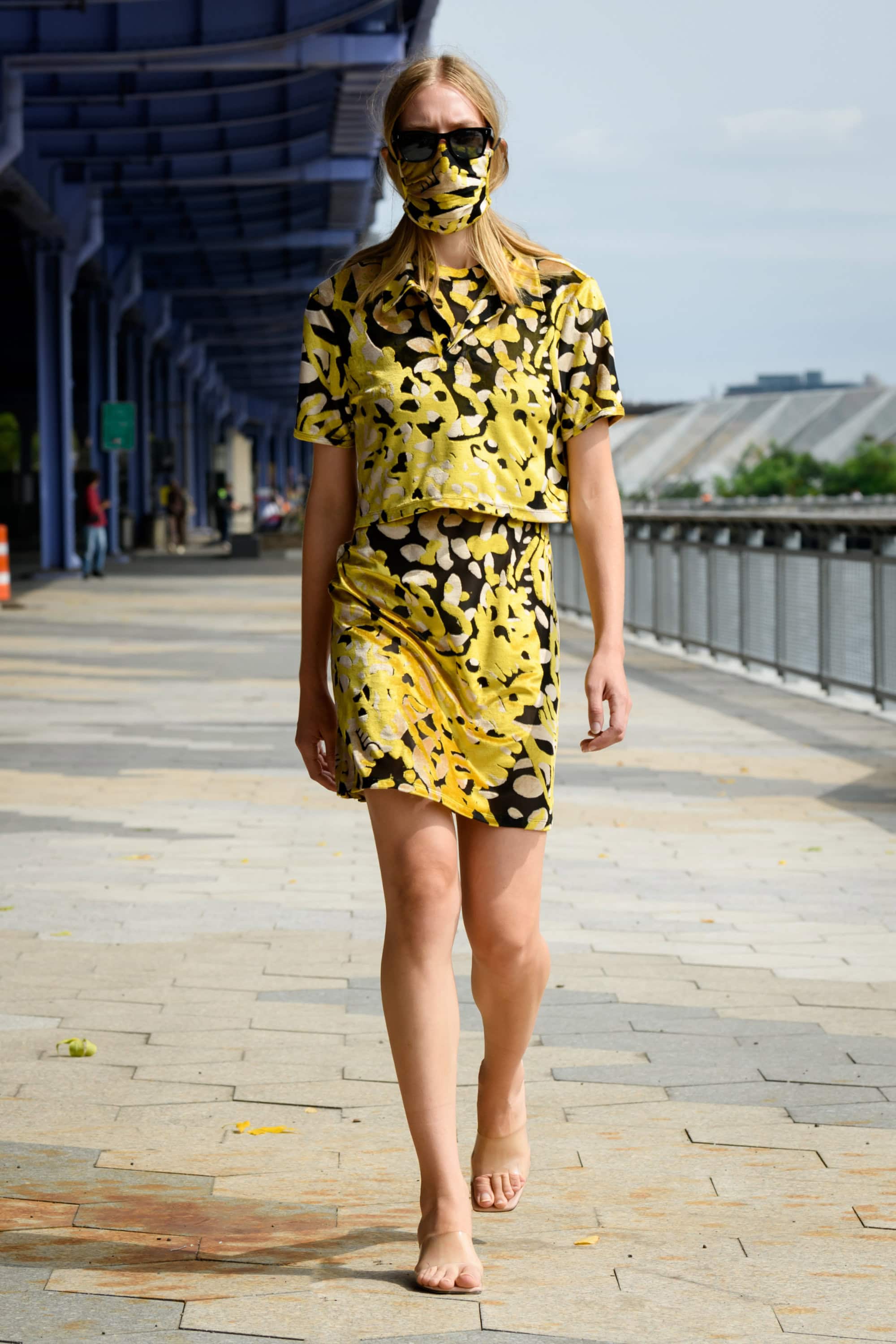 The clothes shown were simply very signature Eckhaus Latta with light solid colors and slimmer shapes in a way that never looked trendy or too fashion-forward. They did not change a great deal from the previous seasons. And that is not necessarily a bad thing at all.  In the show, for women, there were lacy asymmetrical sheath dress, sleeveless tunic, and print pants, floral print dress with side slits, and orange gingham shirt dress. For the guys, there were chocolate cotton slouchy pantsuit, dark tan safari sleeveless dress-coat, and brown sweatshirts with cutoff sleeves with white trims.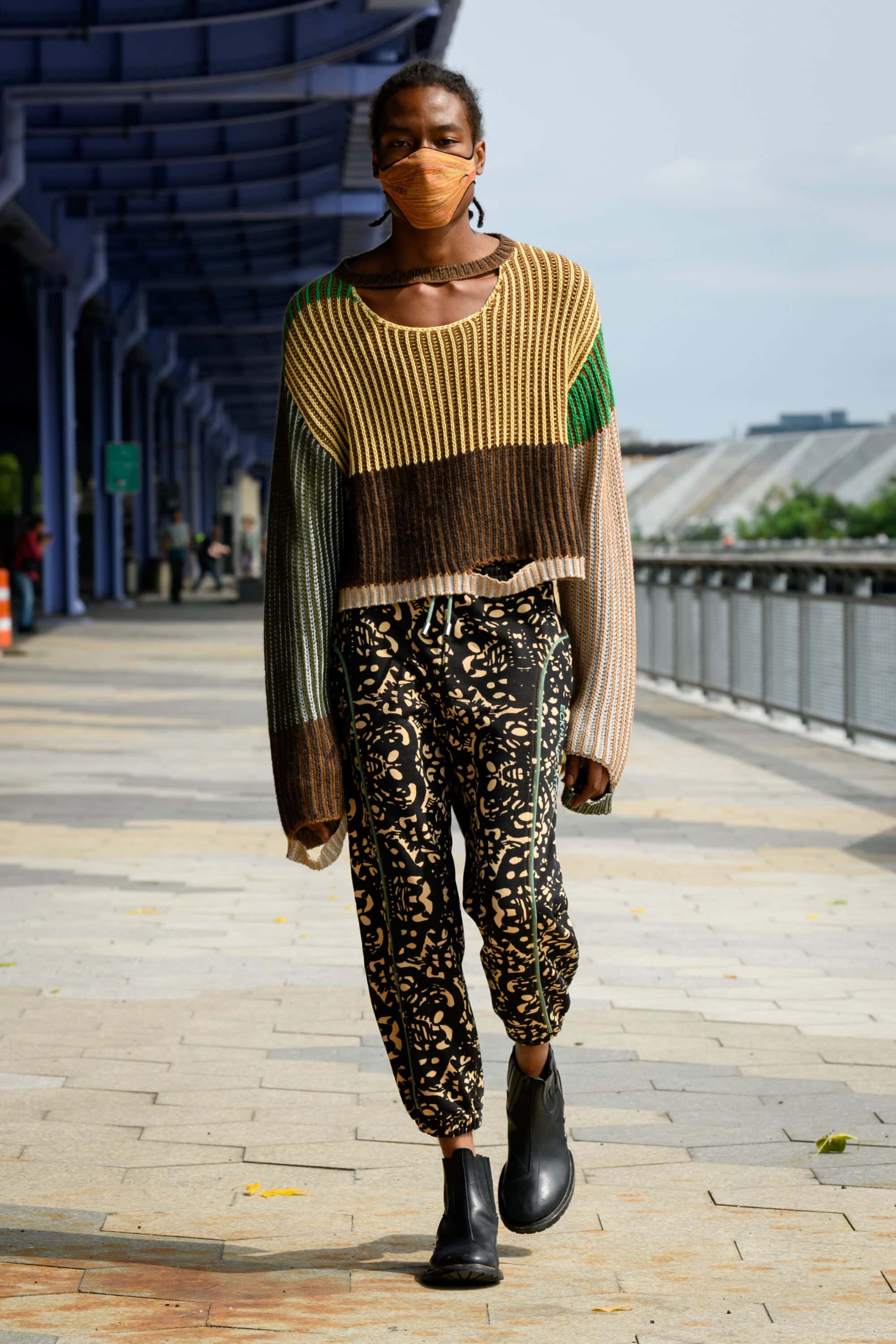 Eckhaus and Latta approached their design with attention to research and to the use of materials and fabrics both new and dead stocks – acid-washed denim, knitting patterns and The designers are known for their interesting take on knitwear this time in a mix multicolor and multi fabrics patchwork sweater. It does take some ingenuity to make a men's grey cotton shirt with matching color slightly flare pants a cool look in an unpolished way.
The show felt calm and confident as the models all masked strolled as pedestrians and others going about their lunch break. It was just a nice day to have a live fashion show with no audience but the people who happened to pass by unknowingly. The designers did not have to prove anything.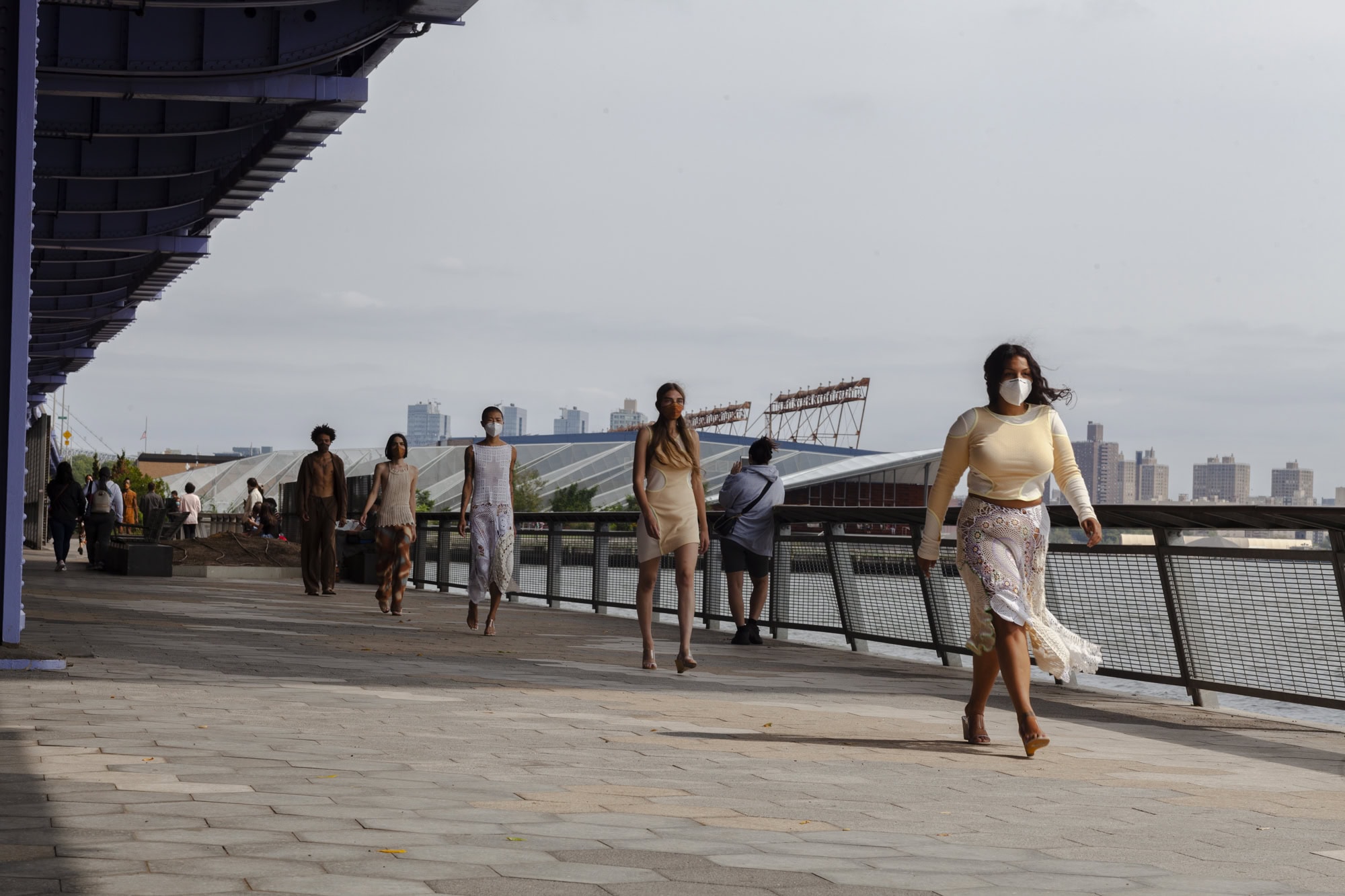 While waiting for the actual show to start, I took the opportunity to peruse their e-commerce website that offers numerous products laid out in an immaculate manner and it was easy to look for different items that are available in a range of sizes. The clothes on sale now and the clothes on the models inside the inset live broadcast share a common identity and also a familiarity. A men's denim pants with green spotted paint on the site now have the same feel as a similarly treated mixed denim pant and green corset top worn by a model in the actual show.  In the same way, an acid wash denim at the e-commerce site can be seen in the show paired with a long sleeve green print tee-shirt. The new two tones blue and black denim pants are a sure hit at the site next spring.
By scheduling their show two days after the end of the official calendar, the designers seemed to say that they should be able to present the collection when they are readied rather than at a specified time table that may not make sense to them and to their business.  It remains to be seen going forward if they will continue to adhere to their own timetable. 
That Eckhaus Latta went on their normal business and showed a full collection was a true act of defiance and courage.
---