---
Review of Etro Fall 2022 Men's Fashion Shows
Alchemy and Academia
By Mark Wittmer
As we interview Etro menswear creative director Kean Etro (the brand remains a family affair) backstage after his strong Fall 2022 show, he touches on the collection's two core symbols: the rose and the wolf. Nocturnal and diurnal, fragile and ferocious, the two contrasting yet complementary images are thoroughly woven into the collection. These symbols invite interpretation, as Etro sees it, much like a poem does. From the show invites, which included a copy of a classic work of Latin literature and a customized bookmark, through to the campus-y feel of the clothing itself, the collection is steeped in literature and language.
But as Etro goes on to explain, he conceives this language as connected to intuition, like poetry, rather than to the overly intellectualized brainwork of something like mathematics or metaphysics. This inspiration of simplicity and feeling shines through his designs.
The collection begins with a set of relatively muted looks in terms of color, especially by Etro standards: grey, icy blues, tawny brown. But this quickly changes as a set of jewel tones blossom forth, and sapphire, ruby, emerald, and amethyst take the stage.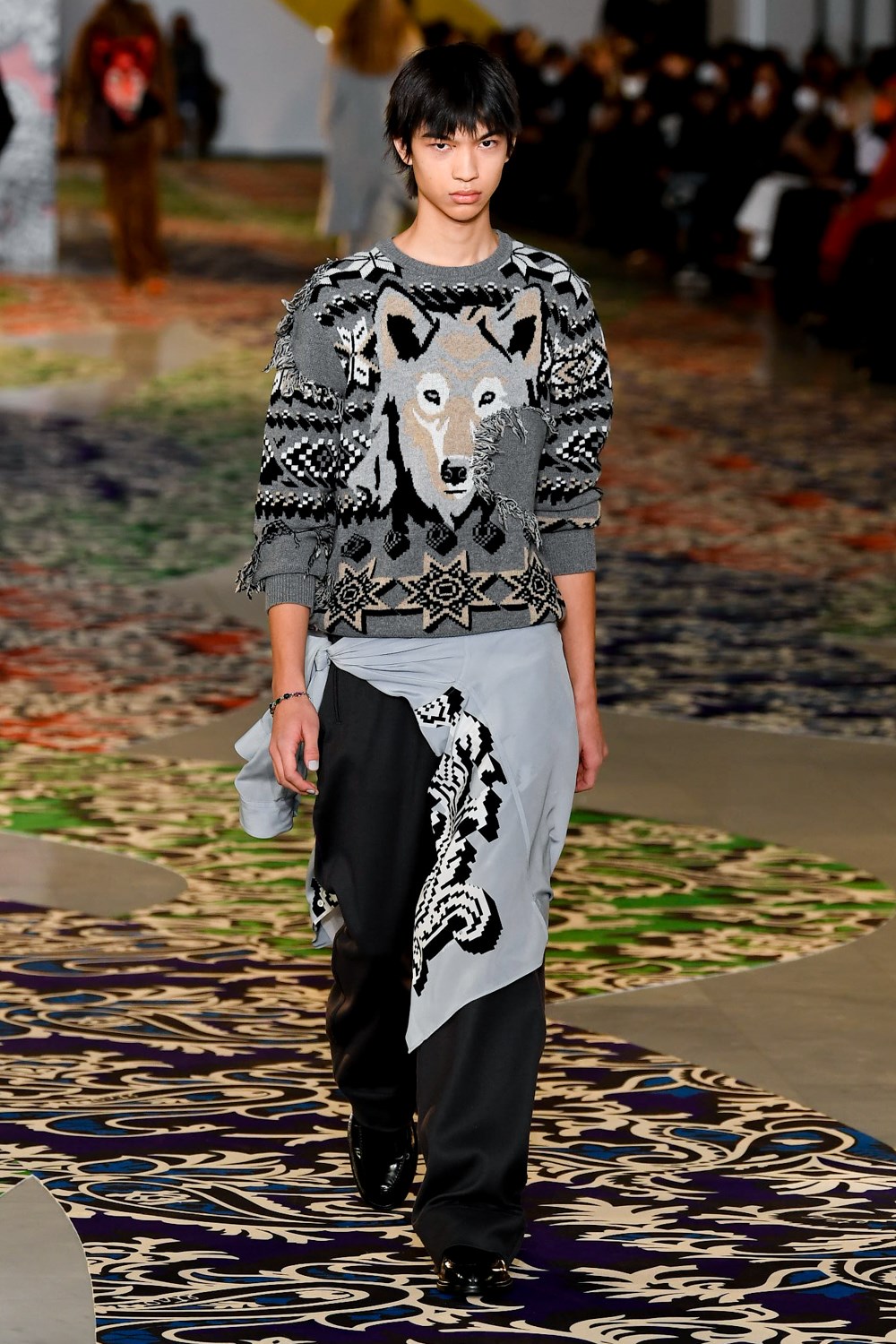 The symbols of the wolf and the rose are mostly woven into the collection's many knitwear pieces, including collegiate turtlenecks and deconstructed sweaters.
Strong tailoring is also present throughout the collection, including a few simple and sharp black suits that punctuate the flow of colors. A more hard-to-pin-down series of looks consists of flowing, gauzy tops, perhaps suggesting the wizardry and alchemy that Kean Etro points to. Certain pants and outerwear pieces are constructed from a more technically-minded, vinyl-like material, reflecting the house's recent embrace of more forward-thinking and new techniques.
Of course the house's signature paisley makes numerous appearances – it wouldn't be Etro without it – but it feels relatively toned down, as if the brand has found new confidence that it doesn't need to rely on paisley as the crutch it has historically in order to maintain a consistency of identity and visual splendor.
Many of the collection's strongest moments are its use of solid color, linearity, and silhouette, showing the house is finding new ways beyond paisley to express its persona of poetic richness.
Etro has been making a strong push to become more universal – and especially more youthful – while maintaining a sense of its heritage and history, and this collection may be the foremost example of the success of this approach. Combining a whimsical, almost magical sense of color with intellectualism and intuition, Etro earns high marks.
---