---
Review of Etro Spring 2023 Fashion Show
Etro-pia! A focused fusion of reality and imagination
By Lizzy Bowring
Passing the baton and running with it is an old cliche, but at Milan Fashion Week S/S 23, Marco de Vincenzo seemingly sprinted to the winning post with ease. In a relay race, the change from one athlete to another occurs through the baton's passing, which signifies succession. June 1st was an important date; the Etro family passed the baton into this competent designer's hands, giving him the privilege of contributing to achieving a new chapter.
In an interview earlier this year, the newly created Creative Director stated,
"I know what Etro should be, and it is not Boho" Such words and telling, Marco demonstrated how he means to dress the new Etro woman.
Held in a vast industrial complex at via Fantoli, floors painted in vibrant shades of orange that somehow resembled a magic carpet, De Vincenzo presented his debut collection. 
Colour is the order for Milan fashion week, and Marco employed gorgeous colours to give the collection a taste of strength and fearlessness along with the idea of a journey that presents a beautiful fusion of reality and imagination.
Marco's journey did not leave the house codes behind but gave them a fresh, youthful perspective. A focus on heritage as he sees it brought a new perspective with a touch of lightness to an 'eccentric and essential aesthetic'.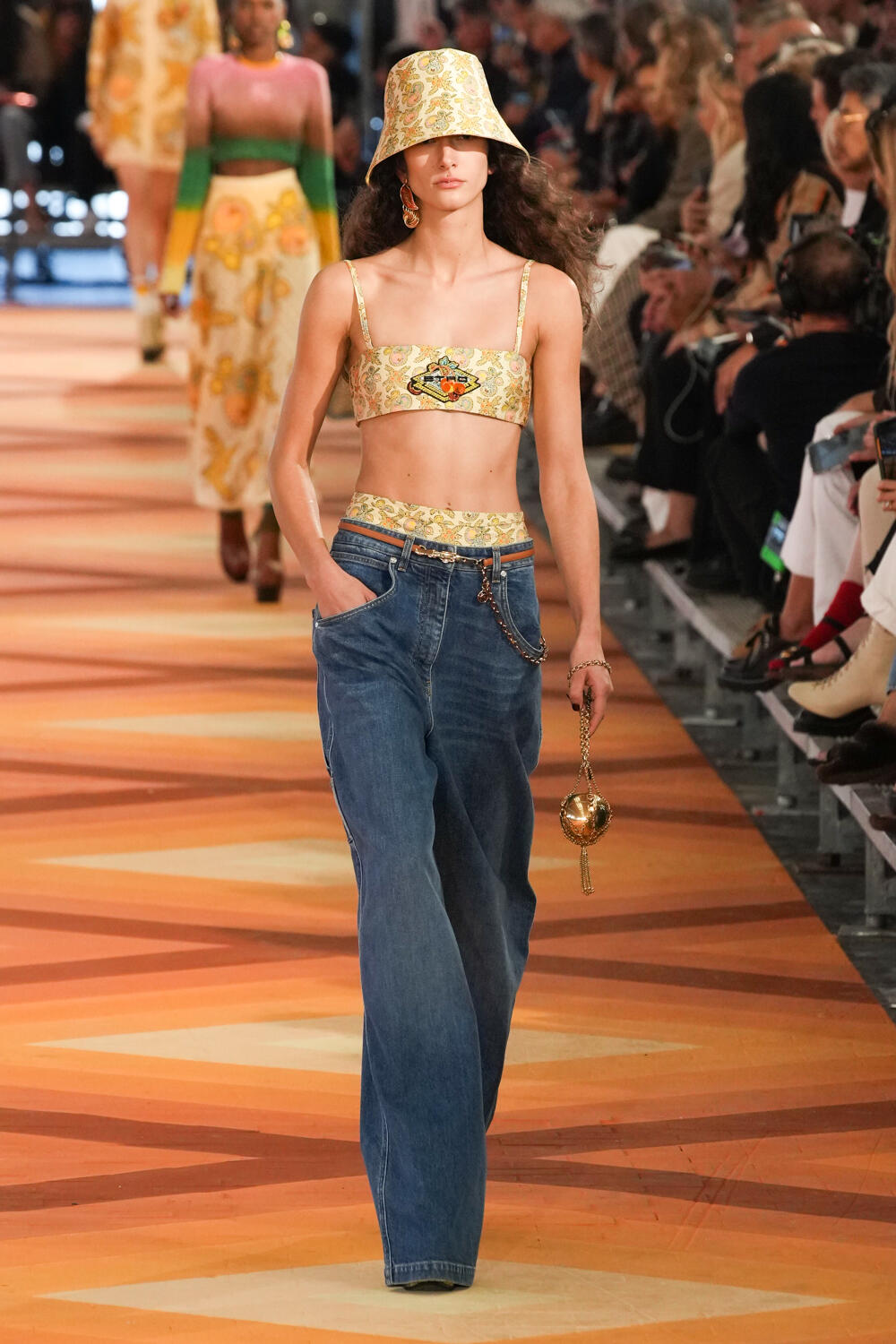 There were undoubtedly elements throughout that alluded to a magic carpet ride, and it began with the first vignette of patterned denim. As if Marco were an artist, recording nature and the elements of the tropical forest, he breathed life into his materials by allowing exotic birds, flora, and fauna to fly on the wing and rest on his canvases. They were decadent and mesmerizing.
The materials were equally as rich. Here, Marco entered Etro's archives and intertwined them with the future of sustainability, creating bags that at once brought to mind renewed carpet bags yet were both modern and environmentally conscious, with components such as recycled plastics or hand-dyed polychrome cashmere. There were denim brocades, psychedelic patterns, and degradé stripes in oversized cotton shorts.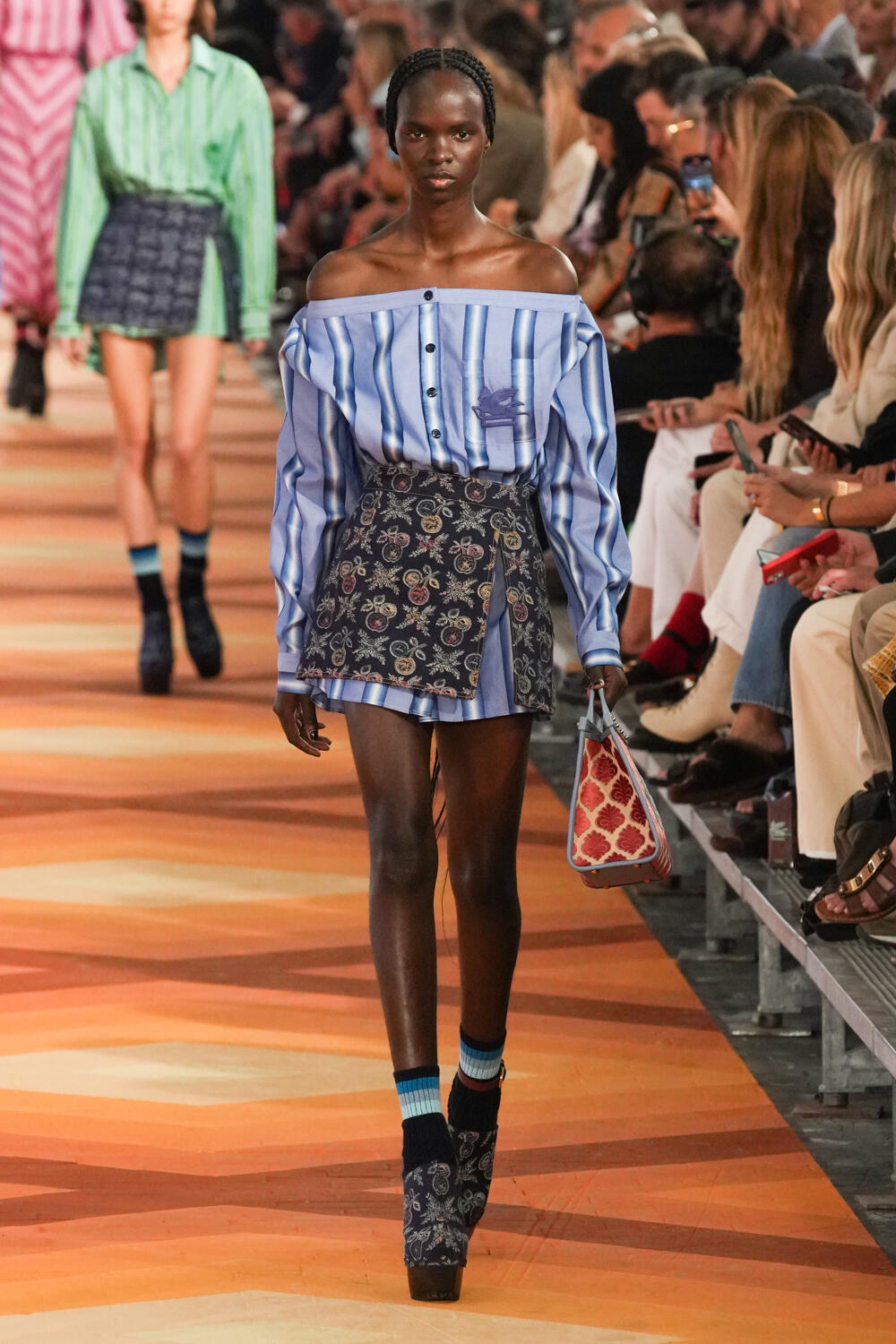 The silhouettes were neat and controlled. The first shape with louche cut trousers fitted perfectly to flow in wide volumes from the high hip and finish with a delicate gold chain. A bandeau top came paired with trousers, its form carefully detailed with hand embroidery. Elsewhere, an abbreviated tunic displayed an exotic bird's formations and was worn over a comfortable oversized striped shirt. Every piece was as covetable as the next. A blue degrade striped shirt was cut to sit perfectly across the shoulders. A vibrant pink drenched the satin mini dress that will surely take its wearer from the beach to cocktails in a heartbeat. Marco was evidently considering palm fronds when he articulated the vibrant green two-piece with its display of fringing on the wrap shirt. Knitwear, too, came perfectly coordinated in gradations of bold colour.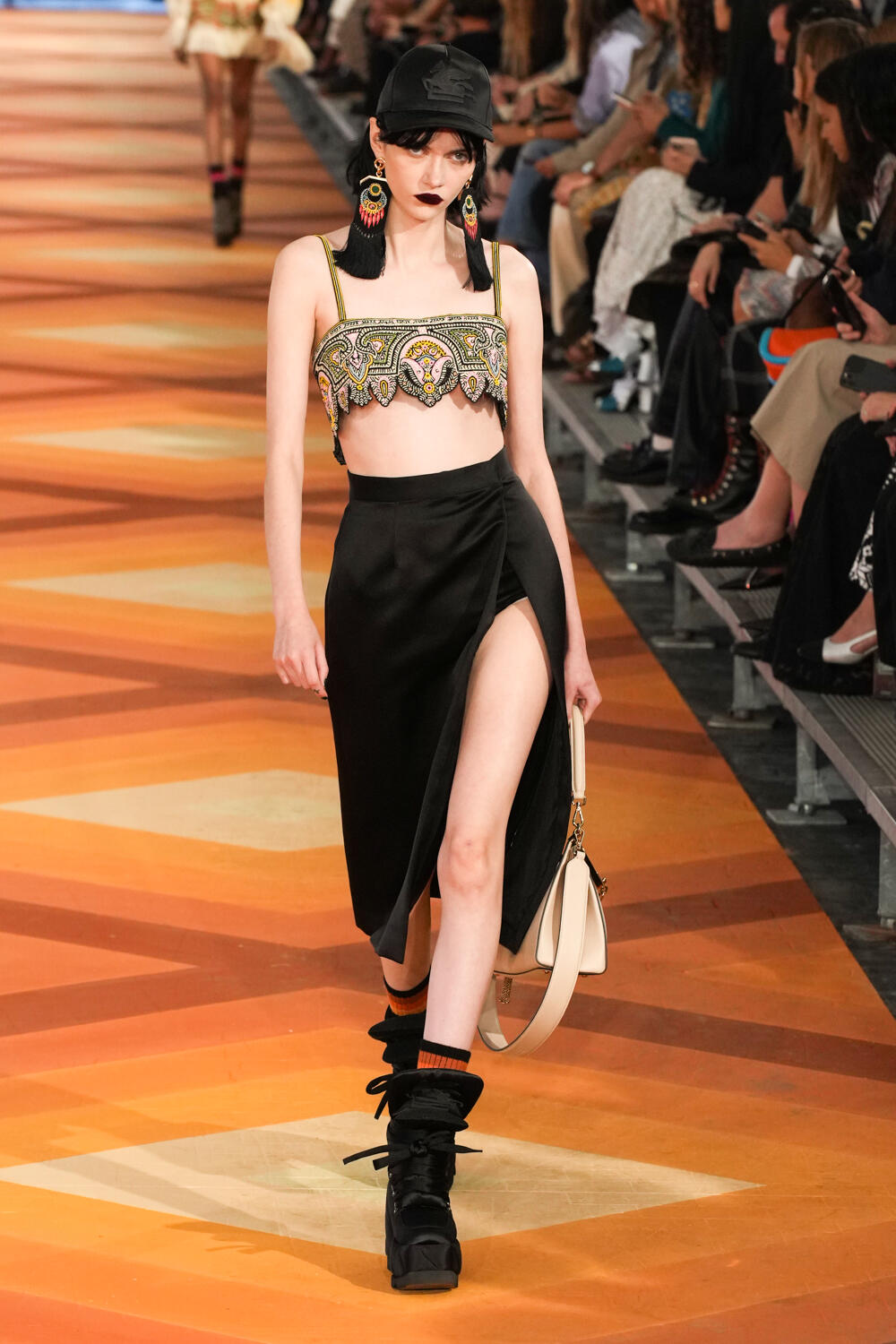 There appeared a subtle hint of American sportswear in the articulation of several silhouettes and not to mention the satin bold coloured baseball caps. But that added to the easiness of the collection. Not to forget the brand's heritage, semblances of paisley prints appeared that danced lightly around the hemlines of dresses.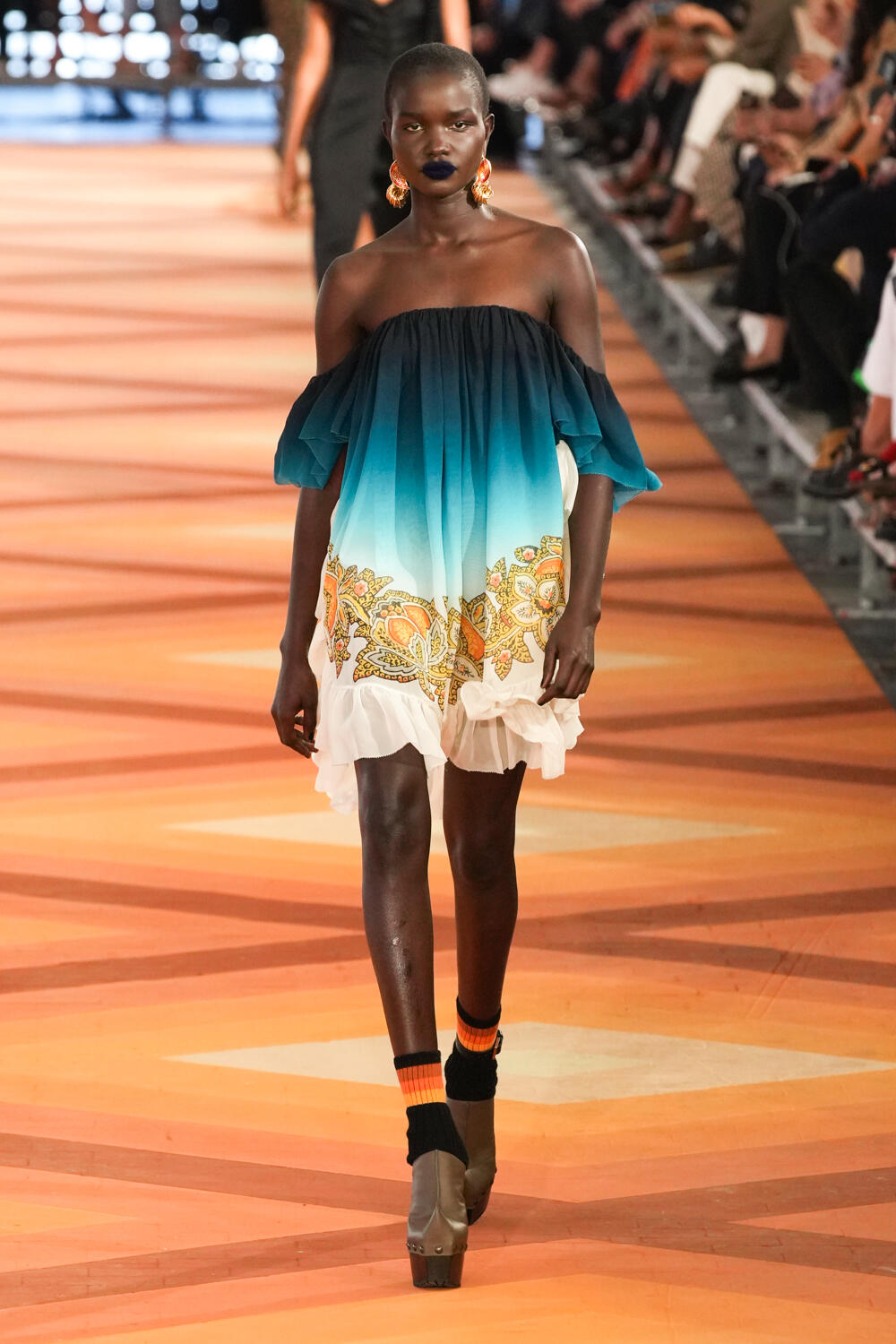 Attention to detail was paramount throughout. The jewellery was exquisite. Particularly the long drops that bore penetrating vibrant colours. (The shoes, well, the drawback here, those very high and dangerous avatar clogs!) And the beauty and makeup were just as exciting in shades of bright pink and blue, with the deepest succulent hues of blue, deep magenta, and navy appearing on lips.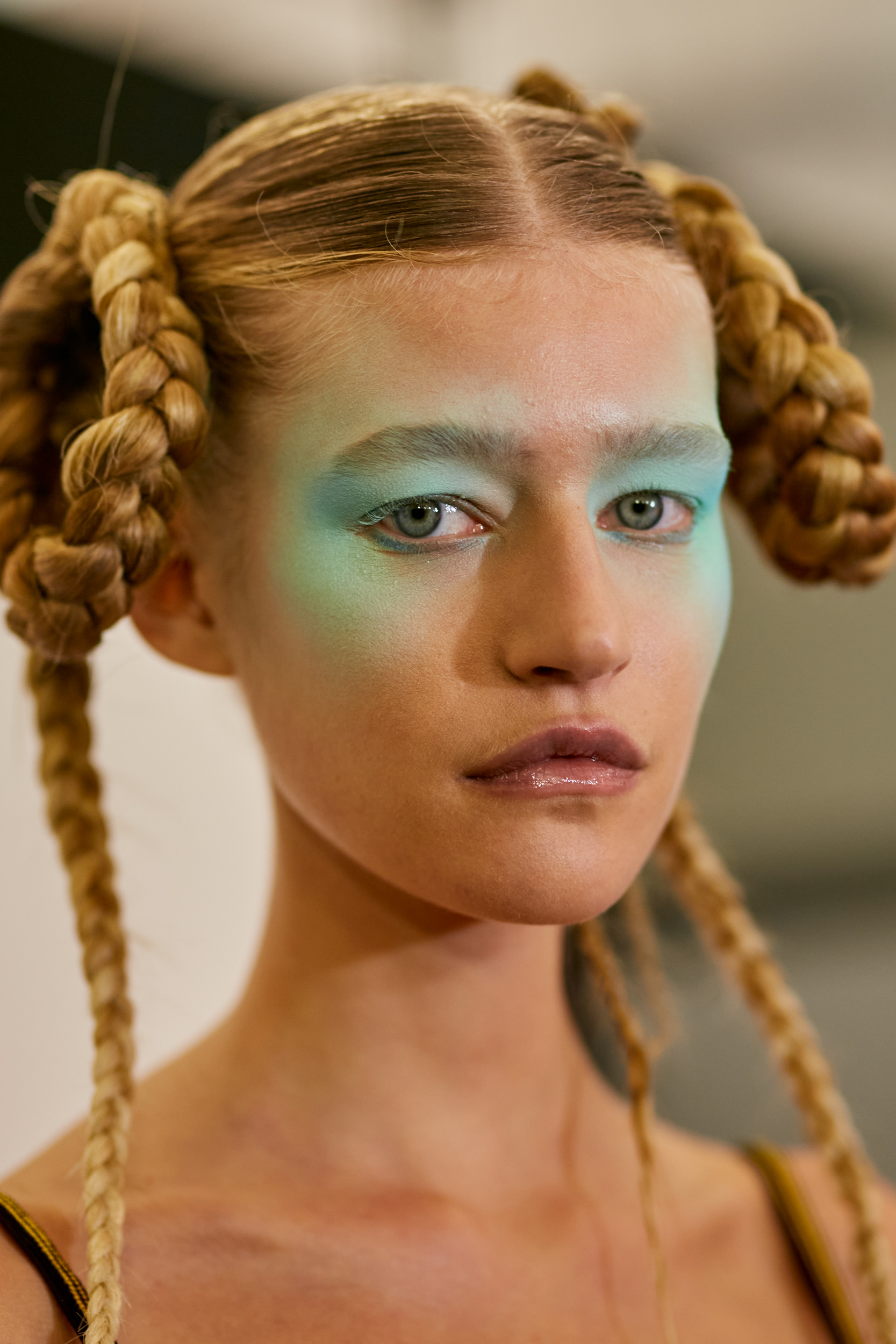 The show notes painted an evocative picture "an eccentric 19th-century Sicilian aristocrat, having to go on pilgrimage on foot from Palermo to Santiago de Compostela, decided to break down the distance that separated him from that destination and recompose it into many small paths in his garden. It was with this spirit that Marco De Vincenzo conceived his Etro collection – a great journey in which the imagination leaves the past aside and looks to the future in a celebration of mutual trust.
---